THE leaving of Liverpool, then?
There was always going to be an exodus, a balancing of books of some kind. In truth, both Xherdan Shaqiri and Rhian Brewster's inevitable departures may just be the starting pistol of a weekend of goodbyes.
Jürgen Klopp doesn't like big squads. He sees Liverpool as a workplace – an environment where a close team bond can conquer the world. When that becomes too crowded, impossible to manage the expectations of all surrounding, the best thing to do is cull those on the periphery.
Brewster and Shaqiri might surprise some as the first names on the list when the likes of Marko Grujic and Harry Wilson are still present. The expectation was that they'd no longer be Liverpool players come Tuesday morning, but both played in last night's penalty shootout defeat to Arsenal.
And then there's Divock Origi. What do Liverpool do if a bid they like comes in the 11th hour? More importantly, what do we all do? The sense of affection for the Belgian that still remains would probably result in the biggest outpouring of emotion since we won the league if and when he's eventually sold.
Yet there's something in today's news which offers a pondering and reflection into what we as fans expect from Liverpool's modern day business. Both Shaqiri and Brewster are prime examples of the ruthless efficiency that bubbles under the moniker of "the Liverpool family".
In hindsight, Brewster could now be lighting up the Bundesliga after nearly walking away from Liverpool prior to signing his first professional deal in 2018. The club convinced him to stay and undoubtedly gave him the best possible recovery from a terrible injury suffered so early in his career.
But now that he's set to move to Sheffield United, you're left to ponder his development or lack thereof at Liverpool, with the only concrete fact being that, in business terms, the club have once again left themselves massively in the green.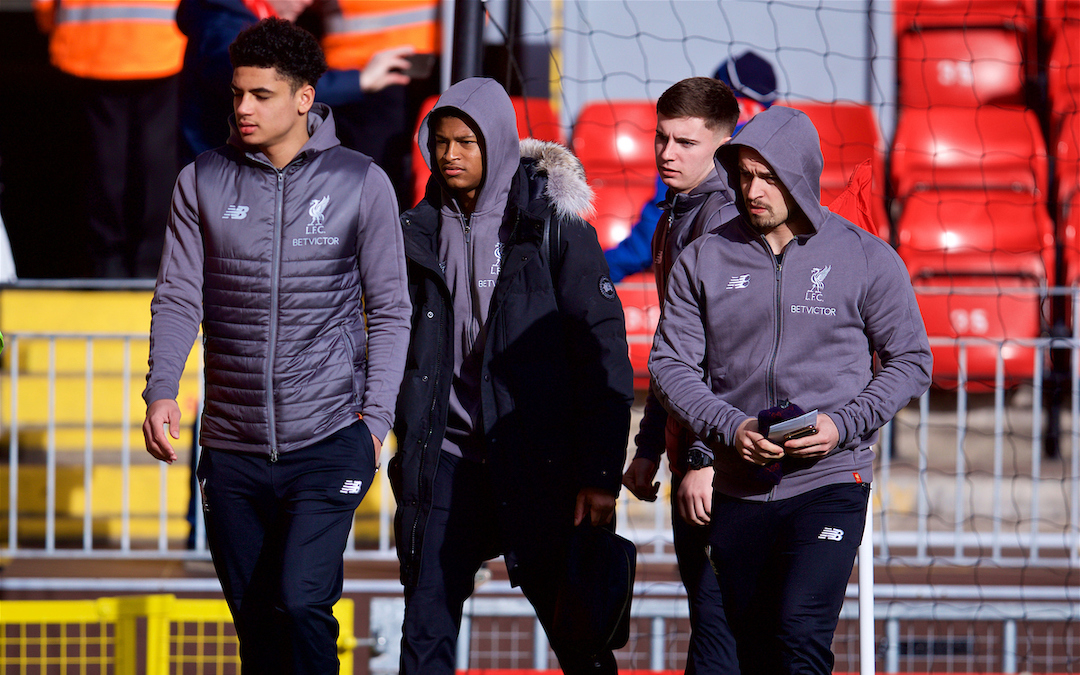 There is also the concept of the buy-back clause. I don't like them and I'd be surprised deep down if Klopp does too. They're fine if everyone's in agreement, but what if Brewster never wants to set foot inside Liverpool's training base again? What if he just wants to move on? You struggle to see a world in which him coming back now works, no matter how well he does.
Shaqiri is a different case entirely, but serves as another reminder of how this recruitment team sees things we don't. Perception with Shaqiri is his lasting lesson to us all. Remember the tales about how he was Stoke City's big bollocks? How he wouldn't work for anyone but himself and how he would never fit into this Liverpool ethos?
He did perfectly fine for the sum of £13.5m he was reported to have signed for.
He made an incredibly important contribution in 2018-19; scoring two against Manchester United and putting the cross in for Gini Wijnaldum's second against Barcelona was worth double what Liverpool paid for him, and more importantly what winning a trophy that season did for this squad in terms of belief.
Without knowing the details at the time of writing, it's likely Liverpool will again turn a profit on a player they've had more than their money's worth from. And therefore both situations surrounding Brewster and Shaqiri's time at Liverpool now scream of what we are: A football superpower.
There's no FFP manipulation or squad and loan padding taking place at Anfield, it's simply recognising an opportunity – be it tying down a youth prospect with high sell-on value even if he doesn't make the grade, or picking up a squad player you know won't depreciate as an asset with a clause triggered from a side just relegated.
Once again it's a mark of what Liverpool now represents in the game, not just on the buying front.
The club will wish both of them well. As for whoever is left at Melwood come Tuesday morning, the real work may only just be getting started.
---
"I'm a little bit disappointed cause I had high hopes for him."

"But I think if he does well at Sheffield United the one clause that will benefit #LFC more is the sell-on." 💰

Subscribe for reaction to any player departures and buildup to Villa 👉 https://t.co/cXuFmbDvp3 pic.twitter.com/Uv8Lvd7w4J

— The Anfield Wrap (@TheAnfieldWrap) October 2, 2020