AND just like that, Liverpool are active in the transfer market.
In time, Thiago Alcantara will come to represent so much more than merely being the man who lifted spirits, but for now we can simply thrive off the endorphin release that making such a move provides to this team and its supporters.
It's worth pondering both points. Transfers and the mere concept of them have created a parallel of different football followers. Some base every sinew of support on them, neglecting to delve into the ethics and graft required to win which Jürgen Klopp has instilled into Liverpool.
Not very sexy though, is it?
Thiago can be argued as different. A world-class operator is all we really know, the rest we will find out for ourselves. Where does he play? How does he impact the team and its ability to attack in variance? Does he provide a sense of reassurance on the pitch and around Melwood?
There are certain ways to project his potential worth – one of which lies in the player's passing stats. Thiago won 57 per cent of all of his 488 contested duels in the Bundesliga in 2019-20. He also completed 91 per cent of passes from 1,723 attempts.
Although impressive in its own right, it only tells part of the story. In three years of Bundesliga action stretching from 2017 to 2020, Thiago has performed highest per 90 minutes for passes received (63.92), passes attempted (85.32), final third passes attempted (14.49) and ball recoveries in the opposition half (6.04).
Already from reading that the perception shifts, and you think more about Thiago as potentially a number eight than a six in this system. In truth he probably lies somewhere in between, but where he will benefit the team massively is his ability to start attacks.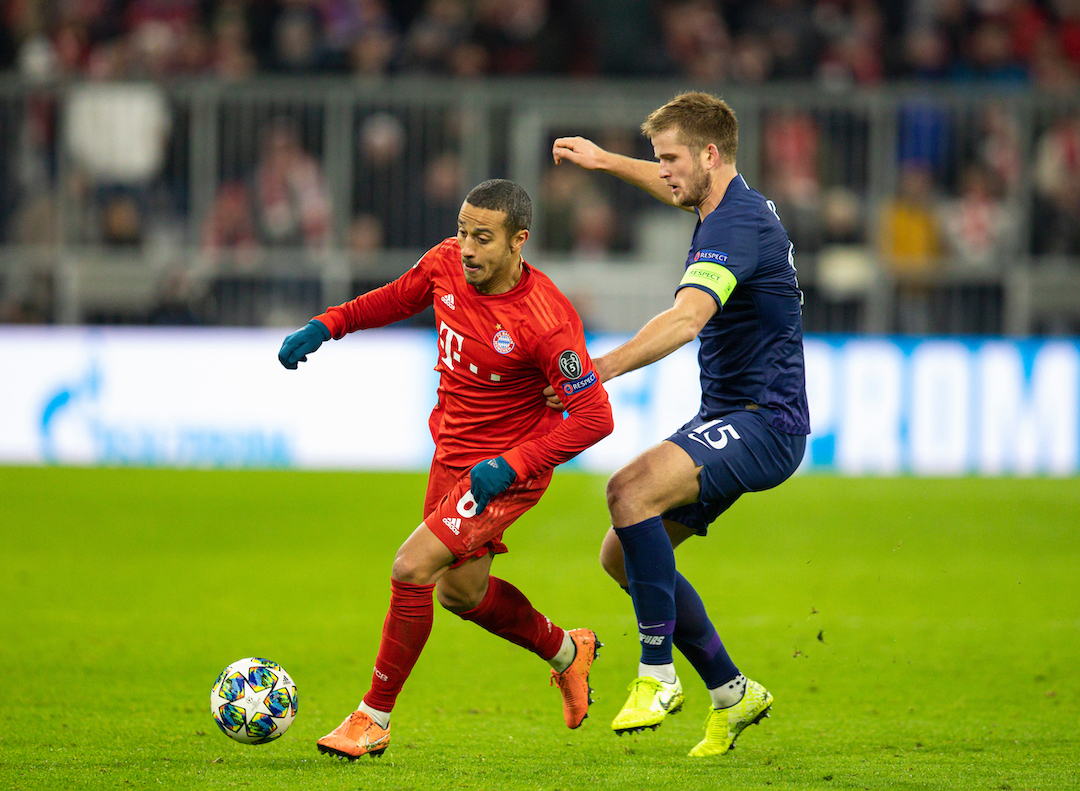 Against Arsenal in the Community Shield, Eddie Nketiah's man-marking job on Fabinho was underplayed in how it stifled Liverpool's buildup, thus the overreliance on Andy Robertson for the first hour.
The Brazilian hasn't quite hit the heights of his peak 2019 form yet, but at his best he improved massively on deep-lying progressions (8.12) and expected goals (xG) buildup (0.81) as he hit a rhythm and found his feet on Merseyside.
It's looking ever increasingly like Klopp and his coaches want alternative ways to create attacking opportunities for this team. Thiago is the perfect foil, having registered 82 dribble attempts in 2019-20. Fabinho, in comparison, managed 31, while Jordan Henderson had 18.
Think of all the traits this team masters to seem like they at times play with a man advantage: positional awareness, trust to take up and occupy large chunks of pitch alone, facing up and going past opposition. This is a player who may wear number six, but can add all of that to an already impressive setup.
Most importantly, he will drive excellence. The likes of Curtis Jones can continue to learn under the guise of another winner who demands absolutely everything out of every single second, from training to game.
Liverpool have finally made a transfer, but Thiago Alcantara stands to be so much more if things work out.
And there is every sign they will.
---
"This is a whole different level, ready made at the height of his powers."

"Liverpool fans can be hugely excited. He is someone just a little bit different."

📱 Subscribe to listen to our Thiago special with Raphael @Honigstein 👉https://t.co/oaOWcUhPWR pic.twitter.com/03KIDT56xj

— The Anfield Wrap (@TheAnfieldWrap) September 18, 2020