BEFORE the win over Chelsea on Sunday, Jürgen Klopp was asked if new signing Thiago Alcantara would be starting.
The German dismissed the idea as laughable. The player had only just arrived from Bayern Munich, who play a completely different system, and he had barely even trained with his new teammates. What a stupid question. What a daft suggestion.
After 45 minutes at Stamford Bridge: "Get stripped, lad."
I am sure the decision was well thought out and made with a calm head, but a part of me would also like to believe this was simply Klopp being just like the rest of us, unable to contain his excitement at the possibility to play with his new toy. One he has admired and desired for years.
On the face it, the situation felt ideal. Against 10 men who hadn't been particularly adventurous even with a full complement, and with Jordan Henderson feeling a twinge in his thigh at the break, why not give Thiago his first taste here?
This was also a ground where Thiago had dominated The Blues in February, and against a team he had conquered twice already in 2020.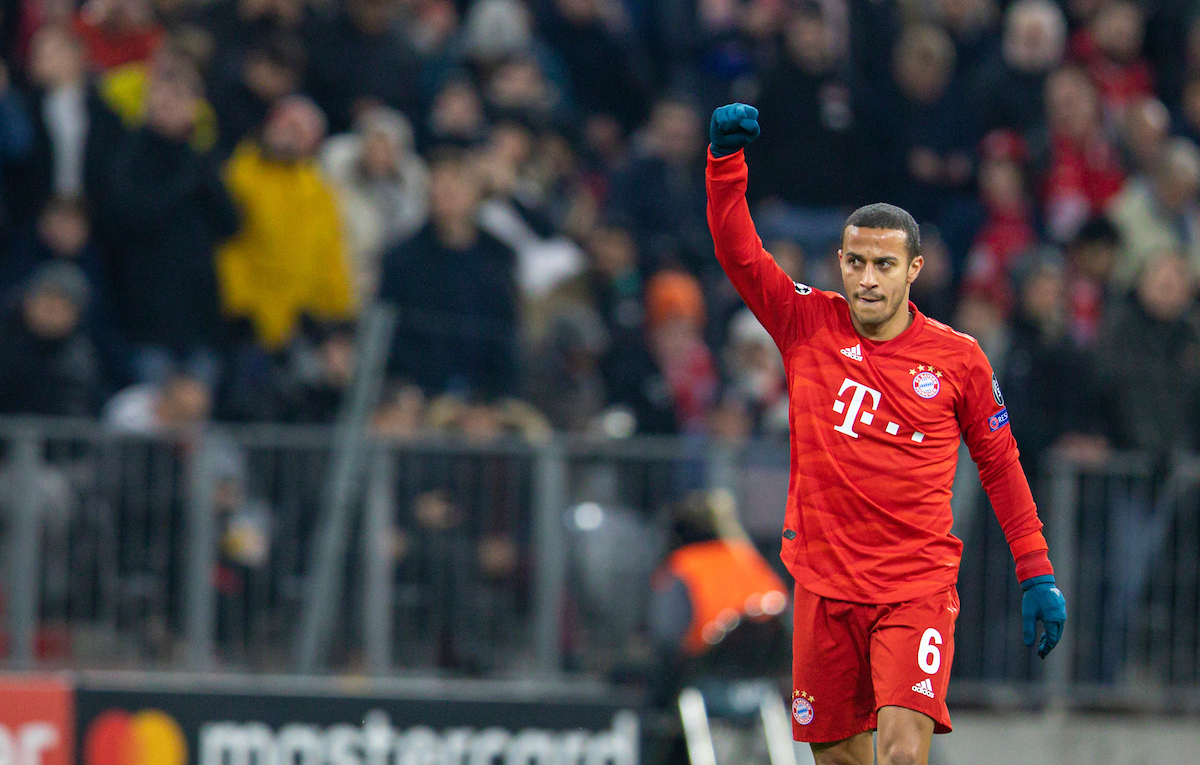 Unsurprisingly, he was sublime. The main headline after the game was that he managed to break the record for most passes in a 45-minute or less Premier League appearance since records began, as well as completing comfortably more passes than any Chelsea player managed in the full 90. It wasn't entirely surprising, though, because everyone wanted to pass to him.
This wasn't like the new guy at work who needs to pay his dues to earn even a nod at the coffee point. This was Lord Flashheart arriving, and everyone wanted to be his friend. Woof.
You could almost see Liverpool players wanting the ball just so they could give it to him. "You already passed to him twice, it's my turn. Gimme it! Here you go, Thiago."
The 2-0 victory was arguably the best Liverpool performance since before March's lockdown took effect. Even after last week's opening day win against Leeds, many felt The Reds still looked a bit off colour. Not here, they looked like the team that had so ruthlessly dispatched of their Premier League rivals last season.
They played like a team that had been buoyed back to form, and you could argue that part of the effervescence came from the same place as the fans' excitement in the last week.
Players get excited by transfers just like fans do. Perhaps they don't start weird Twitter accounts and tweet the owner to announce anyone 350 times a day, but there will have been a buzz in the dressing room at Melwood when deals for both Thiago and Diogo Jota were confirmed.
I would like to think so anyway, mostly so I can believe that Roberto Firmino and Alisson are having chats about whether or not that chicken shop fella on Twitter is reliable.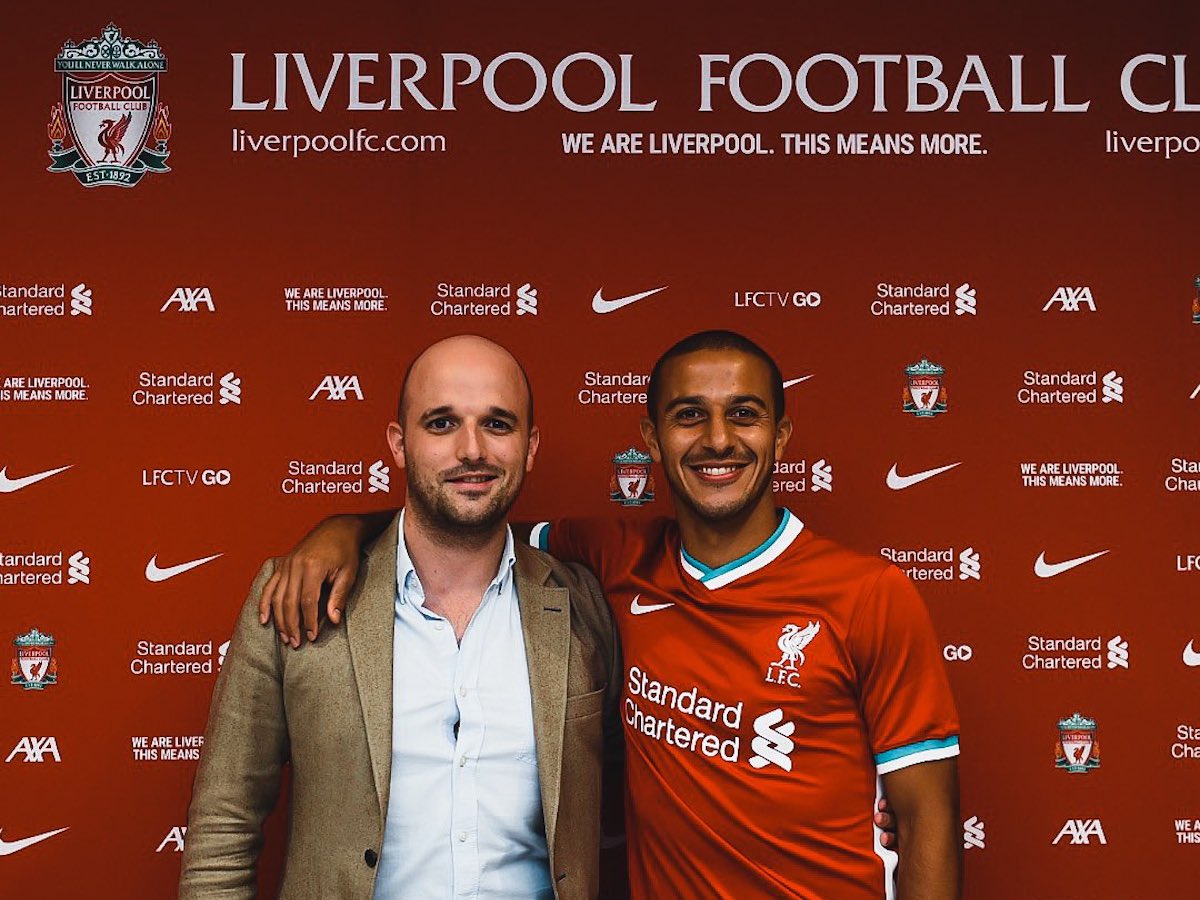 Thiago officially arrived at Anfield on Friday, and was named on the bench for the Chelsea game. He had already managed to get the fan base humming obscure 70s disco, but would we be treated to his array of passing at some point, or be made to wait as so many new players are under Klopp, such is the amount of learning needed to adapt to his system?
Ironically, the best pass of the game probably came just before the Spanish international's introduction, as Henderson – the man he would replace – pinged a ball over the top for Sadio Mane to run onto. The precision of the weight on the ball, along with Mane's perfectly timed sprint, led to Andreas Christensen (not 'Christiansen'…) hauling down our Senegalese star and being dismissed.
It was surreal. A player none of us had thought about playing for Liverpool until the initial link back in early July, and then had thought about little else since, was now strutting around Stamford Bridge in the red of Liverpool helping to tear apart Frank Lampard's charges.
Even before Thiago got started, he seemed to go around every player to greet them as he came onto the pitch ("How are we? How are we? How are we?"), was asking for the ball every chance he got, and even ran over to get stuck into the celebrations when Mane headed Liverpool into the lead. He made a point of getting to Mane personally to give him a hug and word of praise.
There were question marks from some about bringing in a 29-year-old. It's not in the FSG plan, not their way of working etc. It might be a rare occurrence, but the benefits of bringing in a player of such experience and standing was apparent within minutes of his debut.
Having been cultivated at Barcelona's La Masia academy, his desire to take the ball and pass the ball was obvious. Most professional footballers can pass the ball, but the very best make it an art form. This was the show we had witnessed just a few weeks ago in Lisbon as Thiago dictated much of Bayern's march to the Champions League title.
It wasn't just the simple passes. On more than one occasion, he shaped to play a routine sideways pass, before instead whipping the ball through Chelsea's midfield and into an attacking player's feet. Once his teammates get used to this kind of thing, it should be yet another effective way for Liverpool to slice through teams.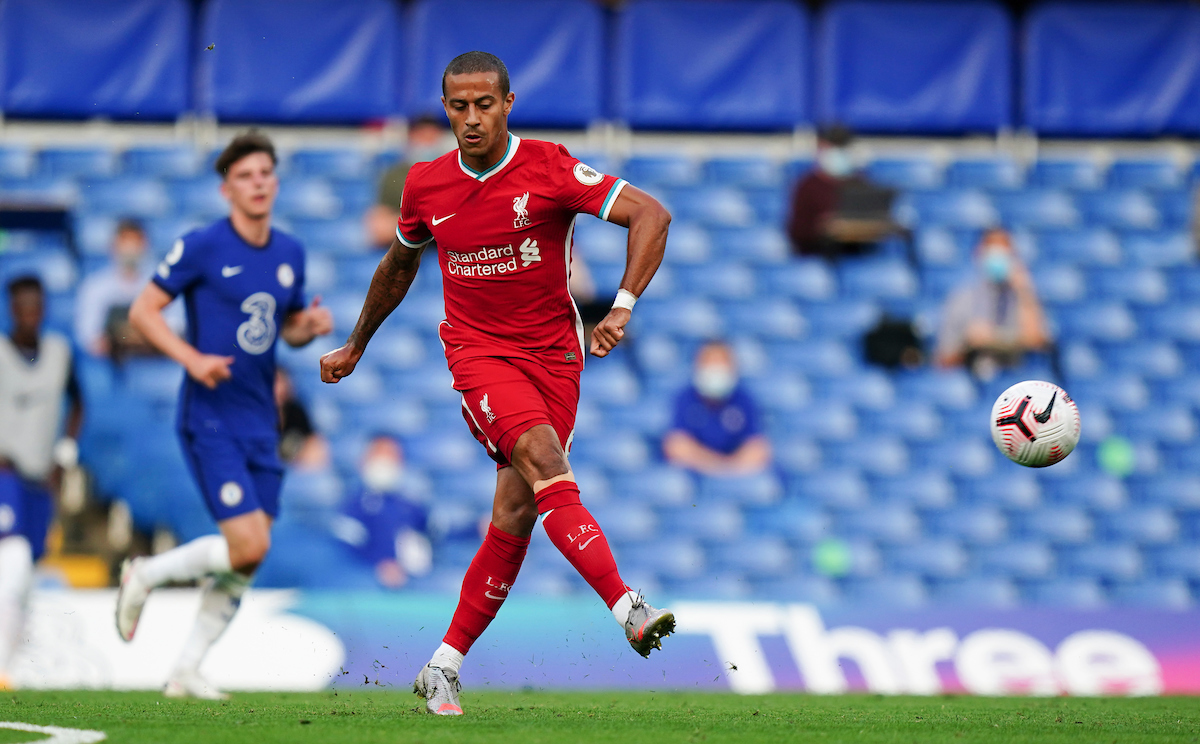 There was one negative moment, though. Thiago did concede a penalty after chasing back to try and stop Timo Werner from advancing on goal. There wasn't much contact, but enough to send Werner toppling over. Thankfully, Alisson was the first goalkeeper who had apparently bothered to ever watch Jorginho take a penalty before facing one, and didn't fall for the little hop from the Italian.
That might be one thing to bear in mind with Thiago, as it was something apparently often raised by Bild during his Bayern days, that he commits too many fouls.
Fans of the European Champions widely ridicule that notion, though, and feel that Bild just used it as a weird stick to beat a player they saw as too different for the Bundesliga. No doubt the German publication noted his foul on one of their own, though he did make up for it later by executing a perfect tackle on Werner on the other side of the area.
Thiago's standards were clear. This was his debut, so any mistakes would usually be forgiven, but after one misplaced pass late on, he literally smacked himself on the forehead like a frustrated cartoon. Moments after that he tackled N'Golo Kante and celebrated it like a goal. He wanted to be impressive. It meant a lot to him, and he was. After the final whistle, his new manager gave him a big hug, which he'll certainly have to get used to.
It was only a first impression, of course, and next time we see Thiago he won't have things as easy as he will be facing 11 men.
However, if Sunday is anything to go by, it will feel like Liverpool are playing with 12.
---
"He immediately interprets what's in front of him and immediately sees what the right pass is."

"Thiago will have the freedom. And Liverpool were so good on the loose ball."

📱 Subscribe for all of our reaction to Chelsea v Liverpool 👉https://t.co/cXuFmbDvp3 pic.twitter.com/GoLehObNx1

— The Anfield Wrap (@TheAnfieldWrap) September 21, 2020