OVER the weekend the press reported that our first game of the season had everything.
It had goals, disallowed goals, defensive howlers, a hat-trick, two charismatic managers and more to and fro action than your average basketball game.
That's not true though. It didn't have everything. It didn't have us.
The opening day of any season is both joyous and tense. Ordinarily you've waited weeks to see your side, the new kit, the newer signings and the possibility of glory or horror. A nice, big comfortable win means points on the board before some teams have even played.
However, an edgy draw – or even worse – can send you into a spiral of gloom. The start of the 2003-4 season is a case in point.
Chelsea opened the Abramovich era with a visit to Anfield and it was billed as the future versus the past. Would the stench of new money replace the old guard of the country's most successful side or would the Liverpool way see off this irksome challenger with its vulgar petrol money? It was only one game and just three points, but it seemed so much more that. Liverpool had to win. Had to.
We didn't. We lost 2-1 to a late Jimmy-Floyd Hasselbaink goal.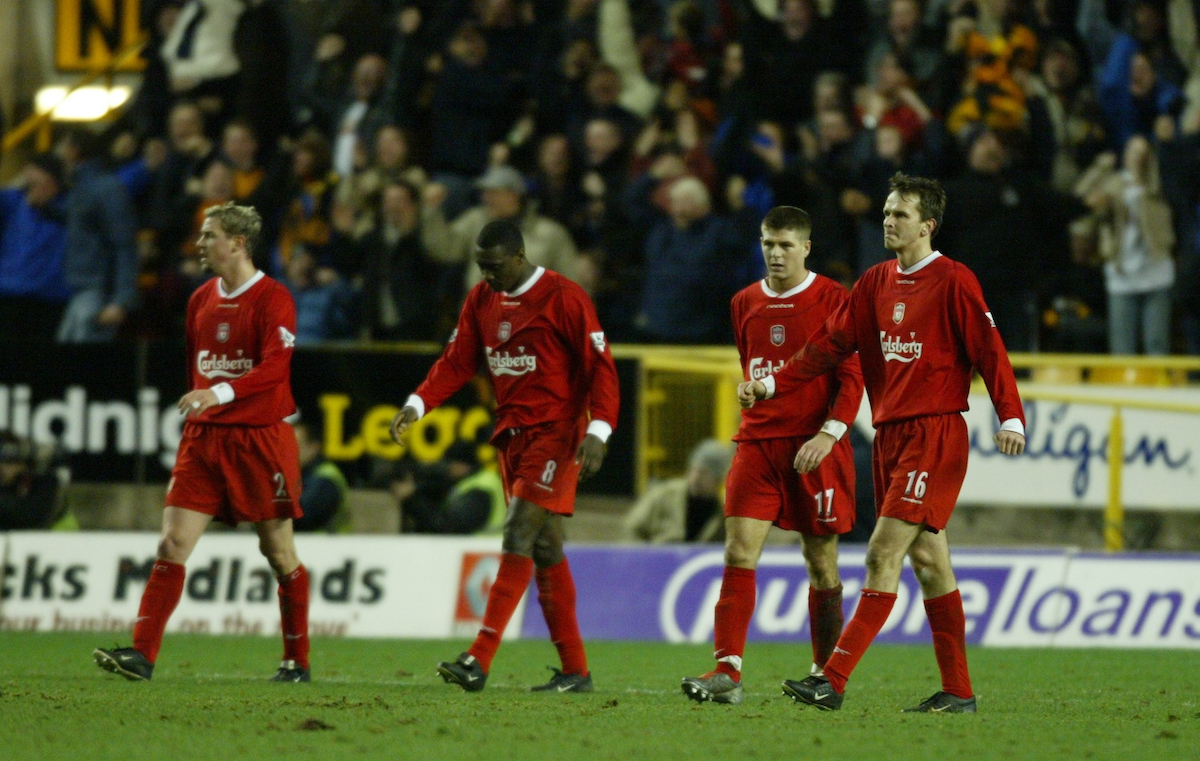 It came too soon, and it got in our heads. The game had just become that much harder. United and Arsenal were one thing, but now Chelsea had money and someone who knew what to do with it.
Had we won that it may have taken them down a peg or two albeit briefly. We were stuck in the starting gate.
Chelsea finished in second, just 19 points ahead of us. That opening set the tone as many had suspected it would.
The Leeds game carried a different importance. With the Champions only losing matches after the league was done and dusted, it was vital that we didn't break the spell and lose the Anfield record. Runs become too tense after a while and something gives, but that three-and-a-half-year unbeaten league run in L4 could not fall against a newly promoted side – Bielsa or not.
A statement was needed and though it was hardly the display of dominance we'd have liked, we got away with the points and a lesson in hubris. Liverpool will play – and defend – better.
But it still missed the fans. It still missed us.
Much as I enjoyed (I think) Henderson shouting "finish" to Mo for the second goal I'd rather it'd been muted by the noise of 50,000 people. Even if I couldn't have gone to the match, I'd rather others could.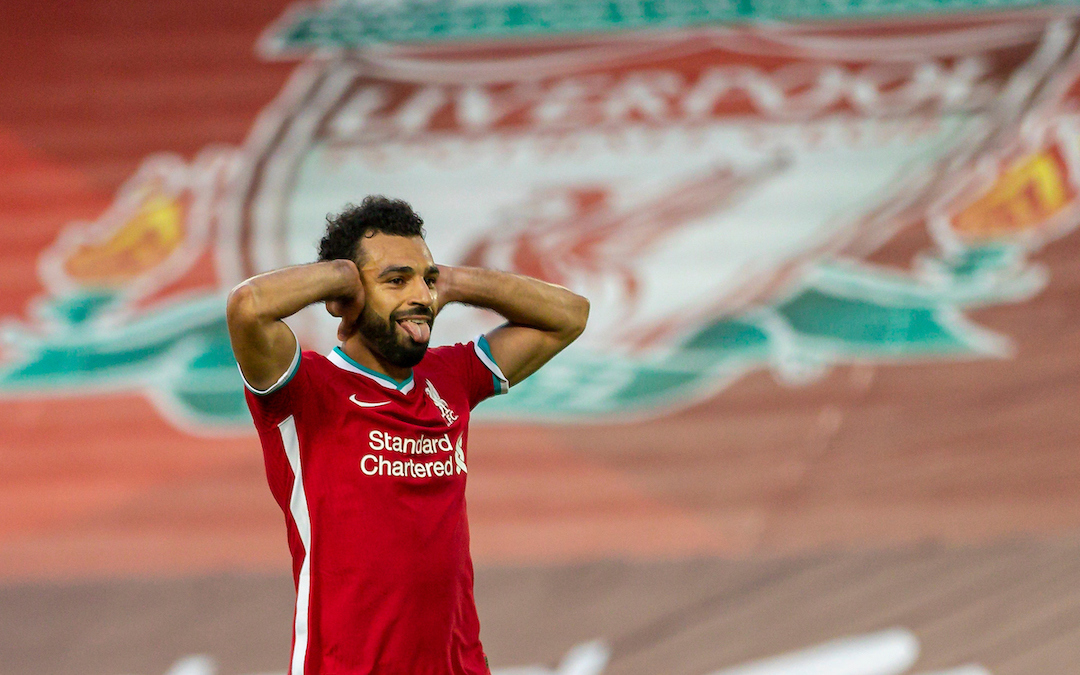 Football needs the stands full. It needs noise, pomp and swagger and though the times are against us and the caution is laudable and necessary, it made me miss the match more than welcome its return.
Of course, not everyone gets a chance to visit Anfield at all, never mind on opening day, so I'm as Junior Soprano opined: "Like a woman with a Virginia ham under her arm, crying the blues because she has no bread."
Woe is me and all that. I know, I know.
I suppose we must accept that this is the 'new normal' or whatever, but it's a sorry affair. Obviously, other people have lost more than this in the current pandemic so excuse the tittylip. I lost a mate to it so I'm not without scars from this thing.
The new normal comes with new weekends. I live in London and enjoy the drive up to the match with a carload of Reds taking the piss out of each other or swapping news or trivia. Those hours can be just as enjoyable as a 7-1 home romp.
For example, I couldn't tell you who the scorers were when Liverpool beat Southampton 3-0 at St Marys in 2014, but I remember a frank and robust conversation about the supposed saintliness of Mother Theresa on the way to the ground. A trip to Arsenal at Anfield once ended on the M40 with a half-hour discussion on the minor cast members of 'Allo 'Allo.
Sometimes the game itself is not what you miss.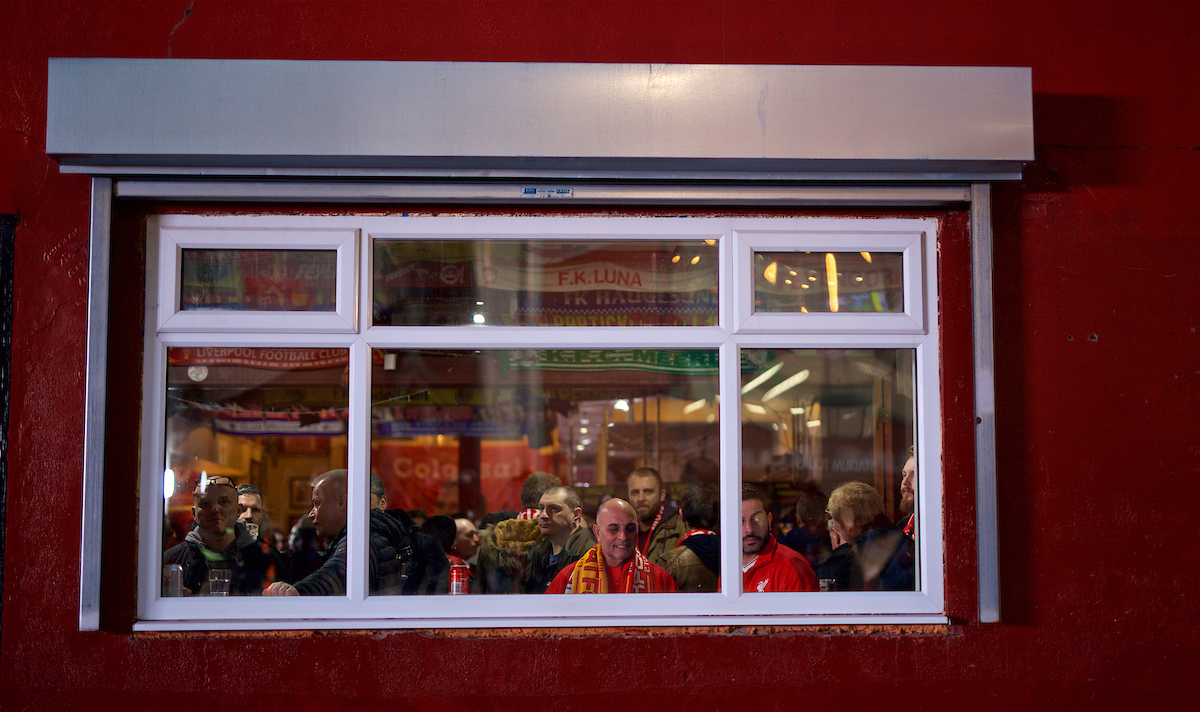 Instead I watched the game from my couch, listened to Carra and Tyler giggle at the word 'Koch,' chimed into the odd WhatsApp chat and washed the dishes at half time. I hated it.
And when the game was over there was to be no trip to the chippy for a double carb tea (half chips, half rice, curry sauce) or the long schlep down the motorway, shouting at the radio phone-ins.
I thought I'd miss football, but I don't. I miss the whole day. From the eye rubbing when I wake up, to the collapsing into bed 12 hours later to tune in to a game on the telly that I've already seen with my own eyes, but somehow can't even consider the thought of not watching it all over again.
You'll have your own version of this, and it may be that yours is worse or much better. I hope you're doing OK with it.
We may be locked down again. We may not. There's no guarantee that this season will even finish. I have my doubts, frankly, but I'd rather people didn't become infected and die. It's just something we have to live with.
Good job we won, eh?
---
"It brings the kid out in you, and reminds of the things you grew up loving football for."

"At that age, I was on cloud nine, because a footy player had talked to me!"

The latest in our 'The Treble' series…🎥

📱 Download our app to watch 👉 https://t.co/v3xcfwjq7C pic.twitter.com/PgtJvqbVSZ

— The Anfield Wrap (@TheAnfieldWrap) September 16, 2020