IT felt thrilling, building to this one.
It felt like an event. All the urgency was back, the undertow of the journey was suddenly there. This wasn't just the idea of Liverpool playing and winning. Not the idea of setting a standard. But the idea of making a point, of pushing a sudden advantage.
There was a vulnerability as well – a side who had stopped this Liverpool from winning twice in their last two outings, something which has verged on unique since Liverpool shipped four at Tottenham Hotspur.
The fever was back. The craving was there. The craving for ever so much. What's a song without you, indeed. It has never been truer in every sense. I wish we could have been there, you know. The most so far. The most I thought of us and you and them. I wanted us back together all day.
The manager went out of his way in his programme notes to remind us that we are on their minds, like they're on ours all the time. It was interesting he chose this one to return to that theme. Monday in the autumn gloaming, football when this turns to that is the best time to play football. Let them kick off in the light and finish in the dark.
There is something slightly bittersweet, you know. It is this… This is the best Liverpool side we may ever get to watch.
We haven't lost being Champions. We haven't lost that journey that we had since Tottenham Hotspur away in 2017 until Wolves away or until Bournemouth at home or whenever you want. We haven't lost that night out. We had them, we had them all, had more than most football supporters get, had the ride of our lives, had the absolute ride, the absolute pleasure, the absolute ball. We had that.
But now what is left is the staggering appreciation and the sheer admiration. There should be nothing but homage, and there is nothing but homage tonight because tonight Liverpool were marvellous. They were the architects of their own downfall to slip behind but they showed yet again that they aren't just the best team in the world at 0-0 but the best team in the world at 1-0 in either direction.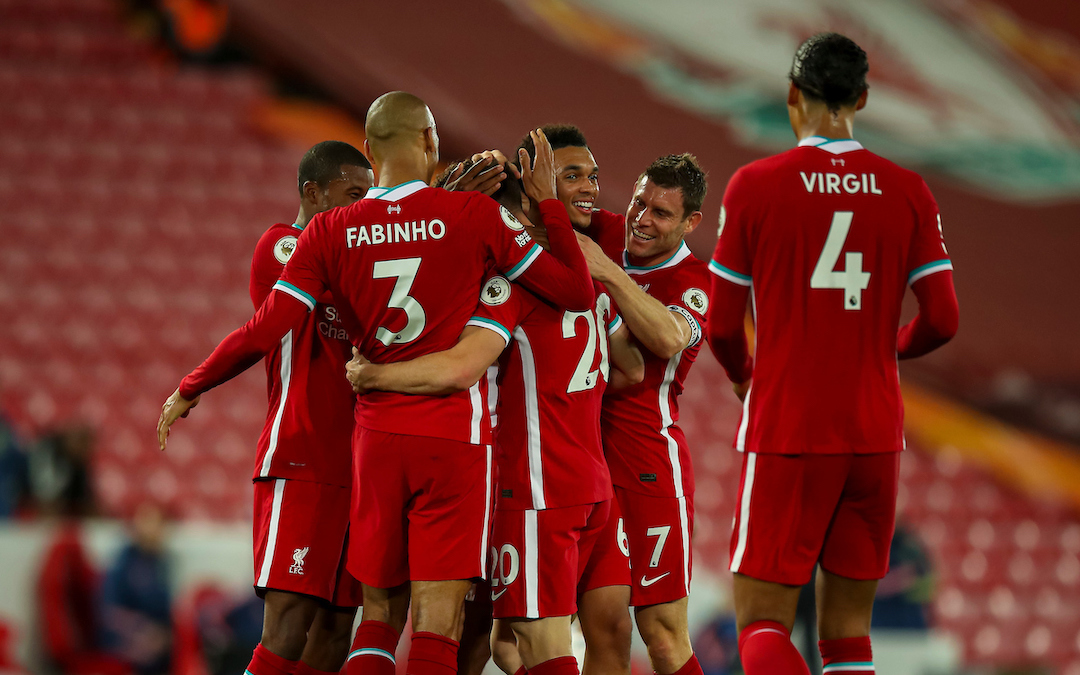 There are sides – in Manchester, in Bavaria, in Barcelona, in Paris – who are better than Liverpool at two goals ahead. When the game is blood and bone, when the game is alive there is no one to rival this Liverpool side on the planet.
And Arsenal played well, played bravely, showed real resilience. In previous seasons Arsenal go in 4-1 down. In previous seasons they wilt second half. But they hung in and looked to hurt Liverpool. They took their gambles and looked not to minimise damage but to maximise reward against risk. They showed and showed.
Kieran Tierney inside and out, Mohamed Elneny scrapping for bits and Alexander Lacazette scrapping on Fabinho all game, accepting he will tend to be second best but that one time in six when he isn't, well, you never know your luck.
Liverpool had a plan, though. Pierre-Emerick Aubameyang found himself smothered out of the game, one lame cross aside. Naby Keita did a job there which will go unnoticed by most. He held his position marvellously.
Liverpool pressed aggressively but always had one more man just in case. They weren't going to be played through but acknowledged they could perhaps be played over. The likeliest playmaker for Arsenal was David Luiz. He was the man most likely to unlock The Reds, excepting for The Reds themselves.
That said Liverpool's goalkeeper had to make an excellent save from Lacazette. He probably didn't need to make two; the first looked all the world as though it would have been pulled back for an offside but one can't escape the feeling that the first contributed to the second, something underlined by the camera cutting to Lacazette's dead-eyed look once he had been substituted.
He'd gone at the best. So had Arsenal throughout. Mohamed Salah carried a ton of threat and played the pass of the match. Sadio Mane throbbed his way through the game, a heart pounding, not to be denied. Roberto Firmino's movement was electric even when his touch wasn't. Liverpool should have got themselves out of sight.
But still the full backs; lord the full backs. Liverpool's a highwire act everywhere you look. Excellence so often is. And tonight, while Andy Robertson showed both sides, we'd do well to just focus on one. His goal was brilliantly taken but his whole performance in the Arsenal half was one of the most switched on footballer you could imagine.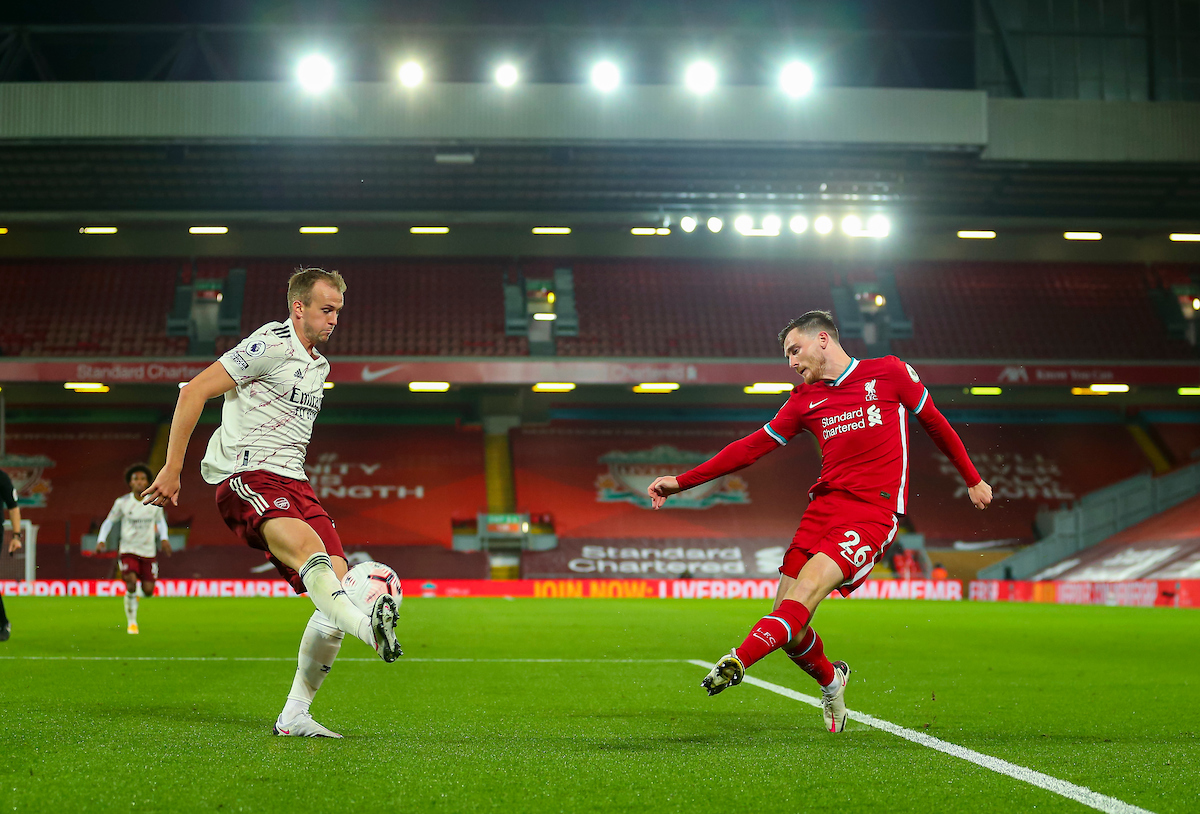 Trent Alexander-Arnold's technique is off the charts. It allows him to try things number tens would think twice about. It is like having Juan Roman Riquelme playing right back when he has the ball and Cafu when he hasn't got it.
Diogo Jota turns up and is riveting. Bob Holding watches Sadio go off and matters only get more stressful for him. Jota comes ever so close to scoring one, creating one and getting out the way of Mo Salah for one before he drills it into the bottom corner for his first Liverpool goal. He harried and searched and fouled with the best of them. He clicked.
We haven't got to Virgil van Dijk pinging it 70 yards all game or Joe Gomez being the second best centre half in the country. We're glossing over Fabinho's first-half performance or Gini Wijnaldum's second half. We aren't in danger of taking magnificence for granted, far from it, it is just that there is only so much time.
Time. This is what is truly bittersweet. We know enough to know that there is only so much time. These lads are into season four of this, season three of this league brilliance. Savour them. Savour this.
It must be savoured. Promise me you will. We can keep each other honest. I went into the game thinking only about the league table. The league table will be there across the next weeks and months and it will have Liverpool at the very top of it soon enough. I'd be genuinely surprised if not because they aren't letting up and they aren't letting us down.
Three down. Thirty-five to go. Thirty-five more times to be wowed and to be wooed. To be thrilled. Thirty-five more times to savour it all.
Let's not throw any of them away.
---
"That's a really good team, really well coached and Liverpool held them at arms length."

"Liverpool have found another notch." 👏

📱 Subscribe for all our immediate Post Match content 👉https://t.co/oaOWcUzrlr pic.twitter.com/61xhkwf4o7

— The Anfield Wrap (@TheAnfieldWrap) September 28, 2020