SAY what you want, you don't get many 2-7s.
Say what you want, that was bananas.
And say what you want but that was an enormous amount of fun.
Liverpool may well be looking to lighten all of our autumns and that is a fantastic ambition from The Reds. There is something about us in the domestic cups across the last year or so where we embrace the occasion as we define it. Arsenal, Shrewsbury and Everton all at home had a real sense of that. Tonight we decided to have a bit of a party.
A quick list of some of the laughs:
Xherdan Shaqiri. Just in general. Swanning about and then blamming in the freekick, coming off the left and probing, arrowing the ball forward. Play him six against Arsenal next Thursday.
Curtis Jones, spending 10 minutes taking stock and then 35 minutes taking the piss. He was magnificent first half and should wag his finger after every Liverpool goal he scores.
Takumi Minamino looking more and more like the footballer we all went berserk for at Anfield. His finish for the second unerring.
The fact that Adrian managed to be a contender for MOM, doing some brilliant goalkeeping and still conceding two. He was at fault for the second but had been excellent to that point.
There was some serious business ongoing, though. Much of it was about the immediate future of some players on the pitch. The complete lack of Rhian Brewster suggests he is on his way and on his way to a side that may well still be in this competition.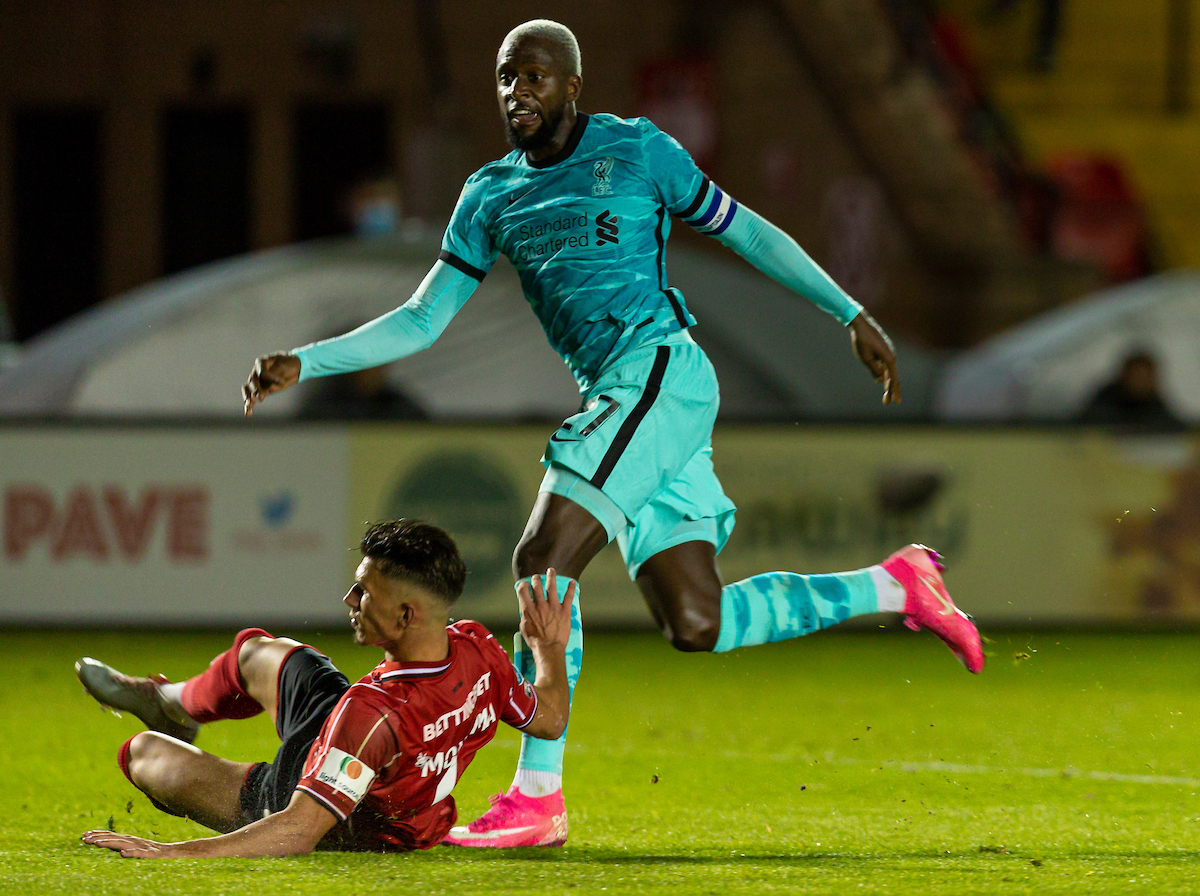 Divock Origi got his goal and didn't play poorly but played in a manner which didn't feel integrated with his colleagues. I do wonder sometimes with Origi if he is given some very specific instructions by his manager that don't help the aesthetic. Because the manager keeps picking him and presumably he is about to embark on another season at Anfield.
Marko Grujic, though, should have done himself absolutely no harm whatsoever. He was marvellous throughout. There will always be a question mark about whether or not he moves the ball quickly enough for this Liverpool side but everything else is in his game that he needs. He should probably move on for his career; now is the time he needs to go and get regular league football and make a club his home.
He's a strange case, Grujic – he has it in him to make us occasionally regret selling him if that comes to pass. But it is all about the game time for him to become the player he could be. I would love to watch him play for Serbia in a summer tournament and wonder what could have been while knowing it actually couldn't.
Diogo Jota got his debut but in coming on for Harvey Elliott, Liverpool became unbalanced. No one really replaced Elliott. Jones did bits and Origi turned up but Liverpool were less effective and as such Jota couldn't join the party. Soon enough, though.
Elliott though could be closer than many are anticipating. Liverpool can't keep him under lock and key forever. He should start again next week and get a similar period of time on the pitch.
Second half Lincoln did well for their first goal, but both Williams won't enjoy the video. Neco remains a mild concern should he need to be called upon in earnest, but is also simultaneously the defender furthest away from Virgil van Dijk. Rhys was a surprise selection and did really well until he didn't. But that debut is done now. He can look to next Thursday for his next runout.
Ultimately though the contest was about players getting to play. The first 20 minutes of the second half was thoroughly unorthodox. Lincoln committed to that and the thing about Liverpool under Jürgen Klopp is that if you want to fight they'll out fight you. If you want to play, they'll out play you. And if you want to be bananas, they'll out bananas you.
It was that kind of night and it was, indeed, wonderful to see.
---