WELL. That was a pretty short summer, wasn't it?
Can you even call it a summer? I mean, the weather didn't really put much effort in while there was no football for us to consume.
And as far as some sections of Liverpool's support are concerned, that lack of effort from the UK sunshine was reflected in the boardrooms at Anfield/Boston.
It's strange that in the shortest summer break ever, that came off the back of ending our long wait for a Premier League title, the mood of being unbearable that seemed to sustain throughout last summer's Champions League glory has been all too quickly replaced.
I should start by caveating this, obviously. We're literally in a global pandemic, for fuck's sake. It's hardly the time for all of us to be skipping through cornfields together screaming 'Allez, Allez, Allez' at the top of our lungs.
The global mood is down and perhaps that's just being reflected within our fanbase, to an extent.
People are living with a larger collective sense of fear than I've known in my lifetime. Are Liverpool fans also scared about their football club's fortunes?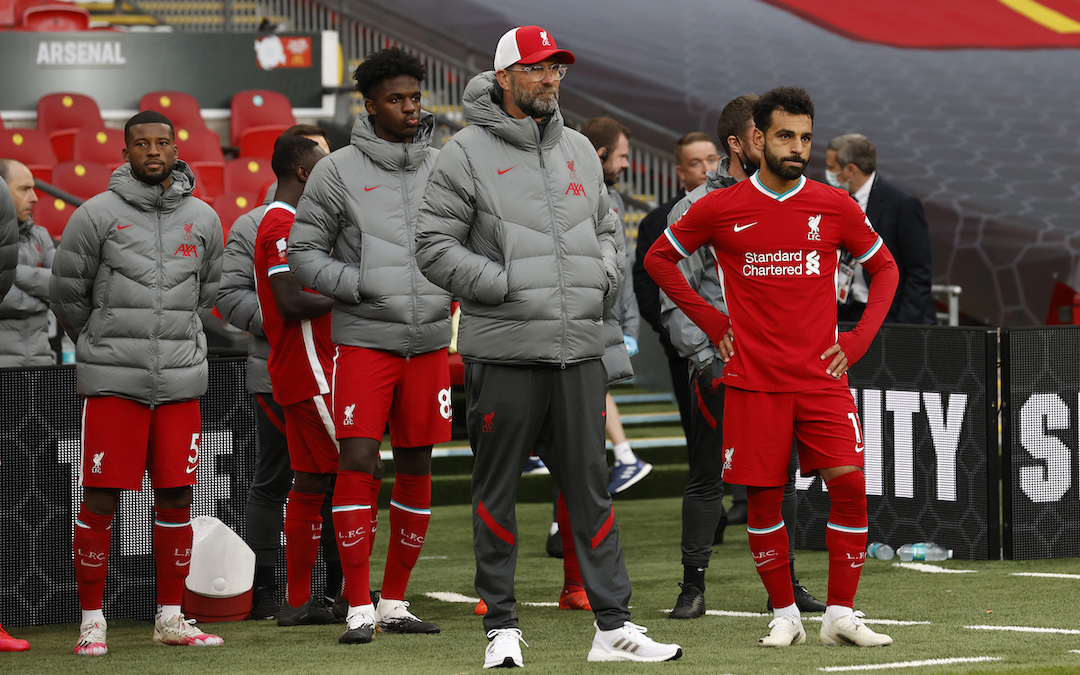 Don't get me wrong, I'm not trying to compare being scared of catching a deadly virus to seeing your football club regress. However, since the summit has been reached, there does appear to be a bit of a grey-ish cloud lingering above.
We're all happy The Reds won the league. We're pleased for us, for the lads, for Jürgen and his staff. That is the resounding feeling across the board.
Everything else is slightly less black and white. Are you really happy we won the league if you are unhappy we aren't buying Thiago? Are you really arsed about our ability to win more trophies if you aren't unhappy that we aren't buying Thiago?
Fucking hell. We haven't even not bought Thiago yet.
I'll be clear about my feelings. Hopefully that might help some people understand theirs better, or just be able to resonate, or even disagree and call me a gobshite in the comments.
I'm absolutely over the moon The Reds won the league, but a large portion of that over-the-moon-ness was relief. Because I, at least for a second, subconsciously allowed myself to think the season might be declared null and void, as much as I made a conscious effort to not let that thought in.
I'll be honest, that relief made me want to just sit down and take a deep breath. Away from the football and the emotion of it all. Just go on a boat into the middle of the ocean and soak up being a Premier League champion for the first time.
I say away from the football and the emotion of that because the end of the season was weird, wasn't it? Were the lads really arsed? Were they mentally on the beach? I'd like to think our lads had the mentality to not switch straight off once the job was done, but they can also be forgiven for being human beings and easing the pressure they put on themselves.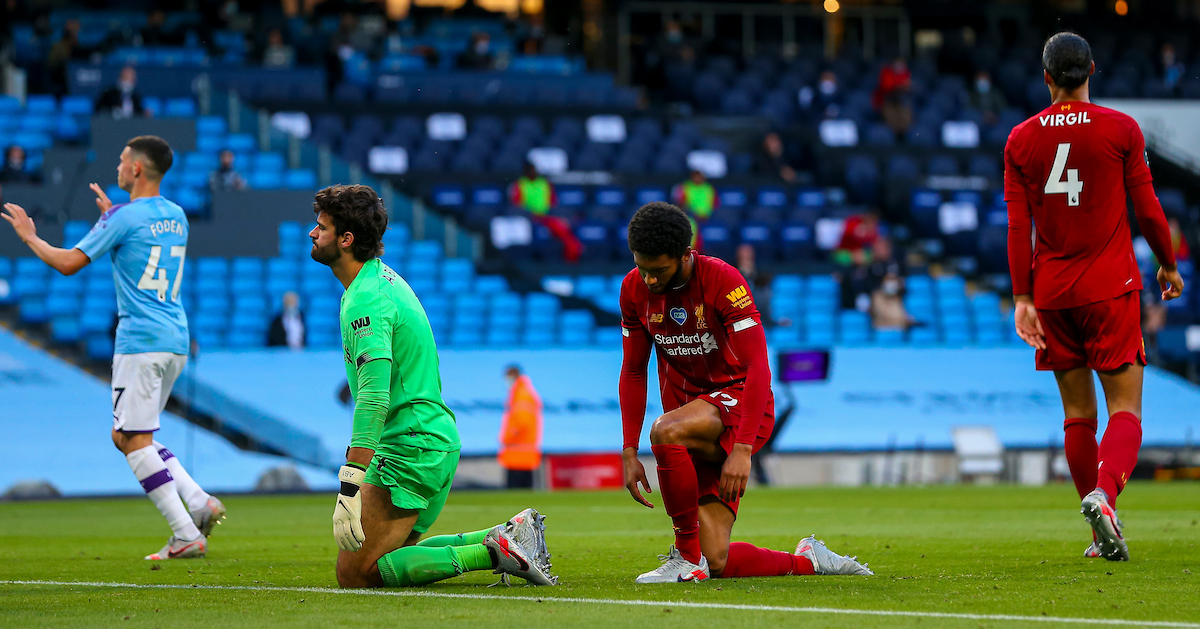 That was the first challenge for me personally. Trying to not get too swept up in the games and wanting these lads to smash the 100-point mark. I wanted that for them so I was a bit disappointed for them that it didn't happen.
Not disappointed *in* them, by the way. Not for a single moment disappointed *in* them.
But then that challenging end to the season makes you question other things. If the lads mentally eased off straight after winning the league will that continue to feed into the collective psyche for the following season? And the one after? And so on?
I'd say no, but I'm just one bloke. I can't convince somebody with a completely different viewpoint on how those games panned out that everything is going to be sound. Those supporters probably just worry about their team more than I do.
That's fine, you know. We all have a different view of the world, even if we do share a common bond. Some people are more skeptical than others. Some prefer to be constantly optimistic. I personally say go with whatever makes you happy.
I'm usually leaning towards the optimistic side of that spectrum, for what it's worth. I think Liverpool are going to win the league again next season and I think they will go further in the Champions League too.
But I also want us to sign Thiago.
I want us to have all the best football players in the world. I want Anfield to be the place to play the best football and win the biggest trophies. Thiago seems to believe that and I think signing him would make more footballers think so too.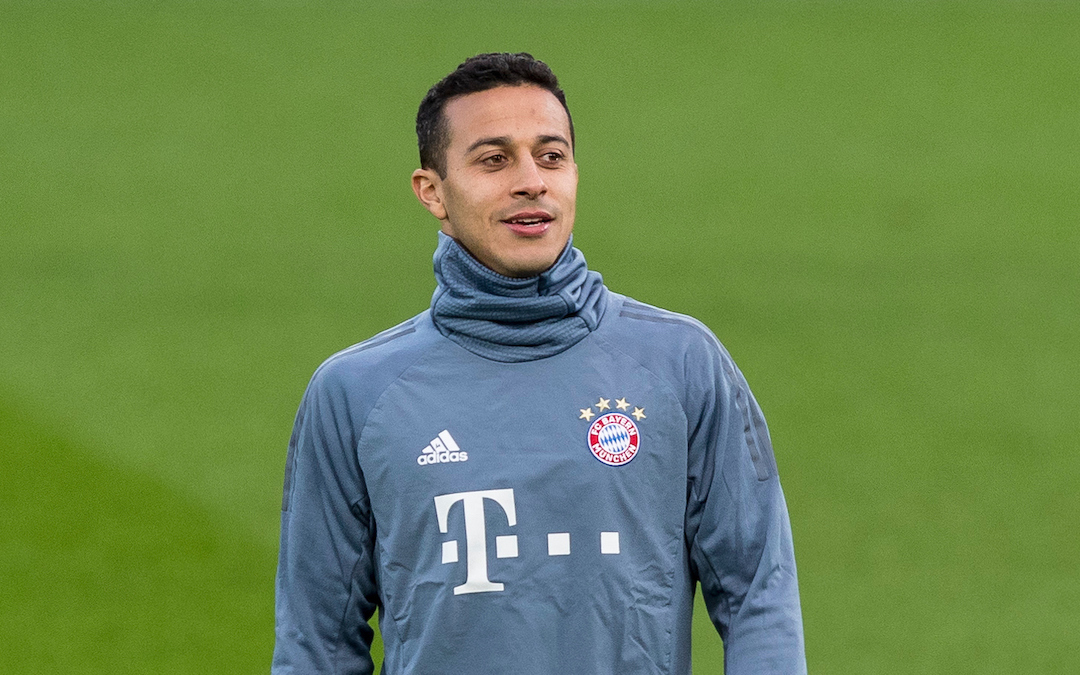 I don't think not signing Thiago would be the difference between us winning the league and falling short again, though. I think these lads know what it takes without Thiago, and the gap was big enough to allow at least a little bit more room for complacency.
But I do think a footballer of Thiago's ability adds loads. It injects positivity into our ranks, for one. It probably injects doubt into our opponents' minds too.
"They got 99 points last season and have just signed one of the best players in the world, there. Might as well pack it all in."
I say that because I've definitely thought that exact thing about Manchester City before. Thought they couldn't be caught. Thought them buying loads of good football players to add to their crop of already really good football players made them closer to invincibility.
And that's the thing. It didn't really, did it? Because nothing is guaranteed. Liverpool could sign Thiago and he could be shite, he could really upset the apple cart and we could fall off a cliff in comparison to last season's standards.
That could still win us the league, though. That's how high last season's standards were. If you don't believe me just go back and look at the final league table.
So, yes, I want us to sign Thiago. I want us to sign a backup centre half too really, but I understand why that's easier said than done, and I couldn't even begin to suggest a name I think we could go for. All that and I'm still over the moon we won the league last season. Still think we'll do it again next season whatever happens.
I want Liverpool to create a dynasty and that's where my biggest concerns come in. There was a really interesting Twitter thread published today by the Swiss Ramble. It's dead long but I'd recommend giving it a read.
Many Liverpool fans cannot understand why their club seems unwilling to buy players. Surely they should be awash with cash after winning the Champions League and then the Premier League? This thread looks at where the money has gone and suggests why they are not buying #LFC

— Swiss Ramble (@SwissRamble) September 7, 2020
One of the things I took from that is that we're in good hands with FSG. They've run the club the right way, and that's something to be celebrated given where we were when they bought us.
But I do worry. I worry that broadly adopting a 'sell to buy' strategy only works to a point. What happens when your prized assets no longer hold any value? Then what do you sell? How do you buy the calibre of player that fires you towards all the trophies?
Luckily we've got loads of those footballers right now and it's a problem for the future. There's still loads of the now to enjoy, at least in a footballing sense, and I'm going to try my best to do that in so much as the current climate allows.
What's my overall point? Just that nothing is black and white, really. Nothing makes you more or less of a Liverpool fan. Optimist, pessimist, ultimately what does it matter?
My minimum requirement is that you love our lads and you support them every time they take to the pitch.
Now can we get back to being unbearable, please?
---
"I love Thiago, but Liverpool need to invest players between 21 and 25."

📱 Subscribe here for our latest edition of 'The Gutter' 👉 https://t.co/TEMh9r97WH pic.twitter.com/pUVfAf59RH

— The Anfield Wrap (@TheAnfieldWrap) September 3, 2020