ROBERTO Firmino starts smiling before he has even taken the shot. Roberto Firmino knows things are about to get emphatic.
Sadio Mane wins the ball off the keeper, who must be a wreck, and Firmino is beaming and Liverpool have won the game, won the game of games. Won the one that rings out and you know, tell your sob stories to someone else.
Fact is this – Chelsea almost certainly finish this season in the top six; probably in the top four; likely third. Bang. That's your second toughest away boxed when Roberto Firmino's smile beamed. Allow for the rivalries with Manchester United and Everton and results there under Jürgen and that's your fourth hardest done. Bang – normal service is resumed.
And that's the thing that matters, that's the shot that rings out when Mane finishes. Check the scoreline, look at your phone, switch on Sky. Know it. Feel it. Normal service has been resumed. Liverpool are two from two and normal service has been resumed.
Within that normality there was novelty. Fabinho at centre half. A massive red card which didn't so much change the game as accelerate it. Thiago Alcantara's first 45 minutes for Liverpool. Alisson's first penalty save for Liverpool.
Fabinho first. His performance was repeatedly exemplary. A man focused on the job he had to do. Second half he could have forayed forward at times, but instead gave it simple and got his shape. First he just snuffed brilliantly.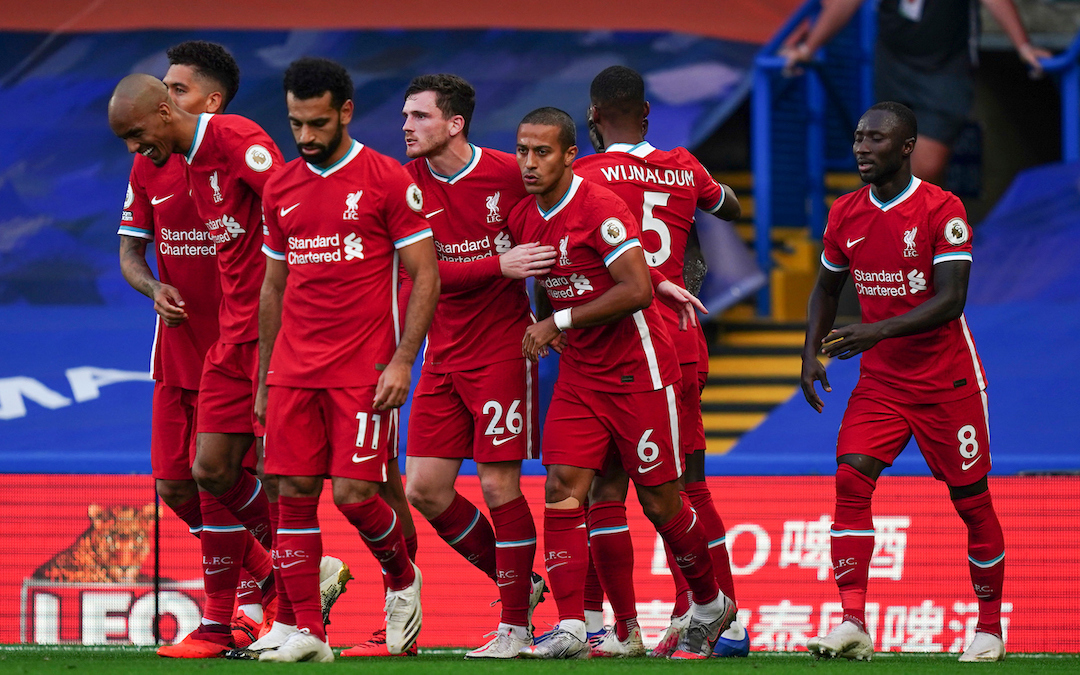 There was a passage of play just before Timo Werner got in where a Chelsea player was just kept offside as they countered The Reds. Just kept out of reach. Like Jimmy White at the Crucible. Like Holland in a World Cup Final. Like Joel Matip when another centre half gets an injury.
He was marvellous throughout. Walks away man of the match and should walk away as Liverpool's fourth-choice central defender for the foreseeable. The issue is that Liverpool are so good a fourth choice is tough. And that the third choice loves a knock.
That red. The ball, the run, the rugby tackle and the VAR referral. Everything exactly as it should be. Paul Tierney and Big Mick Oliver pulling it out of the bag. Andreas Christensen may as well start every game of football with the analyst's cascade of light on him. It follows him around, like Truman and the rain. Eventually it'll be required. In an outfield sense, he is always just about to be the dope.
Thiago Alcantara came on. Then he got it. Then he gave it. He got it and gave it. Got it again and gave it again. Gave it here, gave it there.
He watched the first half, worked out where to give it and then gave it. He got it back. He gave it. He gave it the way he was facing and got it on the half turn. He arrowed it forward and knocked it sideways. He got it again, gave it again. Gave a penalty away but got dug out by his keeper and then he got it and with the relentlessness of doom, well, he gave it.
The pen save was great. Just what you wanted from this bear of a man, this gentle prince, the leader in his field. Another world conquered but, by god, the clean sheet kept intact. Alisson Becker oddly needed that and he got it, Chelsea left bereft.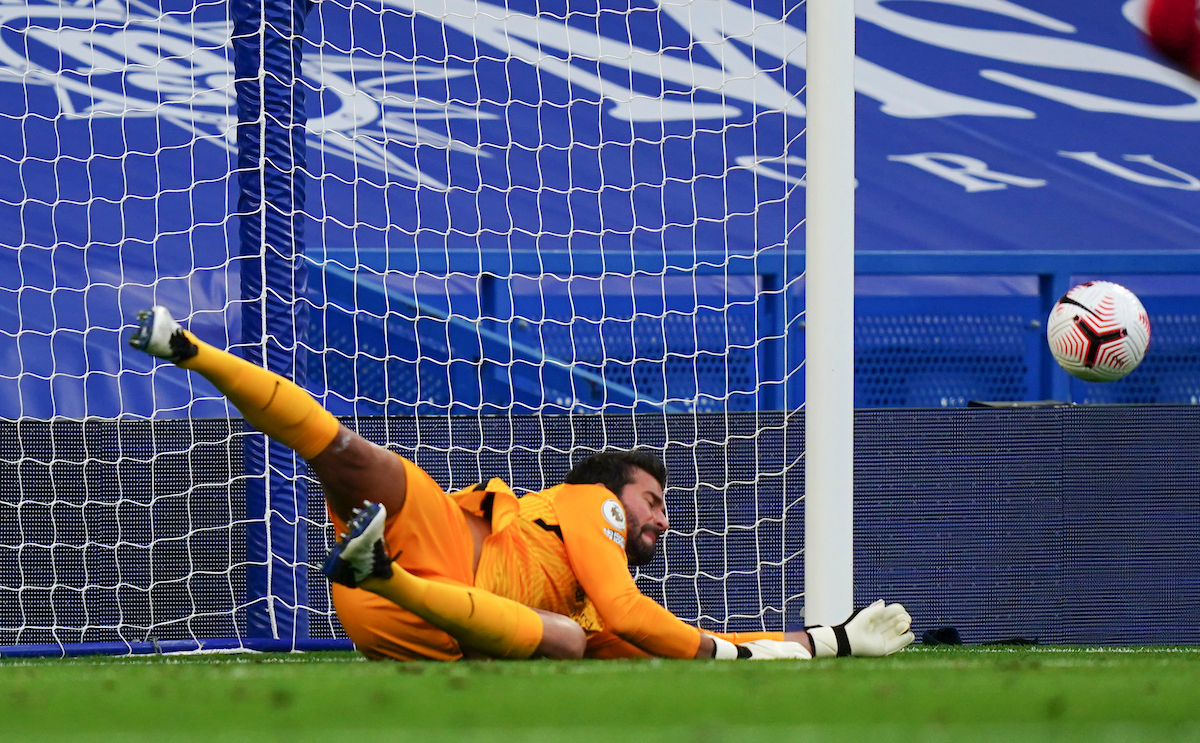 Normal service resumed, though. Sadio Mane wants to retain the title more than you do. Mo Salah wants to be the best player in the world. Roberto Firmino wants them both to be happy. The full backs full backed.
Normal service resumed. The best Liverpool team of our lives have back-to-back wins at Stamford Bridge and deserved them both; today's performance was simply magnificent. Two games played and they should be favourites for back-to-back titles. Normal service resumed – over to Manchester City who have to go to Molineux. Could you be bothered?
These lads have made the abnormal normal and they aren't finished yet. Two down, 36 to go. But it doesn't get much bigger than today. Can you feel it? Your heart pounding. Your pride swelling. Your hunger for the fight just there.
This league isn't going to retain itself. Look at the size of the stride forward.
Listen to the shot ring out. And beam accordingly.
---
"Thiago Friday rolled into Sunday!"

"We absolutely suffocated Chelsea."

📱 Subscribe for all of our build up and reaction to Chelsea v Liverpool 👉https://t.co/cXuFmbDvp3 pic.twitter.com/0ueA4wodFa

— The Anfield Wrap (@TheAnfieldWrap) September 20, 2020