IT'S the best final to lose. But it still becomes losing.
Losing is OK in a sense. You get beat from time to time. How you get beat and what you do next matters. This one, a penalty shootout and the width of a crossbar, offers us some positives, some questions and a video to watch for improvements.
But while we are in our emotions I feel like roaring and screaming. And I feel like worrying.
I wasn't surprised by the team. However it was a highwire act in that it was a side that would be great at 0-0 bar Neco Williams. And then Neco shows Pierre-Emerick Aubameyang the wrong side and that becomes a problem.
Arsenal were set up very well on the left. It is strange they are selling Ainsley Maitland-Niles. The movement across that flank is really smart. There is a level of interchange which is elite from Arsenal.
It was always going to hurt Neco Williams. The issue is that Liverpool's central midfield neither offered enough protection nor enough inspiration. There needs to be one or the other. The midfield is fine if it is looking after players. Fine if it is cutting off threats at source.
The opening goal stems from not cutting off threats at source, being compact and being punished for it. Liverpool get pulled like dopes and Williams get punished.
I'm concerned about Neco. It's been a fast track to the first-team squad and he isn't short of nous. But he is short of pace. It's tough for him to recover when he is exposed or positions himself poorly. He is a good player but he has some target on his back when he plays. It is a heavy burden, that. But whoever plays right back for Liverpool has it and it will be doubled down on when it is Williams.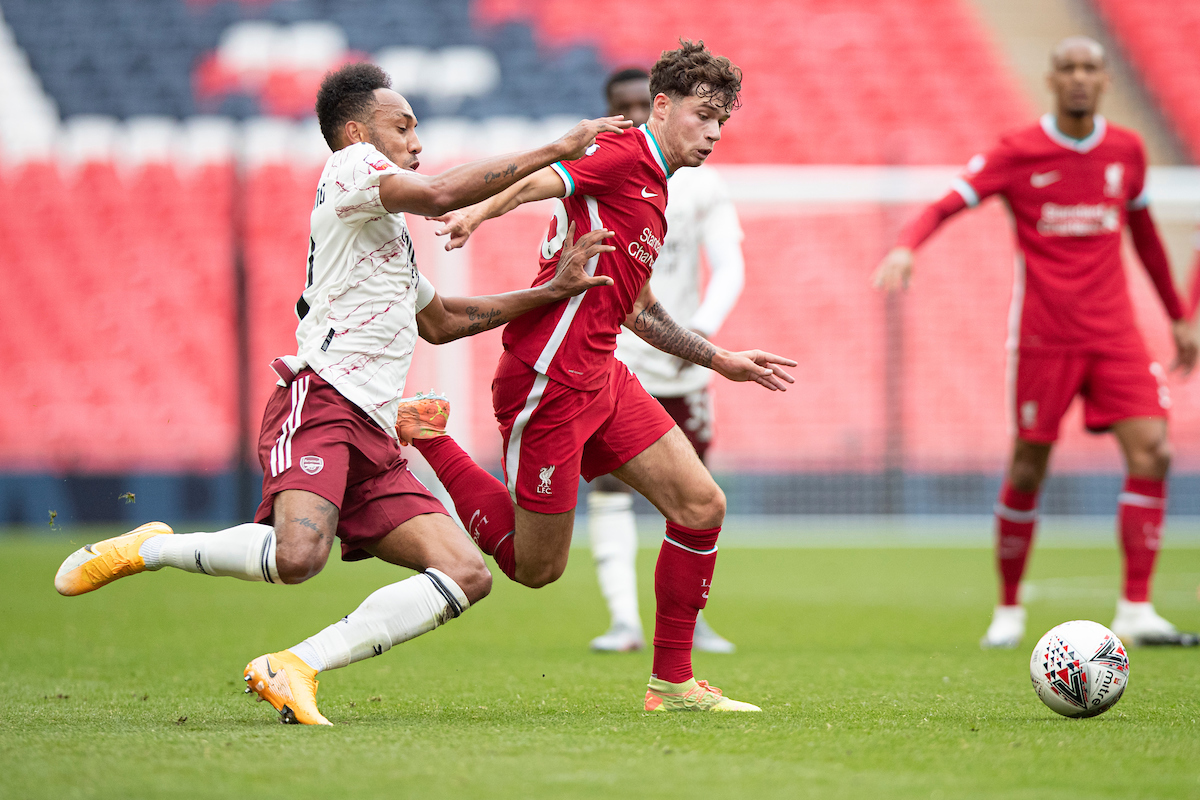 Arsenal keep Liverpool at bay relatively well until the changes come and then they are just riding their luck. Liverpool's season will in part be defined by how well they do when the ball is played in to the edge of the box and then runs off happen. Backs to goal and find. Pop pop.
Roberto Firmino plays well second half. It's a good afternoon for the goalscorer Takumi Minamino. Sadio and Mo graft but things don't quite click around goal. Both are marvellous, though.
Arsenal are last ditch and scruffy. But they get their penalties. They get their draw and they carry their threat.
One of the reasons this is a good final to lose is that this game is one which reminds Liverpool they can lose and they can like this. You might not like my use of lose here. But remember. Drawing is mostly losing these days.
Oh this – Rhian Brewster is sound. He will do for me. Get him here and I will buy him a drink.
Liverpool have lost two consecutive Community Shields. I hope they lose the next 10. Offer me that and I bite your hand off.
Hold on to that. See you two weeks today. We have some pricks from Yorkshire to batter into kingdom come.
---
"If teams are planning to sit deep against us, then changing the shape could be really valuable as the season goes on."

📱 Subscribe here for our immediate post-match reaction as Liverpool lose the Community Shield 👉 https://t.co/XZAK9veWt7 pic.twitter.com/VfUI5icCXm

— The Anfield Wrap (@TheAnfieldWrap) August 29, 2020