BY the time you read this, the Thiago Alcantara to Liverpool links will have been comprehensively dismissed as nonsense.
I have absolutely no inside information on this, it's just what tends to happen when I choose to write about a transfer rumour.
I don't really like writing about transfers that are still at the speculation stage, not just because of the above, but usually articles that talk about theoretical signings always end up making straw-man arguments or reaching to justify something that simply doesn't add up.
The question here, though, is not so much about this one player, but more whether it would even be a possibility given Liverpool's transfer strategy in recent years. The club 'don't sign players like that', be it because of age or profile.
That notion is based on good data, in fairness. Ragnar Klavan is the only player over the age of 26 signed for a fee since Jürgen Klopp arrived in 2015. There has been a concerted effort from the club to mostly buy players in their early to mid-20s and develop them.
However, if football has taught me nothing (and it hasn't), it's that the only thing you can be sure of when it comes to transfers is that nothing's for sure.
In the case of the Thiago rumours, there's several ways you can look at it.
The Bayern Munich man is arguably the best midfielder of his type in the world. If stories are to be believed, he apparently wants to leave Germany and try his hand at the Premier League for the final stage of his career, with his sights firmly set on joining the Champions (and who could blame him?)
The rumoured asking price of around £30 million might seem to be a lot for a 29-year-old with a history of injury issues, but in all likelihood, if he had more years remaining on his contract at the Allianz Arena, his value would probably be at least twice that amount. Just last week, Barcelona paid Juventus £60million for Miralem Pjanic, who is a year older than Thiago.
Perhaps this could be seen as a bit of a perfect storm for Liverpool, if there is indeed any desire to bring him in. A world class player who (apparently) wants to come and is available at a knock-down price.
If – and as things stand, it remains a big if – Liverpool do a deal for Thiago, it is very likely to be an outlier. A one off. It doesn't mean that they've decided to change the entire transfer strategy to primarily bring in players nearing their 30th birthday.
In the same way some couples have a list of celebrities they're allowed to sleep with and their partner can't get mad, Michael Edwards and Klopp might have a similar one for transfers. Players over 26 who they can sign and the other can't question it. If it does exist, I imagine that list is pretty much just made up of Thiago and Lionel Messi (and maybe Robert Lewandowski).
It is no secret that Klopp is a big admirer of the Spain international. As well as his words of praise on Sunday, he also notably referenced him when Naby Keita arrived in 2018.
"(Keita) was two years ago, together with maybe Thiago Alcantara of Bayern, for sure the best player in the Bundesliga by far."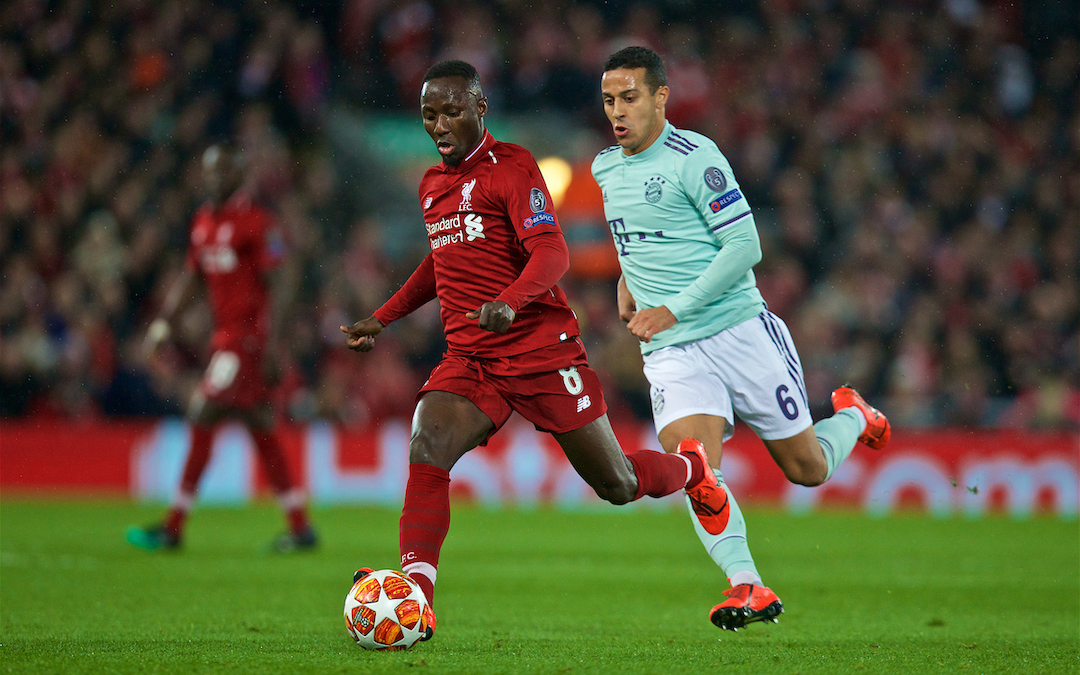 If Klopp needs to persuade the owners to sign off on it, maybe he can argue that he has earned one indulgent transfer. A present, of sorts, for all of his achievements so far. We'll know this to be true if Thiago is pictured outside Melwood with a big red bow on him, like a Ferrari for a millionaire's teenage child on their 18th birthday.
You could argue that the club's refusal to provide the outlay needed to secure Timo Werner from RB Leipzig is another indication that this deal won't happen. Werner is five years younger, in a position with arguably greater need, and a release clause of only around £50million.
However, it seems the issue with the German striker may have been wages more than the fee. The reported £270k a week that he will earn at Chelsea would have put the 24-year-old on significantly more than Liverpool's highest-paid players, many of whom are several years older and on their second contract at the club.
Thiago's age seems to be a concern to many, but unless the player's injury issues catch up with him, the 29-year-old's next club could still get plenty of years of service out of him on the pitch.
As a deep-lying playmaker, Thiago can perhaps follow in the footsteps of former Red Xabi Alonso, who played with Thiago at Bayern until he was 35, while Real Madrid's Luka Modric recently insisted he has at least two more years at the top left in him, and he turns 35 in September.
There is an excellent article on The Athletic by Raphael Honigstein and Tom Worville from April that looks at why Thiago has been so underrated in Germany, and what makes him such a game-changing player, referencing the influence he had when Bayern tore apart Chelsea in the Champions League.
He was also one of the major reasons for Bayern's 7-2 demolition of Tottenham in the group stage, coming on at half time and slicing through the Spurs midfield and defence time and again with his range of dribbles and passes.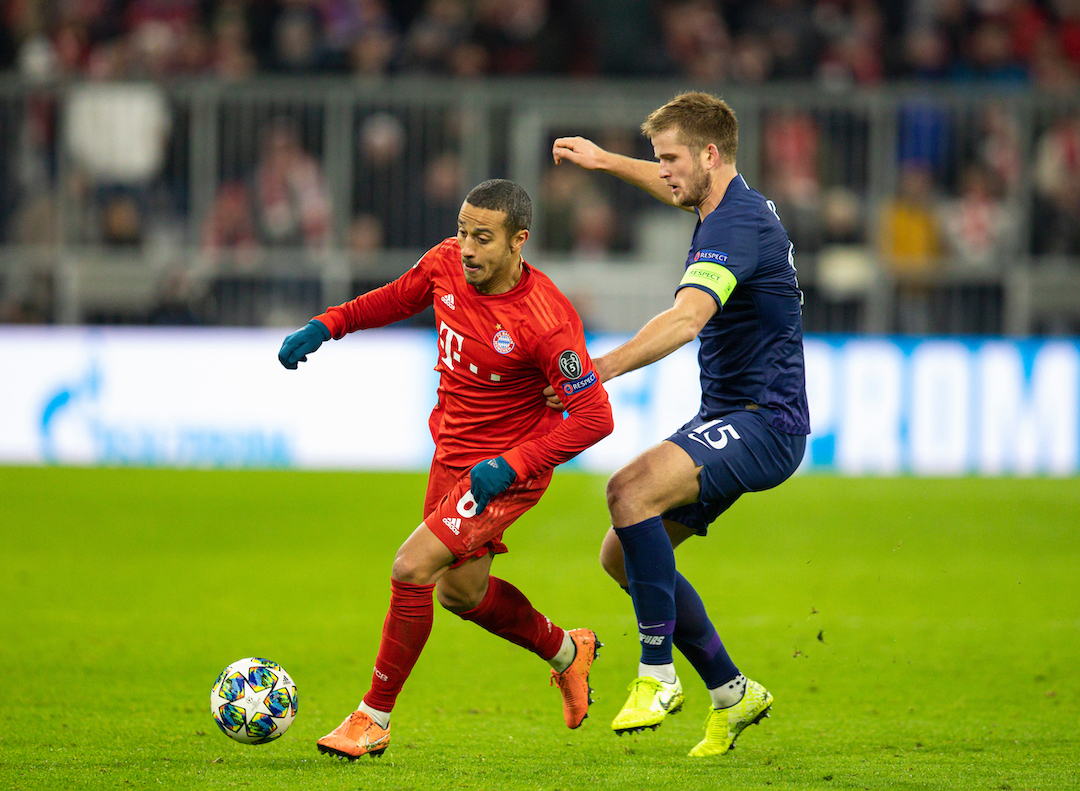 Some have raised concerns about bringing in a 29-year-old potentially putting another obstacle in the way of chances for younger players. However, the long-term benefits for the likes of Curtis Jones, Harvey Elliott, Jake Cain and Leighton Clarkson being able to play with someone like Thiago and training day in, day out with a player of that calibre should, in theory, only be a positive for their development.
It could be that there was never anything in this rumour to begin with, but the point is that, while the overall strategy of buying young and developing is sound, and has worked a treat so far, Liverpool shouldn't necessarily close their minds to the benefits of straying from that blueprint if an incredible opportunity arises. It will ultimately be their decision as to whether this particular opportunity is one of them.
In truth, the main reason I felt strongly enough to write in riposte to people questioning the potential deal was not because I particularly want Thiago to join.
It's because, as someone in his mid-30s, I feel terribly slighted by the idea that 29 years of age is in any way 'old'.
*Goes off to find the Steve Buscemi "how do you do, fellow kids?" gif*
---
"There are only good a very small number of clubs who could sign Thiago, and Liverpool are one of them." ✊

📱 Subscribe here and listen to our latest 'Gutter' show in full 👉 https://t.co/XZAK9uXl4x pic.twitter.com/00uLSflNKH

— The Anfield Wrap (@TheAnfieldWrap) July 6, 2020