IT'S only a few days away now.
On Wednesday evening Jordan Henderson will get his hands on the Premier League trophy, all wrapped in red, and lift it high above his head to mark the end of an agonising wait.
The title will once again reside at Anfield.
It will be wonderful, but it will also be weird. And that just about sums up watching Liverpool since football resumed for The Reds with that dull draw at an empty Goodison Park.
Various pictures have leaked out this week of a construction of a special stage at Anfield for Wednesday's presentation, with a section of seats in The Kop temporarily being removed to make way for it.
No doubt it will look fantastic on the night. But as an image now it's a stark one. Seats that should have been filled by supporters removed to create a new show. Football, but not as we know it. The celebrations, but not how we planned it.
I wonder how it's affecting us all. A league title after all these years is a huge relief; a weight lifted, a burden removed. But when you can't quite experience it as you wanted, when you can't live what you dreamed, what does that do to us?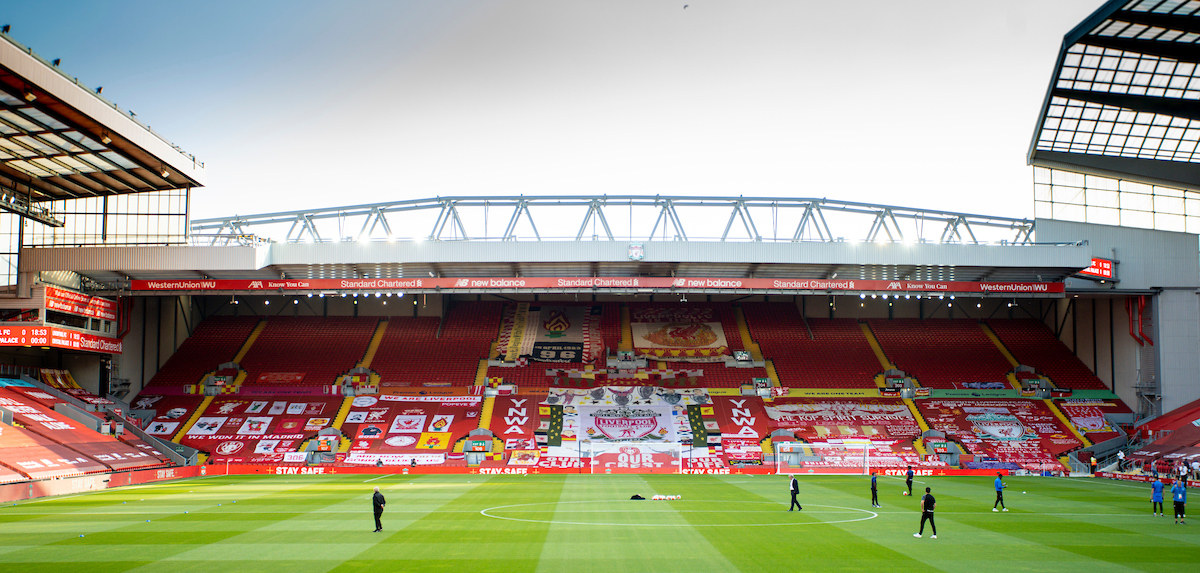 Before the trophy has even been touched by a Liverpool player's hand, before the season has even finished, there has been much talk of the next one. Win it again. And maybe then it plays out how we pictured it.
I'm the first to recall Ronnie Moran and the story of how he treated the medals when league titles were routine, and there was much to love about Jürgen Klopp's line about attacking the next title rather than defending this one.
It makes sense that you continue to light a fire under the professionals that have brought us this pride; they must be ready to burn once more when it really matters. You've done this lads, fantastic. Let's do it again. Let's show them once more.
That's a message for them. But for us, supporters, do we really need to do the same? Maybe we should stop and savour it all just a little bit more.
That constant worry, that edginess, that concern that the club can't compete – that shouldn't be writ large now like in summers past.
Then, it was fuelled by the hunger to bring home the title bacon. That's now done. And then some. It was done in December. So shouldn't there be a little more trust around now for those that achieved something that for so long looked like Mission Impossible?
Liverpool's league form since the resumption of football in June has dropped away from the barely believable bar this team had set for themselves this season and last. The Reds have failed to win four matches out of seven in front of the empty stands, but before that? It was played 38, won 36, drawn one, lost one.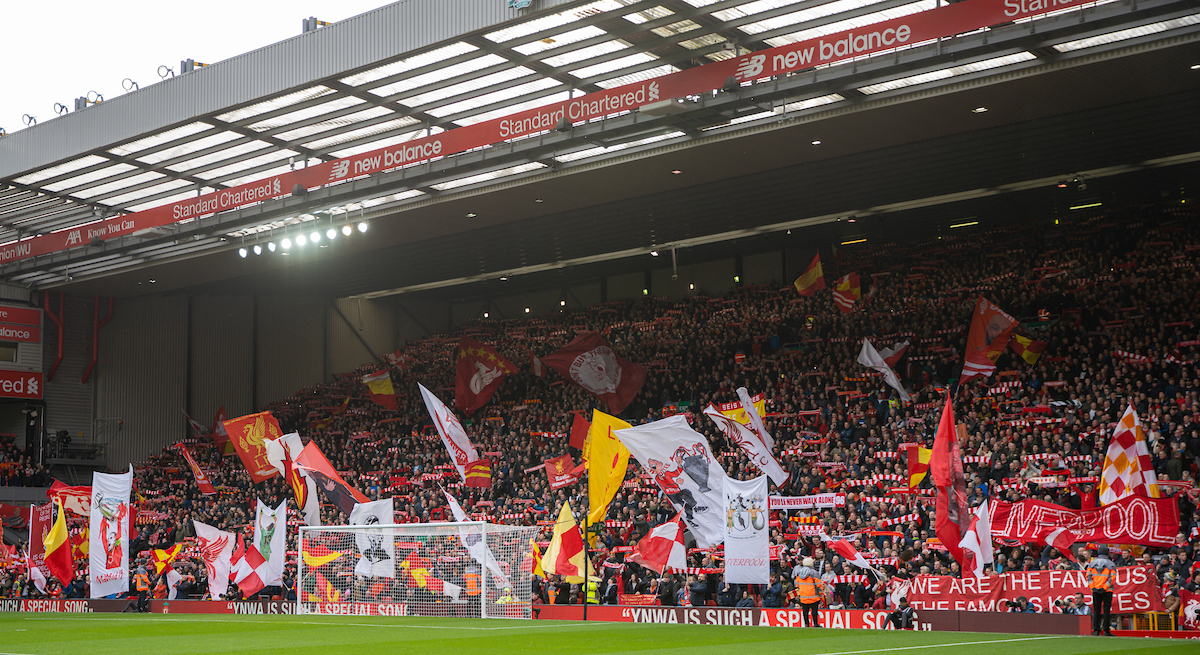 Read that again.
This side, Premier League champions, European Cup holders, World Club Cup winners, European Super Cup holders, won the title with seven games to spare – a record.
Even with the defeats that have followed the confirmation of the title, to Manchester City and Arsenal, and the disappointing draw with Burnley, The Reds remain 18 points clear at the top of the table with two games to play.
The biggest margin between winner and runner up in the top flight is 19 points, achieved by Manchester City in 2017-18.
Liverpool might now only be able to achieve 99 points in the Premier League this season but take a step back and think about that. That would be the biggest points haul in the history of the club. More than all those brilliant Liverpool sides. More, too, than any Manchester United side. Than any Chelsea side. Any Arsenal side. And so on.
The Reds can still match the record for the most top-flight league wins in a season in this country (32). They can equal the record for most home wins (18). They already matched the record for most consecutive league wins this season (18) and broke the record for most consecutive home league wins (24).
And what about the record of 58 home games in the Premier League unbeaten, dating back to April 2017. Unbelievable.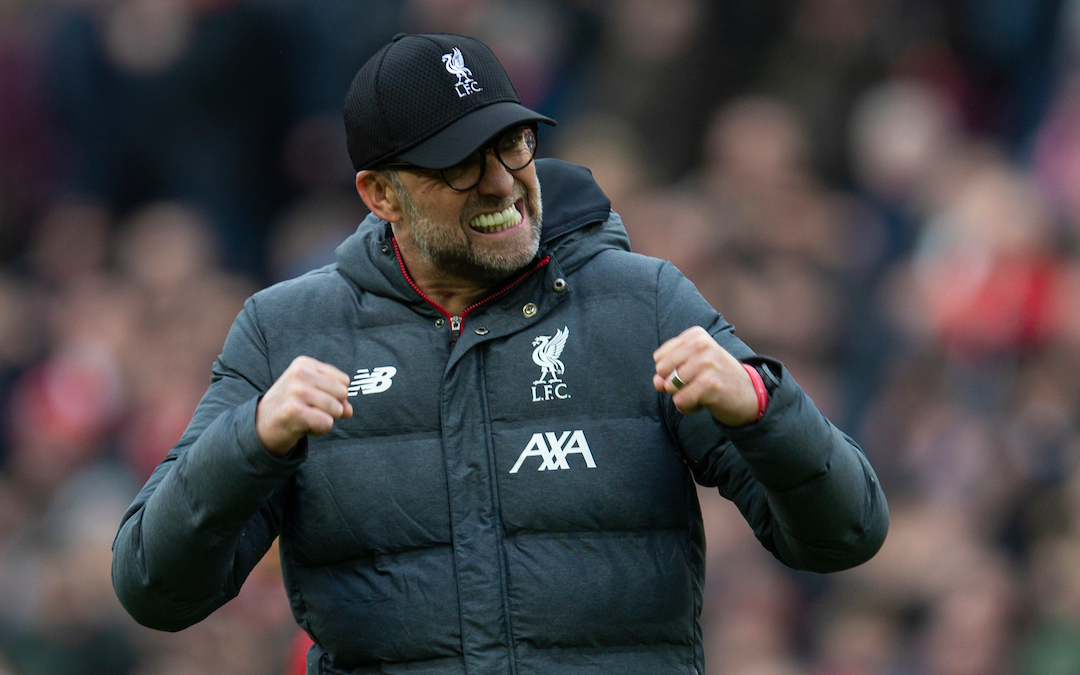 Live this, love this, lap it up.
Yes, we want Liverpool to do it all again. And yes, we all would love this first title win in three decades to be the catalyst for many more. Manchester United's 20 titles are right there now.
Yes, a finale to a season when Liverpool have won the league is infinitely better with fans than a finale without them.
And yes, yes, yes, Liverpool should attempt to strengthen from a super strong position in terms of numbers and quality squad wise (while acknowledging the very real financial impact of the last few months, of course).
But all that can wait surely? For us, at least.
The tropes of rivals, and the messages of some media should not be allowed inside our bubble; the bubble of champions.
No aspect of this season is a failure. In no way has this title been tainted. Records now out of reach are only that. The number that counts, the one we always wanted is done, dusted and in the bag.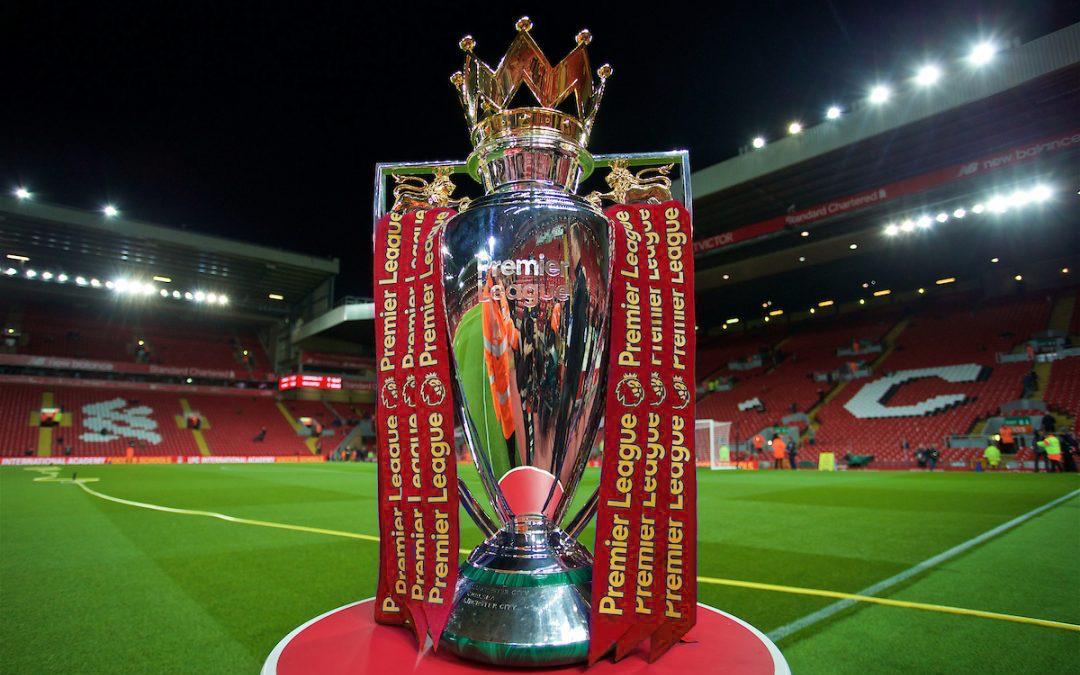 Points records? A nice bit of spit and polish and nothing more. Manchester United once won the league with 75 points. Arsenal did it with 78. United did it with 79, then 80 (twice), while Leicester City finished the season as champions on 81. United also did it with 82.
Used to be easy, didn't it? What took us so long?
In all seriousness though, the quality of this side is clear. The achievement is obvious. In present day, and in all time. And if you're desperate to argue about which teams are the best ever, there's plenty to back our boys about.
Last season's 97-point haul topped that of any United side, and bettered the points achieved by Chelsea sides under Jose Mourinho.
Liverpool can still go two better. But first, foremost, more importantly than anything else – they are champions regardless.
Can they go again? It's for another time.
But to finish with another fact (Rafa would be proud), as Graeme Souness pointed out on Sky Sports this week, focus and intensity can drop when the job is done. It's human nature.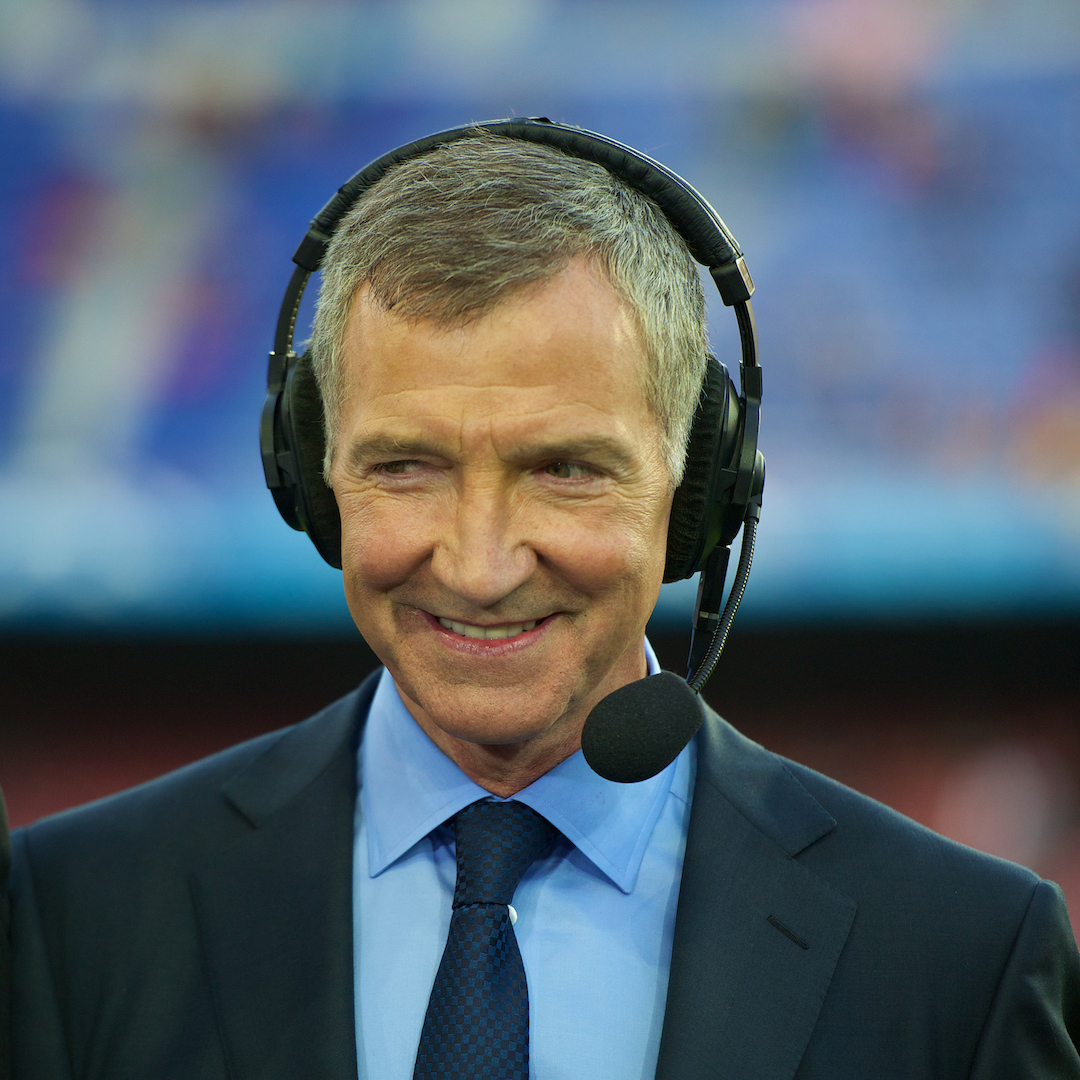 He was referencing Bob Paisley's 1982-83 title-winning side, which after going undefeated for 20 league games, inexplicably ended the season without a win in seven, suffering five defeats.
The following season they won the league for the third season in a row.
Any defeat is disappointing, but if you're going to lose, losing as champions is surely the way to go. And when even the most reliable players are making mistakes, well it appears Souness's point stands.
Weird, but wonderful. Like everything about Liverpool right now.
So, unwrap the cigar, get the champagne at the ready, uncork that special red or drink some ale with Jürgen's face on it. Whatever you're into, get ready.
On Wednesday, The Champions get the trophy. One of the best sides football has ever seen will be crowned.
Fact…
---
"This summer should be an opportunity for Liverpool, rather than a threat."

"If someone else takes a swing and gets it right, it's another competitor to deal with."

Download The Anfield Wrap app 👉 https://t.co/v3xcfwjq7C
Listen for free 👉 https://t.co/r4GNE1ClBN pic.twitter.com/xWigv7gYmf

— The Anfield Wrap (@TheAnfieldWrap) July 17, 2020