JORDAN Henderson roars at Curtis Jones after he scores.
Mo Salah and Roberto Firmino surround him and Curtis looks sort of sheepish. He's rarely sheepish, everyone says, but he suddenly looks his age in the best possible way and it's a real sweetheart moment in a game devoid of them, broadly speaking, a game that needed some winning, a game which nearly got away from Liverpool.
Young footballers being ace matters, even when watching the Champions. We need to believe in what happens next.
Is football the only sport where this happens in quite this way, where people live in tomorrow as vividly as they live in today? You see it sometimes possibly with English cricket in the buildup to an Ashes tour, but that seems phased; it's a very specific buildup. What we do, though, is a constant series of tomorrows. Young players, transfers, the ins, the outs.
Listen, I'm as guilty as anyone. I did a Gutter show today about Thiago Alcantara. What would his signing mean for Liverpool, what would it suggest? I comfort myself that if the pandemic wasn't the case I may not have, may have focussed in instead on the Champions, on their moment.
It is possible I may not have got a ticket for the Etihad. So today was stern, today was the first day we didn't get to watch the Champions and had we been there may things have been different?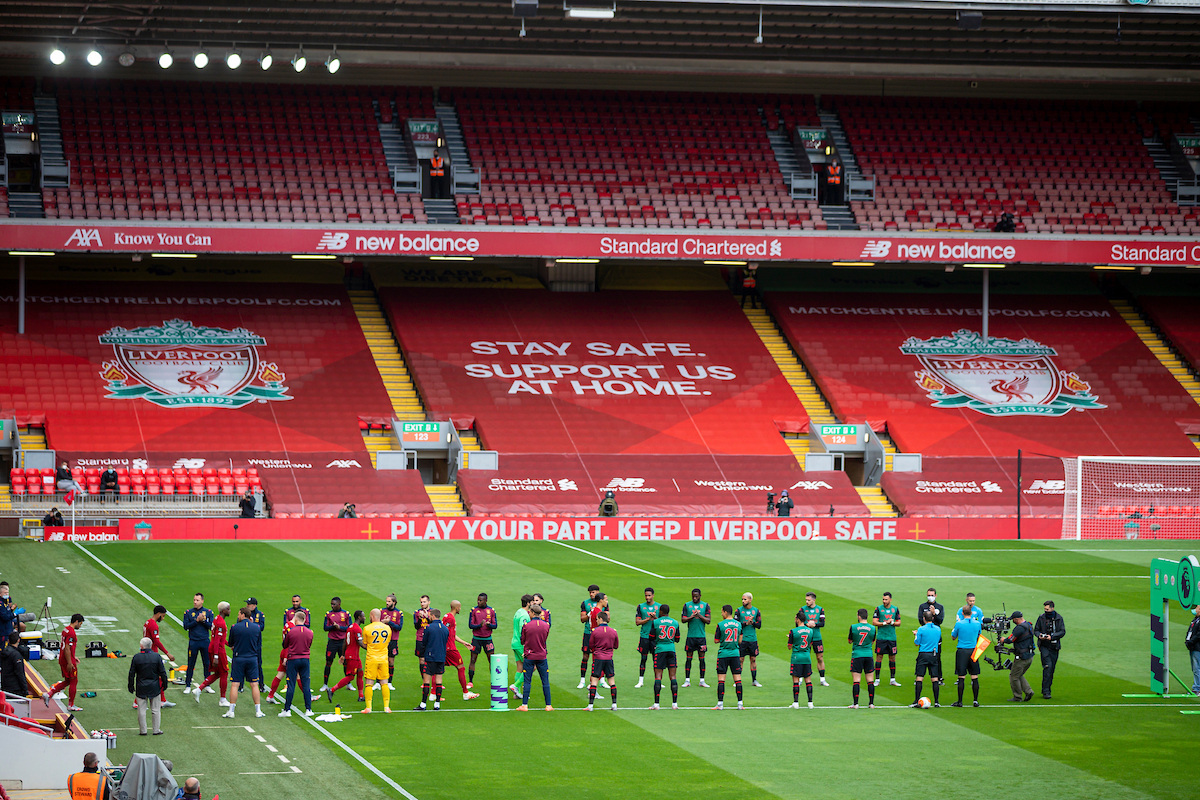 The emotion would have been. I would have been. I'd have been overcome. Where I am now verging on dispassionate, I suspect I would have been a soppy mess. I'd have been so pleased to see you; I'd have wanted to hang off your shoulder. Where it is about tomorrows I hope against hope it would have been about todays.
But tomorrow it is and while Curtis Jones's relationship with tomorrow is strong, his is a long-term one. Naby Keita needs fewer tomorrows and more todays and today he had one.
He plays well, Keita. In despatches, if we aren't careful, we will write sentences that Liverpool were disrupted by the changes and if that is true – Liverpool may be disrupted by being Champions and by the fact that Aston Villa played well – it is most definitely not true of Naby Keita himself. He plays ever so well for the first half an hour and has a good second half only to tire just before being substituted. I hope he starts against Brighton and against Burnley.
Divock Origi can't find his way into the game in a meaningful sense. He looks doomed to be a footballer who is peripheral until he is scoring some outrageous goal in terms of technique or significance. Increasingly, he may need to go and play for another team where he isn't the fourth of three, where he isn't the odd man out in a bad way until it is very, very good.
He's a good footballer, Divock. He's been some one-night stand, a magnificent ride. But now he needs to go and be someone's long-term reliable partner. Still capable of occasionally hitting the heights but doing the dishes and his fair share of the childcare too.
Alex Oxlade-Chamberlain finds his timing just out, currently. He plays the game in his own head too much. He does his best work when he just relaxes. What's instinctive is good, when he has the luxury of not being, well, then it is not so good. He toiled today. He needs to play again and soon. He possibly needs to play with Jordan Henderson, but then, weirdly, they all do.
In a footballing sense, it was approximately this stage last season when Henderson changes everything coming on against Southampton, but the captain has never been as important to this team as he is now. He bosses tempo in a way it is possible no Liverpool player has for 20 years.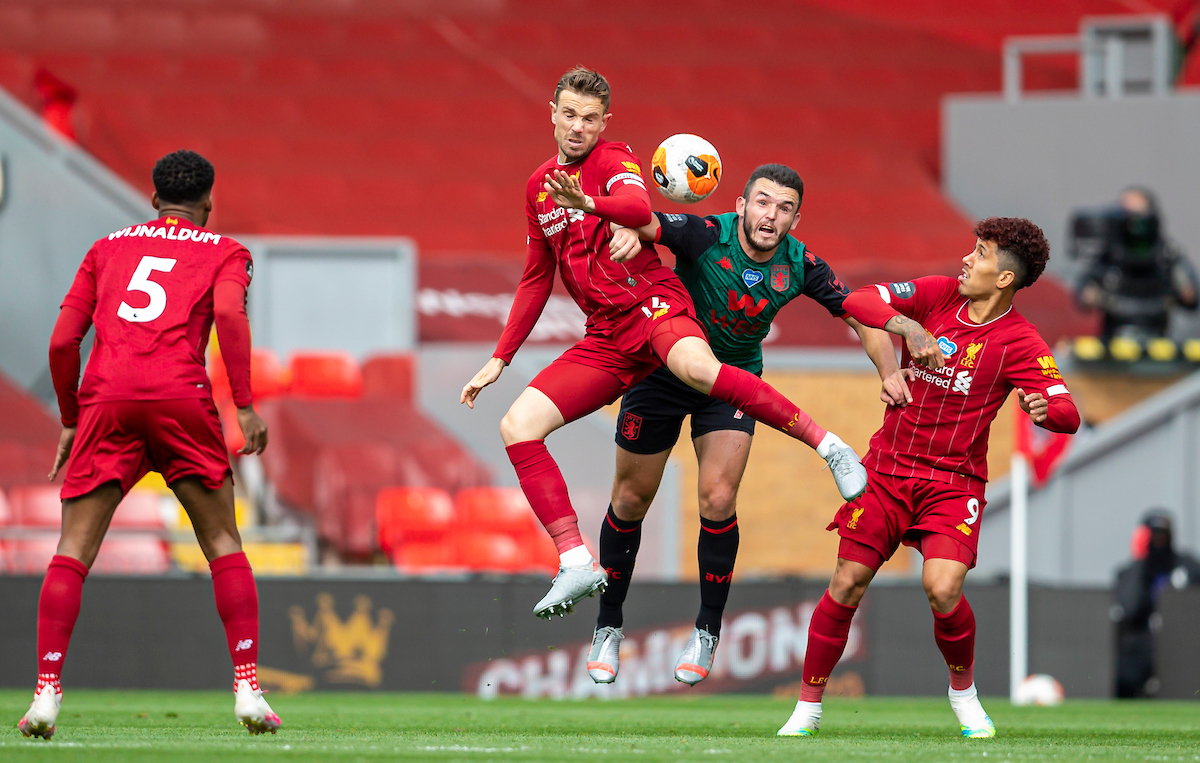 This seems like overstatement but Henderson has somewhat unorthodoxly developed both chorus and verse, when Steven Gerrard and Xabi Alonso were each capable of one or the other brilliantly. Very little is pretty with Henderson, but everything is suddenly essential, especially to his teammates.
His captaincy once felt very much off the pitch but is suddenly very much on it. This isn't necessarily a good thing. It is important to add that. Liverpool need a sense of tempo whoever is on the pitch. That needs to improve, to change.
But look at me again, looking at the future. They got another guard of honour because of what they have done. They deserve each of these. Because of what they have done. And today they got three more points. The game throws up a few questions – some will talk about the pressure of being champions, of having a reputation, but what if the pressure of not being champions is now what we lack?
On Anfield, does the lack of a crowd actually have more of a physical impact than we might have thought? Are adrenaline levels lower? Does lower pressure actually mean that our players just aren't quite as sharp? Just that pure adrenaline to the body that makes the brain think faster and the limbs respond?
Or is it worth just remembering that on a number of occasions this season they have hung in on games and then been stronger towards the end? Not least in the game against our opponents at their gaff.
Aston Villa will feel hard done to, really. Two games against Liverpool and no points and they arguably deserve something from either.
On a couple of occasions they had Liverpool on the back foot for a sustained period and on a couple more occasions they countered well against The Reds, sending Liverpool scurrying backwards. Even at 2-0 Jack Grealish elicited the best save of the game from Alisson Becker, one where he tipped the ball around the post.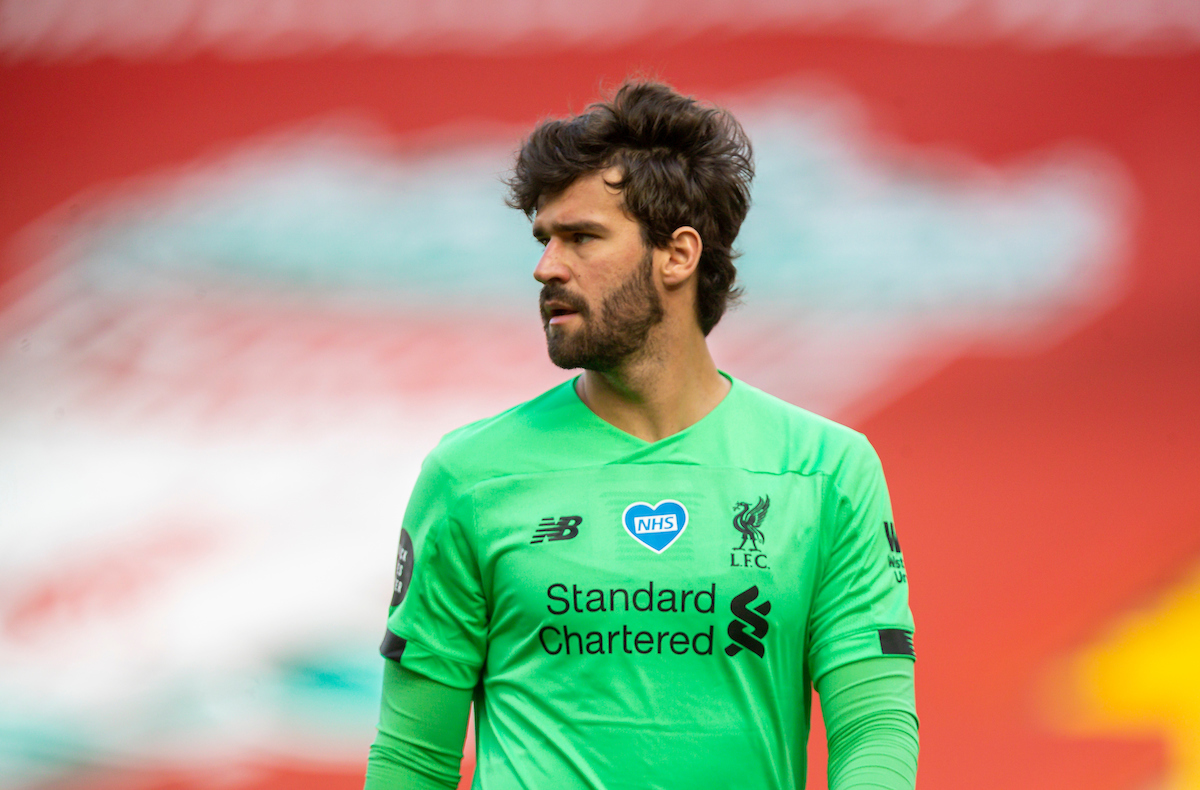 Tyrone Mings is excellent, uses the fact that he is about three metres tall to contain our threat. He understands how Liverpool play and dampens our threats.
Welcome home too to Pepe Reina, whose experience Villa clearly need. He bosses the goal today and his audio presence is as strong, shouting as he does as if he is speaking directly to those of us listening with the sound off. Seeing him back at Anfield you remember how sharp he was at his best, what an asset to any side.
Liverpool, though, were quite good in adversity today and have been through the season. Sadio Mane thunders the ball home when the opportunity comes. Mo Salah is constantly dangerous. He must be a nightmare to play against. He can hurt you in all the ways.
The Champions win and find themselves 12 points from record breaking. Two more home wins as well away from having won all 19. It's a short-term future but one we can work with. Liverpool need to stay in the moment. It's where they've done all their best work. They do that today, getting through the tough periods and they grab their chances.
We'll be together at Anfield again soon. We'll see no guards of honour in person, but that's OK. That's for the players. We'll acclaim them on our terms soon enough and that is all the future I need for now.
That's my tomorrow.
---
"Naby Keita was great for the goal and was excellent throughout." 👏

📱 Subscribe here for all of our immediate reaction to the Reds' first win as Champions 👉 https://t.co/XZAK9veWt7 pic.twitter.com/3ZSoaQc5Qe

— The Anfield Wrap (@TheAnfieldWrap) July 5, 2020