EIGHT key passes from two substitutes, eight from the rest on the pitch over 90 minutes.
Brighton versus Liverpool came alive in the first and last 20 minutes of the encounter in a Liverpool sense. While Graeme Souness sat barking in the television studio making accusations of Brighton naivety in the opening stages, Liverpool simply counter pressed them into a blitz.
Yet it was the game's last quarter which told the biggest story, just as it did against Aston Villa. The sense of "oh no, not him" from the opposition has been palpable when Liverpool have made changes in these games. Last night it was Sadio Mane, the game before three big hitters at once.
Framing this takes on so many external arguments about whether this squad is capable, equipped and deep layered enough to continue achieving success. You'd have thought they'd earned the right to have those questions parked for a while, but still they continue.
What Jürgen Klopp is showing us lately is his ability to combine a winning mentality with using the right players at the right time. We constantly fixate on starting lineups, they define everything for us. But great teams make such a notion superfluous, and Liverpool are a great team.
Last night it was the turn of Neco Williams. The youngster had all eyes on him and had a lively opening 45. If it wasn't for the booking his evening could have continued. There were others from the previous game in Alex Oxlade-Chamberlain and Naby Keita too, who didn't disappoint.
The squad being utilised from the start seemingly has no bearing of danger on the result, and is allowing the manager the freedom to plan a game in three, 30-minute stages. That is a sign of an elite team in many ways, none more so than mentally.
And still questions continue about recruitment. Fairly so, given that an injury to any of the front three or Virgil van Dijk could strike at any time. We saw last night that even at this stage of a season, the sight of Jordan Henderson hobbling off can leave a nauseous feeling in its wake.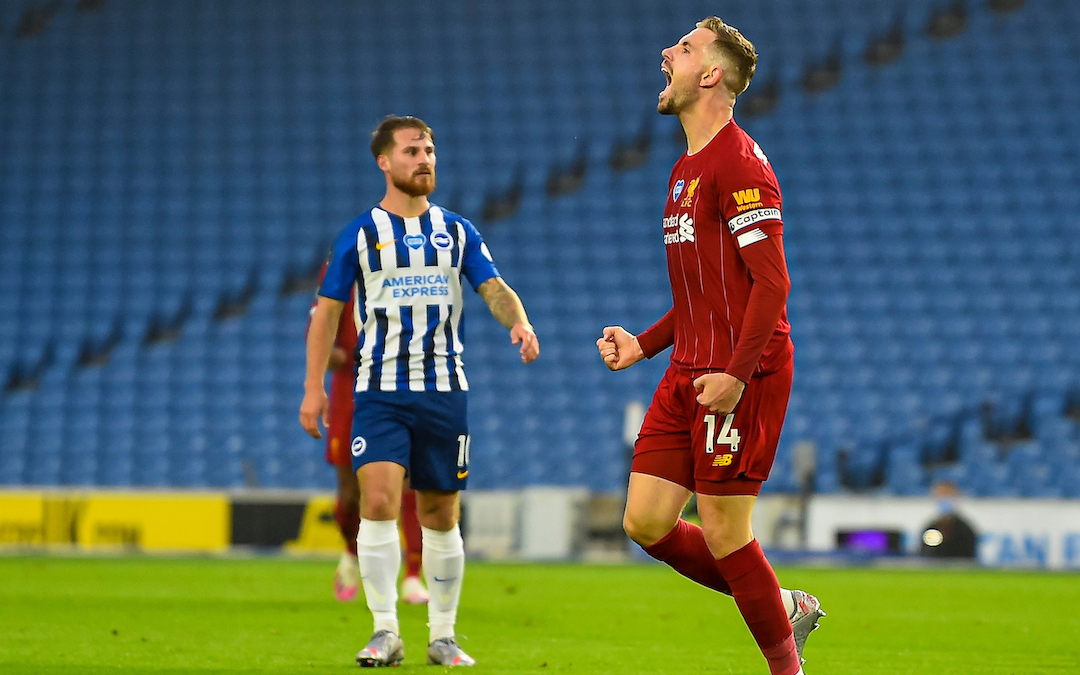 There is also the reality that the likes of Adam Lallana, Dejan Lovren and Xherdan Shaqiri will all leave the club, now coupled with the possibility of five substitutes being allowed next season.
Should this happen, the manager might need a contingency plan beyond further blooding Williams, Curtis Jones and Harvey Elliot. At the very least, upgrades on Shaqiri and Divock Origi would be desired as Liverpool evolve.
The positive for the manager is that there is plenty of room for improvement throughout his squad from certain individuals. Keita is one often referenced, still strangely held up as a bastion of YouTube reel invincibility.
Arguments about his fitness consistency are justified, but he is very effective in this Liverpool side when he does play, and it isn't always in a manner which blows anyone away.
Chamberlain is another who can be hugely influential in terms of results and performance. He needs more consistency in terms of a run in the side, but he will be eager to push on next season.
The return to football post lockdown has given us the greatest gift of all. Yet it shouldn't go unnoticed that this Liverpool squad is now being used in a way which reinforces the notion of champions.
It isn't just 11 in red you have to beat, it's a whole squad of hungry and supremely driven footballers over 90 minutes. Last night once again emphatically showed that to be the case.
How this period influences and impacts next season remains to be seen.
---
"GET IN!

"We're the fastest team to 30 wins in the history of top flight football." 👏

📱 Subscribe here and watch last night's 'Post-Match Pint' in full 👉 https://t.co/TEMh9rqIOf pic.twitter.com/oZ1FWLoE2F

— The Anfield Wrap (@TheAnfieldWrap) July 9, 2020