IT'S been quite a week.
While the heavy City defeat was written off through face-saving indifference and outraged fury (ours being the most bipolar of all clubs), talk soon turned to the cheery possibility of the Premier League Champions signing Thiago Alcantara from Bayern Munich.
Well, let's face it. He'd do. The Spaniard has impeccable credentials with a couple of La Ligas, seven straight Bundesliga titles and a European Cup in his cabinet. He's no stranger to big games and must fancy a spell in the Premier League if he's to make one more move before taking the seemingly inevitable path to China.
The speculation was a timely distraction. Liverpool stank against City – absolutely stank – and though the manager was quick to point out that diet and application was as on point as it ever is, close observers had their doubts.
The game should have been used as a public information game about the dangers of excessive drinking and carried the 'Drink Responsibly' logo onscreen throughout. Ah well. It hardly matters now.
With the league all wrapped up, we'll soon be into the transfer season and the big clubs will be casting their eyes around Europe's elite to see who fancies a crack at the Liverpool millions. Equally, the vultures will be picking over the bones of the relegated sides with the agents of Todd Cantwell's and possibly Jack Grealish's having their phones on permanent charge.
Sometimes there are bargains to be had. United picked up Roy Keane from a relegated side when they went down. Mind you, we did the same once and ended up with Charlie Adam.
Thiago would be a worthy acquisition though FSG would have to change their signing model considerably to accommodate a 29-year-old. Maybe Jürgen isn't that interested after all. Maybe he sees a younger, more pleasing prospect closer to home.
Curtis Julian Jones is everything I like in a Liverpool player. Tough, inventive, combative and great hair. I love his confidence and his thousand-yard stare despite being a genuinely nice lad. Look at how he dealt with that interviewer after the Villa game. He stared at him like he'd been asked to hand over his debit card and PIN.
My favourite moment though came after his Derby – yes, he has his own Derby already – when asked if he might be lucky enough to get a few starts with the first team. He shook his head and told the watching nation that he was ready and could start if asked. None of this 'I'll just have to develop and learn a bit more'. He believes he's ready.
Cocky? Maybe, but he's at the age where confidence might be the next step up. Fowler, Owen and McManaman certainly didn't want for it at that age. Robbie even worked out his goal celebrations at that age such was his swagger.
It's not always easy to see it in these terms but all Premier League players have had seasons like this at that age. It's just that we don't see a lot of them as they're on the continent or in the lower leagues.
Milners, Owens and Rooneys had to grow up in public. Even Trent to some extent, though his rise wasn't quite as meteoric mostly due to the position he plays. It took his freekick away at Hoffenheim before the media really sat up and pencilled him into regular starting lineups.
Glenn Price interviewed Jones on the official site this week. This line stood out: "I'm here to make history at the club."
Well, that'd be nice.
Jürgen Klopp loves ambition and it's good to see the younger players want more. Trent has won a Premier League title, played in two European Cup finals and won one. He's 21 years old. Where does he go next? Simple.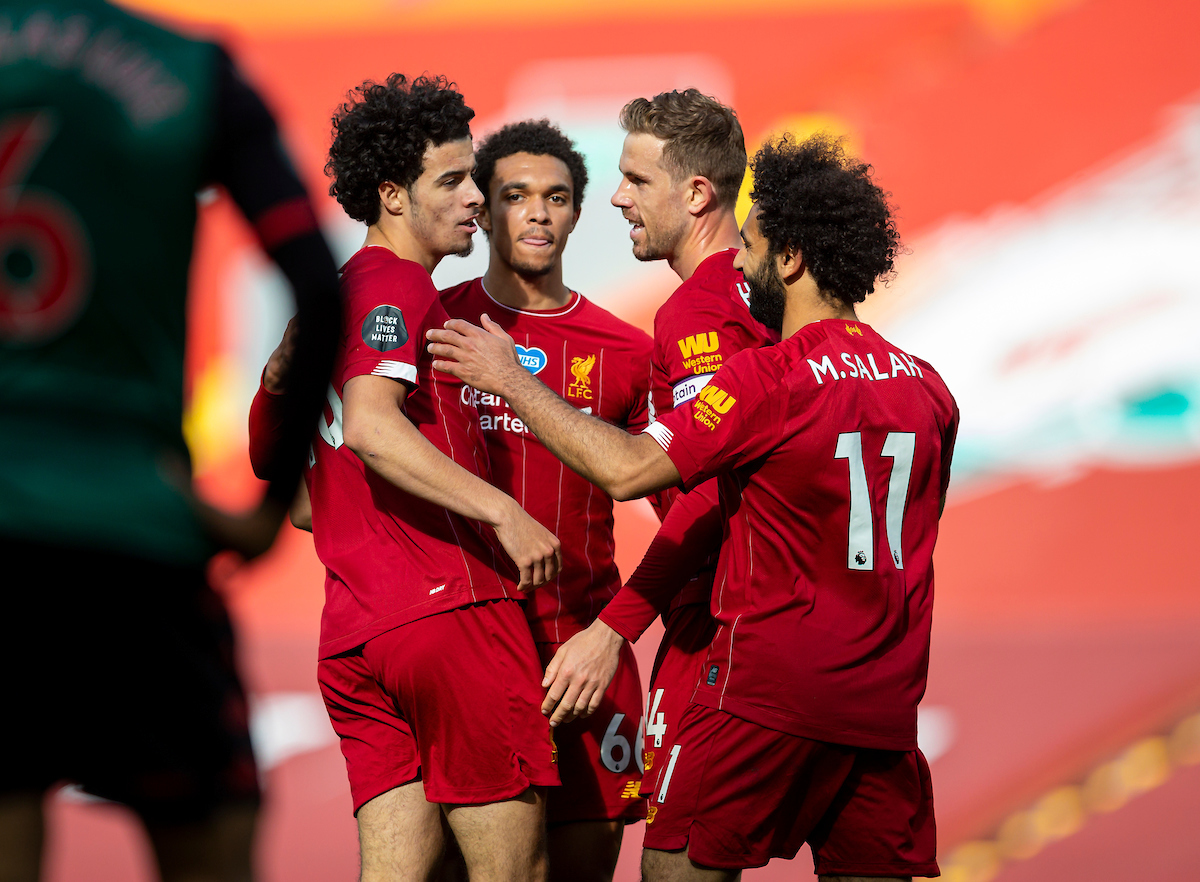 "I am not shy in saying that (being captain) is a dream for me. Whether it comes true or not is not up to me; I don't pick who is captain. But that is something I would love to do one day. Captaining Liverpool is something I have always dreamed of, and it is something that motivates me."
And he will one day. Granted, it might be a few years off, but he'll wear the armband one day.
Not all the kids will make it here. Drop offs are inevitable – I was great when I was six – but this is the best crop we've had in a while. Probably since Souness was forced to blood youngsters such as Redknapp, Hutchison, Fowler and McManaman when half the first team were injured/too fat. That might make Klopp reluctant to pay silly fees and wages elsewhere.
In 1995, Alex Ferguson was questioned when he allowed Paul Ince to go to Inter. He told the press that they'd be fine as he had Nicky Butt to come through. Many laughed at that as one was a star and the other a kid from Gorton. Butt slotted right in and won six league titles. The names don't mean a thing if you're collecting trophies.
Should Thiago arrive it may not necessarily mean fewer chances for Curtis. Adam Lallana will be off soon and Shaqiri might be looking at the exit too so there'll be room. I'd like to see more of him, though. He already has three goals (I still think his Shrewsbury finish is underrated) in his first season and doesn't look phased at the giant leap he's made. He doesn't look phased by anything, really.
With only a handful of dead rubbers left it's the perfect time to offer Jones and Williams minutes with the promises that one day all this might be theirs.
Then they can tell Thiago what it's like when he gets here.
Hopefully.
---
"It is the old normal in the new normal."

"The Reds are back to winning ways. Lovely for Curtis Jones…"

📱 Subscribe here for all of our immediate reaction to the Reds' first win as Champions 👉 https://t.co/XZAK9veWt7 pic.twitter.com/G4LffJNYT4

— The Anfield Wrap (@TheAnfieldWrap) July 5, 2020