WELL now. That was no barrel of laughs, was it?
It's alright to get beat. But the manner of the defeat isn't marvellous and the sheer lack of composure is puzzling.
If I say Liverpool didn't play like Champions it isn't to criticise the effort; it's to criticise the composure. In both final thirds, Liverpool profoundly lacked composure and it was so strange to see. Part of being Champions is about assurance and it was in such short supply tonight, when there has been bucket loads of it over the course of the campaign.
They were rash, they were hurried, they played like they had something to prove. All season Liverpool have walked the line between intense and panicked; today they were keyed up when they really, really didn't need to be.
On two occasions the ball comes to Sadio Mane in the penalty area in tons of space. On both of those he fails to even get a shot away. Repeatedly Manchester City make mistakes and offer Liverpool opportunities to create, repeatedly Liverpool spurn those opportunities; a poor touch, the wrong choice, sheer bad luck. Again and again Liverpool nearly get in, and again and again they leave their shape for City to be able to exploit.
By all means, engage in all the bravado. Tell me how long you have waited to see Liverpool so very far ahead in the league that they can go 4-0 (thankfully not five) down to the team below them and it not matter in the slightest. By all means. Of course we will maintain our pose of unbearable with all comers. But mainly that was just strange, and at times painful.
The game was both there for Liverpool and a mile away from them. It could be one of them, of course it could. They are deserved champions, of course they are. But they haven't let any setback be anything near a burden; they cannot let their ultimate victory become one either.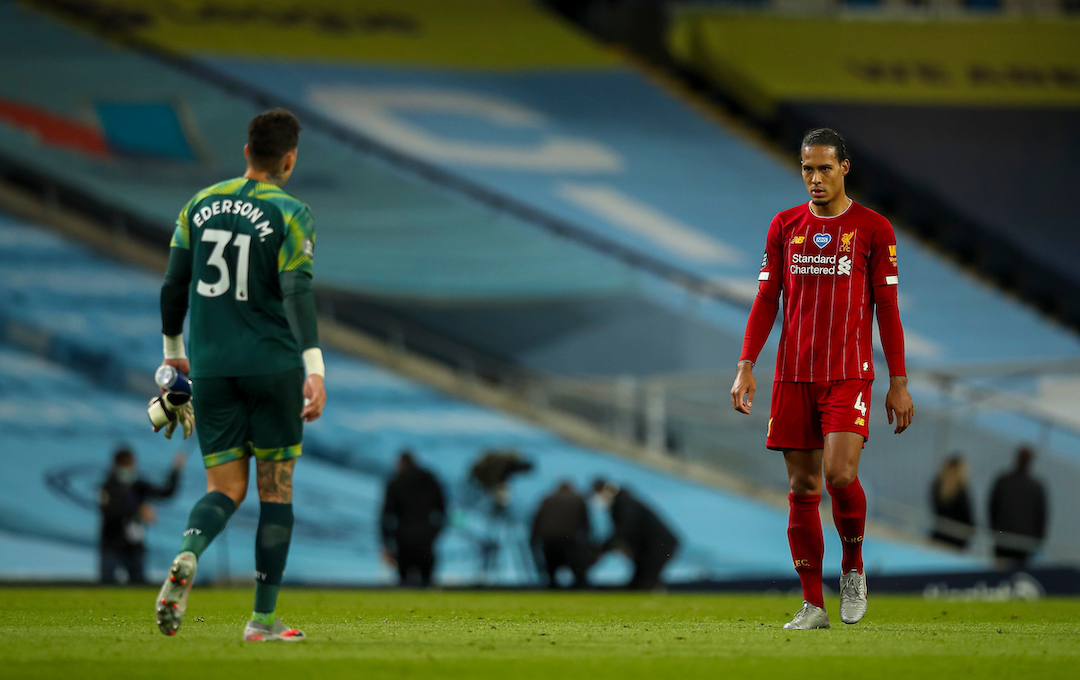 We've been here before of course, with the result and at the Etihad. So we know how this goes. And it goes. It happens. Take it on the chin Reds, worse things happen at sea and so on.
The result makes it look inevitable but it wasn't. Had Liverpool secured a goal early on, it would have been different. How they don't secure a goal across the whole game, let alone at 0-0, is the biggest concern. It was plain odd.
The Gomez/Sterling clatter that leads to the penalty kicks off the narkiness, and once the ball is struck the goalkeeper has absolutely no chance. At times in the first half Fabinho is doing well but to no end. Henderson is nowhere first half and Liverpool's best performer on the night by the time the final whistle goes, adding further to the strangeness of the enterprise.
The moments belong to Manchester City and I am still glad they are good. Post match, the manager says they haven't played a poor match all season and while I would dispute that, the truth of the matter is they are a lovely side.
Tonight they manage the moments better, which is practically unique to the way their whole season has gone. Their manager picked the right lads and in Eric Garcia he may have reduced the number of centre backs he needs from three to two.
Yet Garcia repeatedly ends up on the deck or out of the game, repeatedly is a lucky general not a good one. But he is clearly a player. As is Phil Foden. And as is Big Kevin De Bruyne. God he's sumptuous, isn't he? The one that got away. I'd walk five hundred miles. I'd walk five hundred more. He's a night out. He's a ride.
Fuck it. It doesn't matter. Take this as a massive learning opportunity. Take this as a chance to go down the end of the garden and have a big scream. It doesn't matter.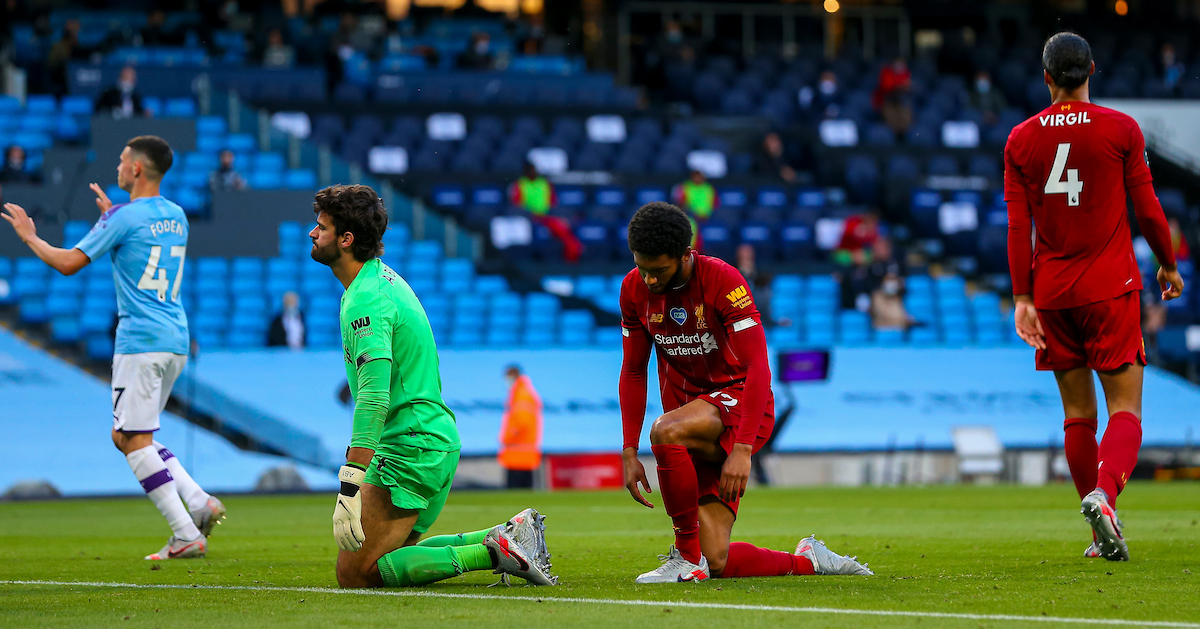 Fuck it. It matters. It actually does. Manchester City are both good and lucky. Liverpool good and unlucky but they deserve the victory and they deserve it to be emphatic. They managed the moments better. Doff your cap and move on. But it matters and it is OK that it does.
Don't remember walking through them Liverpool, remember them walking around you. They took these three points. We need to take them on again next season. We have a league to win, a title to attack, a team worthy of going toe to toe with.
Liverpool will be better. We can scream in the garden together, you and I. We've been trapped for too long. It's all gone hazy, it's all gone wrong.
Liverpool are champions. Tonight we saw our closest challengers for next season. Let's keep them at arm's length.
All the best and thanks. There will be more of this come the end of the season, but if you are this far down tonight then you are one of the ones who deserves the thanks. I never got to say thanks in one of these properly, but thanks for the nice words and the sweetheart stuff after the title win. Thanks for reading since 2014. Thanks for being here and taking all this on its merits.
We had a quest together. If I'm sued into submission, I can still come home to this.
But let's not let this happen again.
---