THERE were people who didn't want football to come back until we could be certain it was safe to play in stadia with supporters present.
There were people who wanted to null and void this season. Others who just wanted to stop the season and look at points per game.
There were those who were prepared to park the enterprise for the foreseeable and just wait it out.
Tonight was a joy and not just because Liverpool win. In fact, not because Liverpool win. But because 30 footballers basically play marvellously and compete brilliantly across the pitch. Having seen a lot of games since football returned, tonight's game between Brighton and Liverpool was the best to date and, in and of itself, a justification for the process and the decisions made.
This Liverpool side is a truly great side but today it went on quite the journey. It eased into the two-goal lead only to find itself outworked and outthought by Brighton. They played remarkably well two down and challenged Liverpool in every phase of play and by the time they get the goal to make it 1-2 they may well deserve to make it 2-2. It's only some excellent last-ditch defending which keeps them at bay.
They change and morph through that first half and Liverpool are slow to adapt. They pick at The Reds and Neco Williams's dream full debut doesn't quite become a nightmare, but it is at times torrid. Tariq Lamptey exposes him on a couple of occasions but Williams attacks well and blocks brilliantly.
In the second half Brighton keep coming. Their substitutes make them stronger. Yves Bissouma dances through the Liverpool midfield like few have on a couple of occasions. Aaron Connolly asks Liverpool's line questions. Through the game Neal Maupay makes clear he is a real player. At the back they use Dan Burn as a really unorthodox outball.
There is, in a sense, nothing worse than praise when you have been defeated. It can feel like a pat on the head. But what else are you meant to do? Brighton had best stay up from here. I expect they will but they had best grow too. They are genuinely bright in a way few of the sides around them in the table are. Tonight watching them against Liverpool was like taking off tight shoes. I expected a slog but they gave us a slalom.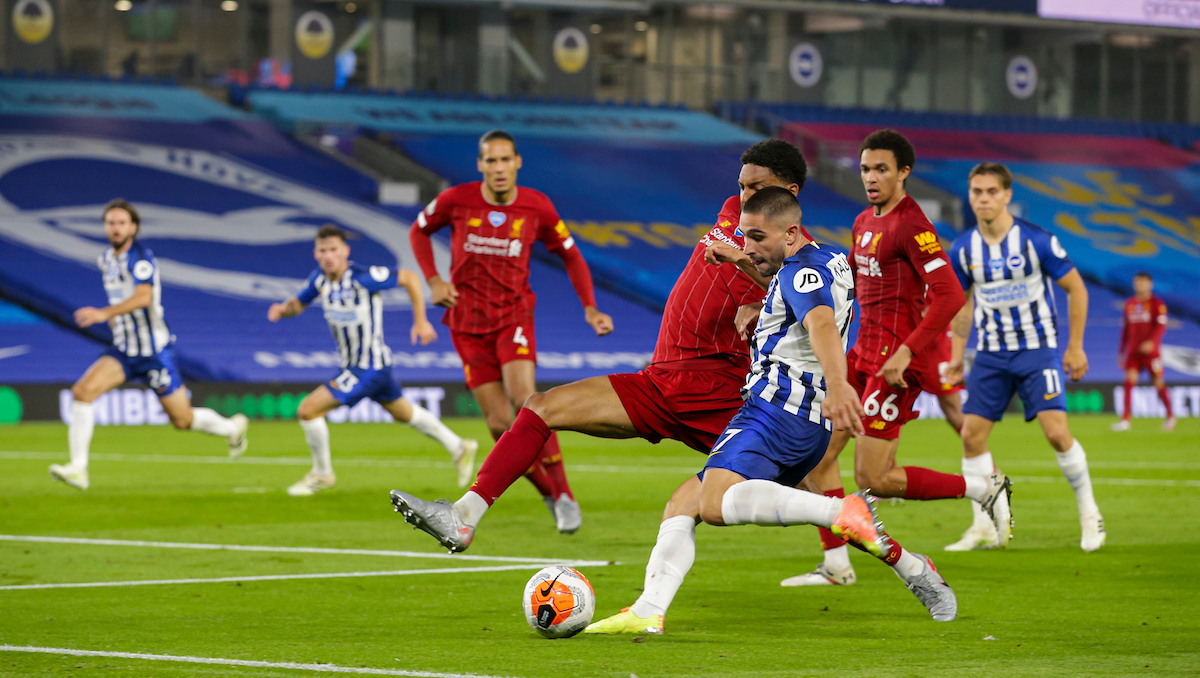 Liverpool though are difficult to deal with and a core reason why is what they can do in the final third. The man most important for that is Mohamed Salah. And he is the man who has been responsible more than any other for taking Liverpool from very good to great on the pitch.
We need to never overlook him. He can do it all. He makes the pitch huge, he is a great wide man. He's also Liverpool's best player between the sticks. He comes short, he goes long. He can link play, carry the ball, cross and head. He is 9/10 at every last attribute a forward needs including knowing when to press and when to anticipate a counter is on the cards. He's effective, he's efficient but when he needs it he has every last trick in the book.
He could well be the best forward to play in this league since Cristiano Ronaldo, who in turn was the best since Thierry Henry.
For three seasons he has been the division's defining attacker and it isn't fair to look away from that not just because he has Sadio Mane as a teammate, but because he has such significant talents as Virgil van Dijk and Alisson Becker too at the other end of the pitch. It isn't fair to take his efficiency and decide it is mundane. It isn't; he is a genuine marvel, the best attacker for the best team in the world.
Liverpool are Champions of Earth, of Europe, of England and their Egyptian completely frames how the team attacks. He makes everything possible because he can go long and come short, can pull wide and cut narrow. He comes off the pitch frustrated that he hasn't got a hat trick, that he isn't closer to Jamie Vardy. I mean I have four words for you…
All the best, Burnley.
Elsewhere, Jordan Henderson finishes brilliantly and plays well before limping off. Hopefully it isn't the last time we see him this season. Andy Robertson enjoys a 45 minute gallop. Roberto Firmino should score but gives us all the other bits. Naby Keita offers us a lovely hour, a reminder that pressing at the right time is as much a skill as anything else but also that he has anything else in his locker as well.
There will be a desire from some – including the man himself – to criticise the Oxlade-Chamberlain hour but he does alright. Not great, but Adam Webster's face is probably all that stops him from notching.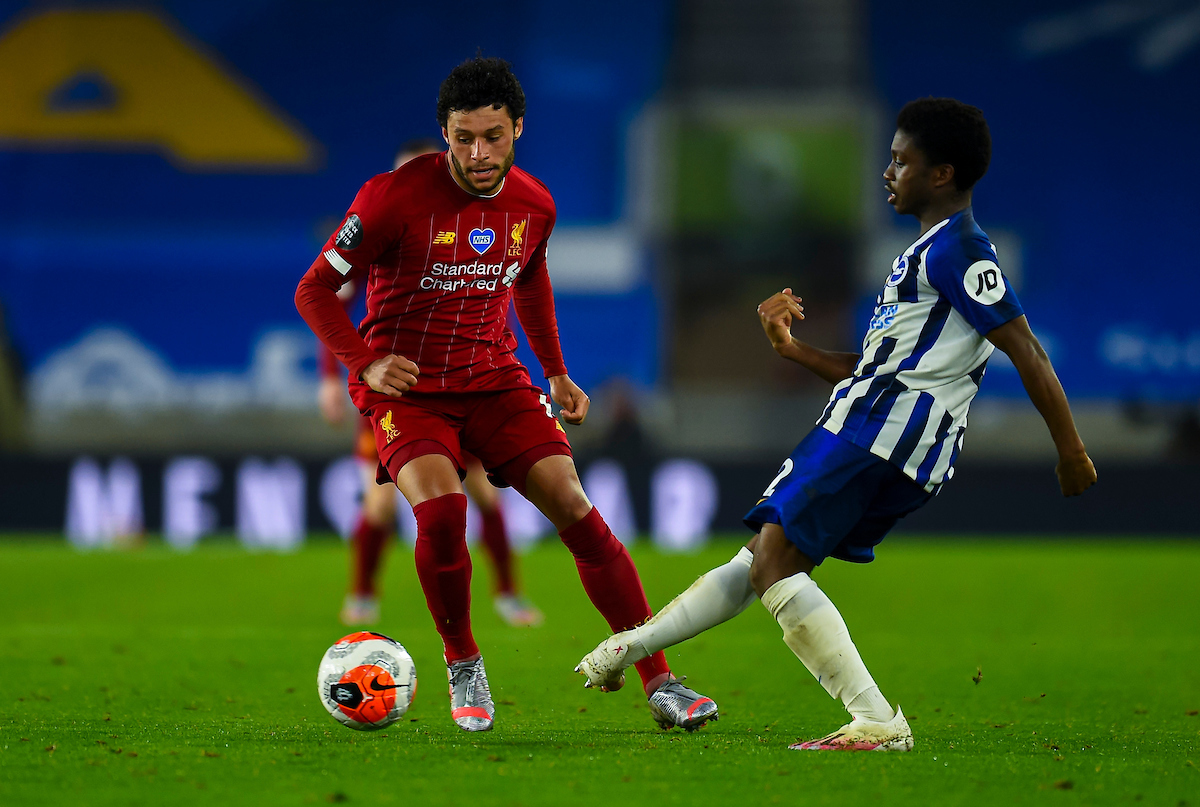 All the Liverpool players play well. Because they had to. Because all the Brighton players play well.
Perhaps I am indeed getting soppier as I grow older but that counts. It matters. We didn't have elite sport for three months. We didn't have the game for three months. We had lives on hold for three months and in some ways lives remain on hold.
In other ways, lives have been lost that shouldn't have been and that shouldn't be forgotten for a second. Lives will have been devastated and uncertainty remains a deep and profound issue across the world. We should all remember that.
Ultimately though, life is for living, for enjoying, for loving and for feeling and for admiring. In their small way, they are giving us that, these young men. They deserve to be praised for how they have handled themselves as a collective through these strange times.
And they deserved to be praised tonight for their performances. Each and every one of them deserves to be praised.
It's just tonight Liverpool win and that Mo Salah deserves to be praised the most.
---
"Mo Salah is a genuine Liverpool great.

"He underpins everything that makes this team so special." 🇪🇬👑

📱 Subscribe here after the Reds' 30th League win of the season 👉 https://t.co/XZAK9veWt7 pic.twitter.com/OrTdQiEeIb

— The Anfield Wrap (@TheAnfieldWrap) July 8, 2020