NEVER liked playing Arsenal, these days more away than anything.
Most people reading this will be too young for 1971 at Wembley but the video of it used to be everywhere. Some too young probably for 1989 at Anfield. But let me fill in the gaps. North London Arsenal beat our Redmen and we did not like it very much. No guard of honour makes getting beat by these OK.
It's no barrel of laughs getting beat. But it is fewer laughs again when you are absolute architects of your own downfall.
A Sadio Mane smasher at 20 mins is a beautiful opener slid behind Arsenal's defence. David Luiz plays him on and the pass from Andy Robbo is glorious. But it is downhill from there.
The move from 0-1 to 2-1 happens almost entirely independently of Arsenal. At times during the game they press well but this is nothing to do with either goal. Both are just absolutely dreadful play by Liverpool. Liverpool were marvellous tonight and then they were 2-1 down and they weren't marvellous anymore.
Football, especially the way Liverpool do it, is about a series of things working because everybody is all in. Arsenal were nowhere on that score just before it goes 1-1. They'd lost their way because Liverpool had taken it from them and hidden it.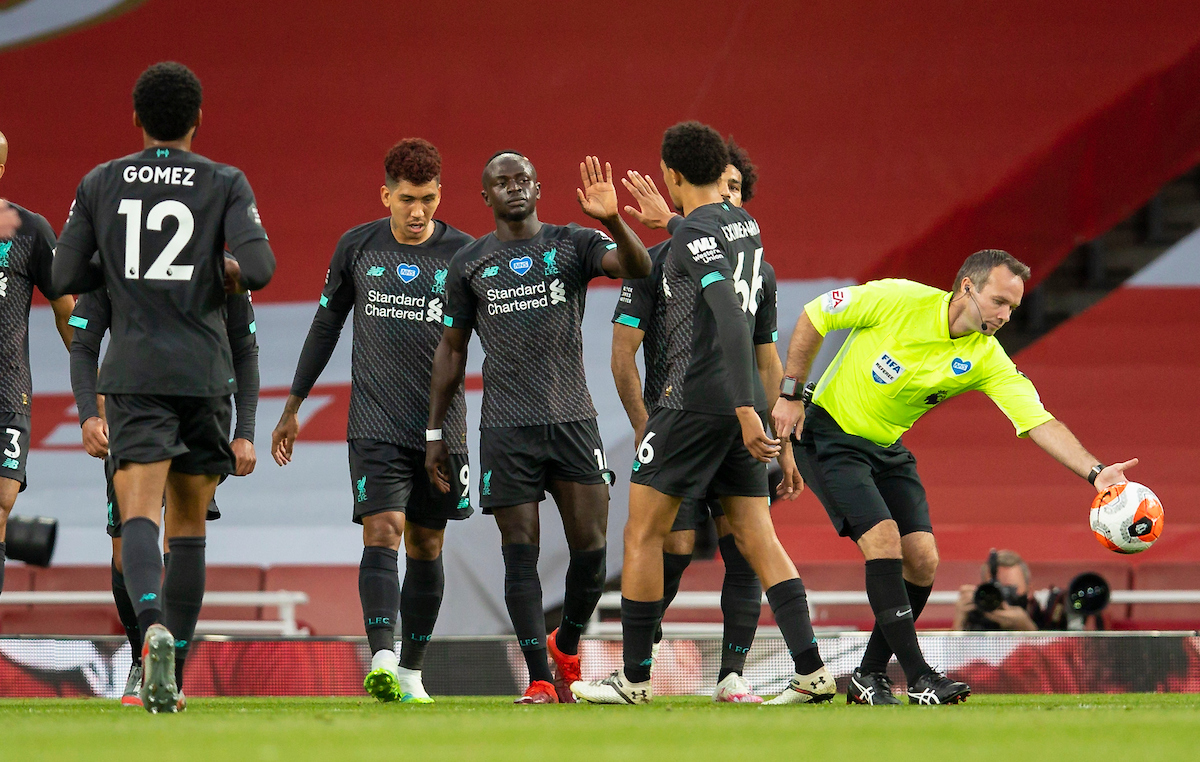 Liverpool look tired and unmotivated. And who can blame them if heads are elsewhere. They have next season to think about. At a base level this game is meaningless.
You can talk about points totals, records, the simple pleasure of winning another football match, and another, and another. But we always knew that nothing would mean quite as much as getting that big title dog off our backs, and that fact is written all over the players' faces. They are tired and a bit disorganised.
You see it in the final quarter of the game when Arsenal defend so deep they are halfway up the stand, and spread so wide their 10 man wall stretches from corner flag to corner flag. They were going to hold on.
None of this excuses the Redmen, however.
Those errors. Virgil is almost a god, but it turns out he is in fact human and does make mistakes from time to time. In this case his mistake deeply benefits Lacazette who was hungry for it all night. At 1-1 though you think we can get back into it, particularly as Roberto Firmino had shown some fire and skill in the early minutes of the game, and Sadio never looks like not scoring.
Still, there are further errors from Liverpool tonight as the goalkeeper error and the general wild lack of concentration leads to Arsenal's second, scored by young Reiss Nelson, but Lacazette at the heart of things again.
We waste time we cannot afford and we squander balls to the obvious frustration of the manager.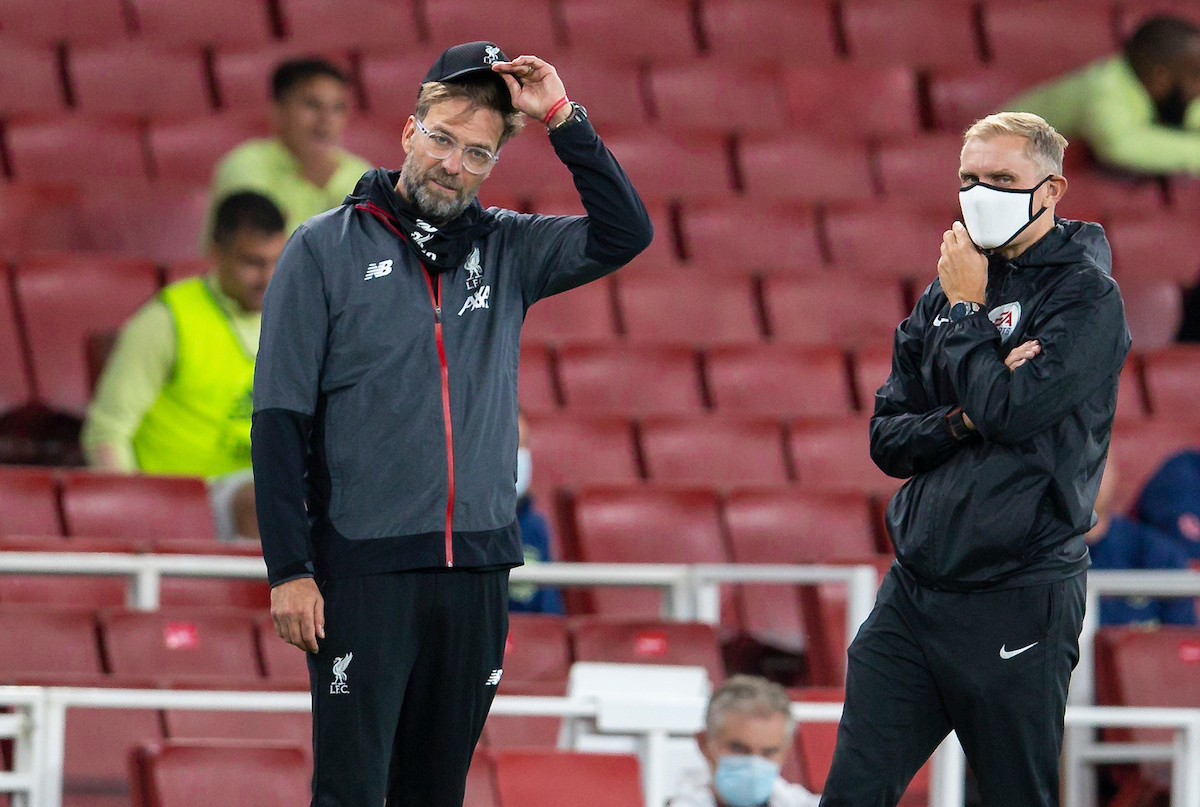 We miss the captain and perhaps the vice captain. We miss the organisation, the defending, we miss the voice on the pitch and the experience. It is a long time since anyone called Liverpool a one-man outfit, but we really do miss these men when they aren't playing. Mo Salah looks tired and none of the front players are wildly convincing tonight, despite Sadio's good attempts plucked out of nowhere.
When the time comes to bring on subs, it is good to see Minamino in particular looking bright and up for it. He nearly scores, and in the second half of second half we play really quite well but there are a lot of balls that miss by inches. Too much of a miss to call it unlucky and with a shout of a penalty.
We are continually on the verge of finding a way through only to be thwarted at the last minute often by our own decision making. And the whole thing is just very frustrating.
This end of the season feels like beating time. It feels like we are marking it out, marking these games off. Yes it would be lovely to win a game by three, four goals – lord knows we have done these Arsenal people over before – but what would it really mean?
Liverpool lift the league title next Wednesday. A week today; exactly that at the time of writing they will do what we wanted them to do, what they needed to do for us. It's generational defining stuff you know. Or it has been.
I was having a conversation today which again reminded me of the number of people who have made life and career-defining choices around being here the season they finally win it. I think thousands of lives of people aged between 24 and 46 have been profoundly impacted by a burning desire to see the thing we see a week today.
They've done that thing that we all needed and they will always be the most marvellous because of it.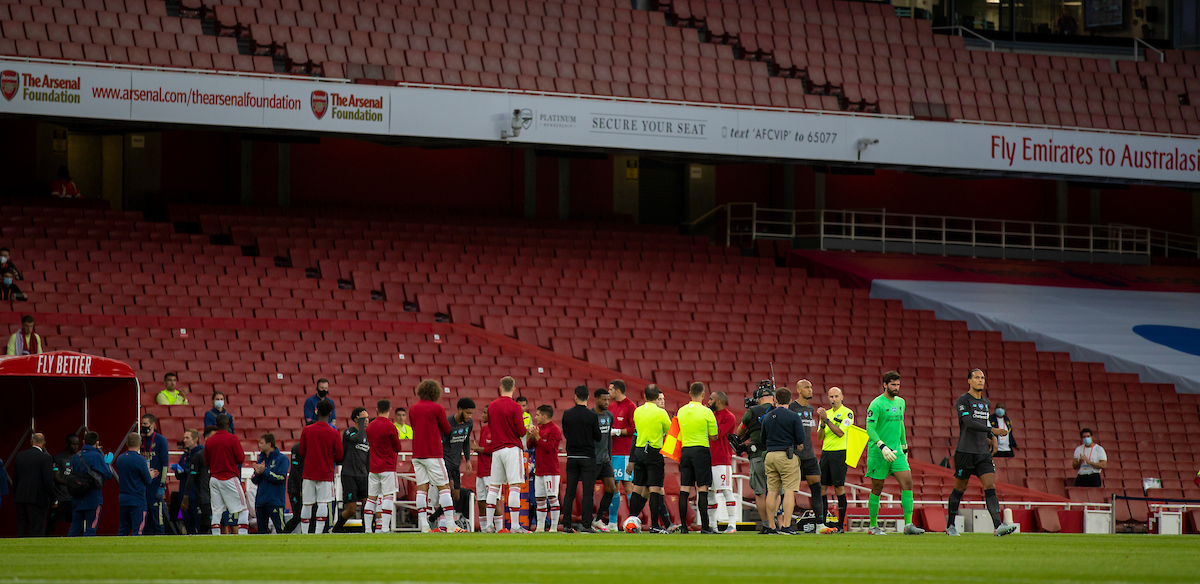 I say this to contextualise the season and contextualise the criticism and perhaps even to contextualise the easing off. I remember the tears the night it was confirmed from manager and captain. They, along with their squad, had carried this burden. One carried by Sami Hyypia, Jamie Carragher and Steven Gerrard. One carried by Roy Evans, Gerard Houllier, Rafa Benitez and Brendan Rodgers.
This was and *is*, and we need to be very very clear about this, people's lives. It's no wonder Liverpool FC are a little different the other side of that lifting. We as a collective are all responding to it differently and it will take some time for that to settle. In some ways it may never truly settle, you know.
All of that said Liverpool will very soon – perhaps eight weeks – need to play better, need to cut out the sloppiness in both boxes because something new starts. It isn't people's lives in quite the same way but it is everything. And getting beat, especially like that, is absolutely fucking rubbish and it needs to stop happening.
I used to count them down, here. At the end of these, the hurdles. Liverpool smashed the hurdles to smithereens. They are the greatest gang of lads you can conceive of. Let's just not build hurdles back up where we don't need to.
Next Wednesday bring on the Champions.
---
"Still Champions though, aren't we?"

📱 Subscribe here for all of our reaction to Liverpool's fourth League defeat in TWO SEASONS 👉 https://t.co/XZAK9veWt7 pic.twitter.com/YcbgtACqa8

— The Anfield Wrap (@TheAnfieldWrap) July 15, 2020