MOST of us wanted to play Ajax.
That could have been for any number of reasons. Maybe it was because of their name and the European pedigree that saw them net a hat trick of European Cups before we were even on the board.
There's always been a healthy regard between the clubs going back to the 1966 game when they dicked us 5-1 in Amsterdam and Johan Cruyff ran riot. Not that that deterred Bill Shankly. He was convinced we'd go through in the second leg and get at least seven. We drew 2-2.
Had the Dutch held their nerve a month earlier it would have made it a more of a European affair rather than a glorified Premier League game. Liverpool have never really liked the idea of an English team in our tournament and, in any case, there was no mystery in Spurs. We play them twice a season as it is.
But you can only get what you're given and if it was to be Harry Kane ('The greatest striker in the world' – Chris Sutton) and his mates then so be it.
What it did do was throw enormous pressure on our shoulders. Liverpool, and Jurgen Klopp in particular, had to win this one. Simply had to.
We'd come so close a year earlier when only a shy goalkeeper and a bog-standard wrestling move had done for The Reds, but Spurs were not Real Madrid. A decent team, of course – they'd made it to the European Cup final after all, but not Real Madrid. We were favourites even if the bookies claimed it would be close. A defeat in the Wanda was unthinkable.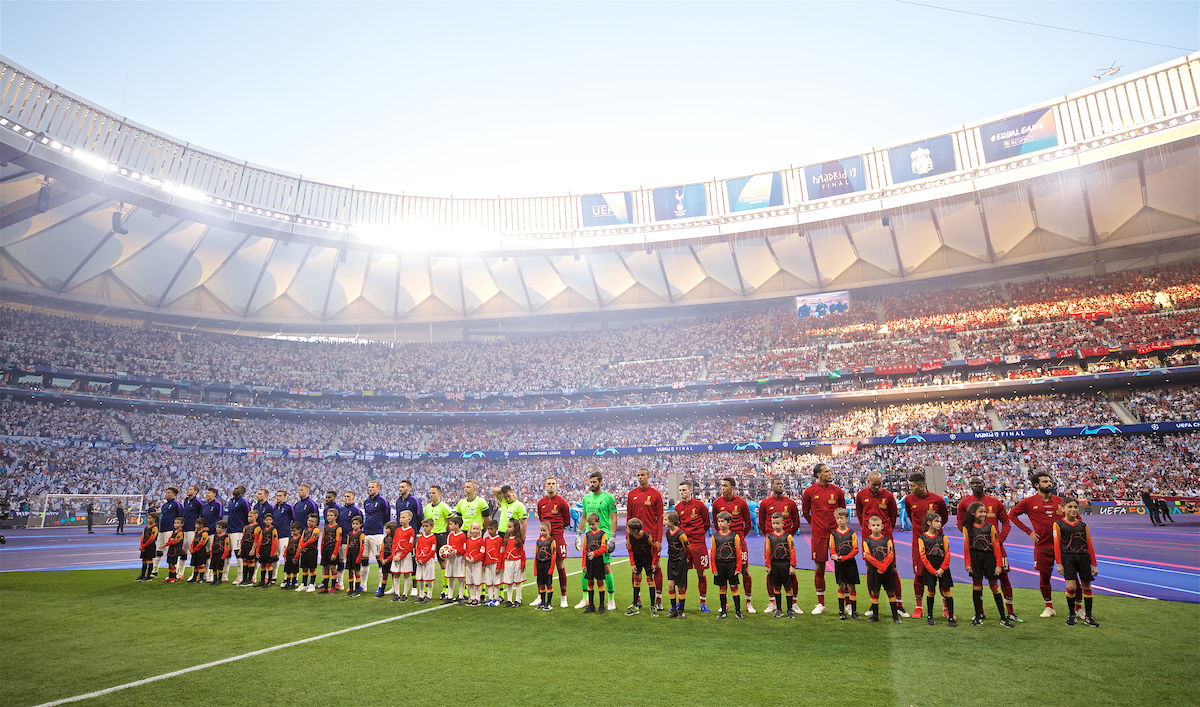 This may have been a battle between the winners of the competition's greatest ever semi finals, but the game itself was a damp squib. The early penalty more or less reduced the occasion to a lesson in control and denial. Despite Spurs trying to force the issue, Liverpool became a cricket nightwatchman, gamely playing endless defence strokes until time ran out.
And then Divvy Fairclough wrapped it up. A classy strike, not unlike Gary Lineker's goal in the 1990 World Cup semi final and laid on by simply the greatest shinned pass in our history.
He's a hero now whatever happens, but I wonder how long it will take before people forget that the Belgian absolutely stank the ground out all before that. God, he was woeful. At one point I thought he'd slotted into Tottenham's back line as a third centre back. Still, who cares now?
He wasn't the only poor forward, though. Both Kane and Firmino were still injured and the biggest stage was a step too far for them. The game suffered as a result.
I say 'suffered' but that didn't make it any less dramatic. I was counting down each minute from half time and every Tottenham pass had me shaking.
It was one of those games where you give yourself a pep talk every couple of minutes. I was urging myself to 'just get to 70 minutes and we'll see where we are'. When that minute came, I discovered there was no reward in it as there was still 20 left and, on a night like that, that's a month in real terms.
I haven't seen the game back since, but like you I've pored over those celebrations. Virgil van Dijk lying prostrate on the floor, Jordan Henderson screaming at nobody and Jürgen nobly consoling Tottenham players while his head was all over the place.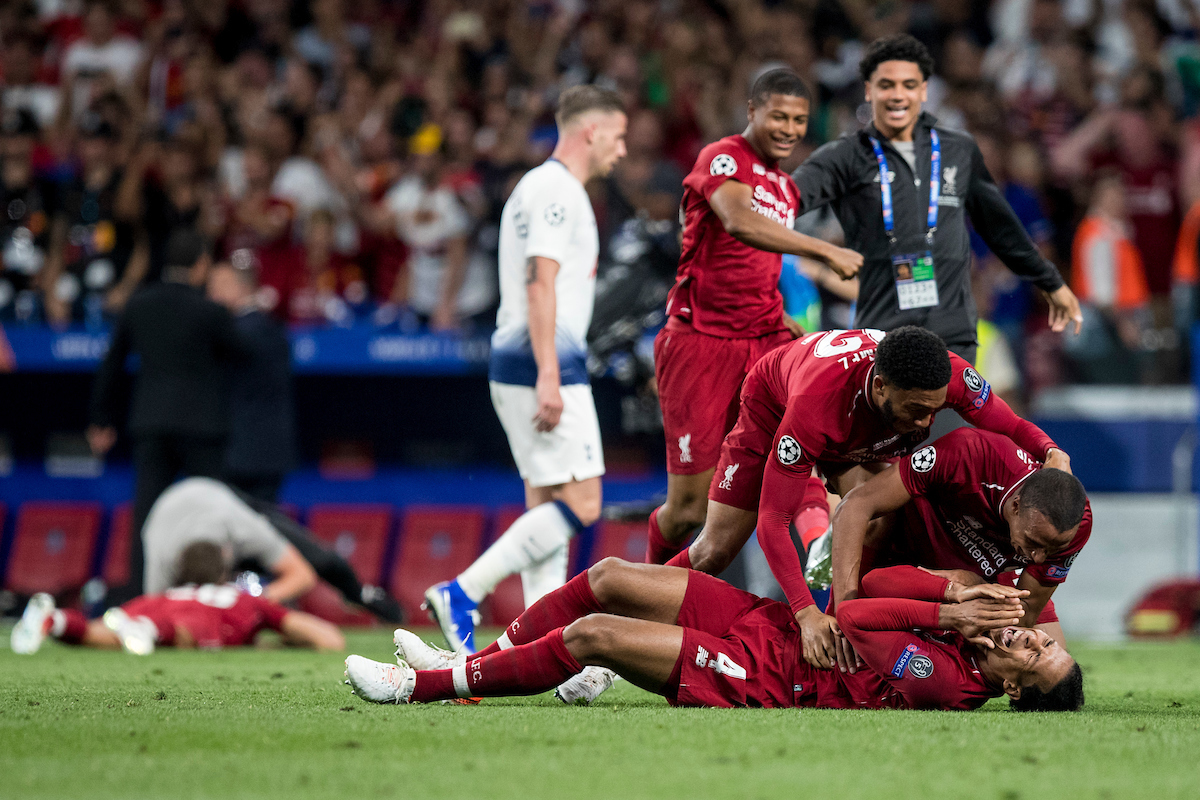 There are many individual stories in those few minutes. The captain and his manager sobbing into each other's necks – both finally feeling the pressure lift for the first time since Kiev. Mo Salah exorcising the ghost of Ramos in the defender's own city. Andy Robertson unsuccessfully trying to wrap a Scottish flag around Virgil's shoulders. But there are still two moments which stand out.
Jordan Henderson trotting over to see his dad, Brian. That will live with us for a long time. You can't hear what they were saying and that's a good thing, but their meeting was clearly an outcome they'd dreamt of.
Henderson Sr had been unwell and kept away from his son so he could focus on the end of the season. That encounter, part delight, part relief, was a culmination of hard work and prayer. They got there.
Then there was Mo and Trent talking to Des Kelly of BT Sport. It wasn't exactly Frost/Nixon so when their teammates ran to our end, the two lads made hurried apologies and sprinted to join them. That meant the world to me. They wanted to be a part of the crowd. That meant more to them than necessary media work. They wanted to be with the people, and I love them for that.
There's a real sense that they're OUR players now rather than just footballers dressed in the correct uniform. Not just because they won the big one, but because there's a genuine affinity for once. Their friendships – Milner and Robbo, Lovren and Mo, Naby and Sadio, Trent and Henderson – exposed on social media, have become ours to share.
In years to come, they'll be sitting in TV studios and on the after-dinner circuit talking about Madrid just as others have before them. Their names are sewn into our history now. They're a part of this forever, even when they've long gone.
Come the first game of this season, Anfield bounced not just to You'll Never Walk Alone or the Firmino song, but to a simple anthem…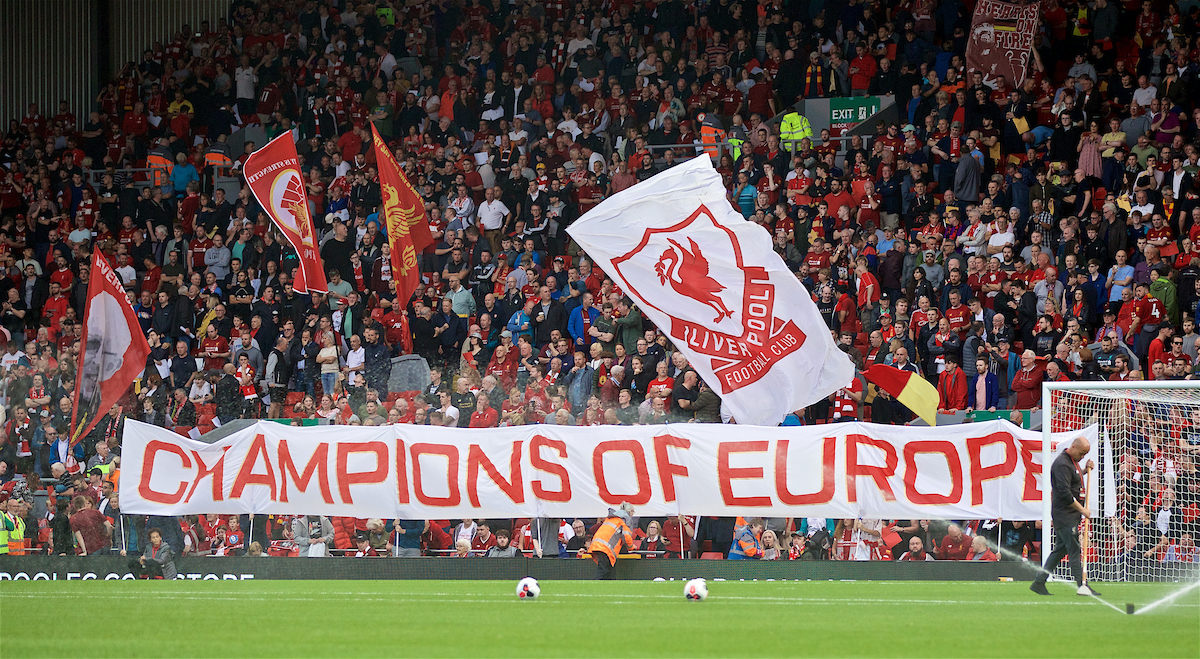 'We are the Champions, the Champions of Europe.'
Then came the world. The song was a reminder, not just to the opposition, but to ourselves. We've sweated through transition after transition, mediocre season after mediocre season and many a false dawn, but now we're best in the world with trophies to back it up.
The win in Madrid wasn't the end of Jürgen Klopp's ambition – it was just the next step. Lose in Madrid and it's likely there'd be no 25-point league lead today.
In some ways, we're still playing that tournament and the almost impossible ideals it sets. We had to beat Bayern and Barca to get there and there's no knocking off now that we've done that. Those standards have been met and increased once more, so much so that they're now the norm.
That's because that night elevated us once more and that's because we are the Champions, the Champions of Europe.
We won't be in 2020, but that's fine. We mean business now. Madrid put us back where we've always wanted to be.
---
"There was nobody at the Liverpool end, so I thought 'sod this i'm off down there' and I gave it the big six!"@JamesMilner talking about Madrid during one of two TAW Specials…

Listen for FREE 👉https://t.co/SgdvaKeZLB
Pro View with Milner 👉https://t.co/9aOEDyO4eQ pic.twitter.com/gqcWfBImaF

— The Anfield Wrap (@TheAnfieldWrap) June 1, 2020