REMEMBER days of planning trips abroad?
Of gambling £90 on flights the day after Liverpool beat Bayern Munich in the Allianz Arena last year because you just never know? Good times, weren't they?
When things such as mere travel abroad now seem difficult to the point of impossible to comprehend, it's worth remembering how much culture following Liverpool has given us over the years.
If you've sat eating Tapas in a Spanish square or marvelled at Greek pillars to Roman cathedrals, all under the umbrella of Liverpool in Europe, you'll know what I mean. No football has taught us we're lucky to have the memories we do.
And so after The Reds did the right thing against Barcelona, it came to pass that my pre-booked trip and ballot success meant I was pretty much sorted for the final from the earliest possible point. In fact, of the five of us going, three came out the draw for tickets. There was none in groups of double figures I knew, so this was no small achievement.
Like Jürgen Klopp and the players, I'd learnt the lesson of the year before in not travelling too early. So on the day before the game, I went to work with a weekend bag, left my car there and taxi'd to the airport. By tea time I was boarding a flight to Barcelona with friends, and come 9pm we were tucked away in the Gothic Quarter having wine and tapas.
A glorious night's sleep, a morning train into Madrid and a spot of shade in a cafe bar in the city followed. Honestly, I know this sounds like a holiday review more than a European Cup memory, but I've never had a smoother trip in my entire life.
From start to finish things beautifully ebbed and flowed into each other. Friends to conversations to culture to an unbelievable atmosphere. And not once did I have an ounce of worry about the game itself.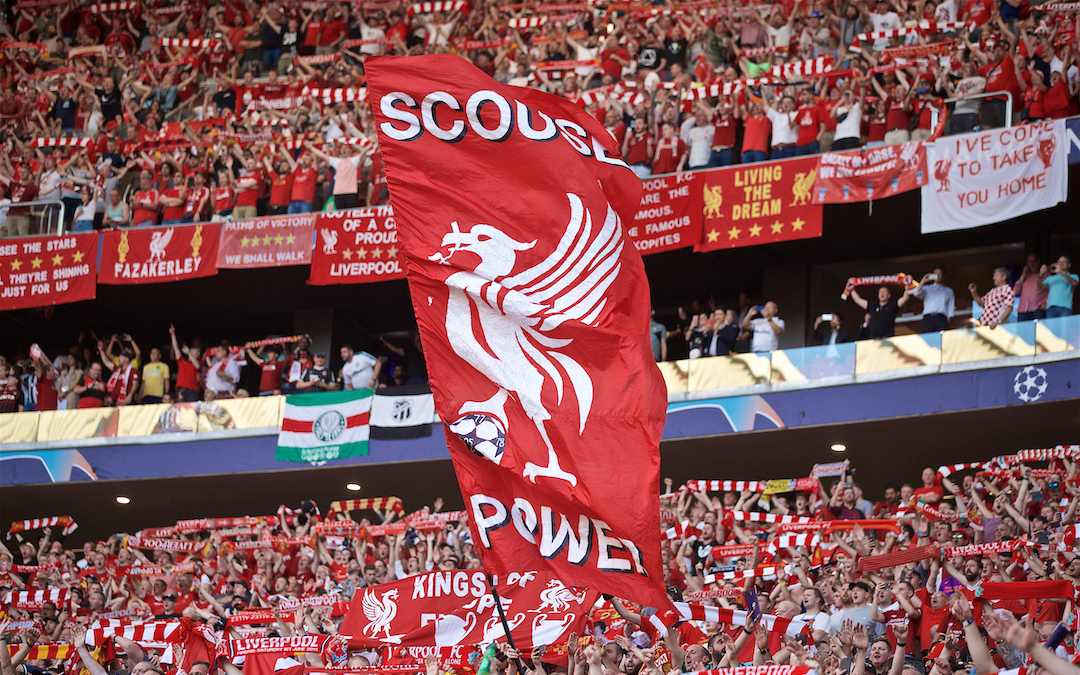 Since that final whistle against Barcelona, I slept sound in the knowledge we were winning that trophy. That might sound arrogant, but I've never been so sure of anything my entire life. It wasn't that this team merely deserved to win something, it was that they were too good and too strong willed to not do.
I was calm handed throughout; in the taxi to the ground, stood next to a snarling Spanish police horse and inside the stadium. The game was what I expected from two teams who hadn't played for three weeks and were now doing so in soaring humidity. It was a battle of wits and Liverpool came out on top.
The first real time I got overcome with emotion all night was when the players break from the formalities and sprint to the Liverpool end. There you get to witness a gang of absolute heroes, whom you adore as footballers, be vindicated. And all the time all they care about is doing it for you.
Whatever the eventual legacy of this team in years to come, I hope it isn't lost just how much it needs the fanbase of this club. It is possibly the strongest bond we've ever seen from a club which defines itself on that very essence of unity – a concept spoken of this week as much as ever.
To get to see your club win a European Cup as a supporter brings its own sense of privilege, this is something many will never get near, and that was the sixth. But the other thing winning one does – along with Spanish heat – is absolutely drain you.
A train ride back into Madrid with Alan Kennedy, red wine all down his top, talking to you having scored the winning goal in one of these. It added to the serene nature of the day. The lights of the city bustled and alleyway parties broke out. But that wasn't me on this trip – I simply wanted my bed.
The next day I got to see Liverpool in a fog of Red pyrotechnics from back in Barcelona. By the time I arrived home on the Monday everyone was back in work, things had returned to normal and life was pretty much ordinary.
Looking back now, I can't wait for another ordinary weekend like that supporting this football club.
---
"That square was awe inspiring and i've been everywhere with Liverpool. A day like that still makes you stand back and go 'wow, we are massive'."

"It's such a great thing to be a part of." ✊

Listen for FREE 👉 https://t.co/csnQxBp7Fh pic.twitter.com/TIQRdIVed8

— The Anfield Wrap (@TheAnfieldWrap) June 1, 2020