THE more things change, the more they stay the same.
No crowd, no handshakes, and because it was a Merseyside derby at Goodison Park, no goals.
The big wait for football to return and for Liverpool to continue their procession to an inevitable Premier League title ended with just their third failed attempt at winning all season.
Immediately after the 0-0 draw at Everton, I felt quite calm. The visitors had played reasonably well, as had the hosts, and they simply cancelled each other out. It has become tradition for this to be the case when the two meet at Goodison.
However, according to the post-match analysis from a significant number of media outlets, Liverpool were poor, well below par in fact, and were fortunate to head back to their Portakabin in the car park with anything to show for their 70 per cent possession and 10 shots at goal.
Jamie Carragher was particularly scathing in his post-match analysis for Sky, declaring The Reds lucky to escape with a point and suggesting that their possession meant nothing. He had a case, to an extent. Tom Davies hitting the post was the closest either side came, and despite having a lot of the ball, Liverpool struggled to create many meaningful attempts of their own.
It still felt a bit harsh to conclude that a team which had, up until the 81st minute, completely dominated the game and not looked in any real danger of conceding, deserved to lose just because the opposition broke away a couple of times after half of Liverpool's starting backline had been forced off injured. Gary Neville said himself that if Everton were to score, it would be the epitome of smash and grab just before.
Aside from Richarlison's effort from a tight angle in the first half after Fabinho had passed the ball to him, Everton had done very little going forward.
Of course, neither had Liverpool, but Everton made it clear early on that they were going to be on the defensive, the boxer who retreats to the corner and puts his arms over his own head, hoping that his opponent will get bored with the lack of engagement and drop his guard. That's not supposed to be a criticism, because it worked for Carlo Ancelotti, almost to perfection.
There is no question that it was far from a vintage showing from the runaway league leaders, but then, it was never likely to be. Imagine not playing for three months, then training for four weeks, some of it socially distanced, and then returning at 100 per cent intensity and fluidity in your first game back, away, in a derby against a team set up by one of the greatest coaches of all time.
However, the reaction from some areas has felt over the top in its critique of the champions elect, summed up by Jonathan Wilson's piece for The Guardian, titled 'Liverpool's great season at risk of ending in disappointing anti climax'.
The main point put forward by Wilson – who is one of the best football writers in the business and I am generally a big fan of – was that although The Reds have set all kinds of records and will eventually win the title, their drop in form before the break, and a potential continuation of that wobble in the run in, on top of the obvious impact of the context in which the season is ending, could turn a great season into a damp squib.
He might be right. Maybe it will be somewhat of an anti climax if Liverpool end up stumbling over the line and falling short of 100 points. I described this possibility to someone at work last week, but they rightly scorned me for the most elitist football problem imaginable.
"What if your trophy lift gives Jordan Henderson hand cramps too? Diddums!"
It started before lockdown, with Liverpool's apparent drop in form mentioned several times in the buildup, and during the game on Sunday.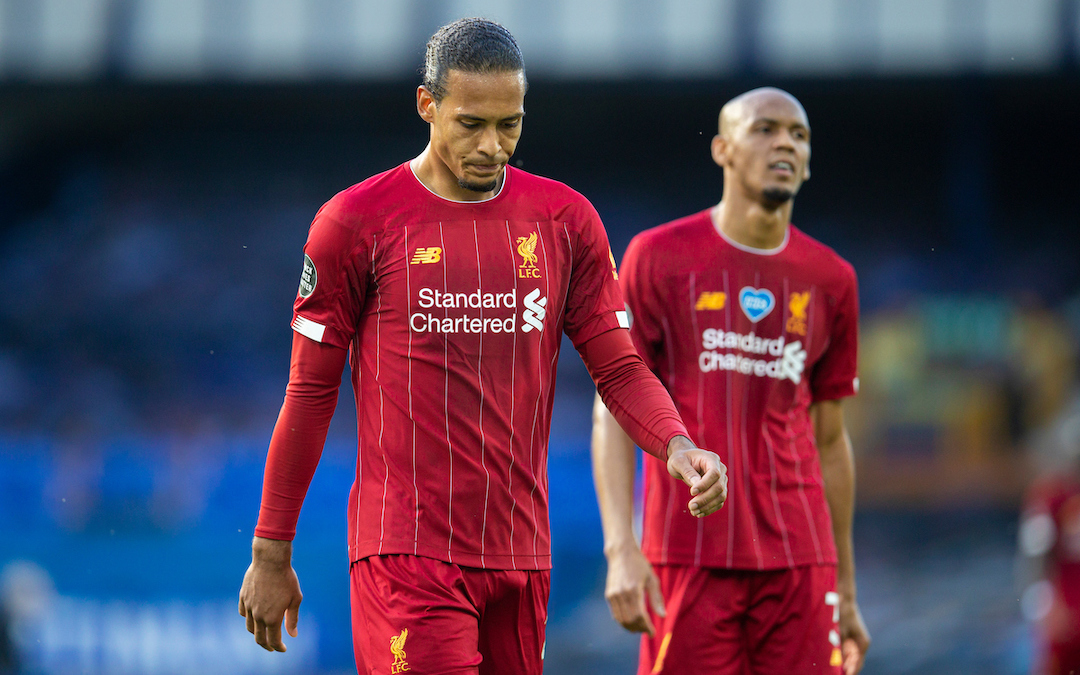 This was a drop in form that consisted of the loss at Watford (fair enough), going out of the FA Cup at Chelsea (with a very changed team), going out of the Champions League to Atletico Madrid (despite outplaying them for nearly 100 minutes at Anfield) and having to settle for narrow wins (yes, wins) against Norwich, West Ham and Bournemouth.
As crises go, it's not the worst I've experienced as a Red.
Rival supporters have been telling us that, no matter what, it 'won't be the same' and that the 'asterisk' next to the league table means we shouldn't really bother celebrating at all. That's fine. 'Banter' and all that, can be brushed off.
However, if legitimate journalists are now going to join in on trying to play down the team's achievements and excitement, especially by comparing it to the insane standards set prior to lockdown, then it's going to be far more difficult to turn that noise down.
After everything we have all been through lately, I for one don't have the patience and energy to see one of the very few things to provide genuine escapism and raise a smile be watered down.
The obvious way to counter this is for Liverpool to win on Wednesday and get back to their best for the run in to win the league in style.
They shouldn't have to, though. They've already done more than their fair share of being brilliant. If they wobble at the end, so be it. There could not be more understandable circumstances to not quite be at your peak.
I watched at least small bits of every game over the weekend and hardly anyone looked fluid, illustrated by the vast majority of games being 0-0 at half time. Some were able to take advantage of sloppy second half performances (or just the existence of David Luiz), but there was no such fortune for Liverpool as Everton kept their level and their concentration up throughout.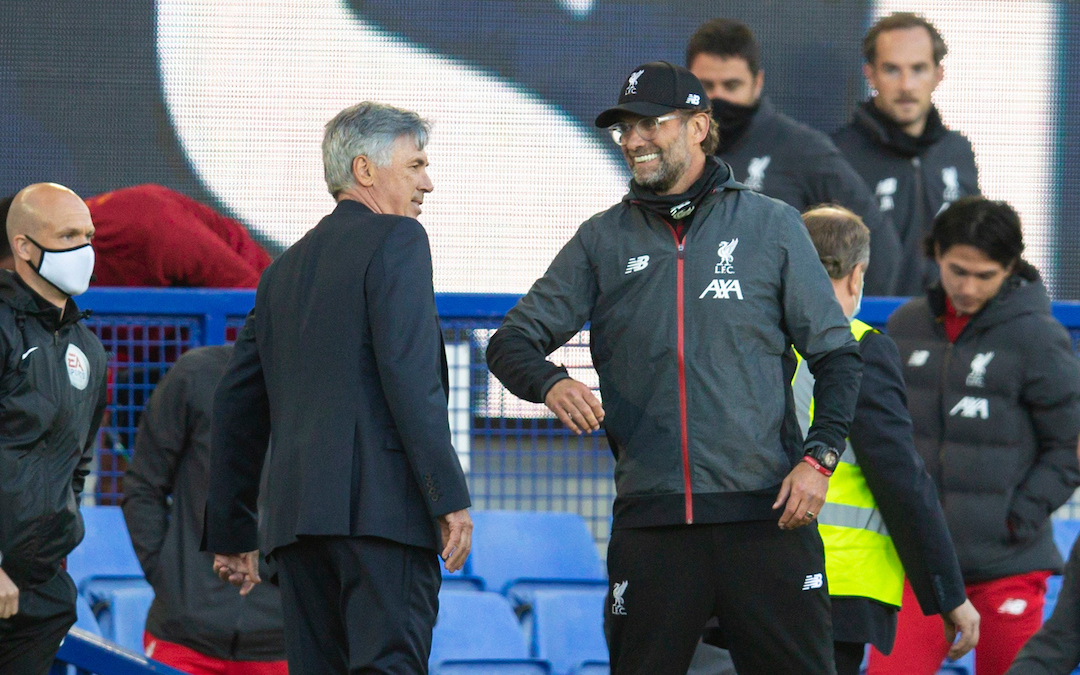 That element is also hardly surprising. Ancelotti has a very good record against Jürgen Klopp, and we have seen recently that he is capable of setting a team up to consistently douse the flames of Liverpool's attack. In four games against the European and world champions while at Napoli over the last two seasons, he conceded just two goals.
He may not have an attack to match the likes of Lorenzo Insigne and Dries Mertens, but defensively, the Italian and his players got it spot on at Goodison Park, and credit should be given to them for that.
I don't believe this is Liverpool being singled out. This is just what society does. Building you up to knock you down is as old as time, and we probably have to accept that. Once people are sick of seeing you at the top, then they will find fault with everything you do that isn't perfect.
Crucially, this will really only be irksome to us, the fans. It won't bother Klopp or the players in the slightest. They will just get in with doing their jobs and, hopefully, silencing critics in the best way they know how.
If anyone wants to tell Liverpool fans how to feel about this season after the title has been confirmed, go right ahead. We'll check our messages once we're done drinking, singing and being merry (mostly on Skype).
What would help, though, is a nice convincing win on Wednesday, lads. If you don't mind.
---
"Joel Matip was very loud, Fabinho very loud. Maybe you don't associate those players with being the voice."@neiljonesgoal tells us what it was like to cover the return with no fans

Listen to 'The Return' 👉 https://t.co/xU7Oq9iv7Y
Subscribe 👉 https://t.co/oaOWcUzrlr pic.twitter.com/oG9rQ13ILl

— The Anfield Wrap (@TheAnfieldWrap) June 23, 2020