I WISH I could be with you.
I wish they'd got a fifth.
Other than that, other than those two things, that was about as close as it gets to perfect.
Two points to go. Two points for heaven's sake. Two points for heaven.
And next up, our direct rivals. Manchester City. A ludicrous situation, if you think about it. If a scriptwriter came up with it, you would say it was too obvious all this. Tell me this, though. Does the script writer in your head want City to win their game in hand? Are you more desperate to get it done? Or does the story demand a showdown?
I want City to drop points after Liverpool have been this brilliant. Because that is the actual story of this season. Because that would set up something so spectacular when we went to the Etihad. Everyone's shackles would be off. The game would be about brilliance. The game would be a joy and we are all crying out for that.
Tonight is one more voodoo team out the way. The mythical, in every sense, Crystal Palace hoodoo held over the Redmen left smashed into a million pieces by a four-goal smashing performance at an empty Anfield. Our flags watched over them, flags as the purest symbol, the purest message. We wish we could be there but here, have these cultural artefacts, have these pure red missives.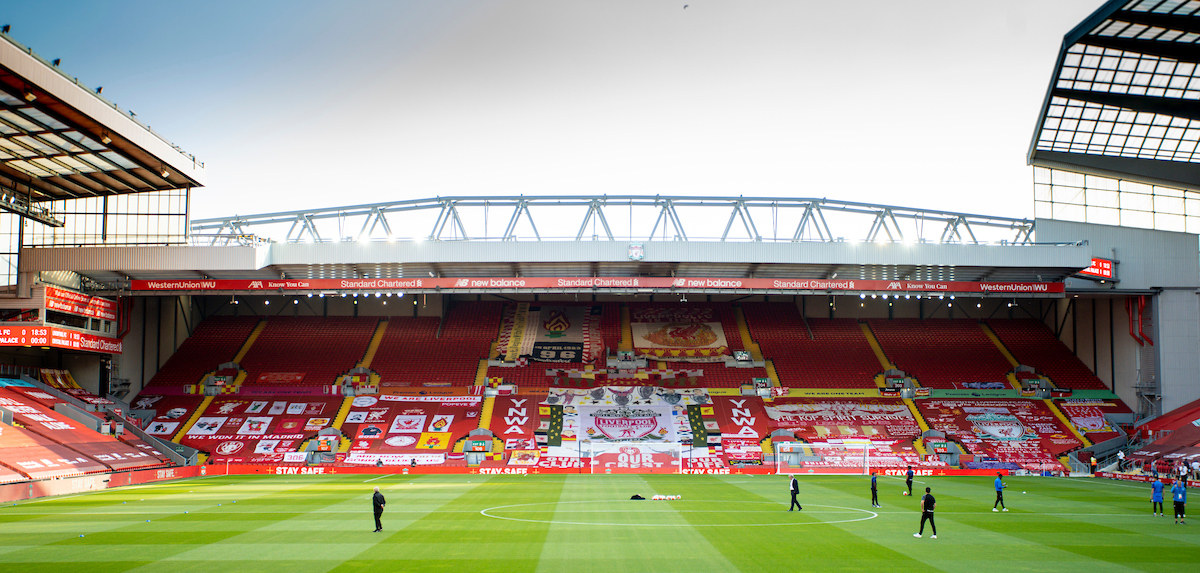 Liverpool's back line in the first half is so high it is practically passing out from the Anfield Road. Crystal Palace are attempting to patrol their goal rigidly, vain hopes that they will lock us out.
But the return of Andy Robertson and Mo Salah lift Roberto Firmino and Sadio Mane. And this quadrangle lifts the ball over the two banks of four with alarming accuracy and dexterity. Liverpool flew into Crystal Palace. They never gave them an inch or a chance and they never let up, but the first goal was still a beauty.
Trent Alexander-Arnold. No question. The timing is perfect, just before the water break and you imagine Klopp's words of desire, keep going lads, keep going, one step more, keep going. Though Palace really harass us at moments in the first half and they have an attitude that is admirable, they have nothing like the squad to take us on. Wilfred Zaha going off is a massive blow for them.
The other three goals are just as good, to be fair. Mo's is classic Salah. Finding space where others wouldn't, bending time and space to get the ball in the back of the net, a mile onside when the brilliant Fabinho ball is played, but so far clear by the time he strokes it home.
Fabinho's a stunning strike catching Palace defenders napping. And Mané with open shoulders gliding the ball beyond the keeper's grip having been played in with a Kenny Dalglish style through ball from Salah; the pace and direction sumptuous.
Apart from Trent's freekick, all the goals are team goals. They are created from front to back, they are shaped in motion by a team that knows each other and understands how their constant motion works as player glides past player to undo tonight's opposition. It is Liverpool at their compelling best. Beautiful to see. A delight.
And the team always keeps moving on. It's nice to see Neco Williams and Harvey Elliot at the end. Get them as many minutes as we can in this weird environment. Get them feeling how to be a part of this thing. Williams especially is bright as a button and could have come away with both goal and assist. He has such gumption.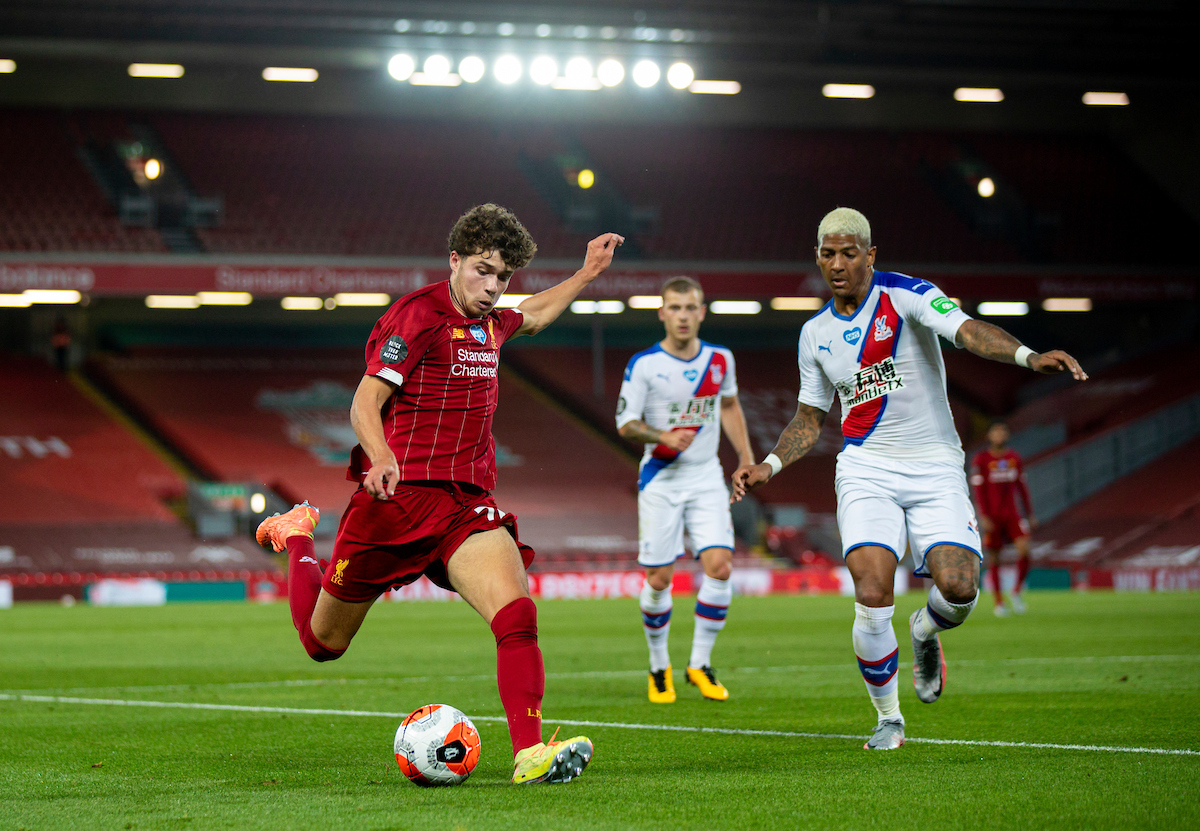 It's a thing to be a part of, this club. Say it to yourself – how good this is – how wonderful to be a part of it – and you try to find the words in this moment, at this time. It's strange to say about a side that won what it did between 1976 and 1990, strange to think but this, here, right now could be the best time to have had this.
We have marked days that will truly be days, you and I. We have written and spoken and filmed the times and trust me, tonight is one of the times.
There is something in the chase, something in the fulfilment found in the process, something in the need, in the craving. Something in the sleepless nights and the jokes shared and the heartbreak tasted. There is something in the steps, one after the other until now when there is only one more to be had, only one more left which has been the most beautiful thing to have shared.
At the moment, all I can think of is the people I love. The people I want to share it with where directly we can't. The people who are gone, for whom I would give anything to have five minutes to tell them. It's one more step, I'd tell them. It's one more step, I tell you. Our final step.
The final words could have been tonight. Tonight would have graced them, Liverpool were that good. But the final words will have to wait. What it will feel like will have to wait.
Well that's alright. We are good at waiting.
Not long now.
---
"One step closer.

"Liverpool are the absolute business." 🔝

📱 Subscribe here for all of our immediate reaction to the Reds' 4-0 win over Crystal Palace 👉 https://t.co/XZAK9veWt7 pic.twitter.com/lLipEqOT6a

— The Anfield Wrap (@TheAnfieldWrap) June 24, 2020