IT'S late November.
The ankle injury endured by midfield dynamo Fabinho during the final Champions League group stage game at Anfield had all the hallmarks of being a detrimental blow to knock The Reds off their stride.
Not the case.
In fact, strangely, it has in some ways been a blessing in disguise; at least where Jordan Henderson is concerned. He's blossomed in the Brazilian's absence, playing with supreme confidence and freedom, showing the world what he's always been capable of.
When Fabinho joined the club, it was clear that Jordan would have to tussle for his place. With the likes of Oxlade-Chamberlain and Naby Keita fighting for fitness, Hendo's more favoured box-to-box midfield role – where he enjoyed some of his best football during Rodgers' admirable title charge – was once again up for grabs.
Although his position later receded into a traditional number six, as Klopp huffed and puffed with his side's best 11; it was a period where his football IQ increased, his spatial awareness improved and his game management matured.
His commanding quarter-back role in England's semi-successful World Cup campaign illustrated Henderson's true worth. Others began to see what we see, and what his managers – past and present – have seen too.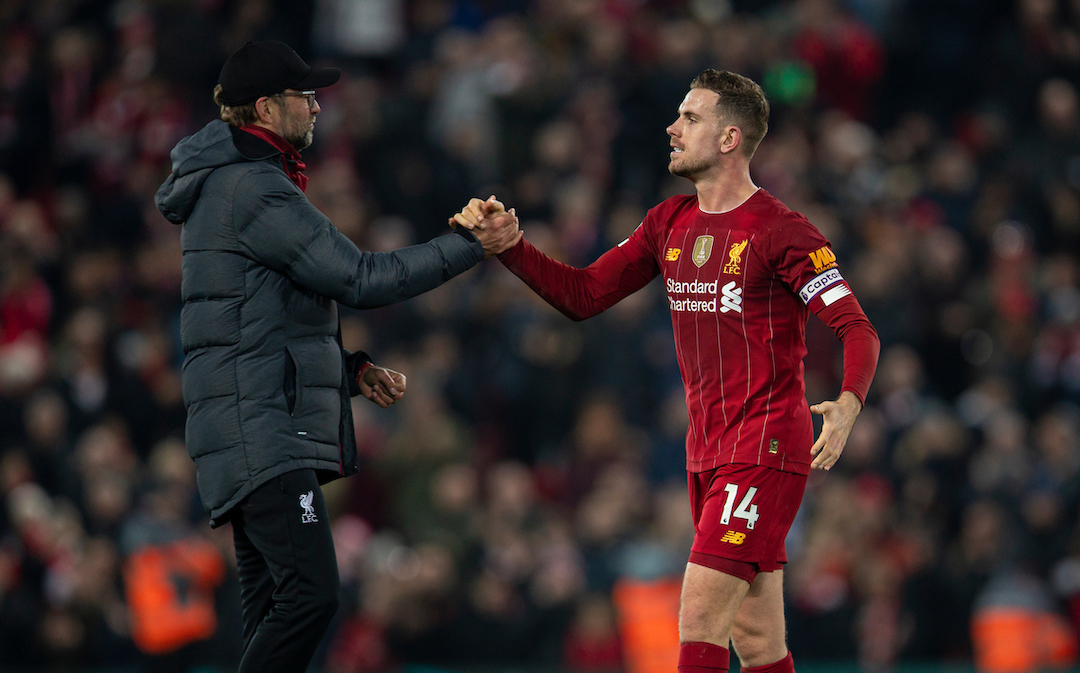 Hendo's advanced positioning in the closing months of last season also delivered impressive results, appearing at his most comfortable in the Klopp era. A well-taken breakaway goal at St. Mary's ensured not just the crucial points on a tricky Friday night in April, but a sense of rejuvenated optimism towards our captain, in what looked to be a stroke of genius from his manager.
Adapting positionally has often been a long and arduous process for Liverpool's number 14 over the past few seasons, with the midfielder often restricted from making his trademark lung-busting runs forward.
However, the learning curve of performing both roles independently over a sustained period of time has paid dividends. The player we see today – whether that be deputising for the injured Fabinho in the 'six', rampaging further forward, or even casually switching positions with Trent – is someone who can rightfully be described as the complete midfielder.
Not only is he now adding goals to his game, notching three already this season – his latest in The Reds' 4-0 drubbing of Southampton in February – but his skillset, passing ability and quickness of thinking has gone up a level or two.
In the past, his range of passing appeared limited to lateral five-yard passes, with the occasional overhit pitching wedge of a cross from deep areas; rarely producing clear-cut chances. Henderson often cut a frustrated figure.
Although his performances would very rarely warrant the criticism he undoubtedly received, the nation's narrative was an easy one to write, especially due to the deep-lying role that Jürgen and his system had demanded of him. It became a position of sacrifice – a sacrifice that allowed a system to flourish.
The ever-rising competition for places since has awakened a player full of courage and skill; not that he'd ever been lacking in the former. Not only has Jordan improved technically, but he now seems much more in control of his own destiny on the football pitch. He sets the tempo, he dictates the play.
It would be harsh to call him a late bloomer, but the fact is we're now seeing the best of Jordan Henderson.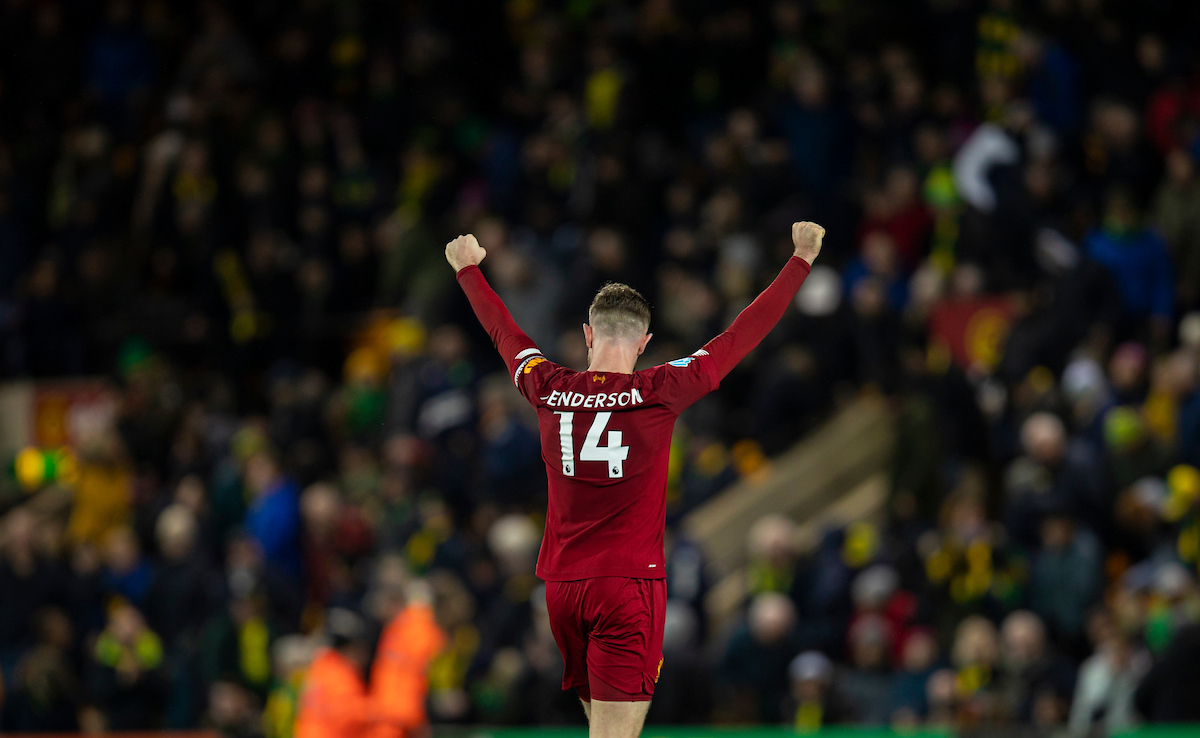 A major factor in converting Henderson from a 200-1 rank outsider to odds-on favourite for PFA Player of the Year has been consistency and, fundamentally, staying fit. What would form be without fitness, after all?
Since signing for the club on this day in 2011, Henderson has rarely been too far astray from the treatment table. Niggling ankle injuries, chronic heel pain and various muscular ailments have harboured his ability to maintain top gear. In total, The Reds' captain has missed 44 games since joining the club… Or, more staggeringly, a whole 473 days on the sidelines.
He's already made 25 Premier League appearances this season, starting just one league game from the bench – coming on in the 2-1 home win against Leicester City. That equals his appearances for the entire 2016-17 season, seven more than the entire 2015-16 campaign.
He's not simply a piece of the jigsaw in this Klopp side, he's the driving force; both physically and emotionally. A true captain. It appears that the weight and expectation that comes with taking the mantle of the captaincy from his predecessor has now been truly alleviated.
As The Kop passionately sings his name from the terraces, it's clear that he has an unwavering air of confidence; a self belief that comes naturally with captaining The Reds to their sixth European Cup and the trophies that followed; a certain swagger only success can bring.
He's not only proven Alex Ferguson and his many doubters wrong, but he's setting the standard for what is potentially the Premier League's best ever side.
And Henderson will now have the last laugh, because he and his mighty Reds are right back on their fucking perch.
---
"From the first time he kicked a football, this is the absolute culmination of Jordan Henderson's story."

"You have the compete focus from the team to make this happen that has been instilled into them from the day Klopp came in."

Listen for free 👉https://t.co/K39hijXcQi pic.twitter.com/pnLdiyC6Gr

— The Anfield Wrap (@TheAnfieldWrap) May 22, 2020