I WONDER if you're one of those people who attributes the glory of Istanbul to a mere half-time substitution.
I wouldn't blame you if you did, but you'd be barking up the wrong tree. It's not your fault. You can't possibly know the truth behind the greatest comeback in European Cup final history.
You know the story. With The Reds 3-0 down due to a mixture of bad luck, skill and the best midfield combination we'd met in years, things looked bleak.
In the bowels of the Ataturk stadium, Rafa Benitez told Djimi Traore to get showered as Djibril Cisse was coming on to replace him, only for physio Dave Galley to point out that Steve Finnan had a groin strain and couldn't continue. The Spaniard considered this for a second and changed his mind. He dragged Djimi back from the shower room, nodded at Didi Hamann and the rest is history.
That's the accepted version, anyway.
Jamie Carragher wrote extensively on this subject in his 2009 autobiography, arguing that there was an element of rearranging the deckchairs on the Titanic in all this. New formations, German substitutes, whatever. Liverpool were being battered by a superior team and the only hope lay in their mercy rather than our ability.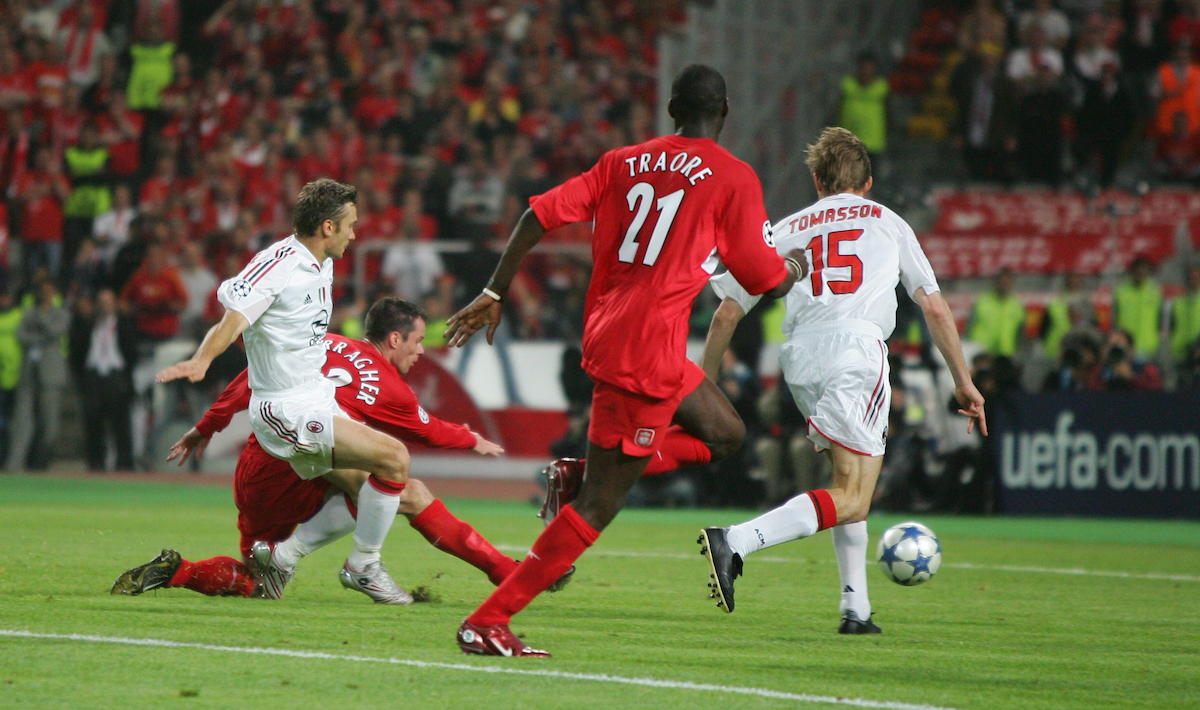 His overall concern, deep humiliation aside, was the people back home. To go through the two Juve games, the semi-final against Chelsea – a game which still makes me nervous to this day – only to lose in such embarrassing fashion.
He needn't have worried. One person from home helped him out in a way he couldn't begin to imagine.
Dietmar Hamann may have cut off Pirlo's passing lanes, Steven Gerrard's underrated goal may have reignited The Reds and Jamie Carragher may have donated his groin for the cause, but the reason for the miracle of Istanbul came 1,800 miles away in Barbican, London EC2 when my mate Matt went for a half-time piss.
And you won't see that recorded anywhere. His selfless act was the silent catalyst in an ocean of change. Actually, 'ocean' is an unfortunate term given what occurred.
I couldn't go to the game. A combination of no ticket, moving to a new house, lack of holiday from work and being generally skint meant I just couldn't do it. My mates Matt and Ben, brothers, were in the same boat so the least we could do was support the boys from the boozers of Central London.
I was 36 at the time and already exercising some level of middle-aged control to my midweek drinking. When I met up with them at one o'clock, I was determined to ration my alcohol intake. After all, there was still seven hours till kick off, and I didn't want to get so slaughtered that I'd nod off during the game. We all agreed that we'd neck bottles instead of pints. Be all sensible, like.
They had full pints in front of them when I arrived. Ah, well. In for a penny…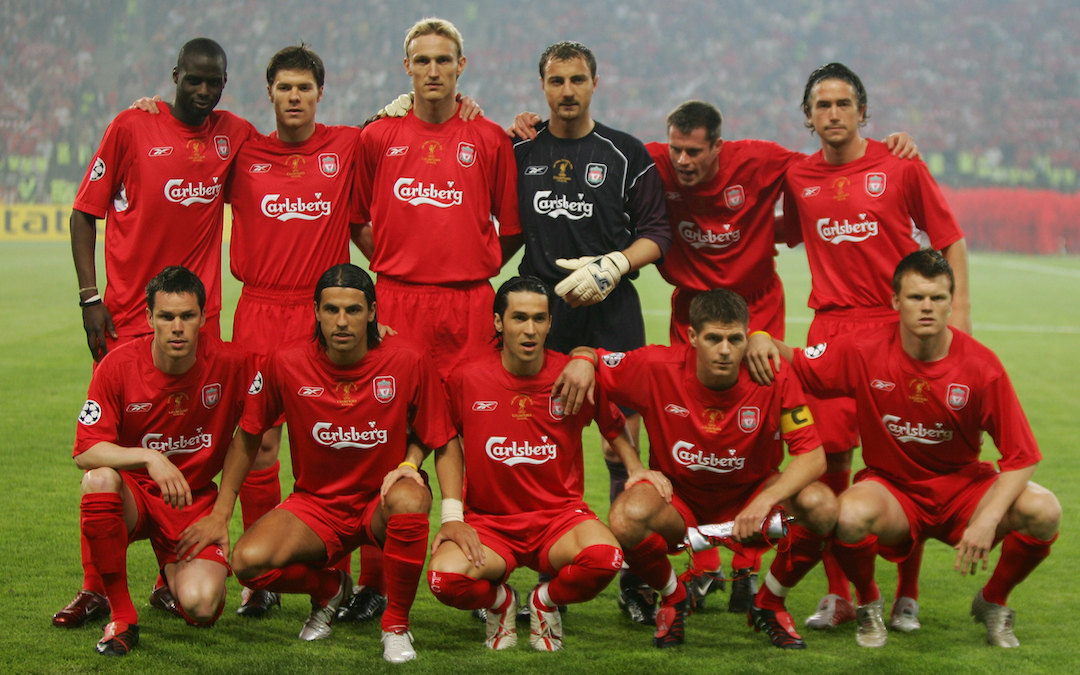 There's a misconception about afternoon drinking. To the uninformed observer it might look like chaos as pint after pint are urgently consumed. Then there's the haphazard stagger to several other pubs before deciding which should be the final one once the limbs begin to fail.
Nothing could be further from the truth. This isn't the rudderless endeavour it seems. There's a strategy in play. It's like a duck on the water. It may look graceful on the surface, but there's a ton of work going on underneath.
Food must be factored in and even the timing of that can be a delicate operation. You can't go too early as you must add the necessary carbs when they're needed. Similarly, you can't go too late in case it bloats and exhausts you. It's not easy to jump up and down celebrating with full guts.
Then there's the pub research. You can't be in a busy place where you can't be heard but you also don't want to sit in silence. It's a bloody minefield.
We decided to get a cab to Farringdon to my favourite pub in the world. I won't tell you what that is as it's off the beaten track and a secret pleasure. Sorry.
A cab duly arrived and the biggest man I've ever seen in my life emerged from it. Seriously. The widest man I've ever encountered. This is no exaggeration. He filled the entire seat – a buttock per cushion.
I'm far from svelte so there's no mockery on my part. He was just fascinating. The poor man was sweating bullets too, so left a stale funk behind him. Windows opened swiftly. As the three of us replaced him the driver remarked on the odour and said: "Cor, he was chucking out."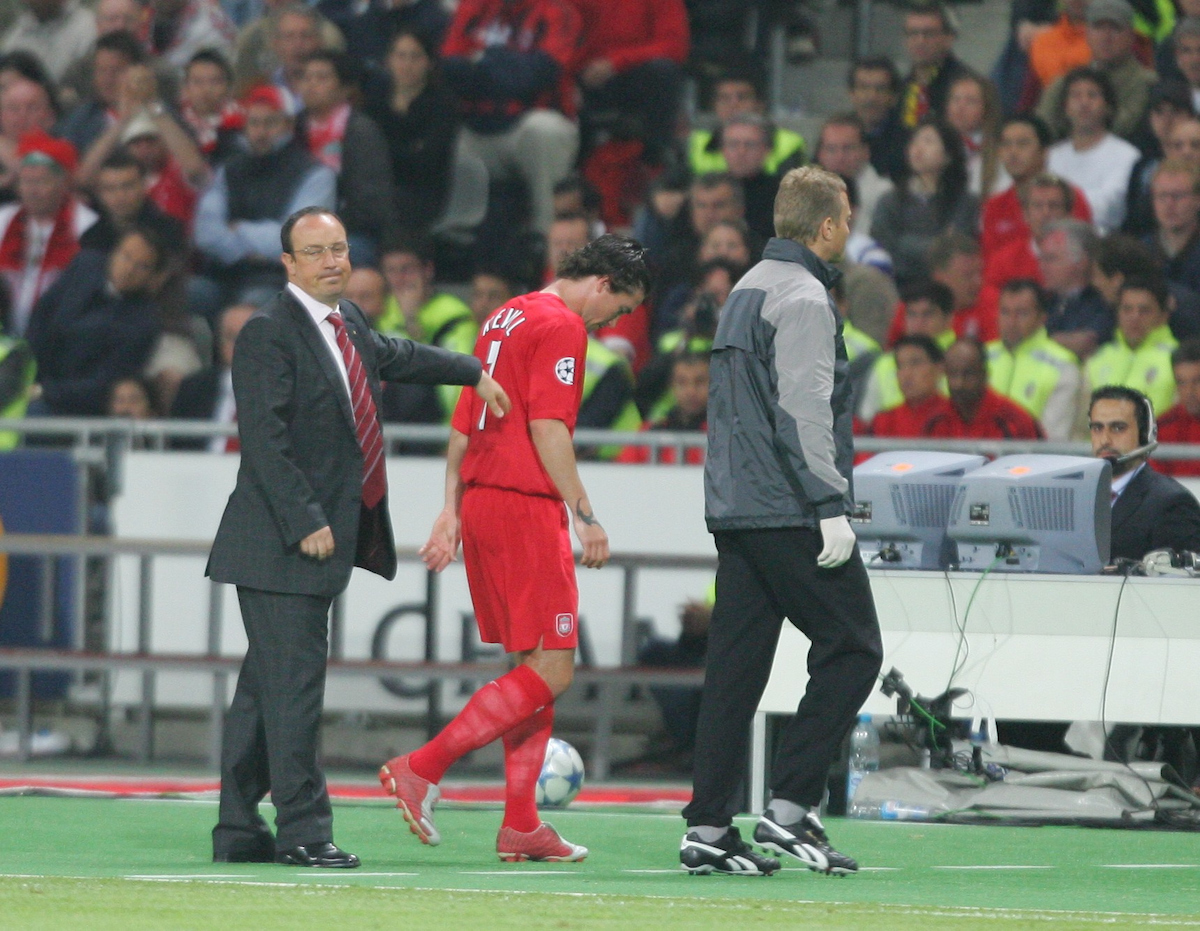 Funny the things you remember.
The match venue was the Extra Time bar next to Barbican tube. It's gone now, replaced by a Pret a Manger like most of the world, but it holds happy memories for many a London Red. The screens were in the basement and the place bounced.
If you can't get to the game, it's important to get your venue right and this place was a hit. Two years later in a Euston pub for the Athens final, the barman refused to turn up the volume on the telly for the match buildup as his mum preferred Kiss FM blaring out. A busy pub full of buoyant and expectant Reds and his mum is blithely nodding her head to Snoop Dog.
Later, a man of my age in a 'Gerrard 8' shirt asked me which side Mark Lawrenson played for. I've never been back since.
Back to Istanbul then.
Like you, our songs quietened in the second minute of the game before things got steadily worse. Unlucky, yes, but there was more to it than that. Milan were just brilliant. They really were. That's not to say we were bad. We just couldn't live with them on the pitch.
Half time arrived and I thought of my mates in the ground – many spending money they could ill afford. Oh, they'd love the trip and the fact that we were finally back in a European Cup final but it's hard to eke out enjoyment when you lose the biggest match in 21 years by six or seven.
While Djimi Traore was using the shower like a revolving door in Turkey, the brothers and I silently shrugged at each other, just wanting this to be over. Matt put down his pint and told us he was off for a slash.
And thus, history was changed forever.
The toilets in the Extra Time had one of those long troughs rather than individual piss stations. It wasn't in the greatest condition and was clogged up, leaving a pond of liquid waste in its metallic tray. Matt had barely settled in when someone stumbled and jolted the thing. A wave of urine lapped over the side and landed all over his shoes.
Talk about insult to injury. Three-nil down in a European Cup final and now the gods were literally taking the piss. The fates had spoken. This was not our day and certainly not Matt's.
Or was it?
Much later, as we crept out of a Soho bar at dawn with sand-papered throats and an ale-sodden Spanish flag, we discussed the importance of that event. Maybe, just maybe, it was that mini tsunami which turned the night in our favour.
Everything changed from that moment onward. The stars aligned and the night was ours. Maybe it just needed a jolt of a poorly installed khazi to set things on the right course. First there was piss and then came Gerrard, Smicer, Alonso, Shevchenko, Dudek, Dudek, Shevchenko, medals and a large cup.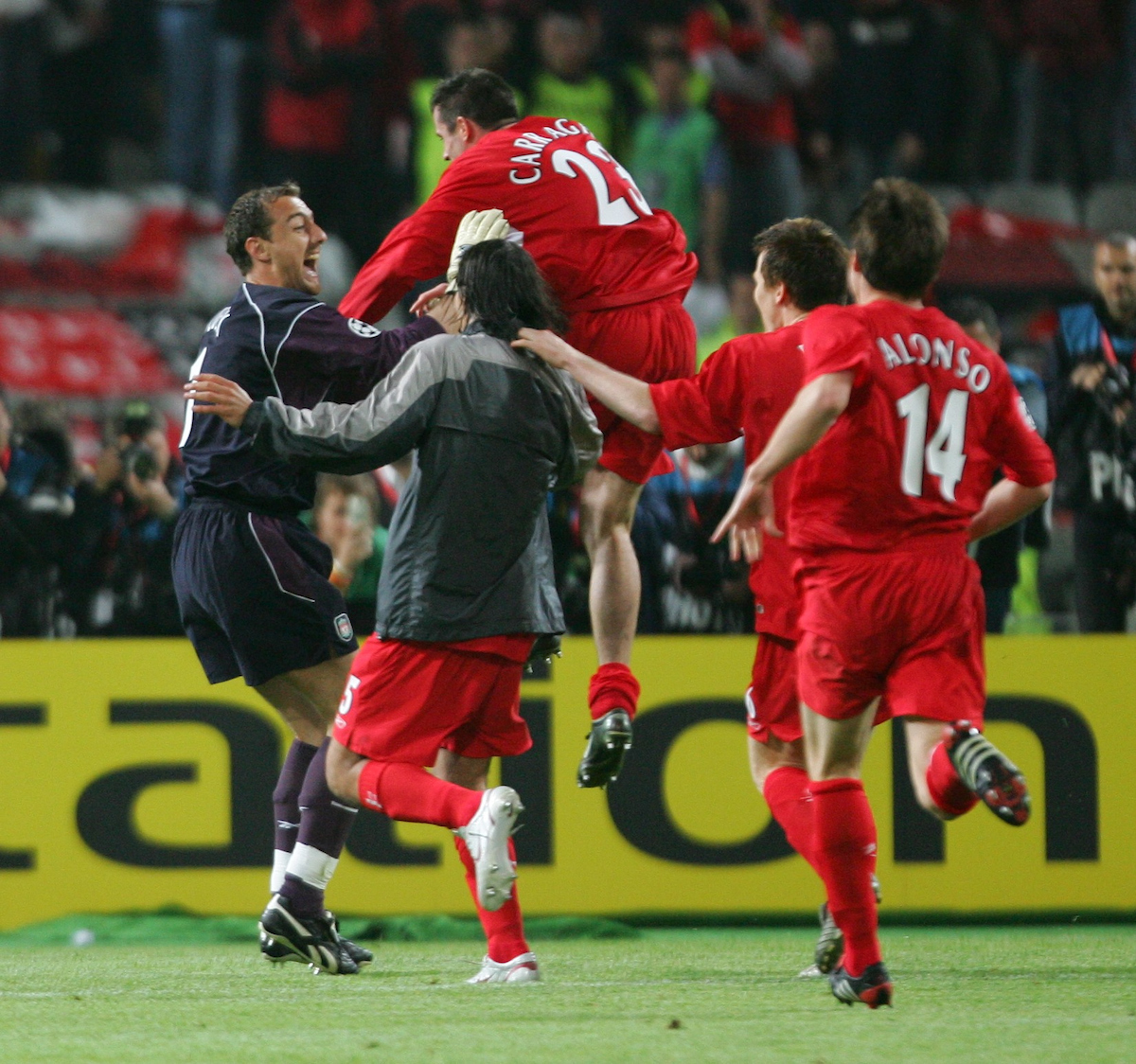 They say the word 'hero' is overused now, but let's never forget the truth. The man gave his shoes so Liverpool might win. His shoes, for god sake.
On his way back home the next day, Matt called me from the station. He broke off to tell an inquisitive passerby that no, he didn't go and yes, it was a great game. The stranger was Kevin Rowland from Dexys Midnight Runners. He'd seen Matt's attire and come over for a chat.
It was that sort of time.
Sadly, there was no such incident in Athens two years later. His shoes remained dry.
But if you see him at a urinal and Liverpool are struggling, do us a favour. Give the bracket a shake.
He'll understand.
---
"Rafa was sure things could change but it was not a speech like in a movie! He gave us a lot of confidence for the second half."

Former Red Antonio Nunez gives us the players' perspective of what transpired within the dressing room that night.

Listen 👉 https://t.co/r63Bb6zipr pic.twitter.com/e9tdDsBJwv

— The Anfield Wrap (@TheAnfieldWrap) May 25, 2020