I HAD a strange relationship with Liverpool's 2004-5 Champions League campaign.
I didn't watch the Olympiakos game live. It was a friend's 18th birthday party and I felt obligated to go, coupled with being too nervous to watch the game, so I recorded it with the aim of doing a 'Likely Lads' and watching it as live later on.
Sure enough, I got all the way to the final stop on the bus home and some utter bastard on his phone loudly says: "Did you see Liverpool went through? Gerrard's goal, oh my God!" How do you show delight and anger at the same time?
I watched the Bayer Leverkusen and Juventus games, but the heart palpitations caused by the second leg in Turin had made me gun-shy again.
When I had an offer of playing five-a-side with the lads from work on the night of the semi-final first leg against Chelsea, I took them up on it, confident that I could avoid the result as checking your phone for footy scores hadn't really become a thing at that time.
Next thing I know, I'm waking up in hospital.
I had no idea where I was, why I was there, or what day it was. It turned out that I'd suffered a concussion.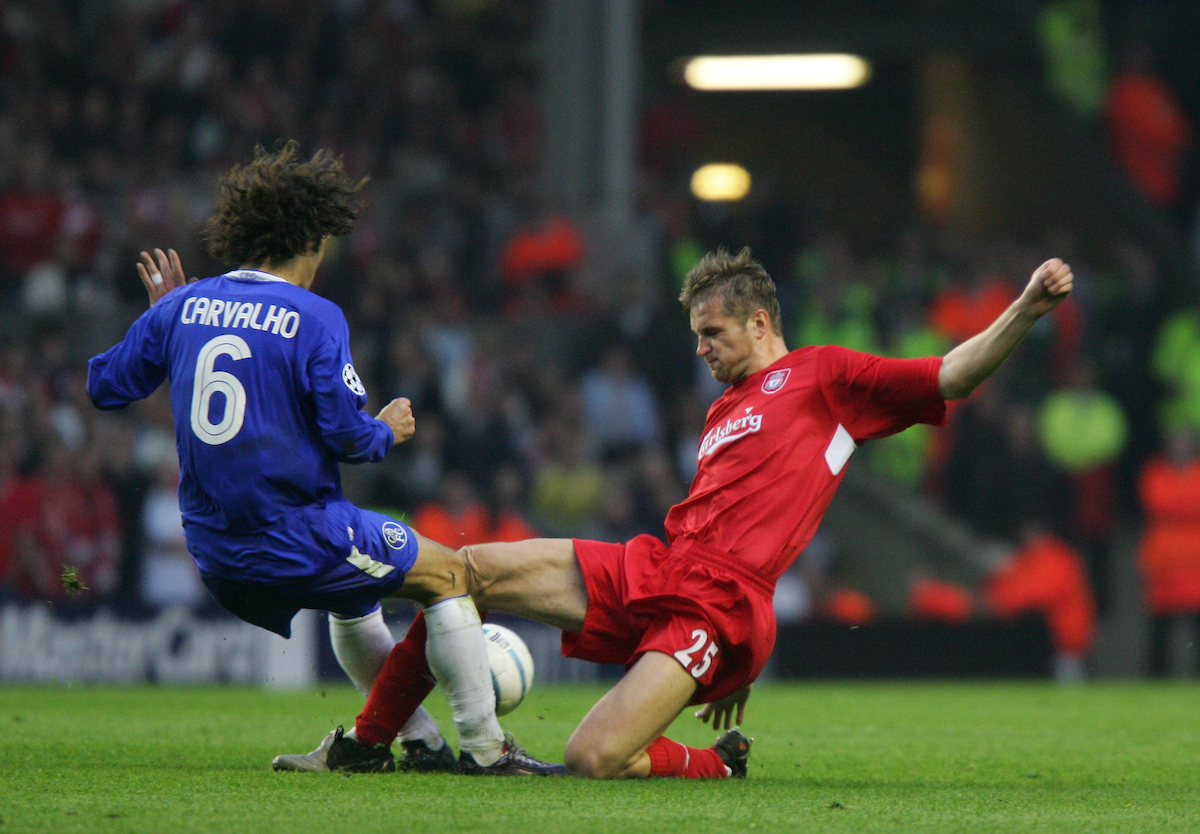 My colleagues later told me that I had gone in for a sliding tackle, the other guy had tried to jump over me and accidentally caught me in the face with his knee. My head snapped back and hit the floor. This was back when five-a-side pitches were basically concrete with sand on them.
I'd been kept in overnight, and my parents arrived shortly after. My dad had a paper with him as the doctors were asking me the usual concussion test questions. What's your name? Where do you live? What were you doing last night?
I wasn't answering any of them with much certainty, so my dad decided there was one test that would confirm for sure whether I was having memory issues.
"What game was on last night?"
I couldn't answer him.
"The Liverpool game? Who were they playing in the semi final?"
Not only could I not tell him, but my follow up question raised the alarm further.
"What semi final?"
I had no recollection that Liverpool were even in the Champions League, let alone just 90 minutes from reaching the final. I remember being sat there reading the paper detailing the 0-0 draw at Stamford Bridge, and it was the most surreal experience, as if I'd been in a coma for years and woken up in a time when Liverpool were among Europe's elite.
After a few days of recovery, memories started coming back and soon enough I was more or less caught up. I remembered the run to the semis, just not the buildup to it.
Thankfully, I was conscious for the second leg, which was a much better night, even if Eidur Gudjohnsen's late effort almost put me back in the hospital again.
Despite having lost a few immediate memories, I was still aware that this iteration of Milan was brilliant, and that despite our run to the final, we weren't realistically at their level. I went into May 25 hopeful, but not expectant. I mean, just look at their starting lineup from that night. It's better than most of those 'Carra Challenge' XIs we've been seeing, all in one team.
I was nervous, but there was no way I was going to miss it this time. If the semi-final incident had taught me anything it was that if you try to shield yourself from pain one way, the universe will find a way to dish it out in another.
So, 3-0 down at half time then.
I watched the final at home. Me and my brother had given up, very much of the mind that the main concern from here was being embarrassed. Try and get one back to save face, and stop conceding such simple goals.
Dad was more hopeful. I vaguely remember him saying that if it's 3-1 before the hour, Milan will start to panic. I rolled my eyes. What a fool he is. This Milan side? Panic? There's more chance of Vladimir Smicer scoring a screamer, or Andriy Shevchenko missing a penalty. Such foolishness.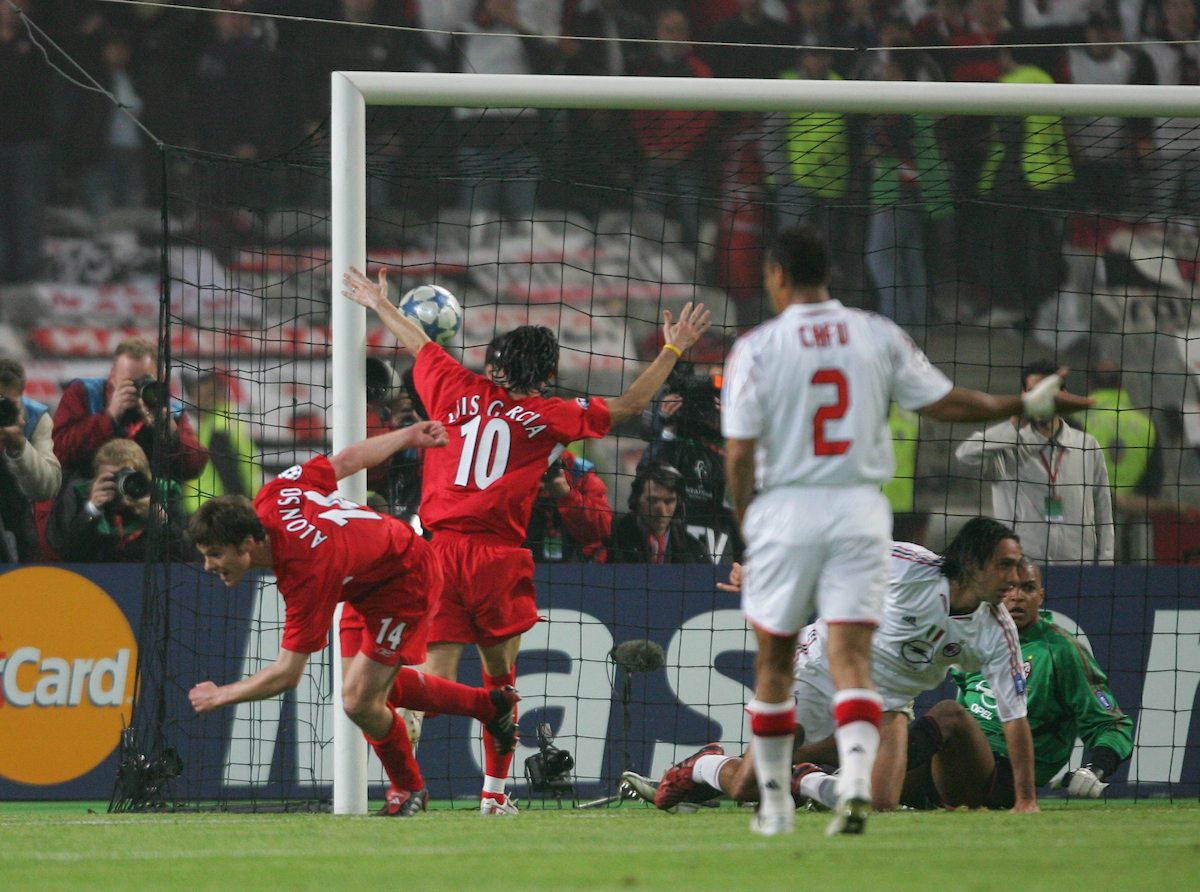 So, 3-3 then.
It was unbelievable. We were all stood up in the living room from 60 minutes on. I recall actually being quite disappointed that The Reds didn't keep the pace up and get another. "If you can get three that quickly, why not keep going and get four?" This from the lad who would have taken a 3-1 loss at half time.
I don't really recall extra time, other than the heroics of Steven Gerrard at right back, and the incredible blocks from Jamie Carragher and Jerzy Dudek. I was worried about the looming penalties, though. I had been a bag of nerves during extra time, but once the whistle went, so did my bottle. Entirely.
I pictured penalties in my mind and almost had a panic attack. I left the house. I went into the garden and just sat on the bench looking at my feet.
After what felt like an eternity, I heard a loud cheer. I'd forgotten that my ears would provide spoilers, so I covered them. Muffled noises got through but I couldn't tell if they were cheers or groans.
Apparently when Andrea Pirlo missed his penalty, my dad went to come and get me and my brother stopped him. He said it was because he knew it would still be too nervous for me until it was done, but I'm pretty sure it was because he thought I'd jinx it.
I had counted in my head roughly the time I thought a shootout would take, and uncovered my ears. Silence. Had we already lost? Was it still going on? Had I become so nervous that my hearing had shut down entirely?
Then… "YEEESSS!!!!!!"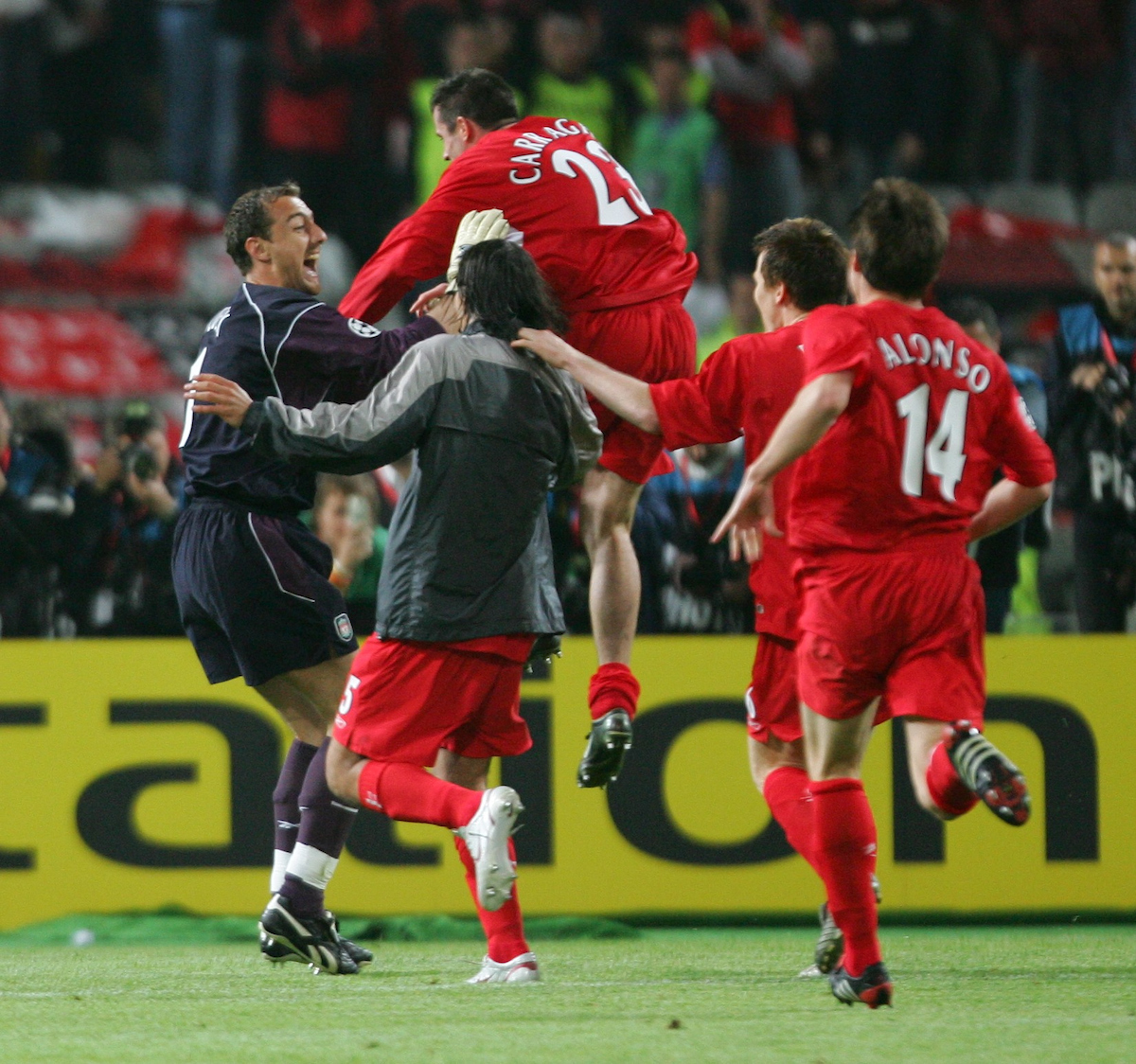 Just like Apu in the Superbowl episode of The Simpsons, I know my roars. That was definitely a 'Liverpool have just won the European Cup' roar.
I ran into the house, could see the players celebrating on the telly and immediately jumped into my brother's arms. He lifted me higher than Gerrard eventually lifted the trophy. I hugged my dad, hugged my mum, hugged the cat, then lent out the window and just cathartically screamed at my neighbours.
It was the first European Cup win I'd experienced and I milked it for all it was worth. I collected the newspapers, magazines, cutouts, posters, anything that featured a picture of Stevie lifting old big ears. Right up until the 2007 final, my ringtone was the commentary of the Shevchenko penalty.
The best thing about football is the memories it provides, at least of the moments you had the guts to sit through.
Liverpool were far from the best team in Europe in 2005, but unlike me, they showed bottle when it mattered and achieved the improbable. Memories like that can never be taken away from you.
Unless you play five-a-side and get a whack to the head, of course.
---
"I looked nervous! I was feeling a big responsibility."

"It's football history. Everyone all over the world remembers that final."

From our exclusive interview with @XabiAlonso 🇪🇸

Watch for free 👉 https://t.co/n1scq8MqgE
Download our app 👉https://t.co/v3xcfwjq7C pic.twitter.com/3VIm8OIP8B

— The Anfield Wrap (@TheAnfieldWrap) May 25, 2020