I'M a big fan of Villa Park. It's a proper, traditional football ground.
It looks great and it's got some soul, unlike some stadiums these days. It's a good away, too, not least because in normal circumstances it's easy enough to get to from Merseyside and, more often than not, Liverpool win there.
It was a little bit different this time around. First off, it wasn't easy to get to because of various public transport and road issues. The trains were all over the shop. But according to the apps, it was still doable.
Ian Ryan and I set off bright and early for a tour taking in the Wirral, Chester, Crewe and more. An already convoluted route got madder by the minute. More cancellations. More shifting of destinations. And an impromptu early bevy in Chester. Which was nice.
Eventually though, we made it there. We sneaked in a rushed pint near the ground, got in there despite a slow moving, snaking queue for the away end and off we went.
It's worth remembering how much stress was about regarding this game. Jürgen Klopp had a pre-match dilemma on his hands regarding Fabinho, who everyone agreed was a must start the following week against Manchester City (and so it proved with that belter of an opening goal in that match).
With a yellow-card fuelled suspension hanging over the battling Brazilian, the boss played it safe in Birmingham and went with Adam Lallana in midfield instead – much to the stress of many supporters.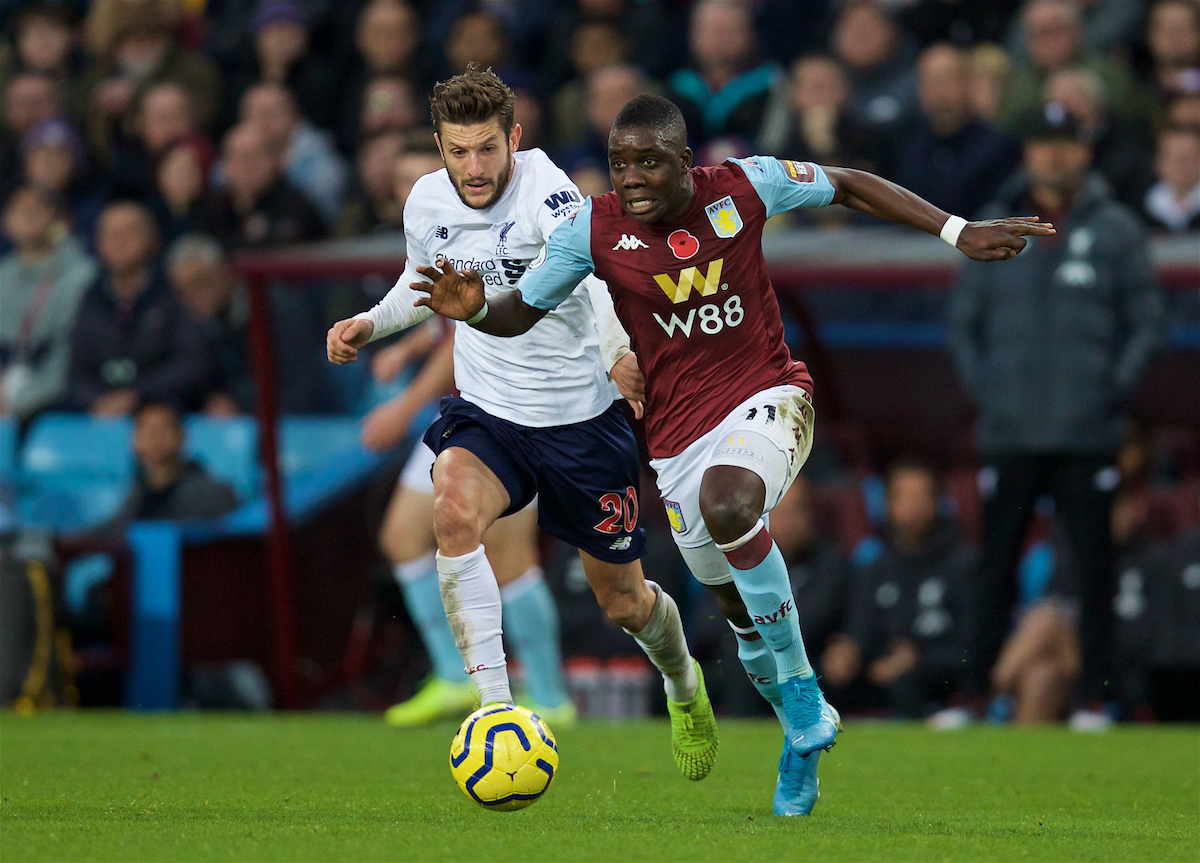 It wasn't ideal – Fabinho had been imperious up to that point, all arms, legs and tackles. Mopping up, putting Liverpool on the front foot, he was making The Reds tick. Only a few days previous the manager had referred to him as "Dyson". But it was only Villa, right? It wouldn't get too messy, surely.
The current incarnation of Villa is a weird one. They are a big club in terms of support, in terms of history and the ground, well I mentioned the ground. One of only five English clubs to win the European Cup. Founder members of the Football League. The last time Liverpool won the league Villa were the nearest challengers.
And yet, well, they're a bit shit right now, as that frozen league table underlines.
This day though, there was a defiance in the air. Being Liverpool can work in a few ways in terms of how it influences the opposition. There's the caught-in-the-headlights, roll-out-the-red-carpet effect, where the opponents just simply don't look up for it and Liverpool breeze through. Bournemouth usually.
Then there's the raise-your-game, run-for-everything, let's prove a point phenomenon. Manchester United, for example.
Villa were definitely in category two that day. They fancied it.
Liverpool had chances in the first half but so did they, and they took one while Liverpool didn't. We of course had to experience, and laugh at, the concept of an offside armpit. Remember the statement?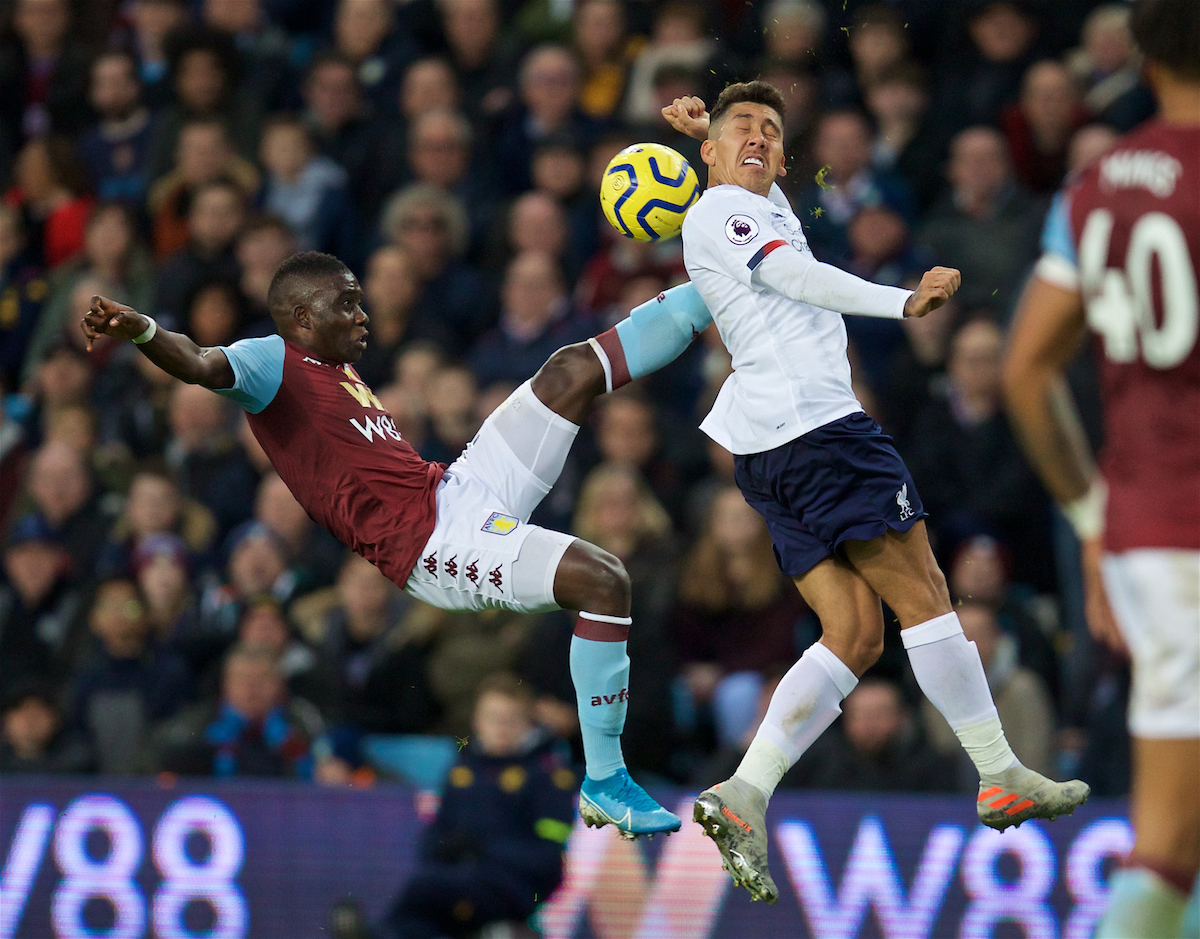 "The red line signifies Firmino and was aligned to his armpit, which was marginally ahead of the last Villa defender."
It hasn't got any better with age. I miss a lot of things about football. But I can't say I'm missing VAR. An offside armpit…
The game wore on. The Reds toiled away. But a sense that it wasn't going to be was growing. Villa fans were crowing. A ball boy was being a pain in the arse. It was a frustrating afternoon.
Trent Alexander-Arnold looked a bit tired late on, and felt his calf. Maybe he felt a little tweak or it was a touch of cramp. He puffed his cheeks out and you wondered if that was that.
But Trent, like the rest of the team, kept going. Kept trying. Kept knocking. The puff of the cheeks could have been a signal of fatigue or failure. It was in fact a player just deciding to dig deeper. And he did.
You know what happened next. Robertson, bull-like. Then Mane, brilliant. As late as you could possibly leave it. A moment that said this side was at the top for good. It was celebrated that way. And there they remain.
"They don't give up, they keep going and they probably tired us out too much right at the end. Chances were coming and we were just trying to keep them at bay but the ball just keeps coming back at you. They are relentless – they just drain you mentally."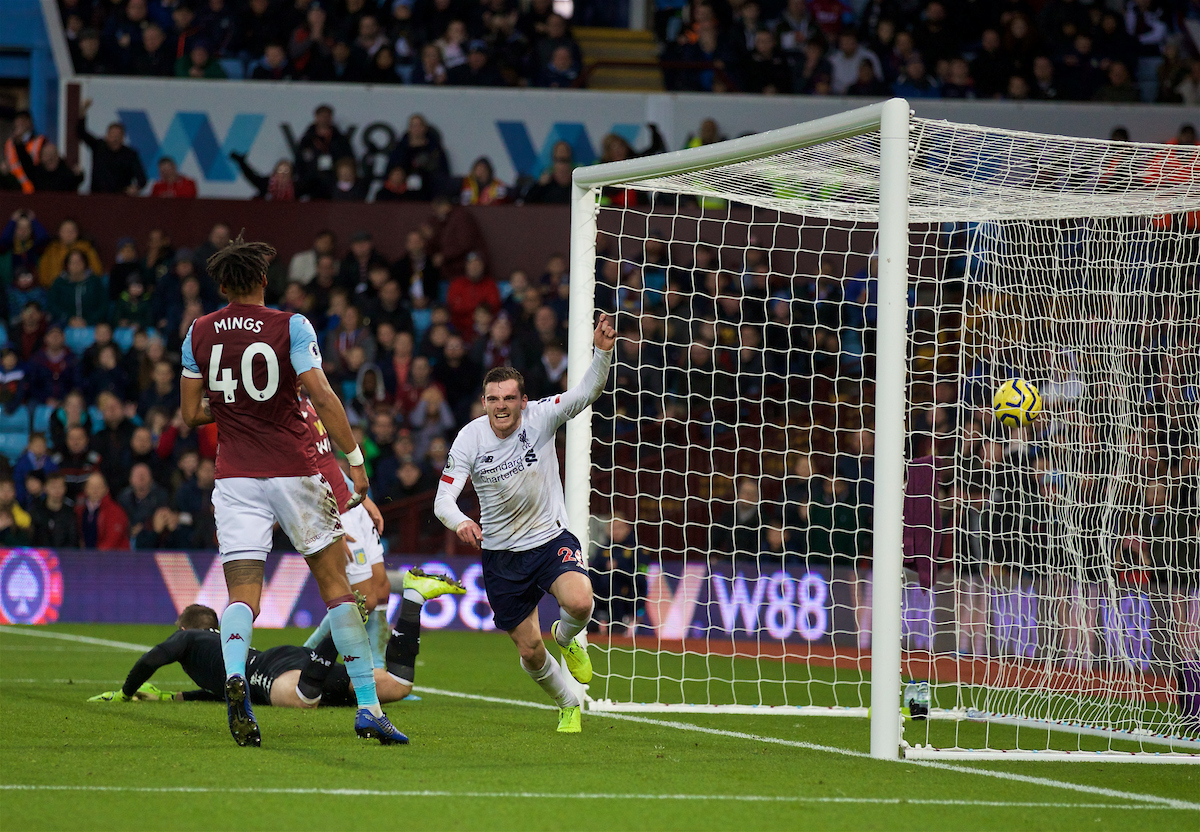 That was Aston Villa's John McGinn. Villa had done well. Battled hard, scored a goal, got the fans going, frustrated Liverpool, caused arguments among the red ranks – on and off the field.
And they still lost.
That spirit and mentality Liverpool have by the bucketload is rare. It's hard to foster and even harder to maintain. Klopp has done both and will do again.
The journey home was equally chaotic. Wrong platforms, a local train taking forever to turn up, a change at Crewe – all the hits. But who cared? The Reds had done it again and there are few things sweeter than winning it late away from home and watching the fume unfold all around after celebrating hard.
Ian Ryan had a journey of his own for that Sadio goal – rows and rows of seats hurdled in a manner Colin Jackson would have been proud of.
It's mad what it does to us, isn't it? And it's mad what you miss, too.
A magical mystery tour of Britain's rail network and three points for The Reds? Where do I sign up?
---
This football team. Fucking hell

📱 Subscribe for all of our immediate reaction as the Reds come from behind, AGAIN, to stay six points clear at the top 👉 https://t.co/XZAK9veWt7 pic.twitter.com/Ve9U4Lt2Im

— The Anfield Wrap (@TheAnfieldWrap) November 2, 2019