I'VE loved writing for The Anfield Wrap while in lockdown.
I love it at the best of times, but it has given me a release during these times which has been so welcome. The chance to revisit every facet of what made me fall in love with football.
It has given us a chance to do more writing which takes a step back, to give ourselves and the readers a chance to escape from the news cycle which usually has more influence on what we publish on our pages.
That's partly because the news cycle at the moment is dominating every facet of our lives, we're constantly awaiting the next bit of breaking news which gives us some kind of hint as to what our uncertain futures hold.
The game's importance to that cycle has shrunk to some extent, but I'm finding an appreciation for the reminders that football is ready and waiting for the day it can restart. By that I mean The Reds' Zoom yoga sessions, the admirable actions of Jordan Henderson and Jamie Carragher's squad building challenges.
It all makes you still feel involved in football, even when everything else about it feels so out of our hands at the moment. And since we can't gatecrash the team's morning video calls, we decided we'd take on a Carra challenge of our own.
The rules are simple: we're starting by building an 11 with a Liverpool player from each of the last 11 seasons. One from each season for each position. Sound simple enough? It isn't, I promise.
Below is the best I felt like I could come up with. It probably isn't the best I could come up with, but I wanted to ensure I didn't sit and waste my whole weekend trying to find a way to get Alisson Becker into my team.
So, let's begin…
GK: Pepe Reina – 2009-10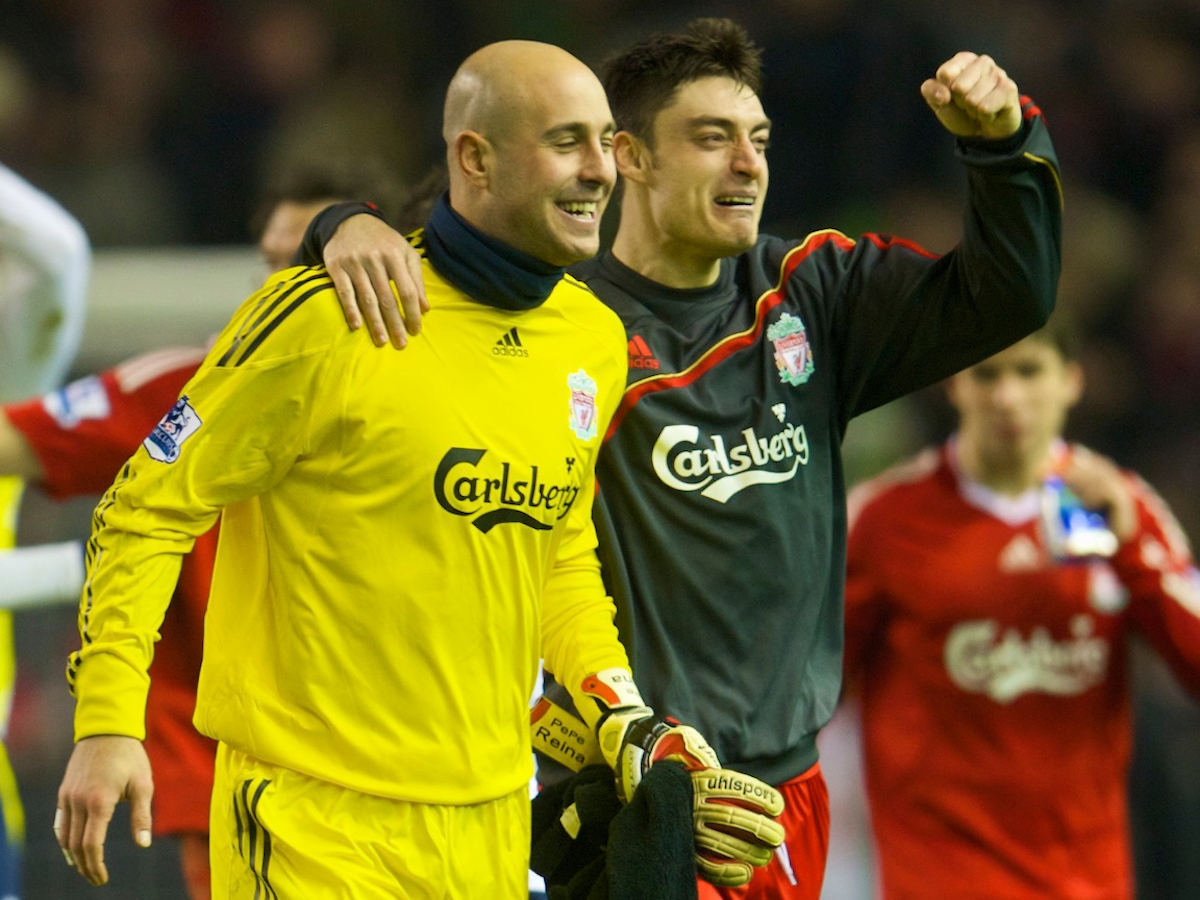 Yeah, I didn't manage to get our big Brazilian in. You'll see why further down the line. I decided, though, that this version of Pepe was still good enough to be a part of this 11.
He was starting to decline at this point, but that might say a bit more about the clean sheet record-breaking heights he was coming down from. He still kept 17 clean sheets this season, tied with Chelsea's Petr Cech, and won The Reds' player of the season award.
Oh, and he also provided the most bizarre moment of my Liverpool-supporting life with the infamous beach ball incident. So he gets in for cultural impact too, I guess.
RB: Trent Alexander-Arnold – 2019-20
Liverpool should have more than a few contenders for PFA Player of the Year off the back of this season, and Trent has every right to be at the heart of that group. He's the only player in the league who comes close to Kevin De Bruyne's assist totals so far too.
He continues to grow in stature with every passing game, and now has a passing game that has the potential to eclipse that of one of our greatest ever in Steven Gerrard, and he's our latest Scouse hero who must feel like the world is his oyster.
RCB: Jamie Carragher – 2011-12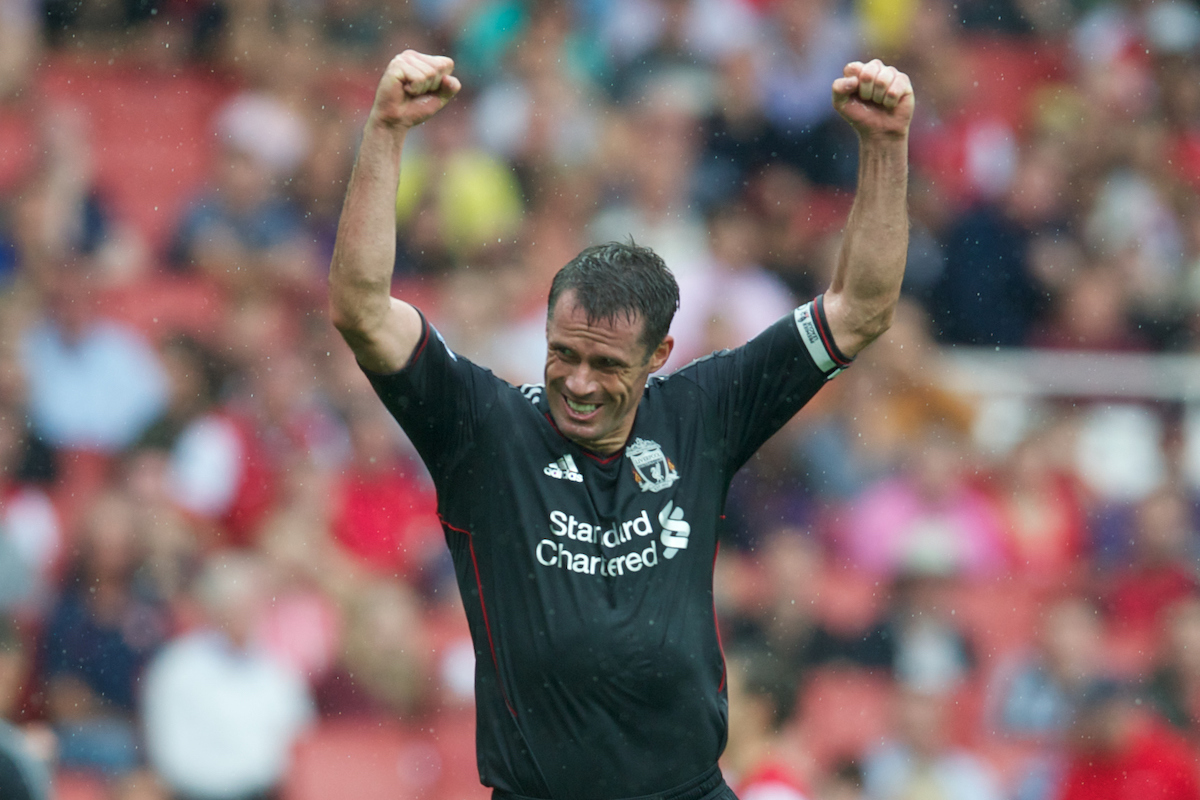 This was probably the toughest season to pick a star from, to be honest.
Craig Bellamy is arguably the man who deserves the most plaudits from this season, but he can't touch any of my other forwards. Martin Skrtel may even be a fairer shout, but I can't get what he went on to become out of my mind. You could even make an argument for Agger as he finally managed to stay fit for most of the season.
But I'm sticking with Carra just about. Because this season was one of those weird ones which somehow causes you to remember why you love this club. We had Kenny back, we still had Stevie and we had Carra.
He got to win another trophy too, which was nice.
LCB: Virgil Van Dijk – 2017-18
Luckily for Carra he won't need to do much of the heavy lifting in this backline, anyway.
This inclusion is a nod to the immediate difference Virgil van Dijk made when he came in. He's had better seasons since, of course, but considering the stick Liverpool got for paying what they paid he got chance to show he would more than pay dividends.
He could get in for that goal against Everton alone though, to be honest.
LB: Andy Robertson – 2018-19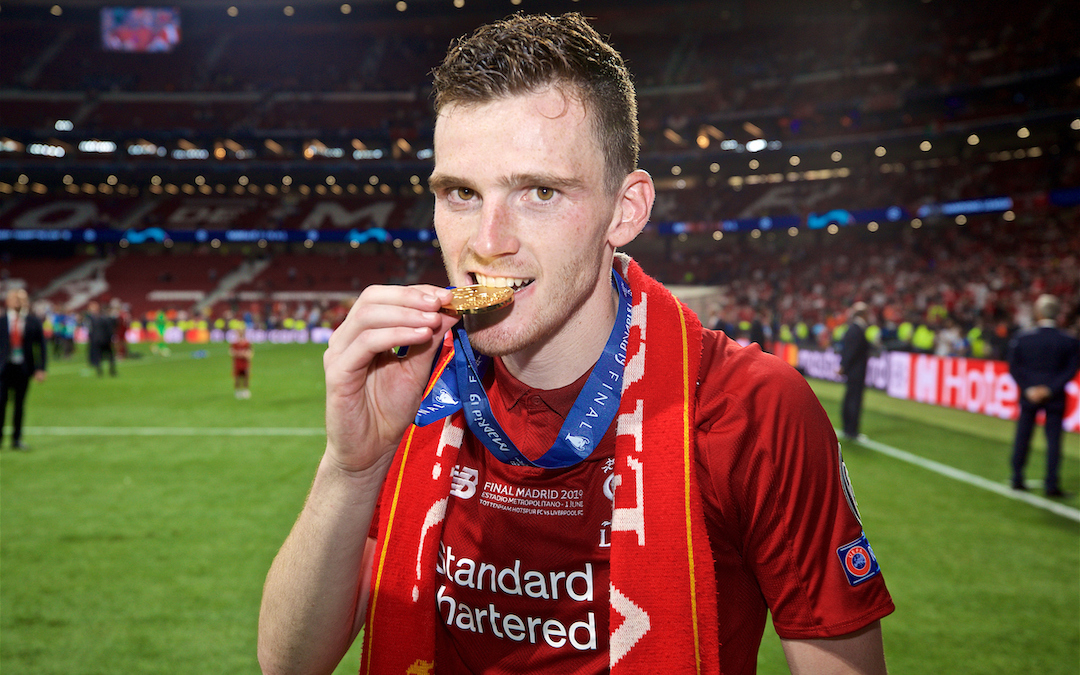 There are obviously loads of standout players from last season, but I'm going to go for the player who made the biggest leap.
Robertson was an absolute inspiration for The Reds and showed how much you can get for £8m from Hull City. On the pitch he harried and harrassed, and off the pitch he showed he cared about community causes.
I'm proud of every single one of these lads, but there's few I'm more proud of than Andy Robbo.
CDM: Steven Gerrard – 2013-14
The last few seasons before this had been strange for Steven Gerrard. He was almost caught in an identity crisis. Where previously he had been such a Roy Of The Rovers figure for The Reds, even through some dark times, it almost felt like things had got too bleak for Stevie.
And then Rodgers made him a number six.
Gerrard is a huge part of my memories from this season, and not just for the obvious heartbreak that comes at the end of it. There's him whipping his top off against Fulham, the penalties against United and so, so many assists.
No matter what came afterwards, I'll always remember this season as Gerrard's last hurrah.
RCM: Jordan Henderson – 2014-15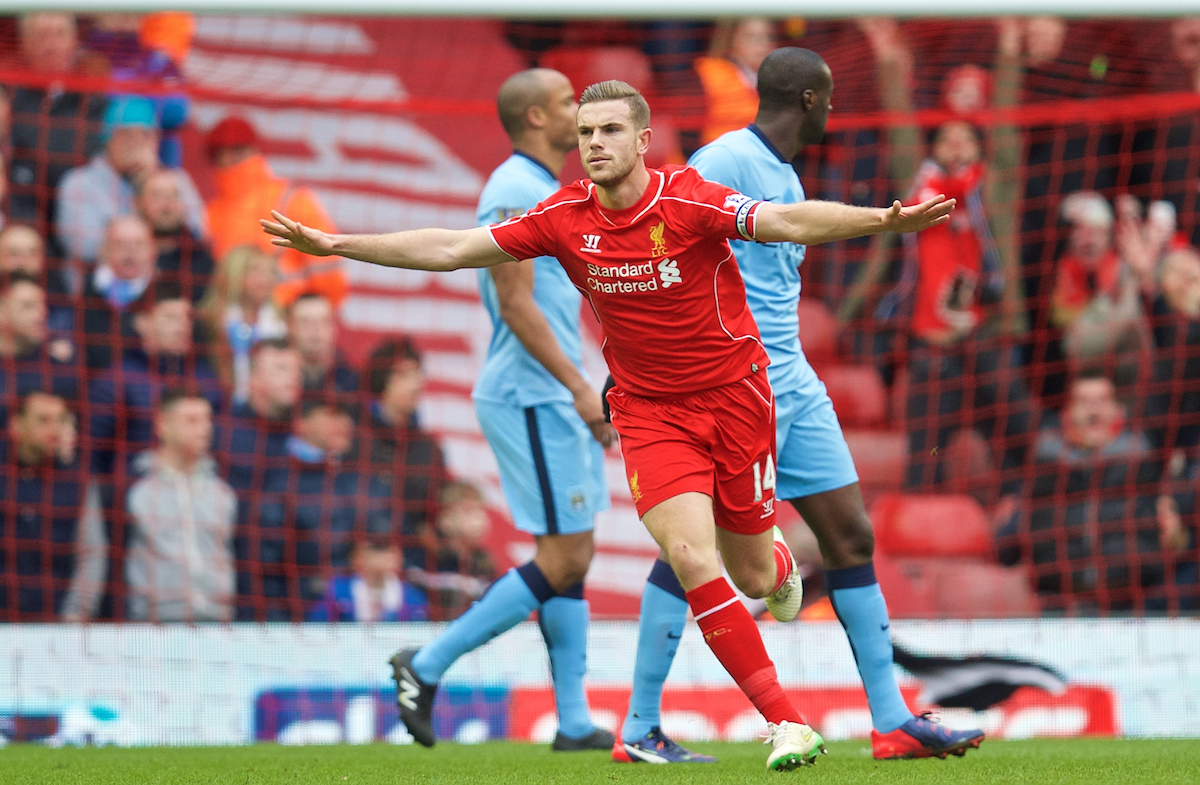 Speaking of Steven Gerrard, this next season felt like one in which Brendan Rodgers wanted to phase out Liverpool's talisman and the existing memories of a bygone era at Anfield. To really get down to business creating an exciting young Liverpool side (spoiler: he failed).
Raheem Sterling and Philippe Coutinho were obviously central to that, but it needed a leader and we had started to find it in Jordan Henderson. He'd already more than established himself as a regular by this point, but this was the season where he truly broke out.
LCM: Lucas Leiva – 2010-11
This actually wasn't as tough as it would seem. Lucas obviously wasn't the first name on this teamsheet by any stretch but when it came down to this season it felt like there was only one candidate.
This felt like the point where we got to see Lucas truly excel. Where he became that man that you would take with you into the trenches. This season required character and the Brazilian showed he had that in abundance.
He won Player of the Season, signed a new deal in March and scored from 30 yards out against Steaua Bucharest (seriously, look it up).
RW: Sadio Mane – 2016-17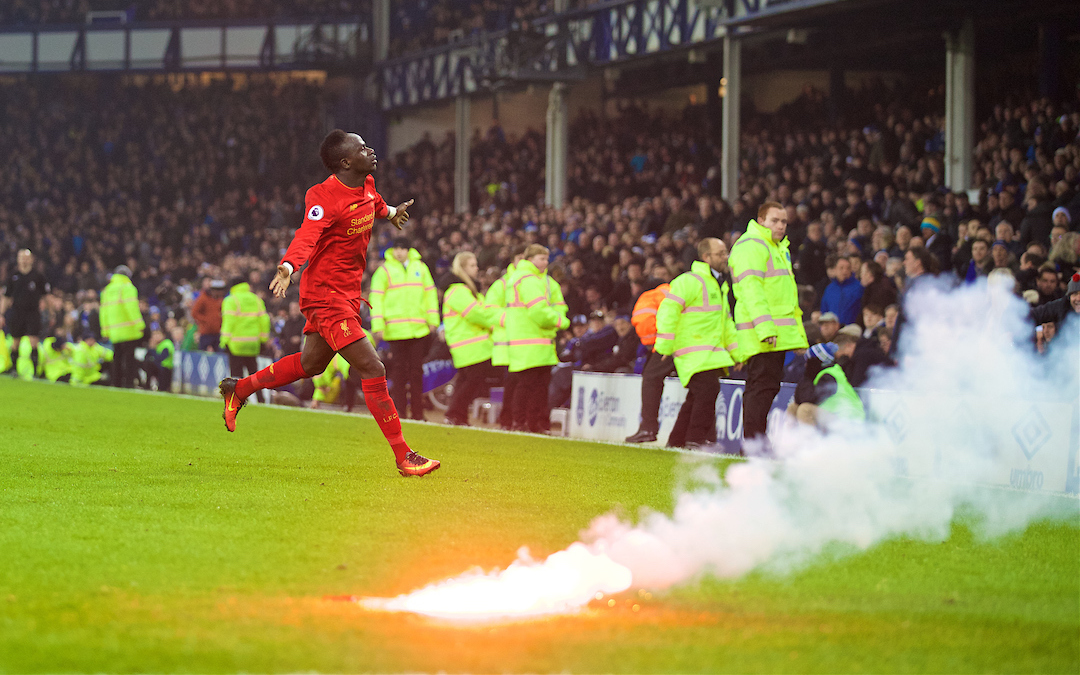 When we talk about lads who hit the ground running, few can hold a candle up to Sadio Mane's arrival at Anfield.
Think back to that goal against Arsenal on his debut, the goal at Goodison just before Christmas, and how he became part of a front three alongside his two Brazilians mates that was starting to terrorise Premier League defenders.
PFA Team of the Year. Liverpool's Player of the Season. What an impact. What a fella.
ST: Luis Suarez – 2012-13
Doesn't really need any justifying, this. Most people would rightly point to the following season as his best in a red shirt but he had already started to hot up by this point, hitting 30 goals in all competitions.
He'd have won PFA Player of the Year too if it wasn't for an unreal season by Tottenham's Gareth Bale (and him biting Branislav Ivanovic).
LW: Philippe Coutinho – 2015-16
It feels so harsh not to have Mo Salah in this team, but I needed some of his co stars given the lack of quality from their predecessors. And Coutinho was becoming a serious talent by this point.
He'd shown silky skills and generally lots of niceness under Rodgers, but under Klopp he was becoming a proper footballer. Scoring important goals, scoring world-class goals, making defenders look a bit daft.
That's how I'll remember our little magician, and this season was one of his best.
---
Let us know which players from each of the last 11 seasons you'd put in your 11 via our

Twitter

or

Facebook

…