IT is pretty funny to see how easy it is to amuse a bored football fan.
"What will we do without games? I can't bear the thought of not having footy to watch!"
"Make a starting XI composed entirely of left-footed players who have won the Cup Winner's Cup, played for teams in blue, were born in the first or last four months of the year, and no-one of the same nationality."
*Locks self in the shed with a pen and paper for six hours*
We TAW folk are no different, so when Josh said we were doing our own Liverpool one, I went straight to the shed for some serious contemplation.
A Liverpool starting XI made up of players from the last 11 seasons, one for each season. Sounds simple until you realise that almost all of the best Reds from the last 11 years are in the current team.
After much agonising, I finally landed on a selection. I held it aloft like a trophy, giving it the old Jordan Henderson legs and screaming maniacally like Dr Frankenstein, until the neighbour started banging on the door "hey, get out of my shed!"
GK: Alisson Becker – 2018-19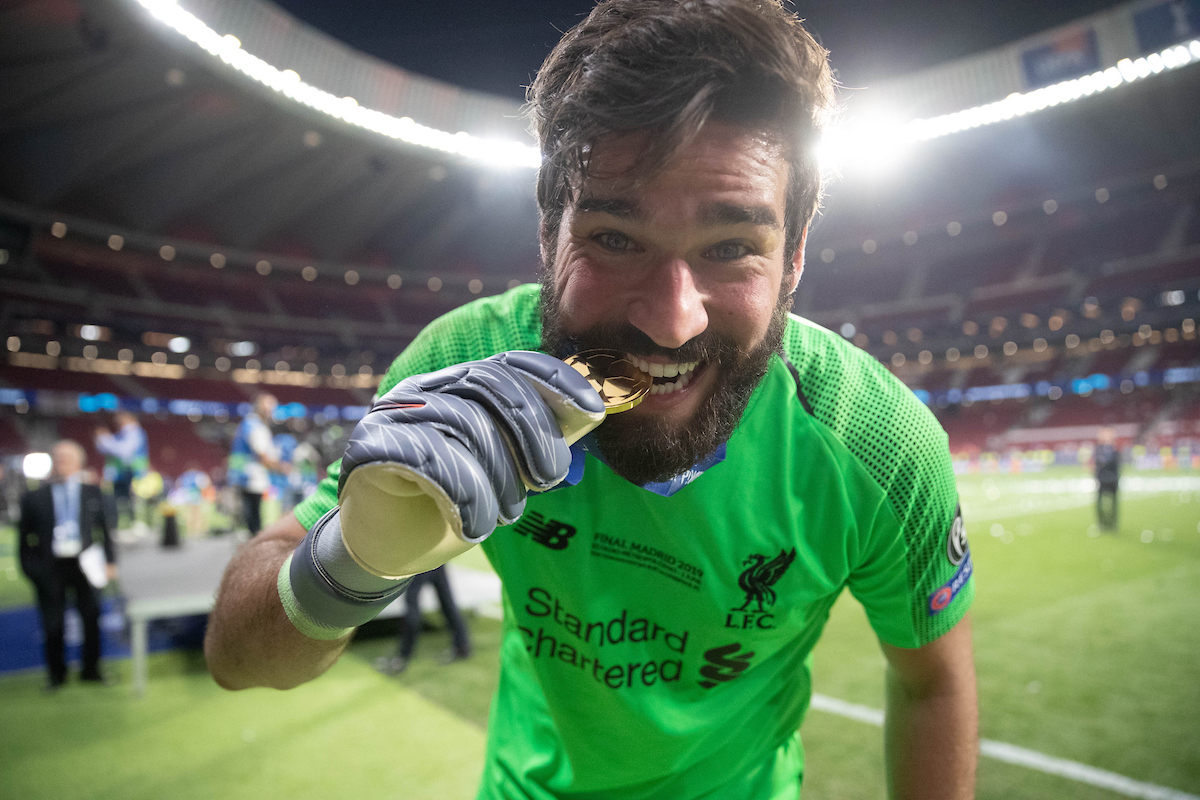 It ended up being a straight choice between Alisson and another world-class teammate, but I opted for the Brazilian stopper.
Since his arrival from Roma, Alisson has been a game changer, quite literally. His presence is like a warm cuddle around the rest of the team. Though his selection may cause me headaches further down the teamsheet, I'll worry about that when I come to it…
RB: Nathaniel Clyne – 2016-17
"He hasn't picked Trent Alexander-Arnold!"
"It's a bold strategy Cotton, let's see if it pays off for him."
I see that face you're pulling. I know, I'm surprised I haven't picked Trent too. What on earth am I playing at?
Well, I left myself in a quandary. It was either Trent and Joel Matip, or Clyne and Virgil van Dijk. Soz Trent and Joel. I'll always love you.
Clyne never produced the numbers that Trent does, but he was Mr Consistent, particularly in the '16-17 season where he was a near ever present. He only registered two assists, but was a key part of the team and his partnership with Sadio Mane on the right played a big role in the Senegalese taking to life at Liverpool like a duck to water.
If I had one criticism, it'd be that he didn't take corners quickly enough.
CB: Jamie Carragher – 2010-11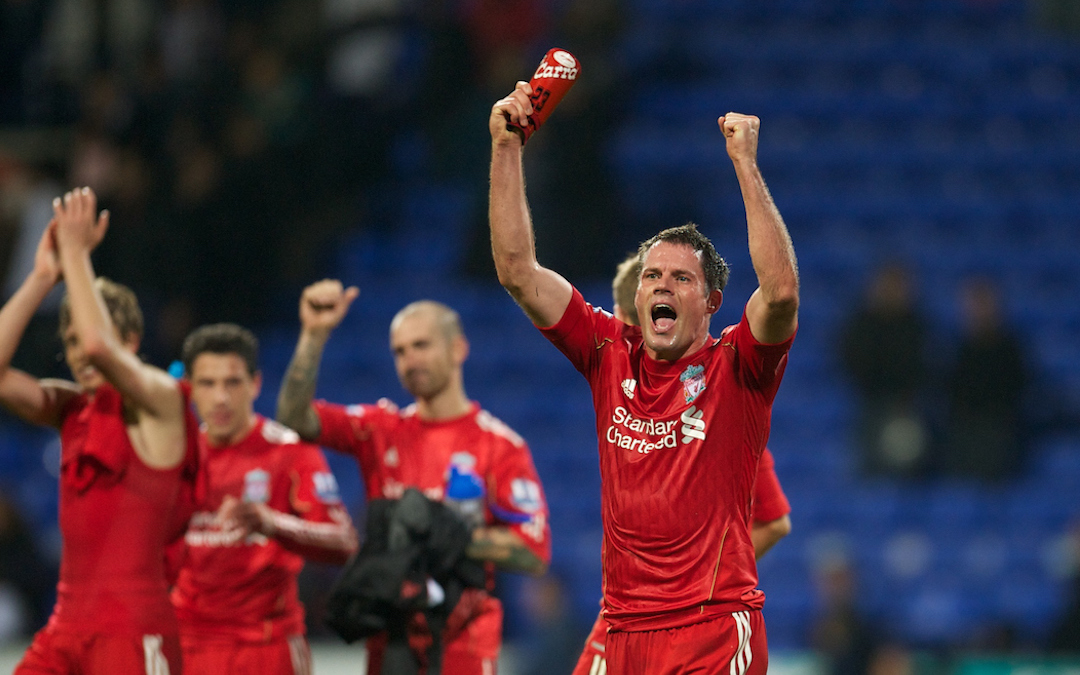 Overall, this probably wasn't Carra's best season, but my consideration here was largely based around the second half of the campaign, when Sir Kenny Dalglish returned and the team rediscovered it's identity and ability to fight after the disastrous reign of Roy Hodgson.
Perhaps Liverpool's number 23 was fighting a bit too much, as this was the season in which Carragher made Nani cry and we all laughed at the Portuguese winger. Imagine sobbing just because a massive fella has just smashed you very hard in the leg, the big softy.
It sometimes felt like Carragher was holding the fort by himself at the back, but in this team, the pressure on him would be eased immensely and I'd fancy him to get back to something approaching his mid-2000s form.
CB: Virgil van Dijk – 2019-20
I can't believe I even considered not selecting him. Only the other week I wrote on these very pages how he is probably my favourite Liverpool player of all time. I never want him to leave, or retire, and I would quite like to live with him. I haven't run that by him yet, I'm too nervous, but I think we could be very happy together.
The transformation since Van Dijk arrived has been obvious. Liverpool have gone from top-four contender to best team in the world. Well over a year after he joined, a player dribbled past him (barely) and it almost broke the internet. That's the level of respect we're dealing with here.
For the sake of balance, one slight concern I have, and perhaps I'm overthinking it, is that I'm not certain that Van Dijk and Carra would work seamlessly as a partnership. They're both leaders who thrive on directing others. If you've got two centre backs telling one another what to do, it could be like your boss meeting your mother-in-law.
On the other hand, Carragher and Van Dijk in front of Alisson might never concede a goal, so there is that to consider.
LB: Jose Enrique – 2012-13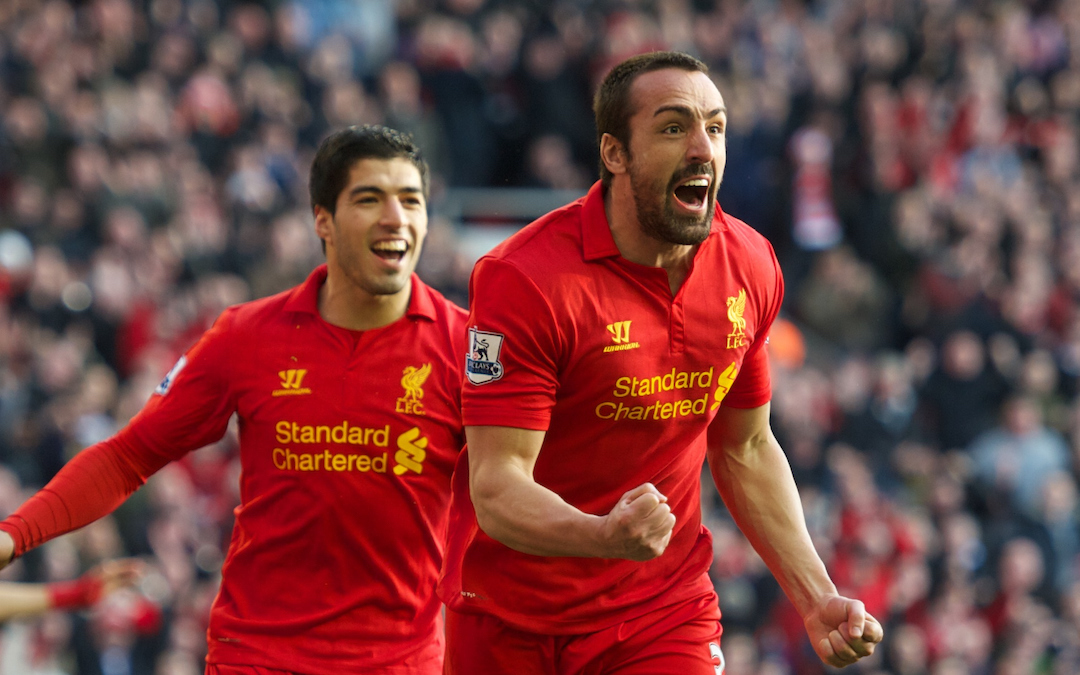 I have a soft spot for Jose. Before TAW, I wrote a few articles for Gareth Roberts' excellent 'Well Red' magazine, the first of which was an ode to Enrique.
Despite initial scepticism from fans when he signed, many of us were drawn to a particular stat. The season before his arrival from Newcastle, while the best left backs in the country such as Ashley Cole and Leighton Baines had been dribbled past between 25-35 times, Enrique had managed to stay in single figures, only being beaten nine times.
It was easy to see why when he started playing for The Reds, with wingers who were trying to get past simply bouncing off his UFC-like frame and into the Main Stand.
It wasn't just that, though. Enrique formed an unlikely partnership with Luis Suarez, developing a knack of firing the ball from almost anywhere on the field and finding the Uruguayan, most notably for Suarez's sumptuous goal against Newcastle at Anfield in this campaign.
He also scored a terrific goal against Swansea and enjoyed a brief, but oddly productive period as a left winger under Brendan Rodgers.
DM: Lucas Leiva – 2011-12
Now, this selection might seem a bit bizarre given Lucas only played 12 games in this season, but bear with me. He had a fantastic 2010-11, but this was arguably the season in which his importance truly came to the fore.
Despite this being a fairly disastrous league campaign overall, it actually started quite well, with Liverpool only losing three games in the first half of the season, although that did include a 4-0 humbling at Tottenham.
However, Lucas was injured badly in late November in a League Cup tie at Chelsea, and we all panicked (justifiably, it turned out). The Reds went on to lose 11 of their final 19 league games.
Lucas gets the nod from this season because, frankly, he was the only player to emerge with any credit from it.
My assumption is that without having to be Charlie Adam's legs in this midfield, Lucas wouldn't pick up that injury and go on to enjoy a full campaign.
CM: Steven Gerrard – 2009-10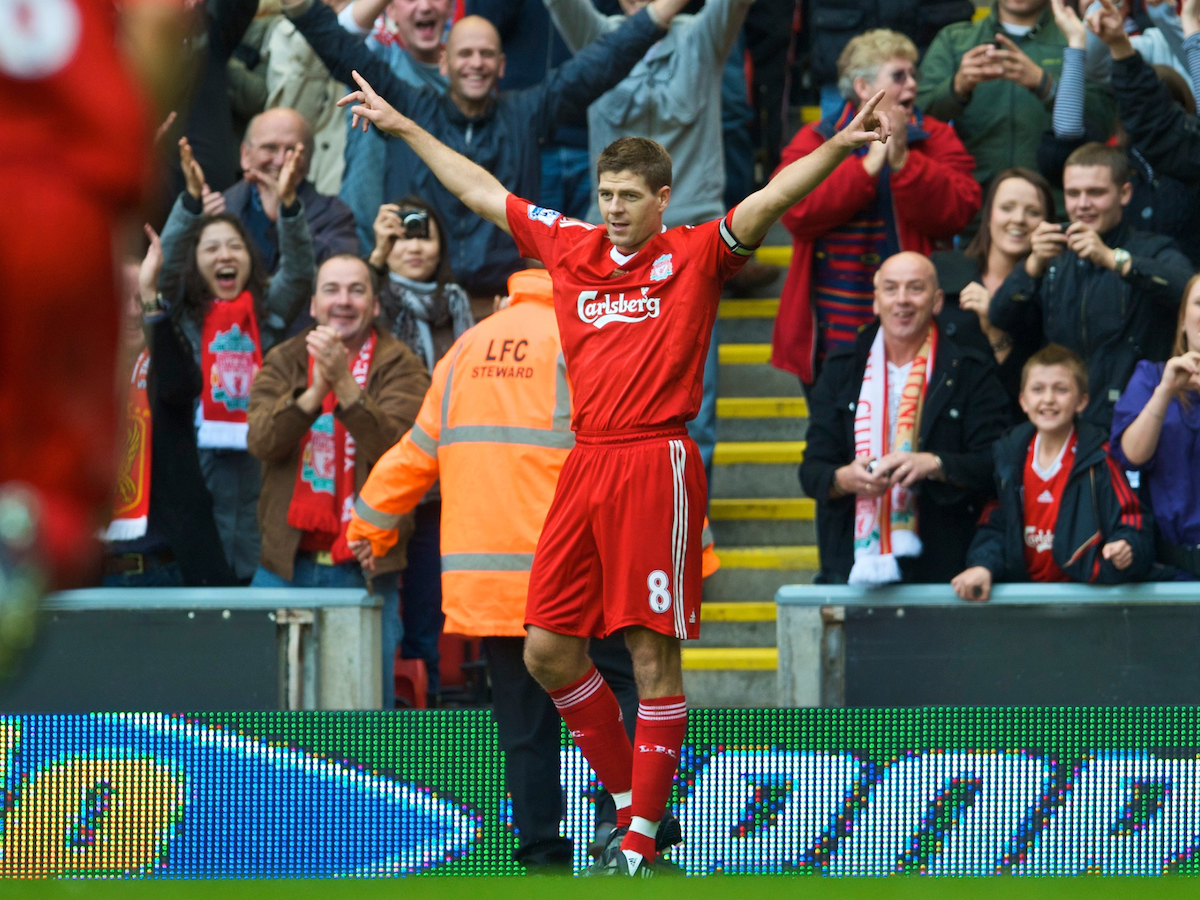 As with Carragher, this wasn't the best version of Steven Gerrard, but that's like saying there's a slight smudge on the ceiling of the Sistine Chapel.
Only a year prior to this, Gerrard was obliterating Real Madrid, marching over Manchester United and causing absolute havoc with his bezzie mate Fernando Torres wherever they went.
While this was far from Stevie's most productive year, he still had a bit of youth on his side (he was 29), and away from the distracting bickering between manager and owners, surrounded by this theoretical team instead of that one, I suspect you would see much more of the real Gerrard.
The only other Gerrard year that comes close is '13-14, but I have that earmarked for someone else (you'll never guess who).
CM: Jordan Henderson – 2014-15
Despite what strange people on the internet think, Jordan Henderson absolutely deserves to be in the conversation for PFA Player of the Year this season. The skipper has been sensational, driving his team towards an inevitable league title. However, Virgil already took this season, so I've opted for Hendo's other very productive year.
Like Lucas, Henderson initially struggled to win over fans. Not being immediately amazing after arriving from Sunderland was a dreadful crime after all, but he was given time, and by the end of the near miss in '13-14, Reds fans could see how important he was becoming.
The 14-15 campaign was not a good one for Liverpool by any stretch of the imagination, but Henderson recorded six goals and nine assists, including an absolute belter against Manchester City, and by the end, found himself as the new captain of Liverpool Football Club.
RW: Mohamed Salah – 2017-18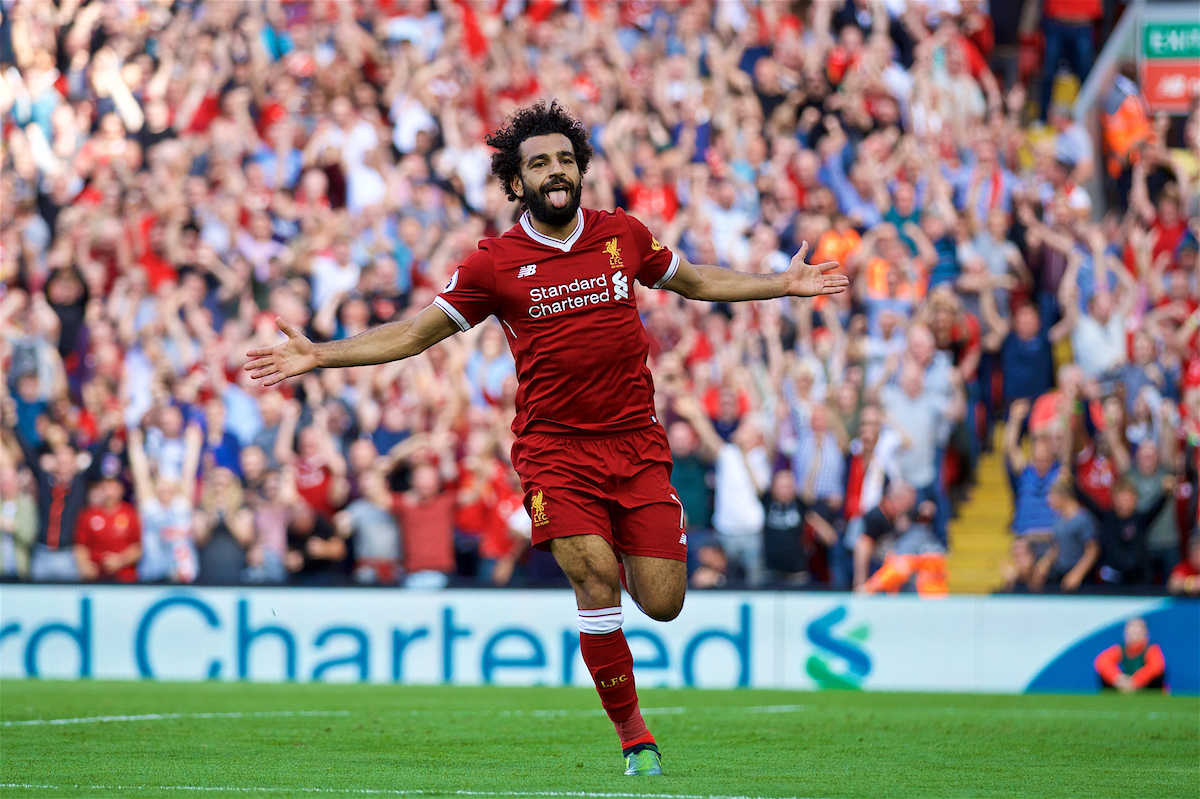 I mean, it's arguably the single greatest individual season in Premier League history, so it seems appropriate to give him a spot.
When Salah arrived from Roma, fans were excited. He was surely going to add to an already devastating front three of Mane, Philippe Coutinho and Roberto Firmino. He'll probably need to wait his turn and maybe make an impact off the bench initially… Wait, 44 goals you say?
Yes, the Egyptian King plundered 44 actual goals in this campaign, with 32 coming in the league. It was ruthless. It was unprecedented. It was the birth of a new Reds hero.
CF: Luis Suarez – 2013-14
Getting '17-18 Salah and '13-14 Suarez in the same team was imperative. The first two names on the teamsheet.
You could argue that if I was reluctant to pair Van Dijk with Carragher because they were too similar, maybe I shouldn't pair two players whose sole concern is how many goals they score, but nuts to you. Goals and that!
Also, while all strikers are greedy by their very nature, these two weren't really. Not in a Harry Kane way, anyway. In those respective seasons, Suarez recorded 19 assists, and Salah 16.
Suarez was simply unplayable this season. He was like a Space Jam monster, bagging 31 goals in 33 league games. The end to that season was cruel on all of us, but that Suarez didn't end it with a league winners' medal was ludicrous.
So, there you have it. A side with six Champions League winners, a spine that would excite the fridgiest of chiropractors, and 111 goals in them.
LW: Philippe Coutinho – 2015-16
We all have our opinions on Coutinho now, with some of us still as sore as the Brazilian's back after he threw his toys out of the pram to engineer a move to Barcelona, but the reason it hurt so much was that he was such a bloody good player.
There were several ups and downs in this season, but most of the ups involved the little magician and his glorious feet.
He started it off with a piledriver to win the opening game of the season at Stoke, only to be sent off in the 3-0 humiliation by West Ham.
However, once the incoming Jürgen Klopp got his hands on him, he emerged like a butterfly from a cocoon, hitting a brace at Chelsea, being instrumental in the 4-1 demolition of Man City, and scoring that wonder goal at Old Trafford to eliminate Man Utd from the Europa League.
His career has dipped like one of his long-range screamers since he left Anfield, but it's difficult to feel too sorry for him given it was of his own making. What do we care, right?
*Puts on 'I'm All Out Of Love' by Air Supply*
That's my effort. What's yours?
---
Let us know which players from each of the last 11 seasons you'd put in your 11 via our

Twitter

or

Facebook

…