I'VE enjoyed doing these challenges for Liverpool.com.
However, I did do one a couple of weeks ago in which I left out Mohamed Salah and the internet let me know about it more than you can imagine.
This one from Josh is, again, harder than it looks. The reason why is essentially because of the last three seasons. What does that say, though? That we were shite in everything which preceded them?
Obviously not, when doing more nostalgic content you now realise and appreciate the level of football and players you've been able to watch over the years compared to others.
But it remains both testament and reminder of how much we love and are lucky for the team Jürgen Klopp has built. It reminds you that you can pluck a name from almost any of the current crop and make a very easy argument to want them in your team.
Imagine how good that is for them for a second. To look around at each other every game and know they back each other and see no fault or weakness in any position across the pitch. That they would all pick each other in whatever lineup they constructed if given the chance.
As it was, you had to go back from the Klopp years to a place of late Rafa, the mess of Hodgson, Kenny's stint and Brendan. It reminds you, like everything now, how much has actually happened in a short period of time.
With that in mind. Here is this masterpiece, monstrosity, or whatever you perceive it to be. A flat 4-4-2, lads. Nothing daft first 10. Into these from the off…
GK: Pepe Reina – 2010-11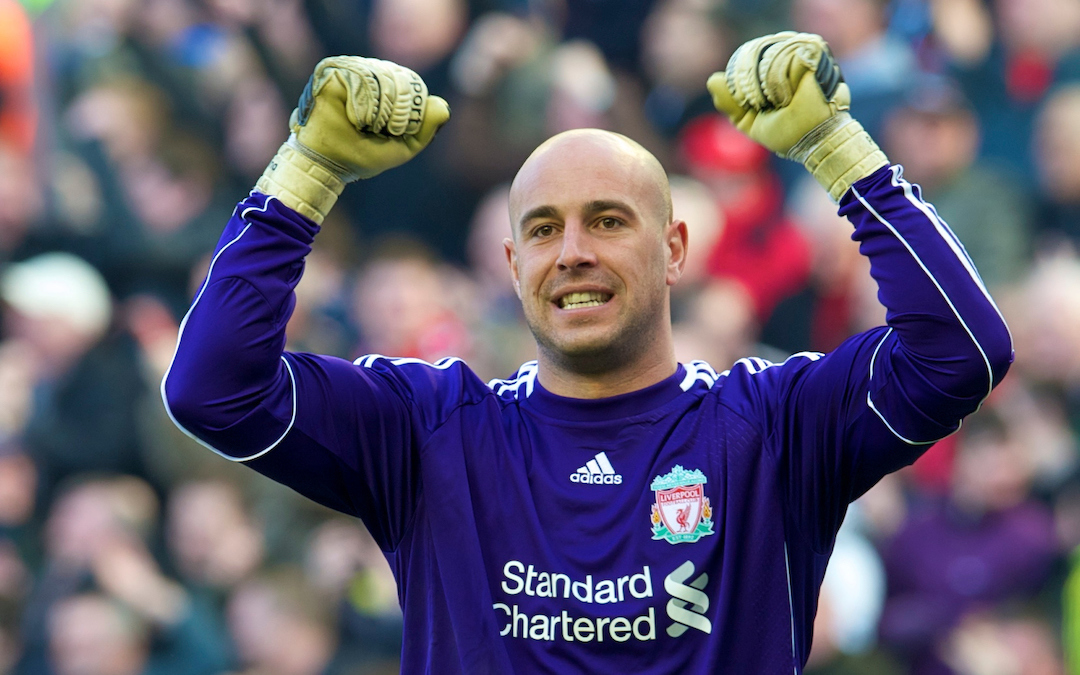 Had he stopped saving things at his front post at this point? Probably.
The conversation around Reina's competence as time went on at Liverpool is often overlooked by the cull FSG had on ageing players on big money. Under the right environment he could have had an Anfield revival which would have put us in better hands than Simon Mignolet's. Anyway, he's in and Alisson isn't, so cop for it.
RB: Glen Johnson – 2009-10
I haven't got either of the current full backs in, and if you read on you'll see why. I've decided the compromise has to be here, despite them being the best pairing we've seen since the 1980s – or possibly ever.
Johnson's debut season at Anfield showed why many of us were longing for him the season before. Three goals and five assists in 25 Premier League games is the best you could get pre Trent.
RCB: Dejan Lovren – 2015-16
You think I've gone mad, don't you? No Jamie Carragher either for me. Partly because anything post-2010 is far from his best, but more because of merit.
Klopp's first season was remembered for the Europa League run, and Lovren's partnership with Mamadou Sakho was key to that. Here he gets to rekindle his partnership with our number four, but in all honesty he probably gets in for the Dortmund goal alone that season.
LCB: Virgil van Dijk – 2018-19
The greatest Premier League season of a Liverpool defender, possibly player. A colossus, Rolls Royce and gamechanger. All of the cliches aside, an impossible player and season to leave out.
LB: James Milner – 2016-17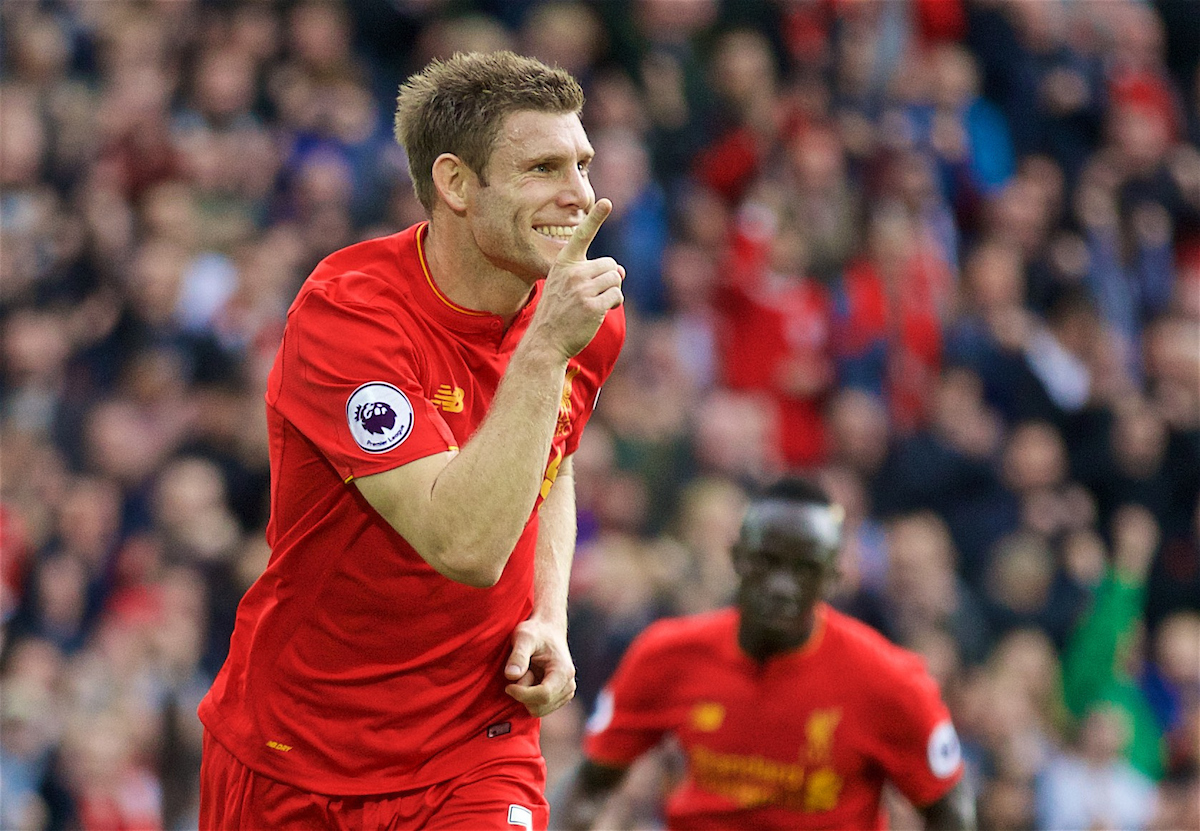 See what I've done, here. I mean, it wasn't difficult if my options were limited to the likes of Jon 'Flanno' Flanagan, Aly Cissoko, and Alberto Moreno. But there is an argument that prior to Robertson's surge, Milner's campaign here is our best at left back since Fabio Aurelio.
We also get to see what the position is going to be under Klopp, with how much he adopts the mantra of advancing and taking up starting positions in midfield. Good for a pen in this team, also.
RCM: Steven Gerrard – 2012-13
A lost Gerrard season, but one in which he plays 46 games, scoring and assisting 11 times each. This was probably the last one in which Gerrard can be described as in any way dynamic or explosive, but he remains the greatest player I have ever seen in a Liverpool shirt.
LCM: Jordan Henderson – 2014-15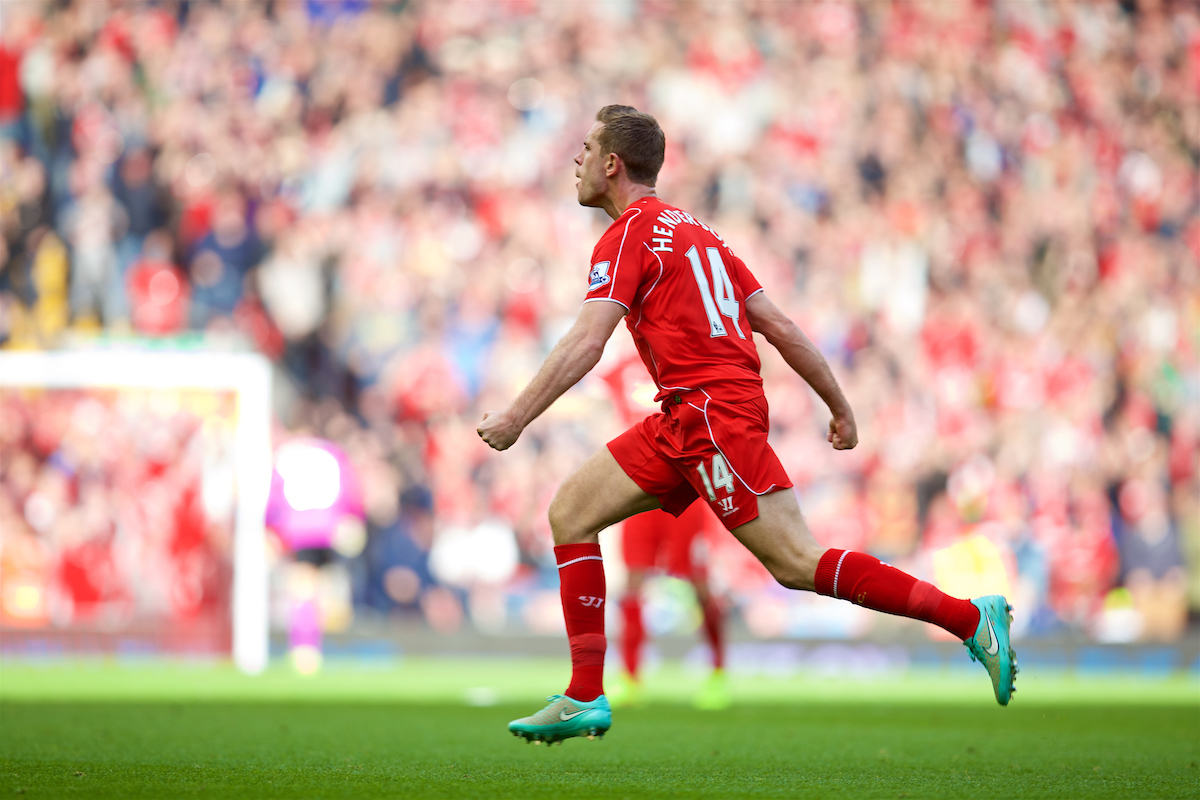 Thirty-seven Premier League games, six goals and 10 assists. More importantly, the first time you started to see a captain emerge in what was a truly awful season compared to the last.
Henderson cares about this football club more than most. He also takes pride in it and itself. He didn't know it, but he was on his way to becoming the captain who would lift the first European Cup since Istanbul and hopefully the first to lift…
RM: Mohamed Salah – 2017-18
As I've said, the Internet doesn't like leaving out a 44-goal season, and will let you know. So I'm not making that mistake twice. A phenomenon when he returned to the Premier League. Might not score as many in this team, but would be no less effective.
LM: Sadio Mane – 2019-20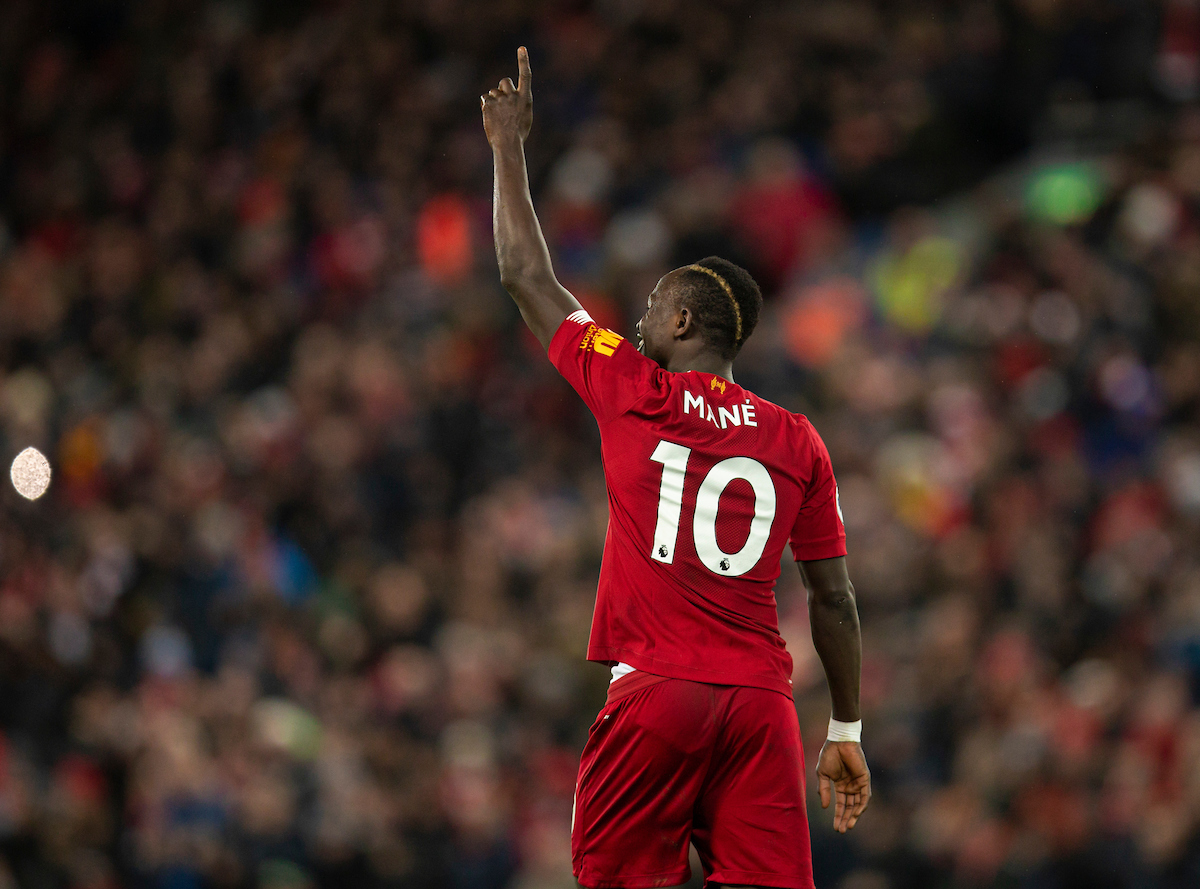 Along with Henderson, has been our best player this season. His appetite for a league title is insatiable. The way he dragged his teammates back to the centre circle after a late equaliser at Old Trafford is one of the great lost moments of this campaign.
He is genuinely in the top three players in world football this season, and would have no problem fitting into this team.
CF: Luis Suarez – 2011-12
In terms of the most sensational form of arguably his career, the answer is 2013-14. But his first full season in English football is packed full of highlights which tell you that he is a superstar in the making.
Hat tricks against Norwich City, destroying Everton home and away and a League Cup double against Stoke City were the highlights of his 17 goals and 10 assists this season.
CF: Daniel Sturridge – 2013-14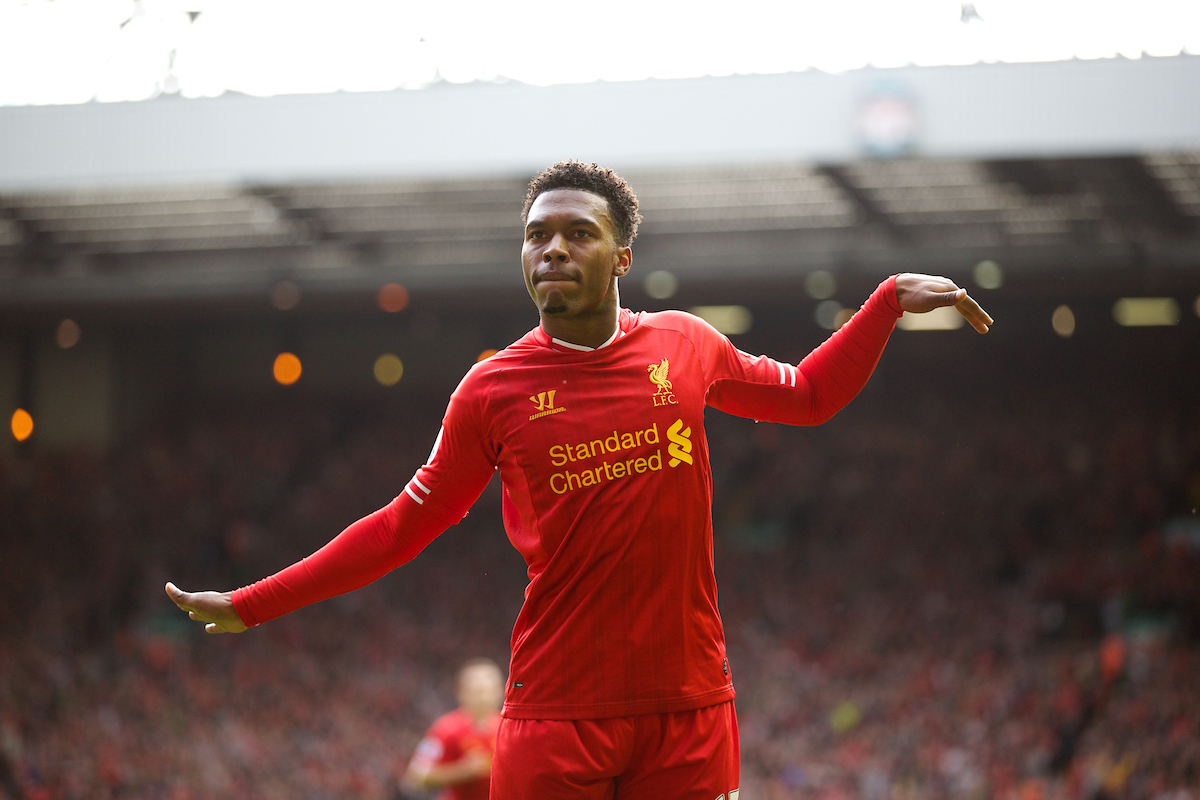 Sturridge doesn't deserve to be shunned from the limelight in this campaign, especially because of his early season form when Suarez was suspended. He is a joy to behold, with a staggering 25 goals in 33 games.
You get all that here, you get the arms, you get a time in your life back when you could watch Daniel Sturridge make goalscoring look like the easiest thing in the world.
There you go – a team heavily weighted in attack, but one I think works. It has a centre-back and midfield pairing who know each other's game well. Full backs who can give you a Klopp shape. Two of the greatest wide forwards in the world on the wing, and a partnership up top which spearheaded one of the most entertaining season's in the club's recent history.
Easy, this.
---
Let us know which players from each of the last 11 seasons you'd put in your 11 via our

Twitter

or

Facebook

…