ELEVEN Reds for 11 seasons…
Jamie Carragher has spent the last few weeks compiling various starting XIs based on such varied criteria as nationality, an NFL-style draft and even a combined team of the Soccer Aid players. I never thought I'd see Woody Harrelson play right back in any of those 11s but there we are.
So, we thought we'd do a similar thing here. This time, though, we thought we'd tried 11 Reds from the last 11 seasons – one per campaign. Sounds simple enough, doesn't it?
No.
I woke up at 3.30am this morning – and I swear I'm not making this up – with the words 'how the hell do I fit in Sadio Mane?' I may have even said them out aloud.
You see, the tricky thing is that you must stick to a formation, so you'll need a defence. If you want both Alisson and van Dijk (across two seasons) you're going to have to drop one of the other big lads.
Here we go then. Excuse the bit of cheating about the left-back position. I couldn't fit Andy Robbo in so had to do a bit of splicing.
GK: Alisson Becker – 2018-19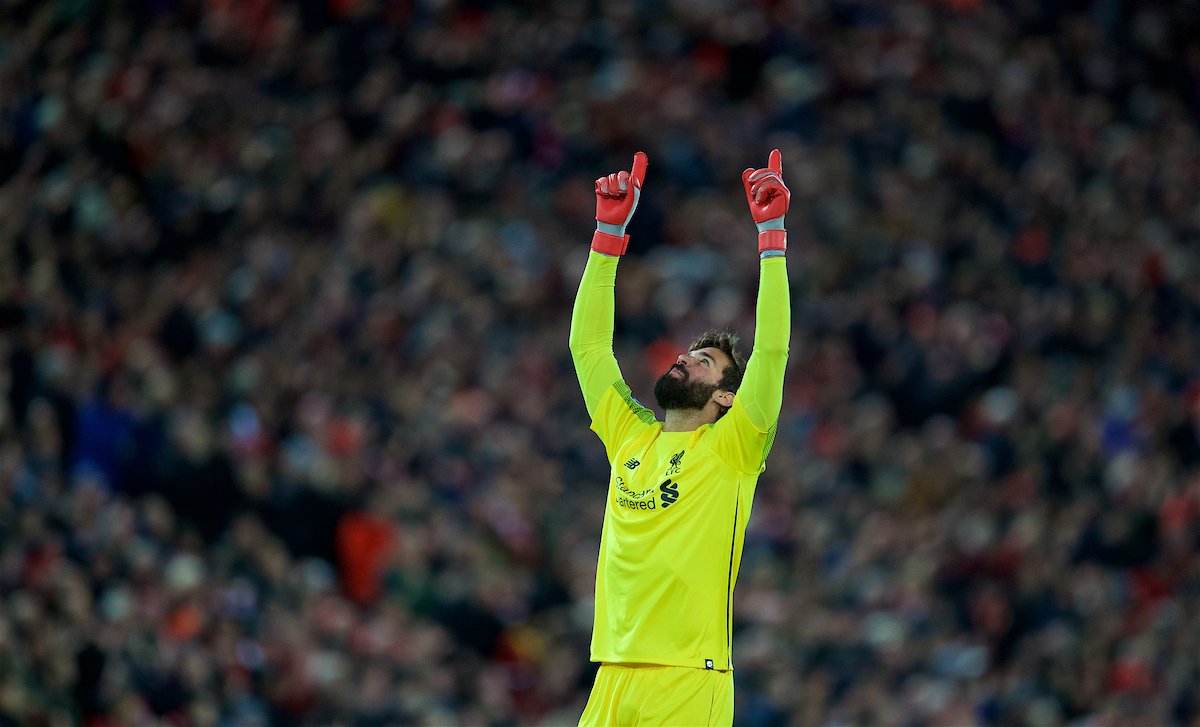 You can't mess about with your goalkeeper and we haven't really been blessed with glove men over the past decade or so.
I suspect that the other lads will go for Pepe but, truthfully, he began to annoy me a bit at the end of his Liverpool career. The 'dropping on one knee at the near post saves all' technique stopped working after a while, so I went off him a bit.
That said, I once saw him at an Anfield doo wearing a grey v-necked jumper while everyone else had suits on. There's every chance he'd been gardening in it earlier that day and he still looked better than anyone there.
Alisson though. I reckon my hair is reaching his levels of luxuriousness thanks to the lockdown.
He's just the best keeper we've had in decades and when he adds an assist for an assist of a last-minute derby winner you can't really show him to the bench.
RB: Trent Alexander-Arnold – 2019-20
With two European Cup finals, one as winner, league champion, the goal of the season and his back on the side of a house near the ground, it's safe to say that things have escalated for Trent.
This one wasn't really a headache when he was up against the perfectly alright Glen Johnson in the main (I didn't mind him). The lad from L12 gets the nod. Bet he's made up.
CB: Jamie Carragher – 2011-2012
Seems only fair given that this was his idea. I've chosen to put him in with his last season, mostly because he nearly scored a 30-yarder in his 737th and final Liverpool game like he'd been saving it up for the entirety of his 17-year Anfield career.
Carragher was always my type of player; relentless, hard-working, a moaner and, best of all, a bit dirty. A lot's been made of his lack of pace and early naivety, but there was more to his game than simple aggression. His reading of the game was incredible, and he stopped more attacks with foresight than last-minute tackles.
CB: Daniel Agger – 2012-2013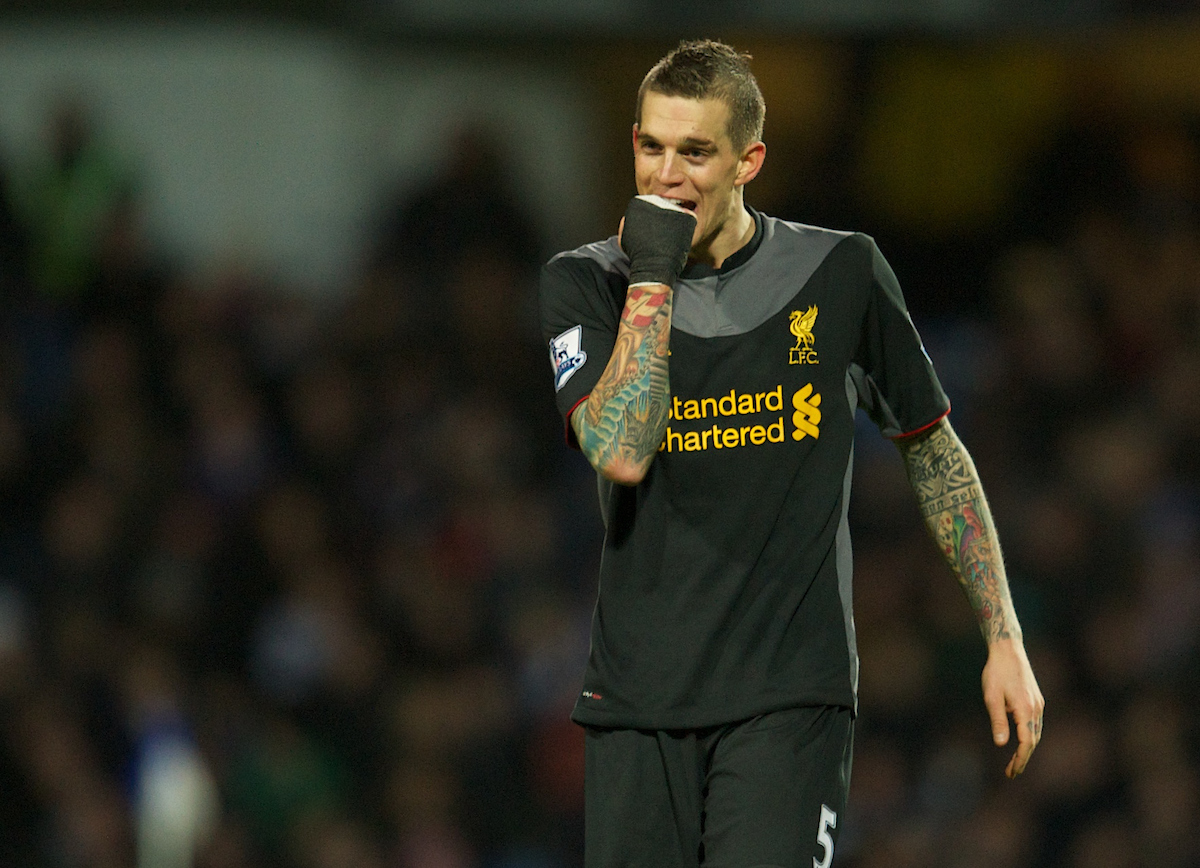 Yeah, I know. No Virgil. He'd be in there if the format allowed but I needed Trent and Alisson in so I'm afraid that's it.
It's worse in many ways as I was never that keen on Agger. I always thought he flattered to deceive. He was great for ages, but then concentration would take a walk when we needed it most. I lost count of the amount of times he'd lose his man at corners.
He gets in simply because he once gave Wigan an easy goal at Anfield and then went on a run up the field to lay on the equaliser. He could be imperious when his body let him, but that too was a rarity.
He hated Hodgson's tactics though, so he's in. It's just a shame I had to give him such a bloody awful season as 2012-13.
LB: James Milner – 2015-16
Alright, I know he didn't play regularly at left back until a year later, but we were hardly over-burdened with decent left backs until Robbo came. I thought about putting Moreno in just for the hell of it, but I couldn't bring myself to do it. My fingers literally refused to do it.
I'm too old for heroes, but Milner would certainly be one. Arguably the most complete player of his generation, he was born out of his time. He should have played for Holland in their 'total football' era in the mid 70s.
There aren't many players who can calm me down when I see him about to come on when we're defending a narrow lead, but he's one. Possibly the only one such is his reliability. He wasn't a bad left back either.
DM: Javier Mascherano – 2009-10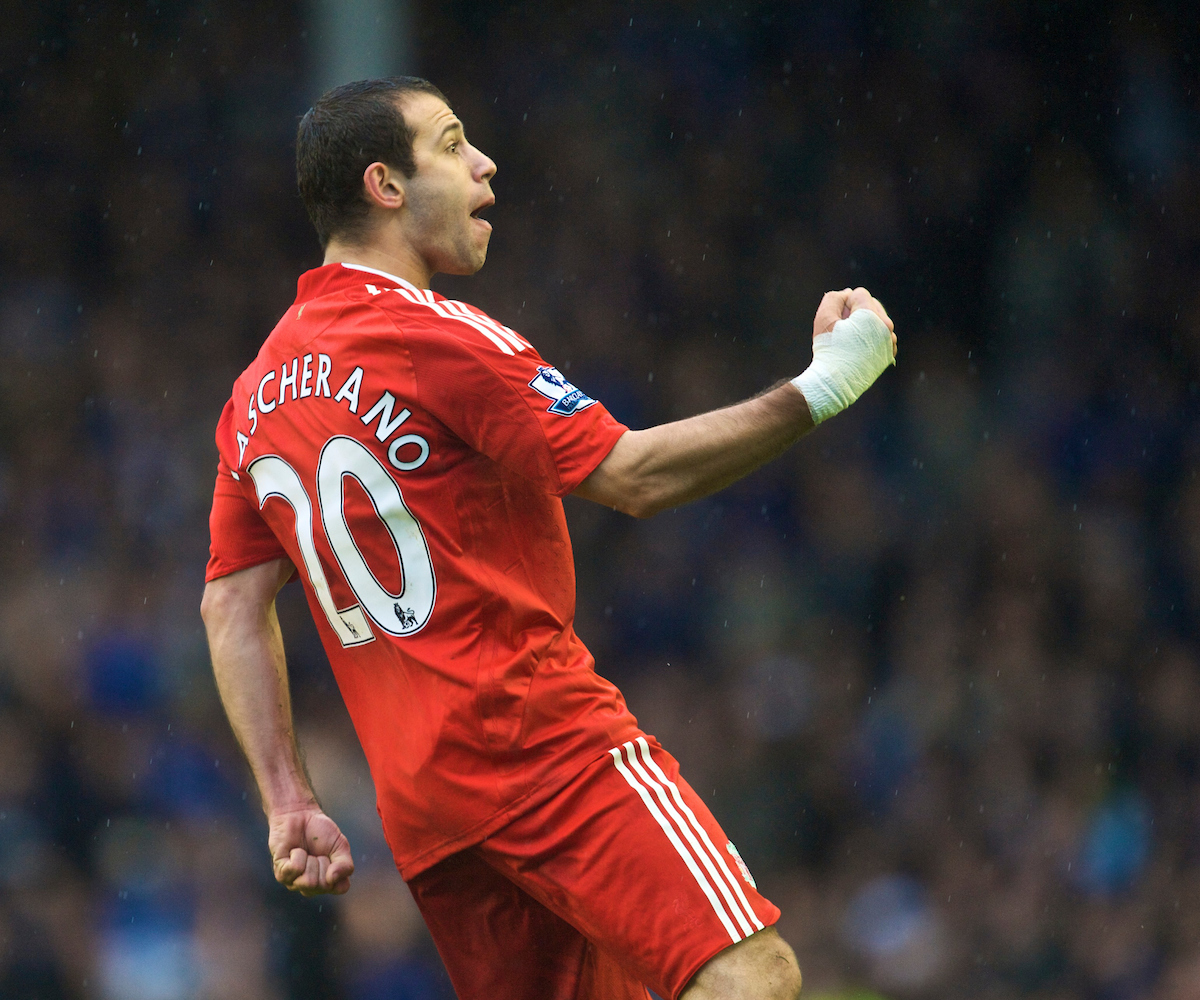 Again, not a great season, but I had to get him in somewhere.
It's hard to objectively assess a footballer if they shafted you at the end of their time with us and there's a further example coming up soon (with the same destination) so it's important to remember what a signing he was for us – as significant as Fabinho.
Liverpool struggled for years to find the hard man/bastard in front of the defence and Javier really fit the bill. He gave Alonso and Gerrard the chance to move upfield without worrying what was going on behind him.
My favourite thing about him, though, was the way he could smell an opportunity to regain possession. If an opponent let the ball trickle off their foot, he would be on it in seconds. That must be hell to play against.
CM: Steven Gerrard – 2010-11
Again, it seems harsh to give one of our greatest players such a forgettable season – the one which started with Hodgson and ended with Kenny. The truth is I could have placed him in any campaign without argument so he's helping me out as he always did with us.
I recently stirred up a social media hornet's nest by announcing that no one comes close to Souness in my midfield affections and though I won't recede from that position, it doesn't detract from Steven's genius or ability. Steven Gerrard kept Liverpool on track through many a dark season with his sheer will and talent. So many goals, so many last-ditch tackles and so much heart.
Goals in FA Cup finals, League Cup finals (I'm counting it), UEFA Cup finals and a European Cup final. Just the man you need.
The slip means nothing. Absolutely nothing and it hurts that he still reflects on it now. There'll be a statue one day.
Great frown, too.
CM: Philippe Coutinho – 2014-15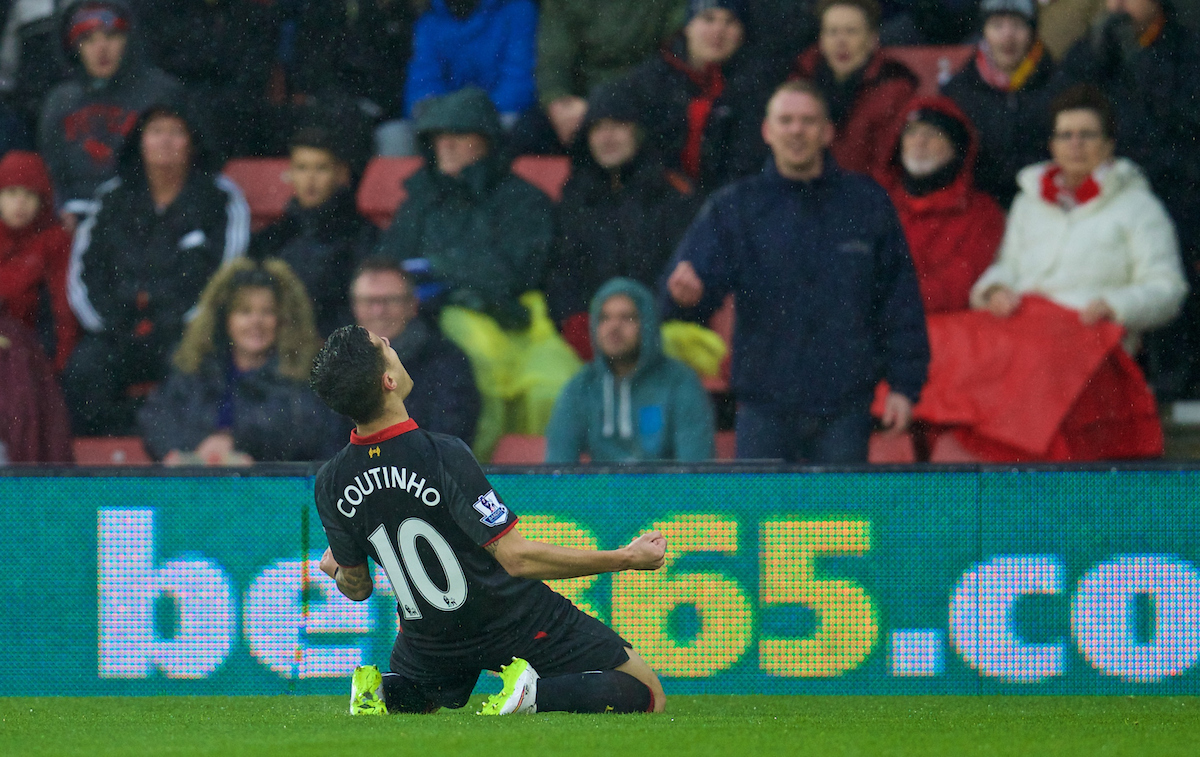 I don't want him back. He made his bed and dug his heels in about his move when he could have been part of something special. Tough. Liverpool Football Club is not a charity to those who wronged it. Good luck at Chelsea or Spurs.
But what a player. He too elevated poor Liverpool sides purely by moments of genius. The freekick at the Emirates in 2016, the opening day winner at Stoke in 2015, the thundertwat of a strike in the rain at St Mary's this season. Oh, and *that* goal at Old Trafford the following year. That was pretty good too.
It would be churlish not to include him here, no matter how terrible the club who reignites his career.
RW: Mo Salah – 2017/18
Obviously.
You know why.
The derby game in the snow, the Bournemouth header, the four against Watford and all that. But his goal at Southampton will always be my favourite. What an away end that was. An entire terrace baying at him to pass when he was clear as his form wasn't great, only for him to hit it early and secure the points. His celebration too.
Hard to believe he was playing against us in the 'slip' game. He came over from Roma a different man, but no one could have predicted the change that came over him. I'm made up he's Lovren's mate too. No idea why.
CF: Luis Suarez – 2013-14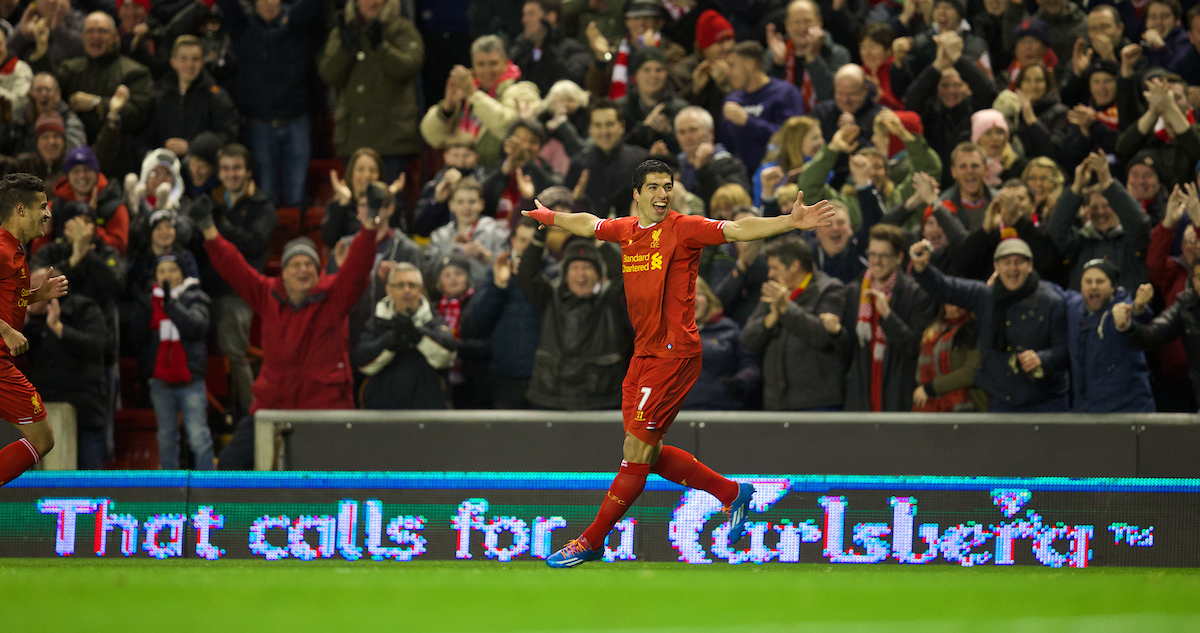 Not my cup of tea when he arrived but you can't deny the ability. Obviously, his will to win exceeded the laws of the game and even society at times, but he was the first player I've seen play a Premier League game like he was a 16-year-old playing in a primary school game.
His four-goal salvo against Norwich in December 2013 was the most complete display from a single player I've ever seen at Anfield. That's no exaggeration. A 20-minute hat trick in the first half to get things running and then his freekick when everyone else in the team had taken one and missed. He even laid on the fifth goal for Raheem.
That season was his and should have ended with a championship medal.
A freak of a player regardless of his character and occasional nibbling issues.
LW: Sadio Mane – 2016-2017
I managed to fit him in. Maybe I'll sleep better tonight.
Jürgen's fourth signing but undoubtedly his first marquee one, Sadio Mane may well be my favourite player in the world. As Messi and Ronaldo grow older maybe some might consider him the greatest in the world one day. He was 28 last month so I don't know how long he'll stay, but he was certainly the man who kickstarted the Jürgen years.
He started the 2016-17 season with a bang and Liverpool fell away when he went to the African Cup of Nations with Senegal. Mo and Roberto reduced the goalscoring burden when they arrived, but he was the first.
Still the player who makes you stand up when he hares in on goal. A Rolls Royce of a player and my favourite.
SUBS
Torres and van Dijk. Just to make me feel better…
---
Let us know which players from each of the last 11 seasons you'd put in your 11 via our

Twitter

or

Facebook

…