FOOTBALL is back. Lovely, efficient, German football.
Josh asked each of us to pick a Bundesliga team to throw our full support behind on the first weekend back in the German top flight. After much contemplation, I opted for Borussia Moenchen… Borussia Moenchengl… Moench… I opted for Cologne.
Just kidding. I opted for (copies and pastes from Google) Borussia Moenchengladbach.
The Foals (yes that is their real nickname and one of the primary reasons they got my support) have a storied history with Liverpool. In the 1970s they faced each other in the latter stages of European competition on three occasions, meeting in the 1973 UEFA Cup final, the 1977 European Cup final, and the 1978 European Cup semi finals.
A friendship has existed between the clubs, and their fans, ever since and in 1991, a delegation of Gladbach fans gifted 21,000 Deutsche Marks to the Hillsborough families.
Since then, a group of Gladbach fans have made the trip to Anfield once a year to attend a game, and since 2007, a group of Liverpool fans have made the same trip to Germany and Borussia Park.
I also selected Gladbach because I wanted a certain amount of glory (I hunted for it, if you will) but not too much. I still love an underdog, and they are the underdog in a four-way battle for the Bundesliga title with Bayern Munich, Borussia Dortmund and RB Leipzig.
There has been plenty of excitement around the North Rhine-Westphalia club this season, and with good reason. Their involvement in the title race was not really anticipated, but boss Marco Rose is getting the most out of his players and showing just why he is one of the highest-rated young coaches in European football.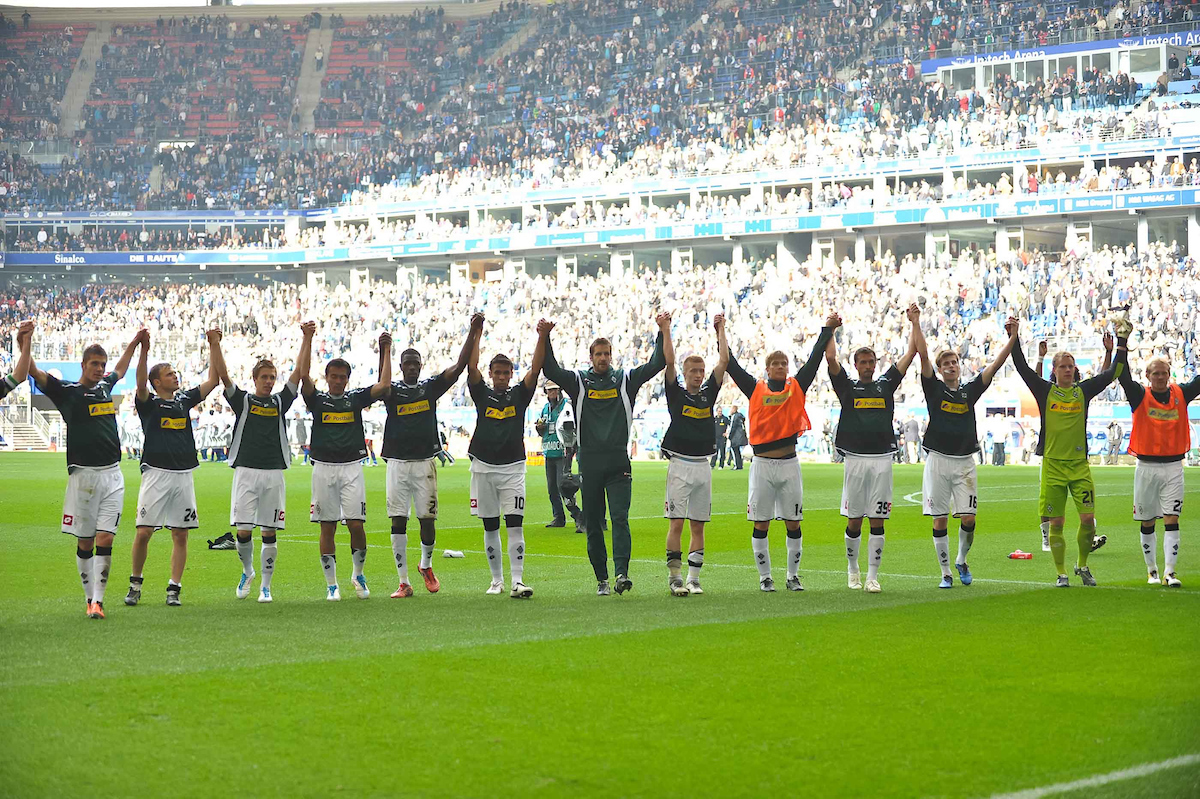 The 43-year-old took the reins last summer after coming through the ranks at Red Bull Salzburg. He won the UEFA Youth League in 2017, before taking over the senior squad (including Takumi Minamino), winning the league and guiding them to the Europa League semi finals in 2018, then securing a league and cup double the following season.
Before stepping into management, he played both with and for Jürgen Klopp while at Mainz, and it seems that the Liverpool gaffer is also a fan of Rose as a coach, who has inevitably been compared to Klopp.
When both were guests on German TV last year, Klopp said about Rose: "I trust Marco in everything… Marco can have any job and could do any job too, he is really the most hyped [coach] of all at the moment."
Rose has lived up to that hype in his first season in Germany, and doing so without players who would roll off the tongue of many casual football fans.
His star this season has been Marcus Thuram, son of former France international Lilian. Thuram – born in Parma when his dad was playing in Serie A in the late '90s – has excelled since signing from Guingamp last year, and forged a potent attack along with Alassane Plea and Breel Embolo.
Other players people may be familiar with are those who have been linked with Liverpool in the past (who hasn't?) such as Denis Zakaria, Lars Stindl and Patrick Herrmann.
They also have Cristoph Kramer in their ranks, who was famously given an unlikely place in the Germany starting XI of the 2014 World Cup final, only to suffer a concussion early on and be replaced after half an hour.
So there I was, ready to support Die Fohlen as they looked to work their way back towards Bayern at the top of the Bundesliga table. Results had been mixed after the winter break, but any form feels like a blank slate given these unique circumstances.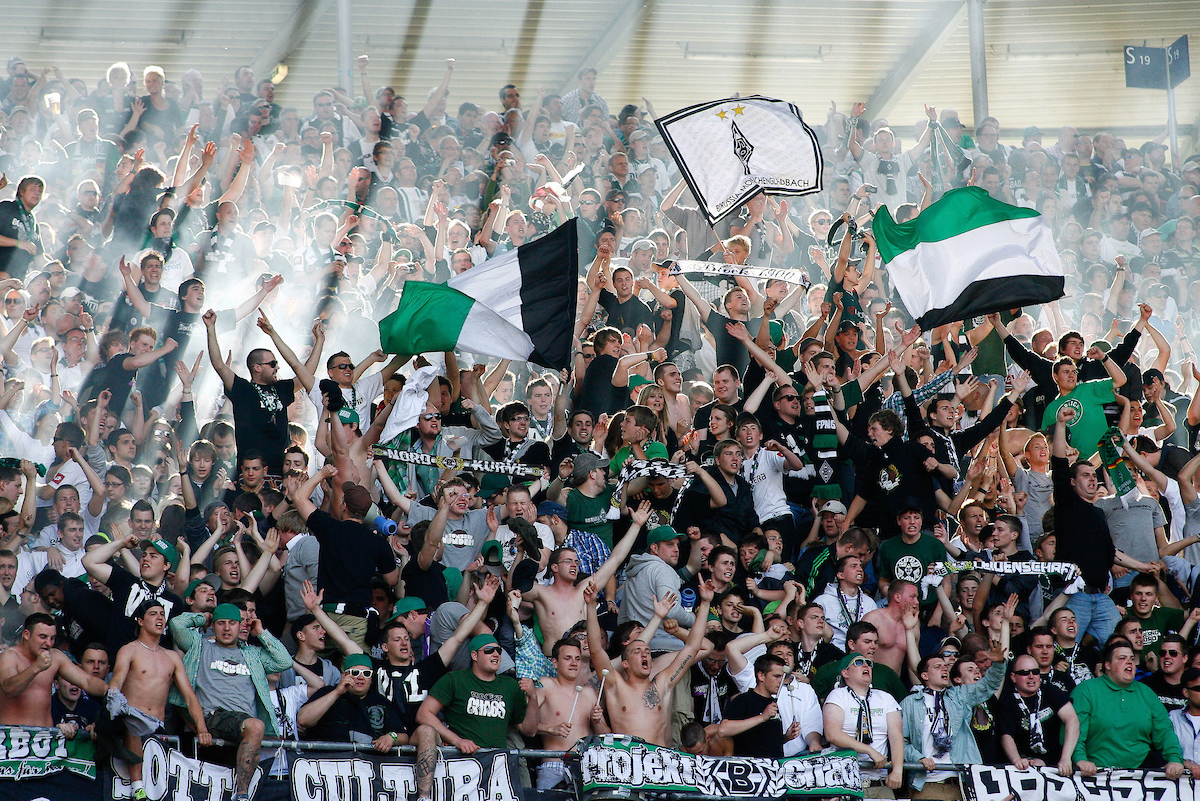 Their hosts on Saturday were Eintracht Frankfurt. A tough one on paper, but Frankfurt's star has fallen somewhat since last season's run to the Europa League semis, having lost all of their front three of Ante Rebic, Sebastien Haller and Luka Jovic last summer.
I wanted to get into this properly, so I set the telly up and poured myself two beers into a souvenir stein from a trip to Munich that took up far too much of my luggage allowance and I've only used twice since. Before I had finished pouring, it was 1-0 to the mighty Foals.
I was wondering if Rose would adjust after that, putting a leash on his attack to concentrate on protecting his early lead. He did not. Another attack, and it was 2-0 after seven minutes.
I'd only been supporting Gladbach for just over six minutes and 'we' were 2-0 up. It was hard not to take most of the credit. I hadn't even taken a sip of my big frothy beer yet.
I decided early on that Thuram was worth the hype, but Ramy Bensebaini was my wildcard. The lad who is secretly their best player, but only I can see it. I mean, the commentators kept raving about him, as did Gladbach Twitter, but I'm still claiming the left back as my find.
The game itself was a bit of a damp squib after that early surge. It felt pretty much over as a contest. Frankfurt seemed incapable of coming back into it.
It was perhaps an example of one effect on home teams of having no fans. Frankfurt usually have one of the better atmospheres in Germany, so missing that may have played a part in their inability to respond after going behind.
Nothing particularly happened in the second half until a soft penalty award led to my man, Bensebaini, making it 3-0 from the spot.
Andre Silva pulled one back with 10 minutes to go, but it was overshadowed moments later by the best piece of defending football has ever seen (may contain hyperbole).
Gladbach countered and a through ball led to a three-on-two scenario. This became three-on-one as Hermann nipped the ball to Jonas Hofmann, who only had a panicky Martin Hinteregger on the line to beat. Hofmann tried to give the Austrian defender the eyes, then shot, only for Hinteregger to implausibly reach out a foot and deny the certain goal.
If the Hinteregger statue hasn't already been commissioned by Frankfurt, I'm happy to start a GoFundMe.
Despite being impossibly denied a fourth goal, the points were Gladbach's, and my new favourite Germans leapfrogged Leipzig to go third after Timo Werner's current team (ahem) dropped points at home to Freiburg.
It would be nice to see Gladbach return to trophy-winning ways. The team that played against Liverpool so regularly in the '70s was riddled with trophies, winning five league titles, two UEFA Cups and a German Cup in by far the club's most successful decade.
Following the comfy win in Frankfurt, Rose and his boys look ready to play a major part in the final eight games of the Bundesliga title race and potentially etch their names in history. Next up is Bayer Leverkusen at home, which is all of a sudden more important to me than my daily exercise.
It wasn't supporting Liverpool, but it was still great. Then again, I guess anything is a great time when accompanied by a giant beer.
Up The Foals!
---
Click here to give the Bundesliga Diaries podcast a listen and subscribe for more TAW Bundesliga coverage…
"It was this constant conflict. Their supporters must be gutted not to be in the stadium, not getting to do their normal routine."

Listen to today's free podcast 👉https://t.co/VoddtcF2C1 pic.twitter.com/NxpADBwPNC

— The Anfield Wrap (@TheAnfieldWrap) May 18, 2020