THERE'S a time when football runs along the same lines of the spirit of the nation.
Take 1966. The war was over, rationing had ended, The Beatles ruled the world and England were World Champions.
Equally, Britpop coincided with Euro 96 – one of the more memorable tournaments – and there was a kind-hearted spirit in the air.
Sadly, the converse is true. Society can now hold up a mirror to its social media. Vicious, moronic, crass and bullying as well as being divided like we've seldom been before. Even the appearance of a global pandemic has had us at each other's throats rather than nestling together in a spirit of unity.
Liverpool's recent success and the possibility of more silverware to come had been met with accusations of cheating and the product of official bias. Now, with the league in limbo, our detractors are calling for the league to be voided altogether in the guise of 'there are more important things to think about' rather than an honest caveat about just hating Liverpool.
Those feelings echo the zeitgeist. Snide and poor spirited.
In February, that level of malevolence took its cue from the media and touched lives in a broader realm than the 11 lads on the pitch.
This column, though with links to our own past and experience, is not about Liverpool. It is not about football. This is about human decency.
Two months ago, TV presenter Caroline Flack was found dead at her London flat. She had committed suicide. She was just 40 years old.
Flack had been accused of assaulting her boyfriend, Lewis Burton, with a lamp and was due to stand trial next month. As part of her bail conditions she was not allowed to contact him.
Many of the press reports had focused on the Crown Prosecution Service's intent to make a show trial of the affair even though Burton did not support the prosecution. This, coupled with her inability to speak to him, caused her a lot of heartache. Too much.
The CPS's role was certainly worth consideration, but it's only half the story.
Innocent until proven guilty goes the maxim, but where's the fun in judicial fairness? There's seldom a place for it nowadays. Not when there's a story or stories to be made.
Since news of the alleged assault came out Flack had her personal life torn to pieces on pretty much a daily basis by the usual suspects – The Sun and the Daily Mail. It's highly possible that their hounding of Flack was a contributory factor in her decision to end her life.
The Sun published a story of a mock Valentine's card with a cartoon of Flack above the words 'I'll fucking lamp you'. Nominally, this was a news story about a tactless design company, but they chose to show the image just to get that extra dig in.
Despite that, Dan Wootton, Executive Editor and columnist of the Sun, was keen to offer his condolences following her death, even going so far to point out that 'she was vulnerable'. Hypocritical much? Well, he had written a front-page story about her just two months earlier.
On the night her death was announced, Wootton's employers spent a good deal of time deleting their smear stories and replaced them with broken links and phone numbers of suicide hotlines.
Caroline Flack was not the first to be hounded by the press. The bullying and craving for tearing down the successful is nothing new.
In 2004, The Sun printed the first of many apologies about its Hillsborough coverage in order to ward off criticism of Wayne Rooney, who had given them a series of exclusive interviews. Rooney was featured on the front page that day, holding a copy of the paper.
The apology, such as it was, was little more than a criticism of the Trinity Group, who own the Daily Mirror and had criticised the Croxteth-born striker for accepting their coin.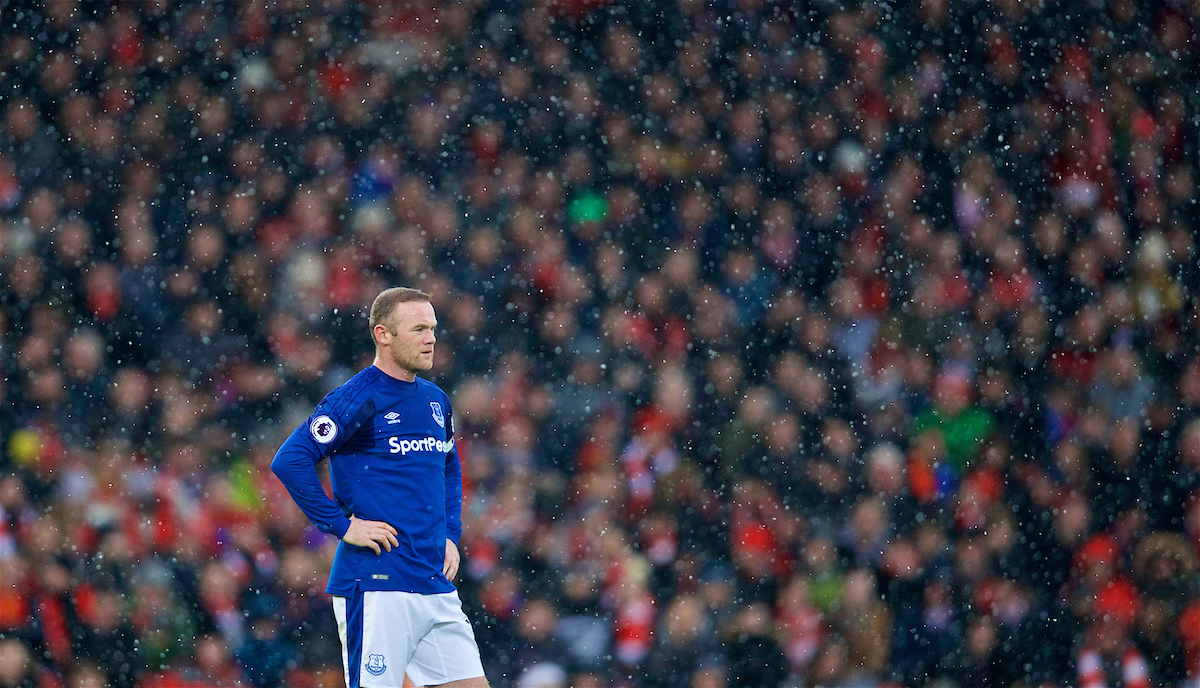 Six weeks later, news broke of Rooney's alleged dalliances with elderly prostitutes. Did The Sun stick with their man? Of course, they didn't. They tore him and his girlfriend to pieces. One minute he was an upcoming star who didn't deserve to be aligned with 'the Sun's mistakes', the next he was headline fodder.
Caroline Flack was the host of Love Island, then the wolf bit. That behaviour is still a joke to some.
On Boxing Day at our game with Leicester City, the home section of the King Power Stadium nearest to the away end thought it amusing to download The Sun's logo onto their phones and show it to us en masse.
It didn't cause the outrage they thought it would, mostly because it was so lame, but the inclination was clear. The Sun's treatment of the city in 1989 was somehow funny. A stroke of one upmanship.
And that's the problem with how the rag is viewed. People judge the Sun's Hillsborough disgrace as a football conflict only – a mere nod to shallow tribalism. That ignorance allows the rag to fuel its hatred.
Staunch Sun readers will tell you that it's never to be taken seriously and is just a bit of fun, but a glance at the annals reveals some abhorrent stuff.
In May 1987, they promised free one-way tickets to Norway for gay people with the headline 'Fly Away Gays – And We Will Pay'. Lovely.
A few months earlier, they'd fabricated a story about Elton John and rent boys. That cost them £1m in damages and a front-page apology. They didn't care. Why? Because there is something in human nature that wants to be shocked even at fiction and wants to enjoy the fake outrage.
You can add to that the whole 'Gotcha' headline when the Belgrano was sunk with the loss of 323 lives during the Falklands war. Earlier they had sponsored a missile ('A Sun missile for Galtieri's gauchos!') which was used 'successfully' on an Argentine target.
Those Leicester fans and others who sing 'The Sun were right, you're murderers' labour under the misapprehension that it somehow speaks for them. Maybe they think it amplifies their Britishness, whatever that is.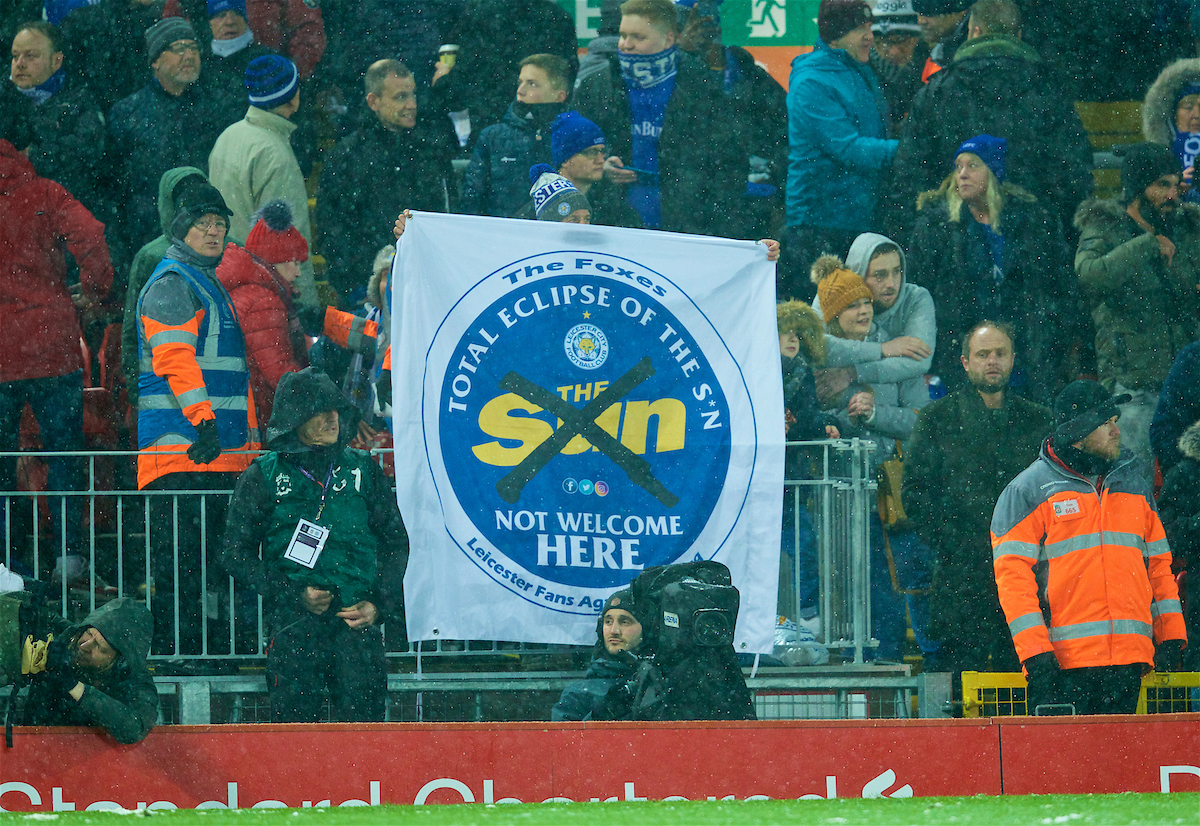 Let's be clear. They are not the champions of free speech, they are not the moral compass of the nation, they are not a newspaper in the true sense of the word, nor are they an entertainment newsletter written for fun.
They are malicious, they are twisted and they act with impunity because the myopic and ignorant will defend them as long as they appeal to the basest of human instincts, be it a dig at Scousers, an attack on the famous who have gained weight or some fabricated fantasy meant to make us feel good about ourselves.
Yes, but what about the football? This is a football column, isn't it?
Indeed, it is, but there's a more important point to be made. It's all avoidable.
If you buy it, if you pick up a copy when there's nothing else to read and you've got time to kill, if you tune in to their radio station (guilty), click on their links or retweet their 'hot takes', you're complicit in the misery it creates.
As I say, I'm guilty there too. I like the Talksport European show with Danny Kelly and Andy Brassell, but a line must be drawn. Enough is enough.
The Merseyside campaign is probably the most successful boycott in British history.
Its circulation has fallen from a peak of 4.3 million in July 1994 to about 1.24 million in September 2019, though it's only fair to acknowledge that that figure incorporates a drop off in print media for all publications.
In Liverpool, its sales have been reduced from 55,000 copies to a little over 12,000. Chris Horrie, author of Stick It Up Your Punter: The Rise And Fall Of The Sun, estimates that the boycott has cost the paper around £15m per month. I wish it were more.
'The nation's favourite newspaper' is no longer that. The Metro now has a larger distribution, but its power is still significant. It has 1.6m followers on Twitter.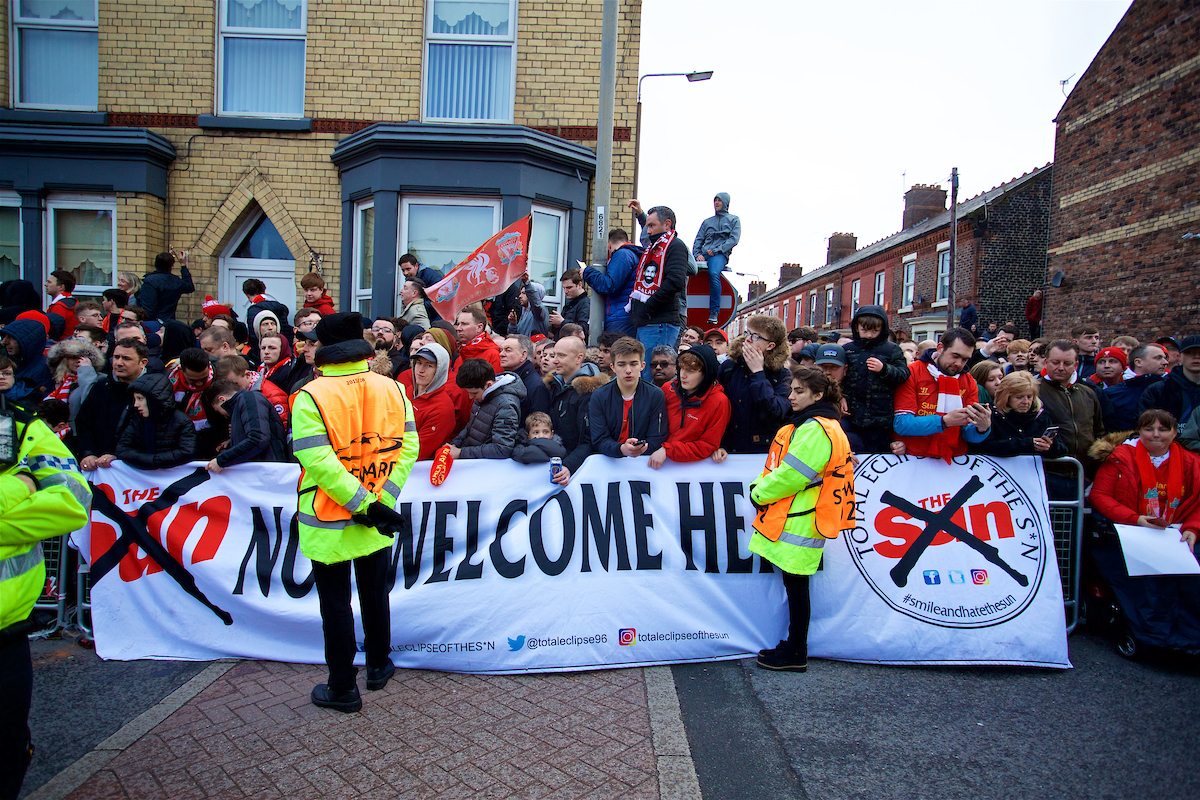 Now that print media sales have dropped it needs clicks to bring in advertisers and revenue. It cannot exist in a vacuum so only a lack of interaction can kill it off altogether.
Its sister paper the News of the World shut down in 2007 when the nation could no longer stomach its lack of ethics. Many attribute its closure to the admission of hacking missing Milly Dowler's phone.
Poor Milly's parents erroneously thought that the space left on her voicemail was due to Milly deleting messages and was therefore alive. In fact, they were deleted by a hacker to keep the phone active.
That only touches the surface of the hacking scandal as there were many similar issues including the hacking the phones of bereaved who had lost family members while serving in the British military.
The closure cost News Group Newspapers around £240m.
It can be done. And it's being done.
Last week a phalanx of their writers, Wootton included, took to Twitter to ask the public to go and buy a paper rather than download our news online. The recent figures estimate that The Sun alone has lost £65m. Each tweet said that the media could be saved for the price of a daily coffee or for as little as 50p a day in the right pockets.
They're not on their knees as such, but those knees are beginning to buckle.
Sadly, Caroline Flack's desperate decision has been largely forgotten thanks to the current crisis, but longevity was not their aim. A life or lives ruined and onto the next quarry.
People still woke up the next day and bought the red tops as they've always done. They clicked on links to find out which celebrity was fat or old or suffering in some way. Why? Because only man is vile.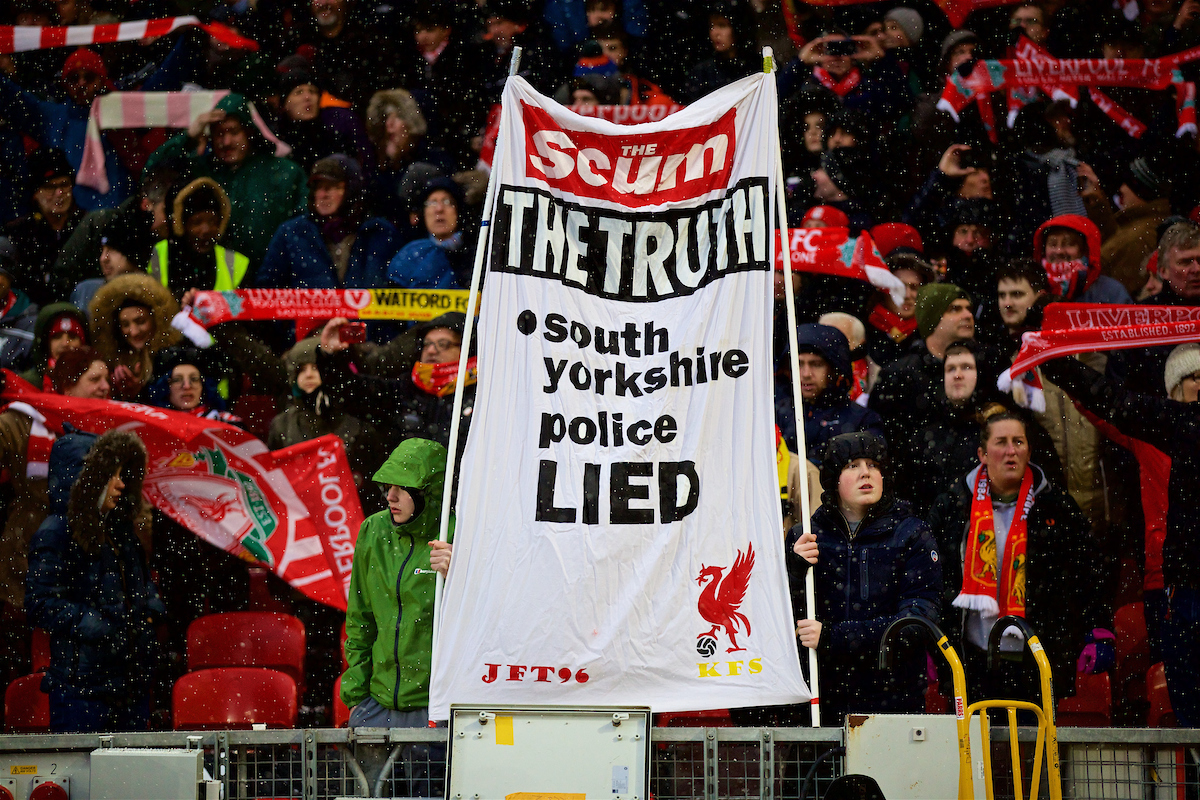 But it doesn't have to be like this. Liverpool fans know more than most how damaging the rag can be, but we also know how they can be challenged and taken down – in our city, at least.
This is not about Liverpool. Hillsborough was not about football. We just starred in it.
Similarly, Caroline Flack's family and friends experienced the business end of a heinous organisation who can be reduced by goodness, focus and faith. I know little of the allegations made about her, but none of them call for an untimely loss of life.
If she was as loved as I've read, then maybe the best thing we can do to her memory is to clean away the stain that has enveloped our media for decades and celebrated its inherent evil.
And it's possible.
Do not engage with them. Do not argue. Do not click. Do not reply. Do not forward. Do not share. That's how this spreads. If enough people turn their back, then maybe their advertisers will do the same and go elsewhere. Buy your daily coffee. Keep hold of your 50p or, better still, donate it to a better cause.
Have a look at Stop Funding Hate and see if you can join in too.
We owe it to ourselves and those whose lives have been ruined for the sake of a headline or story.
After all, this is about more than football.
---
Liverpool's Boycott Of The S*n: As Relevant Now As In 1989. #LFC #JFT96 #DontBuyTheSun

Full version: https://t.co/L5xKA3TKK1 pic.twitter.com/mLQHDnRWV6

— The Anfield Wrap (@TheAnfieldWrap) April 13, 2017