BOXING Day football is a staple of every English season.
Your guts may be stuffed to overflowing and your head might be a bit fuzzy or throbbing, but the Boxing Day programme will usually sort all that out.
It's even better if we're at home. You simply stumble to the ground, take some medicine to quell the rumbles if you're lucky enough to get to the bar and settle in.
That tradition was removed for Liverpool in 2019.
Leicester away has become a good fixture in recent years. Since their improvement to the point of Champions under Claudio Raneiri there's always been a fair bit riding on this fixture and with The Reds unbeaten at that point, it wouldn't have been a shock had we ceded all three points. Not ideal given the audience and league position of both sides, but by no means out of the question.
And though time and, shall we say, 'events' may have eroded the memory of this somewhat, Leicester had reached the stage where you'd look for their results as you left the ground. They were becoming a bit of a menace. Oh, they weren't as concerning as City, but they were on a roll and this was a hell of a time to face them.
Or, it was an ideal time to shove them away. Only Liverpool knew which it would be.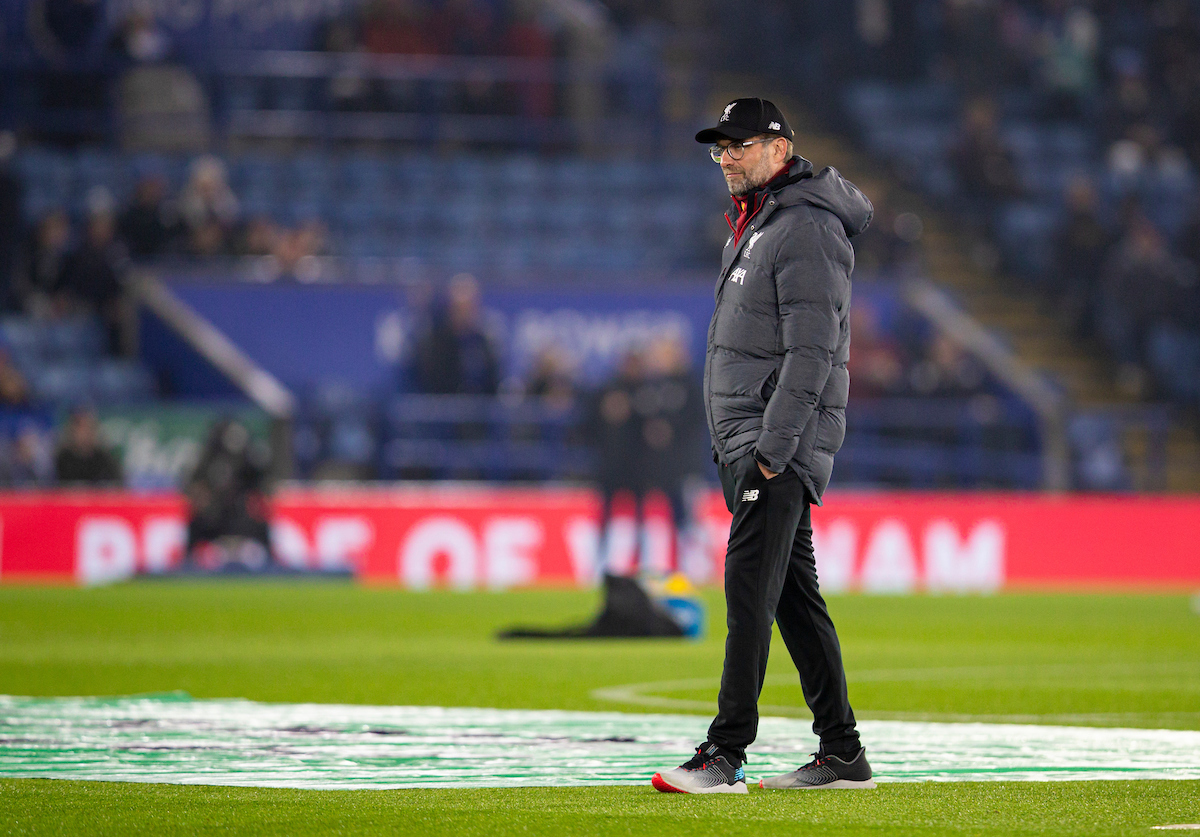 The standard Boxing Day 3pm hangover/on it/hangover cycle had been denied us this time. Sky – or somebody like them – had moved our game to an 8pm kick off.
The significance of changing kick-off times isn't always appreciated by those unfortunate enough to attend the game. On paper it makes perfect sense. The top two teams in the league scrapping it out in front of a national audience on a public holiday. Surely, we can all appreciate that.
Not if you live in Liverpool, have a ticket and need a train to get you there and back. You'd need a nice passenger seat in a car, like me, or a coach. Anything else required a bed or a couch somewhere and more time away from your family than you'd promised a few weeks earlier when negotiating where you'll be with family to visit.
It's easy to say 'don't go then' but what if you'd sorted one of your kids with a ticket for the 3pm kick off? What if you promised someone that you'd be home by 8 or 9pm? Tough. Sky or BT Sport said otherwise.
I was lucky but my chauffeur, so to speak, wasn't. My brother-in-law and I spent Christmas at a hotel in Chester with other relatives and he offered to do the driving. The plan was to get back and have a late-ish meal with the others and head off home the next day. He was taking his aunt home the following morning.
Guess where he lives.
Yep. A small village on the outskirts of Leicester.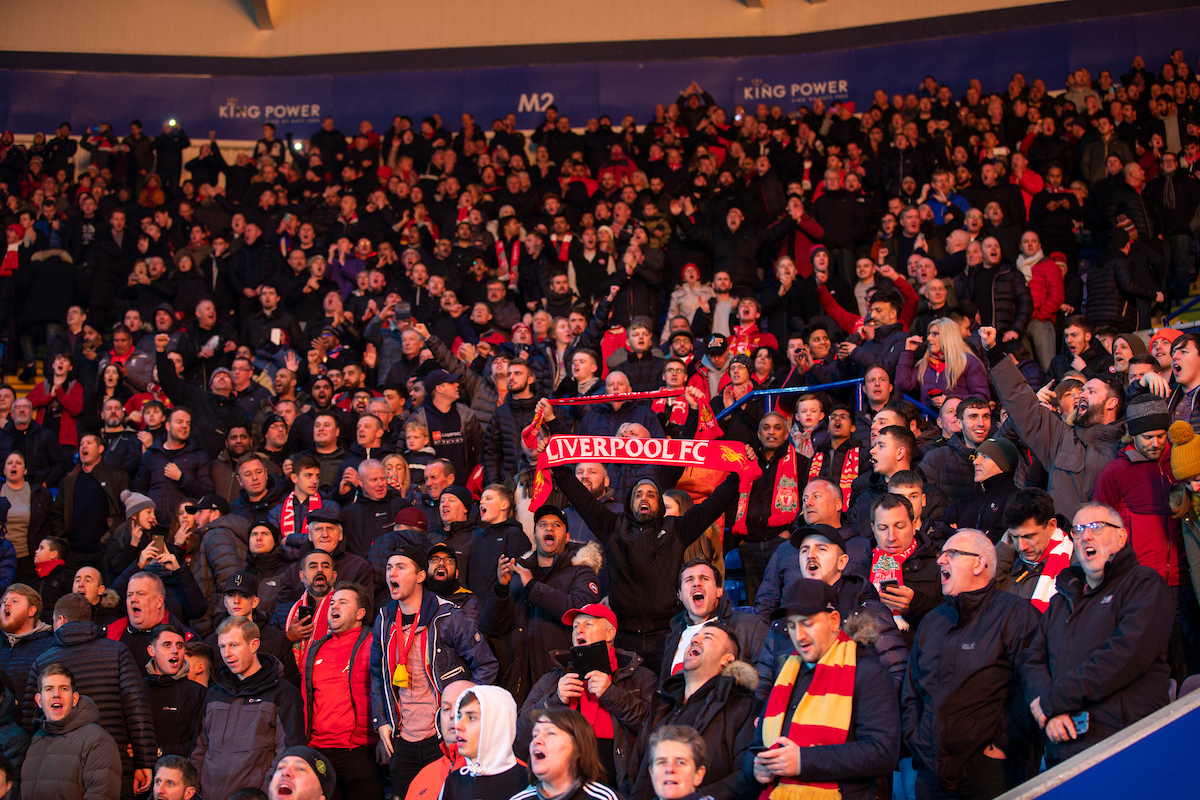 So, his day was a trip from Chester to Leicester to Chester again followed by a few hours kip and then taking his aunt home before heading off to Leicester. Again.
The things we do for this club.
Leicester City began the day 10pts behind us, and even then we had a game in hand thanks to the Qatar thing. This was our first game back since becoming world champions and the away end reminded the home fans of that fact at every opportunity.
Nevertheless, the night could end with us being seven points ahead. Thirteen ahead on Boxing Day would mean that we could talk about Liverpool finally being crowned as…
Nah. Too early for that.
Tiredness was a worry too. No one could have blamed the odd bit of fatigue given the schedule of late and a lot of people wanted us to lose this game as a penance. See, we were still a 'national disgrace' at that point for turning our back on the League Cup. Yeah. Shame that.
Leicester do this really weird thing before their games. Being 'The Foxes' they like to sound a bugle as the teams are about to take to the pitch. Everton do that air raid siren thing while others set fire to things on the side of the pitch or turn the lights on and off a lot, but Leicester sound a hunting bugle. Has no one told them that that's the noise they make before they tear the foxes to pieces?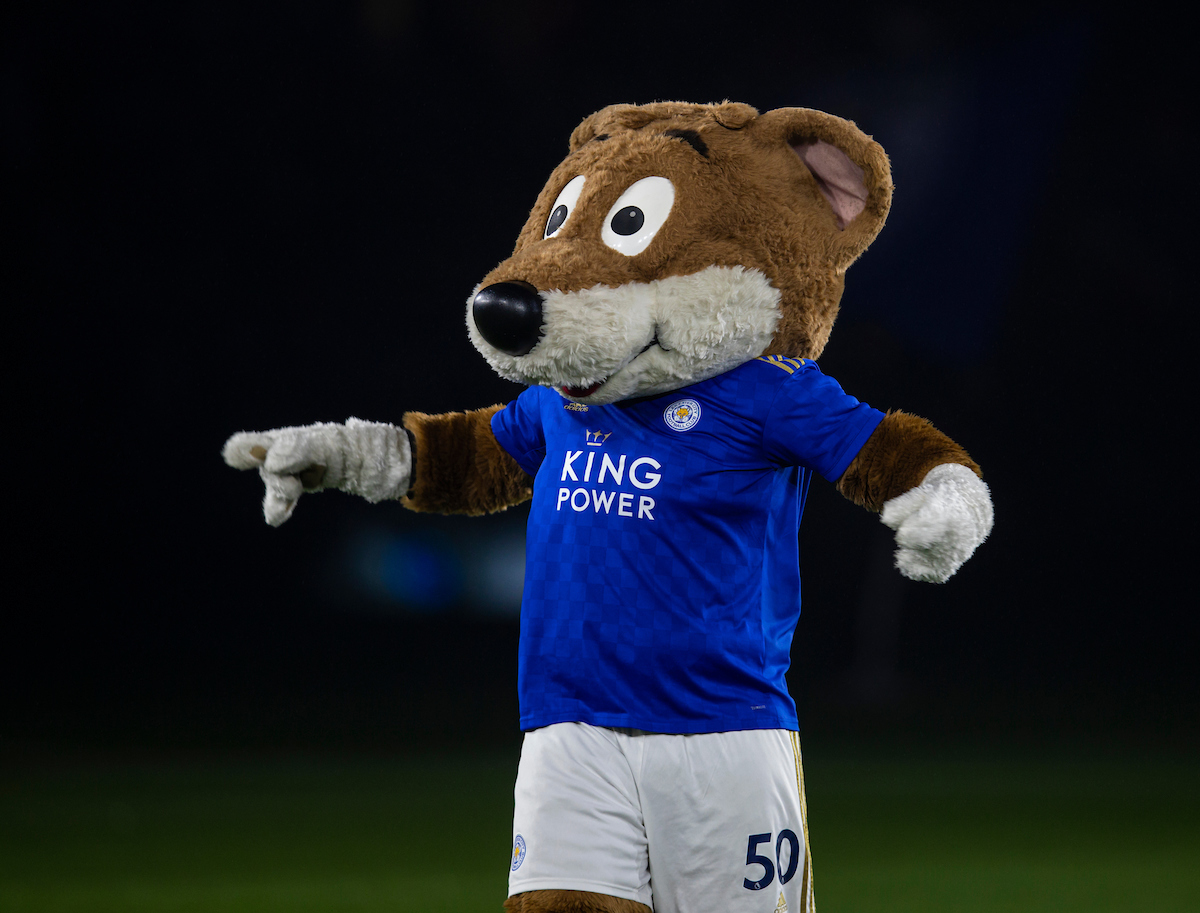 In any case it was prescient. Liverpool tore The Foxes to pieces.
Mane and Salah were unlucky to miss chances from two yards and an open goal respectively but, as the first basically hit Sadio and Mo had to turn it in from the byline, they couldn't really be blamed. It was a marker, though.
The festive period usually means that every player gets a chance at some point, and this was Naby Keita's day in the office. He's a strange player. You never know what you're going to get with him. He can either be glorious or be so far behind the play that you'd be forgiven for wanting to drop him a text to let him know what the other lads are up to.
Not this night, though.
He was graceful, he was sublime, and he was wily. That last is often the most important attribute in his position. Wilfred Ndidi and Youri Tielemans couldn't pick him up at all, which is odd as Brendan Rodgers played a narrow system to win midfield.
Of course, if you pack the middle of the park it leaves spaces down the sides. If only we had full backs who could utilise all that space.
While I'll bore anyone about the glory of Andy Robertson, I've often been reluctant to talk about Trent. Being a child of the city himself, I wonder if I can be impartial about him even when it's obvious that he's an astonishing player. It'd be impossible to discuss this game and not mention him, though. Leicester gave up the wings and Trent had a field day.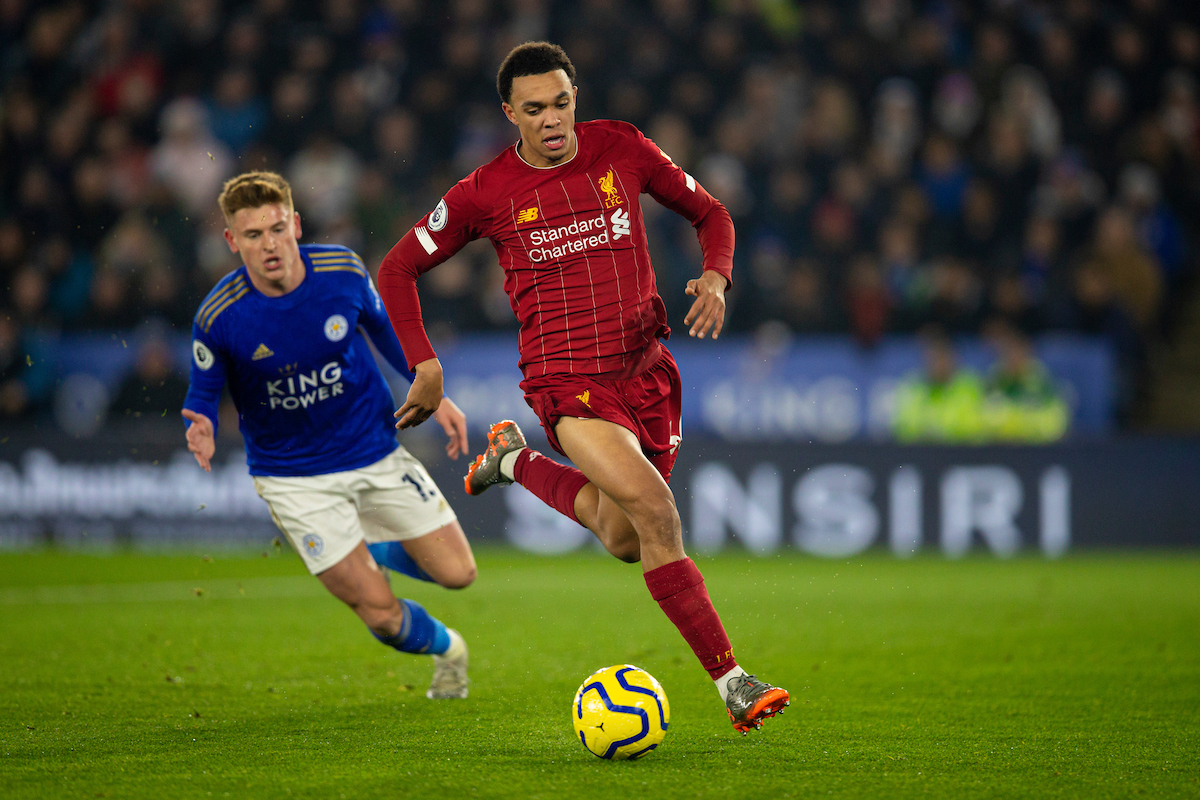 The ball for Firmino's opener was glorious, though the Brazilian still had plenty to do. After that all the home side could do was try and hold on as The Reds ran riot. Milner came on and knocked in a pen with his first touch before Firmino found himself with space outside the six-yard line to lift in a third from another Trent cross.
But this game is all about the fourth goal. Before, during and after it. With Leicester caught out up the field, Sadio Mane found himself in a pretty decent central role and only had to make a right decision to put us in again.
You know those old Road Runner cartoons where the bird runs so fast that you only see the trail of dust and the path it burns into the earth as it moves?
Picture one in a red shirt.
Trent absolutely legged it to get past Sadio. It was one of those sprints where the head falls back and the chest is puffed out like a Sergeant Major on parade. He took the pass and could have set himself up with a touch before having a shot.
Nah.
First time. Low and hard into the corner like a peak Robbie Fowler finish. No one expected that. The away end went berserk. That was what this performance needed. The icing. The topping. The final fuck you. We can do that.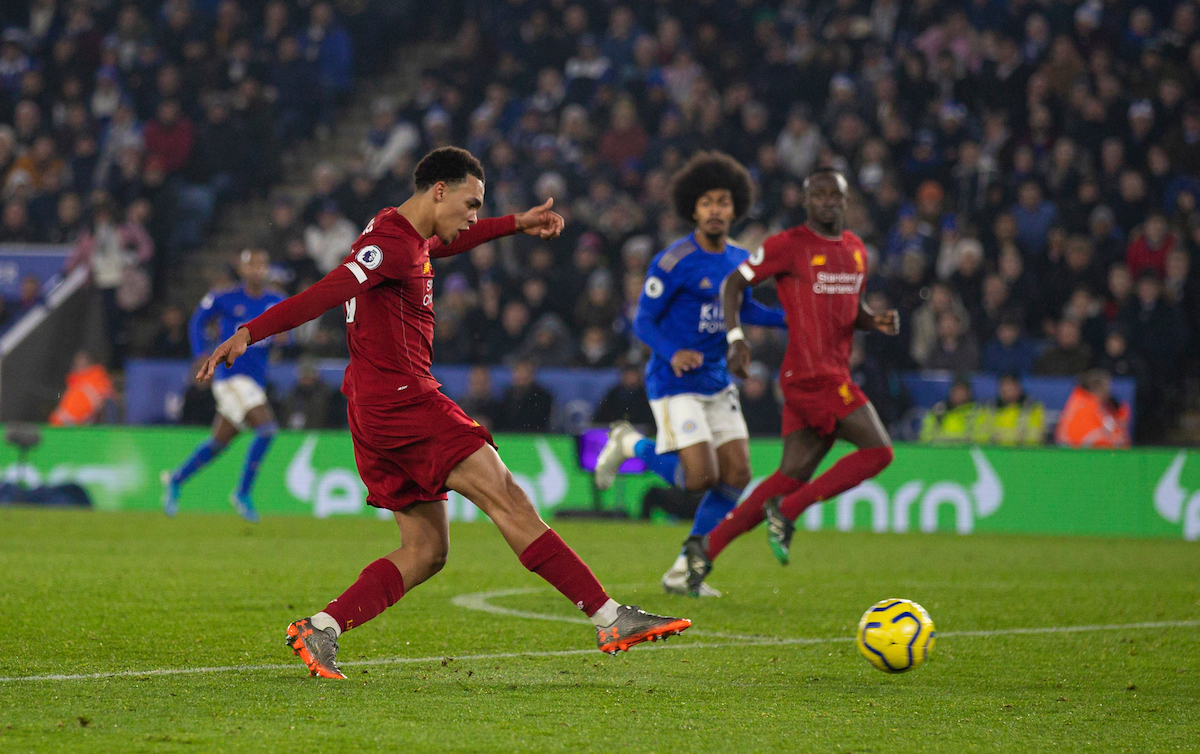 It might have been my favourite goal of the season had that been the end of it, but the celebration elevated it further. You can picture it now as you've probably seen it a dozen times too. A trot over to the corner flag, a beaming smile, a self-satisfied cross of the arms and an expression which screamed: 'What do you reckon to that then?'
It felt like a second goal. It really did. It might be the Scousest celebration I've ever seen. Not arrogant as such. Just a notice that he can do things like that.
It's also worth remembering that he performed that run on 78 minutes with the game already won. That's a player.
Leicester may have sung their borrowed songs and shown shit logos on their phone across the fan divide, but a kid from West Derby had just torn them apart on their own midden.
Leicester City 0 Liverpool 4. It was a marker. A hammering.
It was the World Champions.
---
"That's one of THE great Liverpool performances.

"As good as anything I've ever seen in my life." ♥️

📱 Subscribe here for all of our reaction, live from the King Power, as the Reds go THIRTEEN points clear 👉 https://t.co/XZAK9veWt7 pic.twitter.com/rTIJ8yY1MW

— The Anfield Wrap (@TheAnfieldWrap) December 26, 2019