LET'S have it right here from the very beginning…
Liverpool's win at Wolves on December 21, 2018, was NOT my favourite match of last season. But you know, we are where we are.
Mr Friday Column is left with the breadcrumbs after everyone else this week has feasted on the Champions League final, the trip to Bayern, that Divock goal from that Merseyside Derby…
The frigging bastards!
But go 'ed then, Wolves. I did enjoy that one immensely. It was deep into winter, it was absolutely lashing down, and lots of people – our fans, their fans, pundits, journalists – were doing that sucking teeth noise that mechanics make when they're about to tell you that your car is fucked.
It was all the cliches. The potential banana skin. The good side with the strong home record and the decent crowd. On the telly on a Friday night, the floodlights on, the world watching, a sell-out crowd. This was when Liverpool would trip. This is when a chink in the armour would be exposed. The unbeaten record faced a major threat.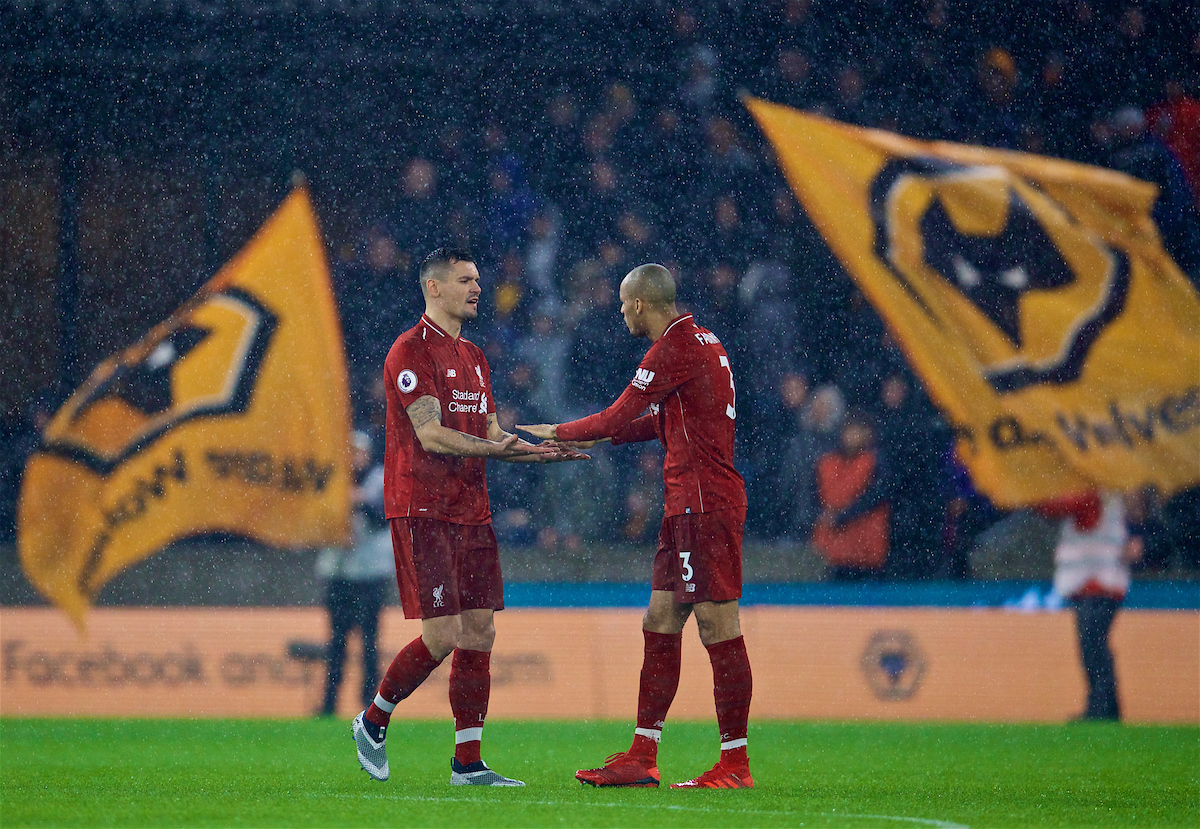 In fairness, Wolves had already taken points off Manchester City, Manchester United, Arsenal and Chelsea.
But Liverpool, though.
One of the best things about this current incarnation of Liverpool FC is the ability to just get the job done. Better than any side I can ever remember, there's just a steely will. A capacity to shut out the noise and concentrate on what matters. Very rarely do you see any evidence of anything getting to them. They play the match, not the occasion. Over and over again.
Remember Wolves' pre-match light show?
Fuck off.
Football just doesn't need contrived nonsense like that in the name of building an atmosphere. Once upon a time we sang and screamed and got behind our teams and it was just fine. Fireworks, light shows, pep talks from blerts with microphones – it can all get in the sea.
And after all that talk, and the shitshow lightshow, Liverpool just knuckled down and cracked on. Arsed what you say, arsed what you do – here we are, let's go.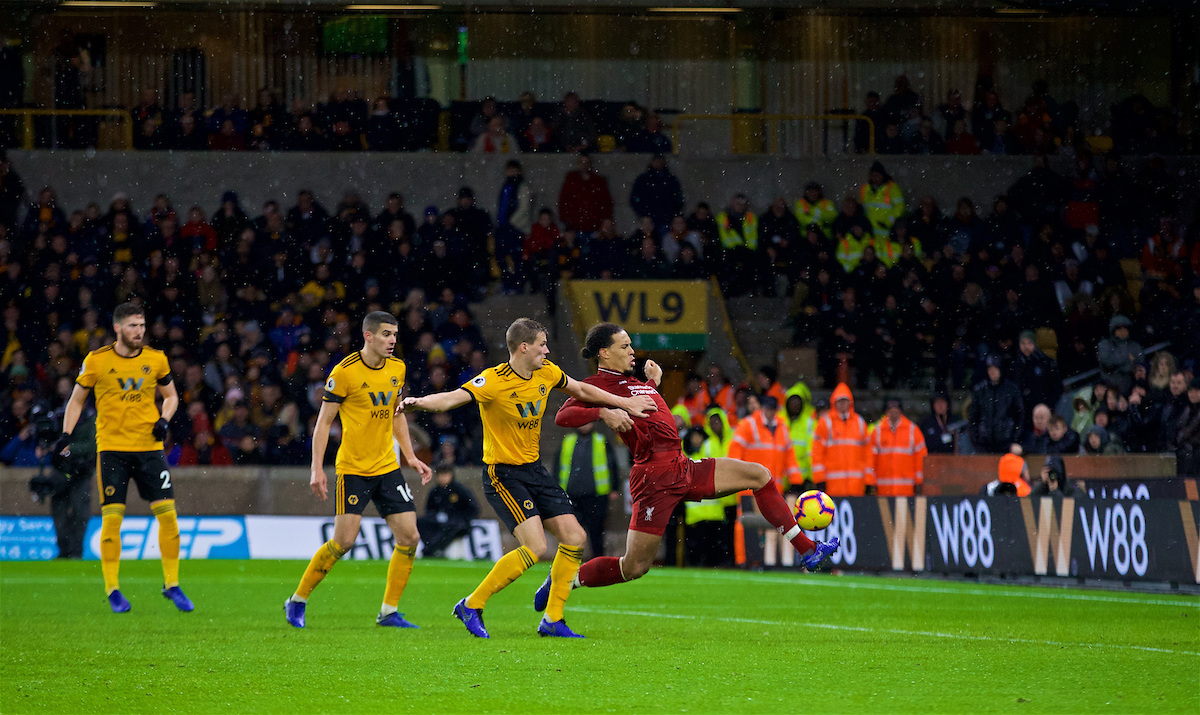 There had been a big talking up of Adama Traoré pre match and there was a moment early on where he momentarily got away from Virgil van Dijk and tried an ambitious shot that was never beating a goalkeeper of Alisson's quality.
From there though, he nestled nicely into the pocket of the big Dutchman. We all love goals obviously, but that moment when Traore knocked it and tried to outpace and outmuscle our number four and he just basically went "NAHHH" and matched him for speed and strength was nearly as good as one. It got a celebration from me, anyway.
And of course he scored an actual goal – his first Premier League goal. And it was netted, as the song goes, calm as you like. A cushioned finish a number 10 would have been proud of. He was man of the match that night. And he's been man of the match many more times since.
Mo Salah got The Reds' other goal and it was all done – top of the league at Christmas wrapped up, records falling all around us.
Then Jürgen Klopp came out. Just when you were toasting a job well done, the manager walked in front of the cameras and slapped some psychological balls on the table.
"You will probably need 105 points to be champions at the end of the season, you don't know," he said.
We know what we know now but I loved that. The blase matter of factness of it.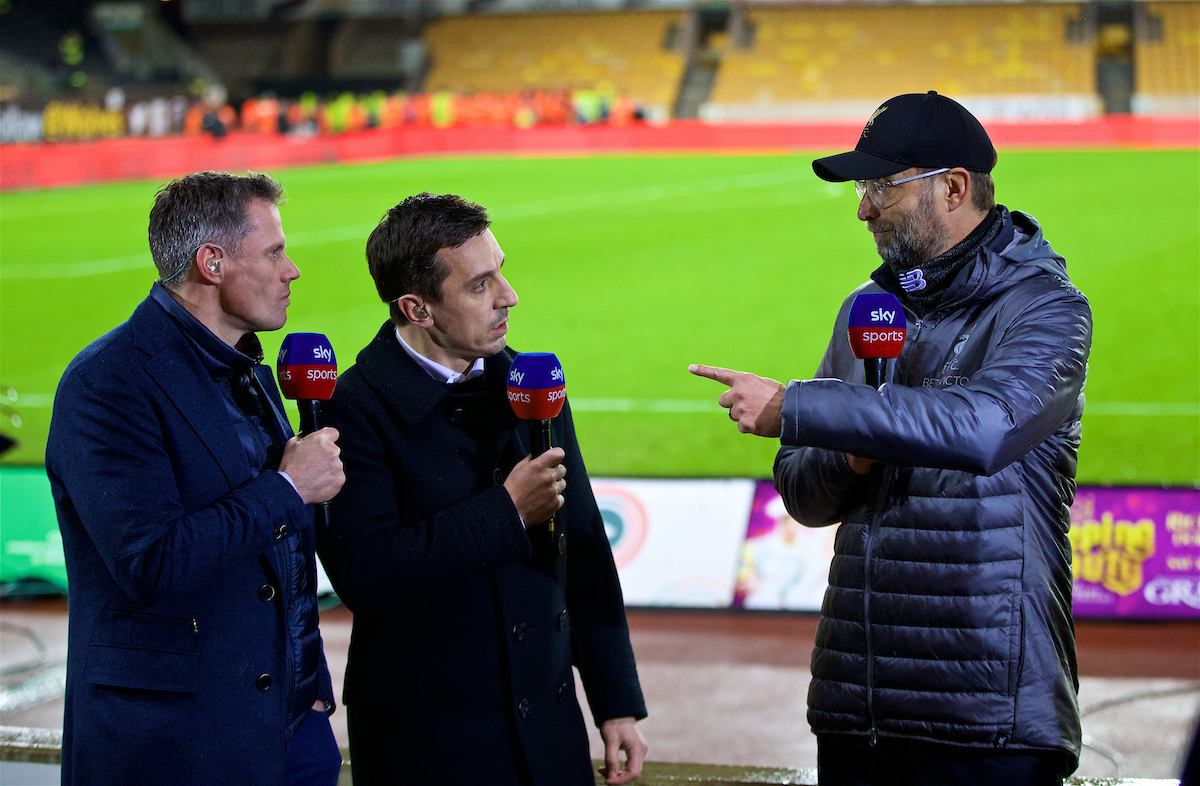 "Yeah, mate, might have to climb Everest. But sound, piece of piss. Just a hill isn't it, lad."
It's part of what makes Klopp special. Most managers would shy away from that talk. Putting a scary number like that on a season before Christmas? No chance.
With our manager, it's just a challenge. Something to be conquered. Something to be overcome. And lashing it out there then waving it away does two things – it shows he has every faith in his team to do just that. And it must surely make stomachs tingle for the managers looking in from the outside.
The season ultimately ended well. But it deserved more. We had so many days and nights of what we witnessed against Wolves. In any other time it was the title. They deserved then and they deserve it now. And now we wait. Again. Waiting. Watching. Wondering.
I watched that game with my mates in the pub. We had a cracking night. We laughed, we sang, we drank, we celebrated and we toasted the Mighty Reds. Oh for those times again.
Pass the bleach, Donald.
---
"This is by far the best Liverpool team I've seen… it's one of the best teams the Premier League has seen." 👏

🗣 Subscribe and listen to our immediate post-match reaction show after the Reds beat Wolves to go top of the League 👉 https://t.co/Y74hlJ4yQF pic.twitter.com/110WMb01qw

— The Anfield Wrap (@TheAnfieldWrap) December 21, 2018