YOU simply cannot overstate just how good Manchester City were in 2017-18.
I struggle to understand how anyone who witnessed that season can try to argue, with a straight face, that the Arsenal 'Invincibles' were better, or Jose Mourinho's Chelsea, or any of Alex Ferguson's Manchester United teams, even the 1999 treble winners.
None of them absolutely wiped the floor with the league in the way City did, and more to the point, none of them did it by breaking the opposition down every single week in such merciless fashion. Nearly every game was like watching Barcelona play Port Vale (unlike City's domestic cup games, which always seem to literally be them playing Port Vale).
Pep Guardiola had struggled a bit in his first season in England, but very much got the hang of it in his second. After a 1-1 draw with Everton in their first home game of the campaign, in which they had to come from behind and play the entire second half with 10 men, City won every single game until a 0-0 draw at Crystal Palace on New Year's Eve.
This included a period where they scored five or more in four out of five games against Liverpool (five), Palace (six), Watford (five) and Stoke (seven).
Guardiola and City were raising the bar exponentially in the Premier League, and had the title pretty much sewn up before Christmas presents had even been handed out.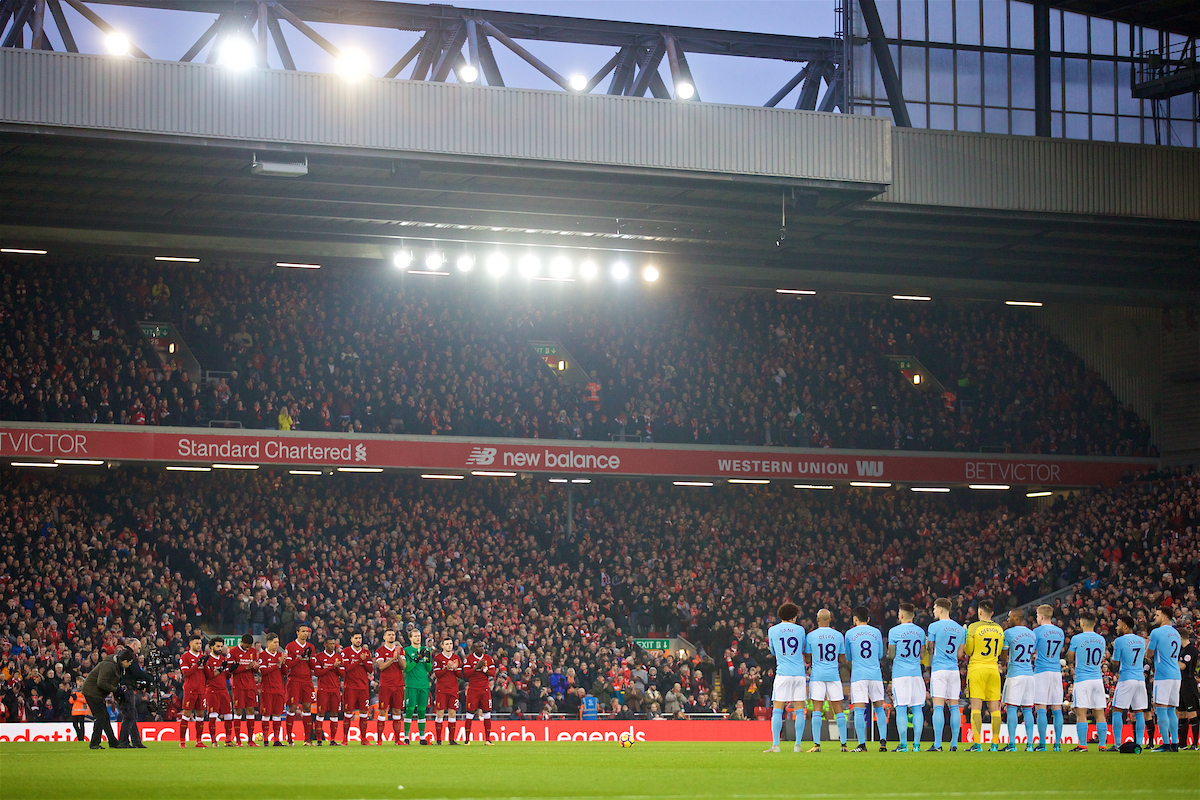 Mourinho's United were in second place, but were never real challengers, and seemed to be playing beyond themselves already (as Mourinho often pointed out). It didn't look like anyone was going to step up and bloody City's nose anytime soon.
Then, up stepped Liverpool.
The Reds had shown signs of potential brilliance in the first half of the season, but still suffered from a soft underbelly that had led to thrashings at the hands of City and Tottenham, and failing to win at Watford and Arsenal despite scoring three goals against both.
The humbling against City in just the fourth game of the campaign had been a hard one to take. Liverpool had played quite well up until Sergio Aguero gave the hosts a relatively undeserved lead, and just to make matters worse, Sadio Mane was sent off for an accidental, albeit clumsy, collision with Ederson.
City took full advantage, and walloped Klopp's men 5-0. How much it was down to the sending off was debatable, but the 4-1 loss at Spurs suggested that there was still much work to be done for Klopp to even begin to think about challenging at the top.
Those were actually Liverpool's only two defeats in the first half of the season, but eight draws had undermined any title challenge, so by the time City rolled into Liverpool in early January, the only aim for the hosts was to prove that the 5-0 at the Etihad was not truly indicative of the gap between the soon-to-be rivals.
After the collapse against Arsenal, Liverpool confirmed the £75m signing of Virgil van Dijk from Southampton. The Dutch colossus was expected to shore up the leaky backline, and had already made his mark against Everton in the FA Cup, but he wasn't fit to play against City.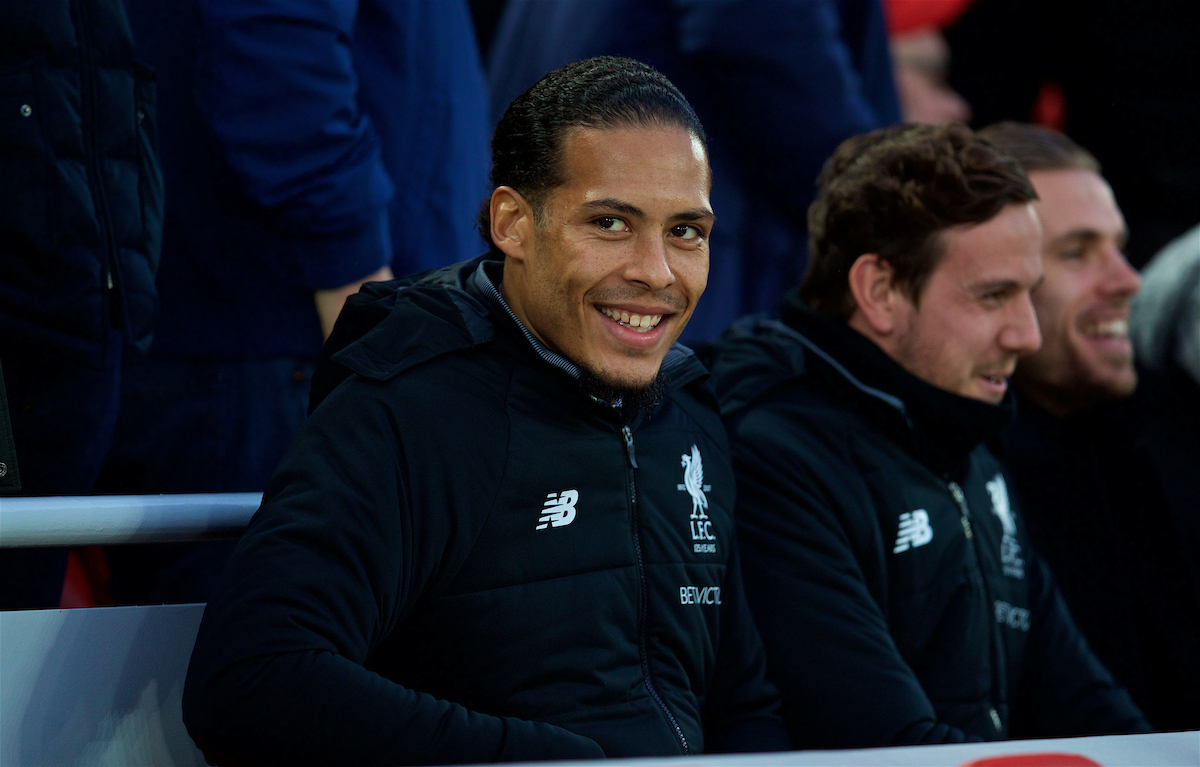 One of the players who suffered worst from the hammering at City was Alex Oxlade-Chamberlain. The summer signing from Arsenal made his debut off the bench, thrown into a situation that no footballer ever wants, to make his first impression on a day where the only impressions were always going to be bad.
'The Ox' hadn't been able to show the fans what he could really do up to that point, struggling to start games, or to impose himself when he did. He started at Anfield though, and forced his impression on the game early on.
The former Gunner marauded forward and slammed the ball into the far corner of the Kop end net inside the first 10 minutes.
His selection had raised a few eyebrows, but one thing that teams always seemed reluctant to do against City was to go at them through the middle of the pitch, knowing that any loose giveaways could be picked off and end up in your goal before you knew what was what.
Klopp threw caution to the wind, and it worked, though it felt like a City response would be inevitable.
"You made me bleed my own blood, you'll pay for that" seemed a likely attitude for the visitors to take on, but that wasn't the case. They wobbled, and Liverpool could, and probably should, have taken further advantage.
As it was, a rare City attack just before half time saw Leroy Sane hammer in an equaliser. The league leaders needed that bit of fortune, and presumably would recover to see off the challenge of the plucky Reds in the second half.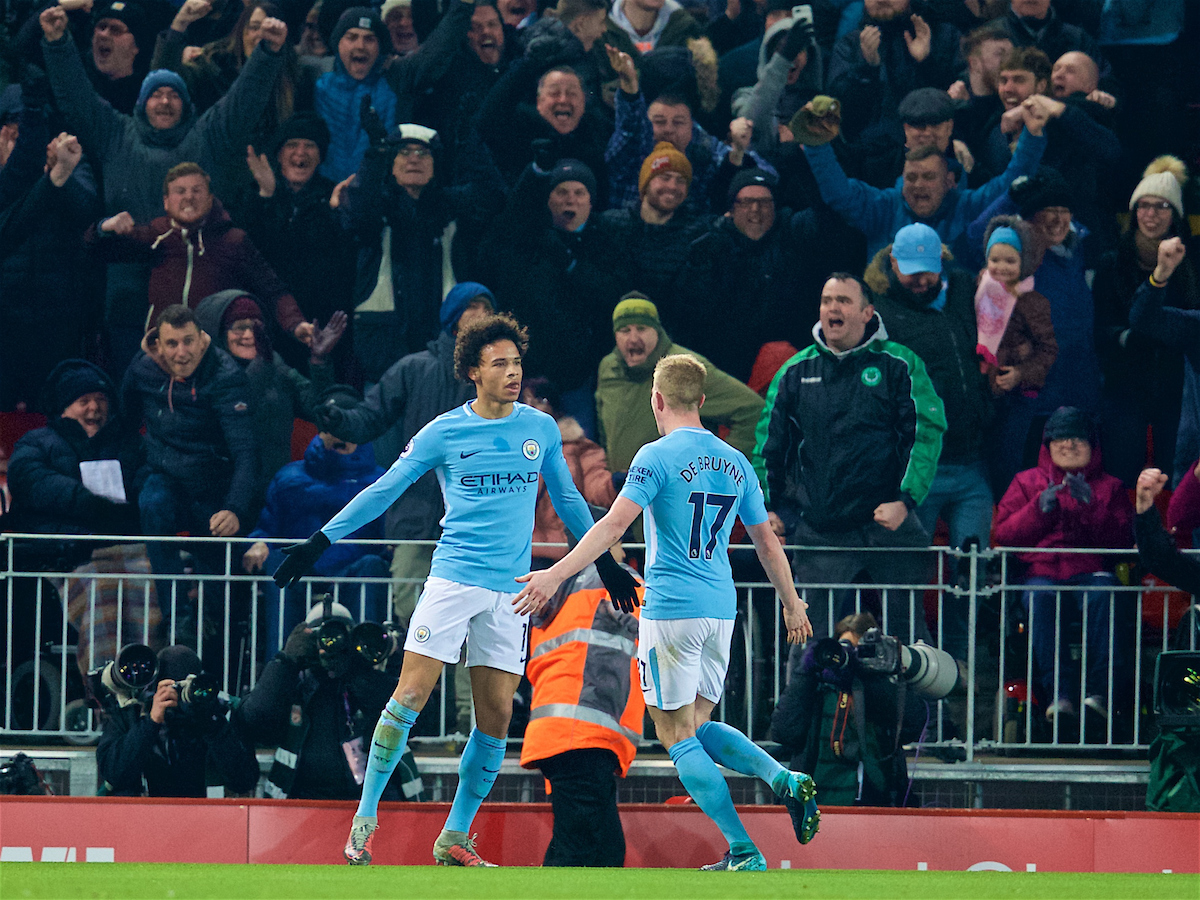 How gutted would Liverpool be? All that hard work and relative dominance in the first half, and a sucker punch to undo it all just as they were thinking about their half-time oranges.
The club had agreed the sale of Philippe Coutinho to Barcelona a week before this game, and many had wondered how they would maintain the sort of thrust in attack that they had shown prior to his departure.
More to the point, would they still be able to get the best out of Roberto Firmino, Mo Salah and Mane without the creative genius of the little magician with the sore back?
After 68 minutes at Anfield, you could have asked any Liverpool fan if they were missing Coutinho and the likely response would have been: "Who? Now either get out of my way or let me kiss your face."
A goal from Firmino after the Brazilian had barged John Stones out of the way and chipped Ederson was followed by a scintillating move that saw Mane accurately arrow a left-footed shot into the top corner, which was followed by Ederson miscuing a clearance straight to Salah, who lifted the ball over him from all of 40 yards.
Liverpool 4 (FOUR) Manchester City 1 (ONE).
This was incredible. Unbelievable. Unprecedented. The great Man City side that had not been beaten all season were being obliterated by Liverpool. After Salah's goal, it felt like The Reds were on course to equal or better the five-goal margin with which City had beaten them in September.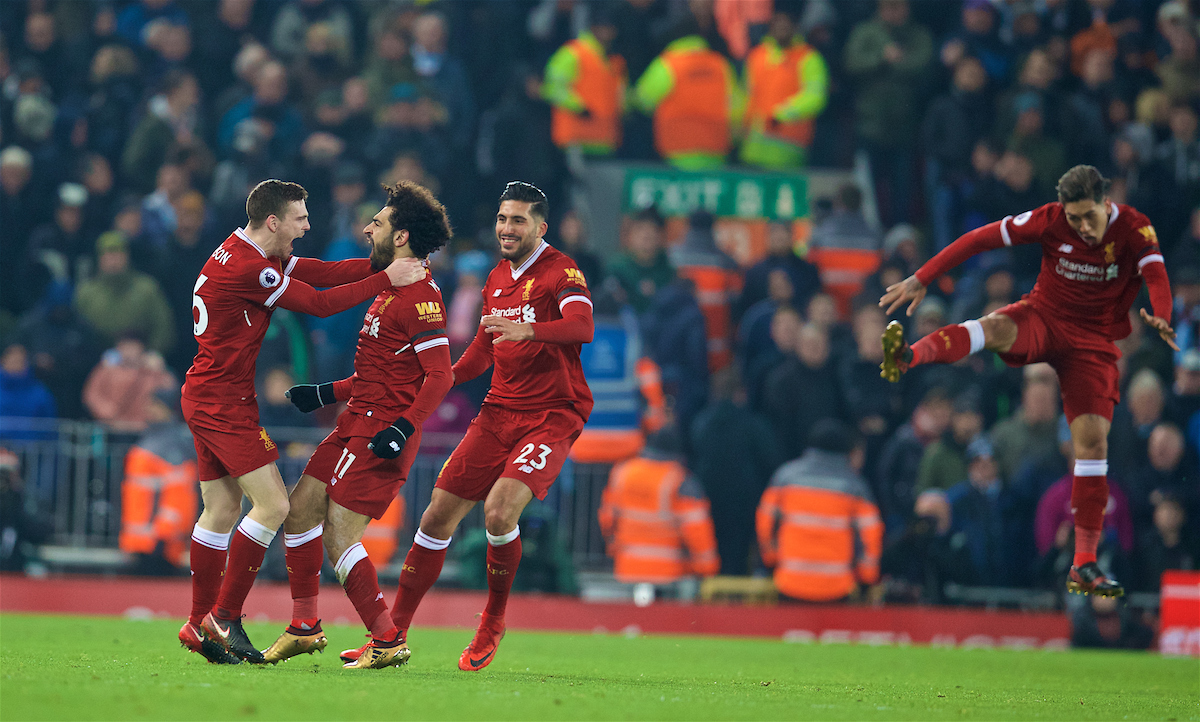 As it was, a slight wobble and a brief return to their old ways of wonky game management led to City pulling back two consolation goals to make the end of the clash far more nervous than it should have been. However, the impending addition of Van Dijk to the regular lineup meant that fans weren't as concerned by this familiar scene as they had been previously.
The goals were flattering to City, and ultimately led to nothing more than face saving as Liverpool won the game and ended City's hopes of going unbeaten all season.
It was a big three points in The Reds' quest to secure a top-four place, and was never going to affect City's procession to the title, but it still had a big knock-on effect later in the season.
The self belief gained by the squad from the win, and arguably more importantly, the performance, undoubtedly played a big part in the two-legged Champions League quarter-final clash between the two a few months later, which Liverpool won 5-1 on aggregate.
This game was the first time that Liverpool proved that they could match a team as good as City on their day. The trick was to make performances like this more common, and to try and eradicate the rare disaster days and the all too common sloppy draws with inferior teams.
Many in the media, and certainly in Manchester, were convinced that this was a one off, typical of Liverpool that they could step up to incredible levels on big days with a roaring Kop behind them, but that ultimately, City's consistency was unbridgeable.
It was, though, only a warning sign of things to come from Anfield.
---
"What a football team. What a gang of lads." 🙌

🗣 Subscribe to #TAWPlayer to listen to our immediate post-match reaction show – https://t.co/moOlrh7fXX pic.twitter.com/uWu7fgMDDA

— The Anfield Wrap (@TheAnfieldWrap) January 14, 2018