THE more we find ourselves holed up in homes and lassoed by lockdown, the more the idea that football is inconsequential looks ever more daft.
When placed side by side with living or dying, then of course there are no comparisons.
Everything is on hold now with very good reasons – and for every single one of us, to lesser and greater degrees, the Coronavirus crisis will be creating pain and worry.
But while Jürgen Klopp, Bill Shankly and Arrigo Sacchi among many others in the game past and present have discussed the importance or otherwise of football in the grand scheme, we're now living a new reality.
For the football fanatic, and there are thousands and thousands of us, life as we have always known it has been put on hold and swapped into its place is a grim new reality featuring only reruns, retro and conversations from afar via technology.
All those things about football that allowed us to maintain a mental equilibrium were put on pause with no time to prepare. And in the necessary reality of preventing a pandemic getting even worse, there's nothing to fill that yawning gap of the next match, the next pint or even the next episode of Match of The Day or Monday Night Football.
I can't speak for everyone, but I'll take a wild guess that it's fairly common that as you move through life you end up questioning pretty much everything about it at some stage. Your own character, your career, how you live life, even your love for football.
If, like so many of us, you've devoted so much of life to it, thousands of pounds, thousands of hours, you've likely found yourself wondering 'what for' at some point.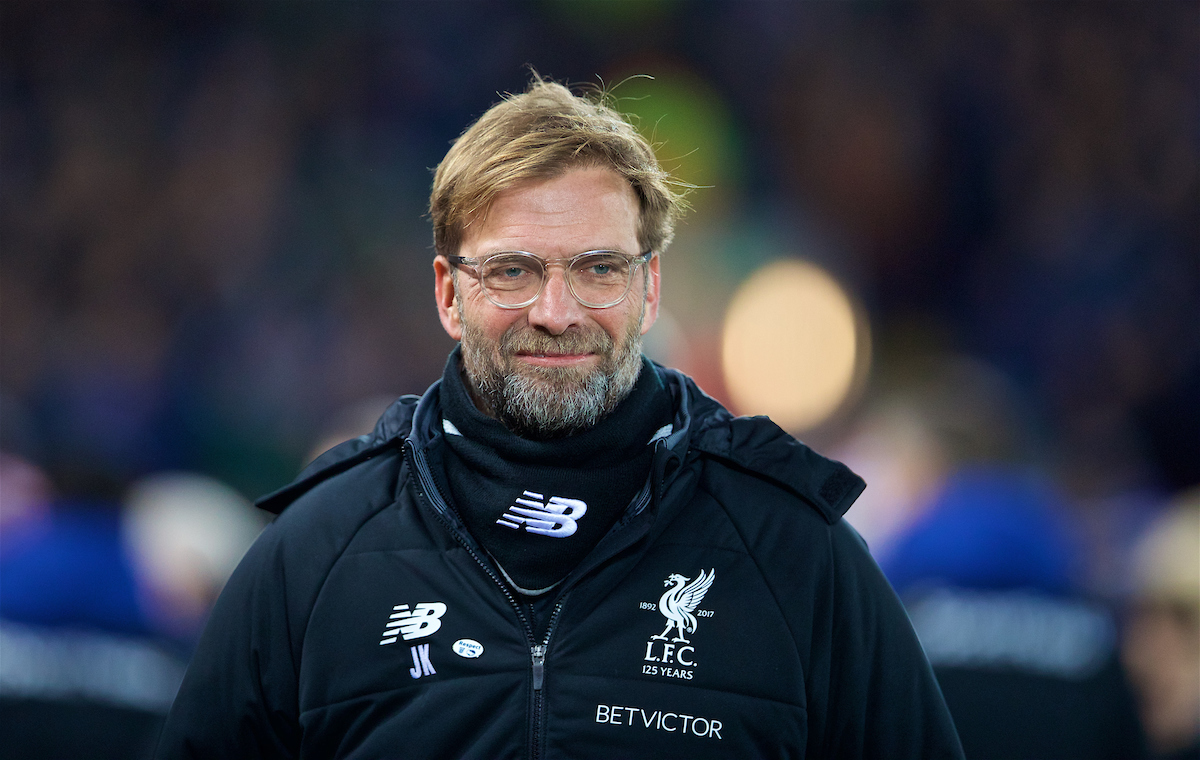 Now, though, we feel the 'what for' like never before. This isn't like the ever-decreasing gap between seasons also known as 'the summer'. Very often they are filled with international tournaments or pre-season games anyway. There is always another football fix on the horizon, always another date in the diary.
Think about the joy of the football fixtures coming out. Knowing when the derby will be. Knowing when we play the Mancs. Starting to plan away trips. Thinking about future life with some certainty and planning things around football.
All that certainty has been stripped away. That pillar to lean on removed. And that's why football is important.
It's 'only football' but it's also – for so many – a way out, a release, a reason to socialise, an opportunity to escape, a way of putting the weekly mental chimp in its cage for a while but also a chance to allow the weekend mental chimp to break free and beat its chest.
Have you ever thought long and hard about why we celebrate goals like we do? It's really hard to explain, isn't it? It shouldn't matter that much, but it does.
It's why sacrifices are made, debts are racked up, other experiences are forgone. It flicks a switch in the mind, it turns a light on in the soul.
It's why we care so much about what the club does and how it does it. Away from family and friends, it's an emotional investment like no other.
And so, after the longest drop intro known to humankind, to the point. This piece came with the open invitation to write about any match from the 2017-18 campaign.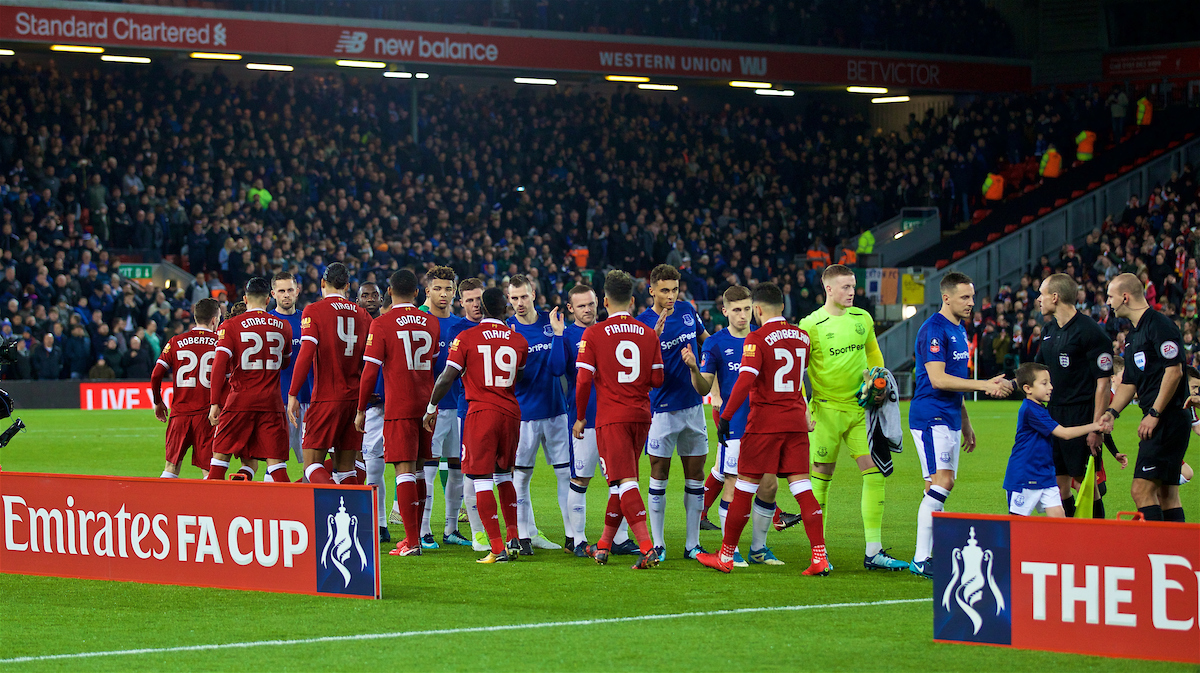 Scanning the results and remembering the story of the season, the Virgil van Dijk saga came to mind.
The fury at the fuck up, the grimace at the apology, the joy at the big Dutchman clutching a kit by his Christmas tree. And then, his debut…
Plenty wondered about the dream scenario – a fairytale start, the big man nodding the winner at the Kop end to topple The Toffees and boot Everton out of the cup.
That couldn't happen though, could it?
Imagine that. Think about that. The anticipation of what could happen is a joy in itself. Something else we're currently being denied in a climate of doubts.
Everton had annoyed us only weeks before. Stereotypically Sam Allardyce-esque in performance, they had claimed a point at Anfield with a dodgy penalty.
This then, was when we'd put the wrongs right. A dodgy penalty went our way this time.
And then it actually happened. The clock seconds away from clicking over to 84 minutes, and there he was, Virgil van Dijk, heading the winner into the Kop net. Pickford punching the floor, the centre half mobbed by teammates, the ground screaming that incredulous joy of a dream come true.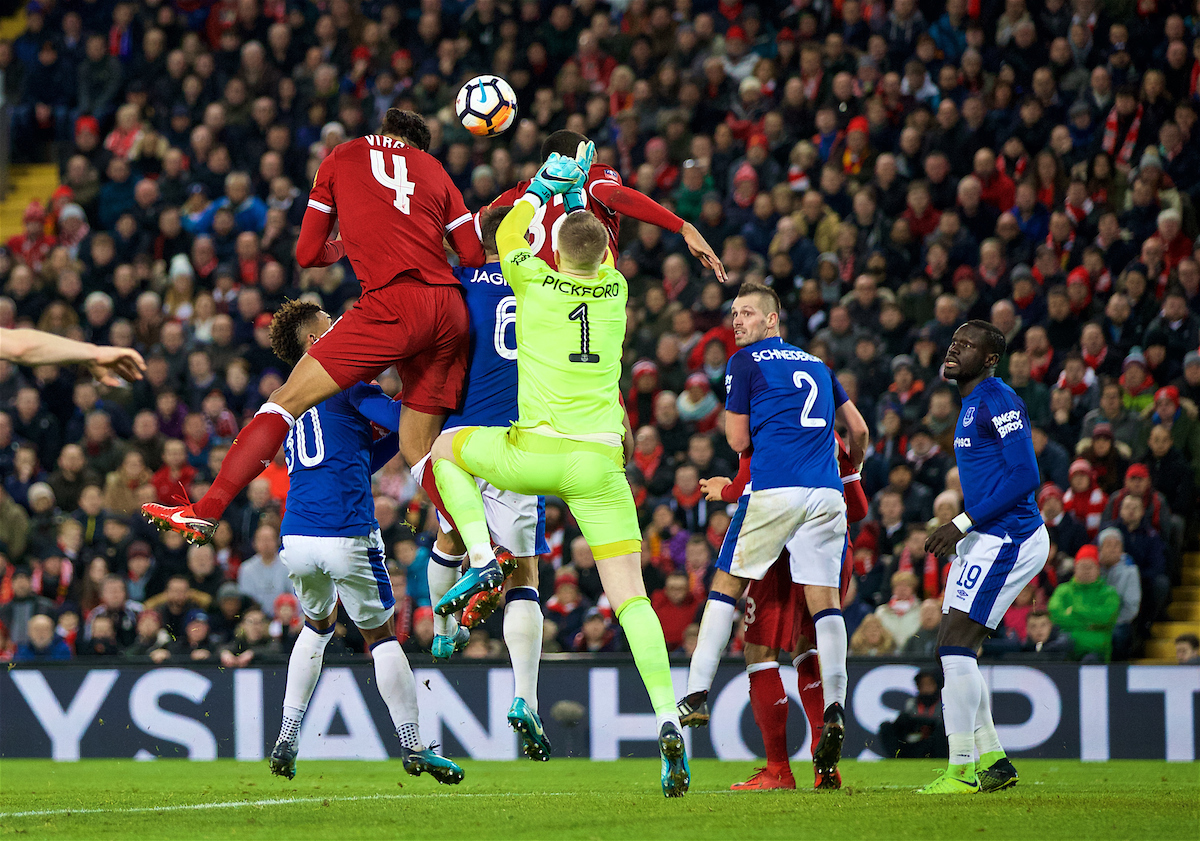 For those that have racked up countless clicks of the turnstiles and have the passport stamps to prove it, it's easy to take these things for granted and become blase about it all.
For the record, van Dijk became the first Liverpool player to score on his debut against Everton since 1901 that day.
Eyes stretched wide, mouths hanging open, arms held wide, how many Liverpool supporters turned to how many others and screamed the words "Virgil van Dijk" in that moment?
That shared joy, that community spirit, that moment of seeing your own emotions dancing on the faces of so many others, that's why we do it – that's what makes it all worthwhile. And that's what is missing right now.
Memories can only ever bring back a tiny glimmer of that heat of the moment joy. It's a warm smile compared to a primal scream.
And that's why so many talk about football even in times like these. We know how it feels – and we want to feel it again. More so when Liverpool are so close to a first title in three decades.
Virgil made us dance that day in January. And all we want to do is to dance once more.
---
"Yer haven't won a trophy, yer haven't won a trophy, yer haven't won a trophyyy, since 1995!" 🎶

🗣 Subscribe to #TAWPlayer and listen to our immediate post-match reaction show here – https://t.co/KsBY0E1Z53 pic.twitter.com/9KlQjVuiMk

— The Anfield Wrap (@TheAnfieldWrap) January 5, 2018