STATUS and standing can often be seen as dirty words in the day-to-day business of life.
If you're talking about yourself in relation to either you're likely teetering perilously close to a "don't you know who I am" situation. And who would want that?
In football though, status and standing count for a lot. Clubs are built on it. And we don't mind shouting about it. It's in the songs, the flags, the banners – it's in your swagger when you go away from home.
Think about it. If you've ever had one of those fruitless tos and fros with a rival supporter, you've probably found yourself dropping in Liverpool's trophy count.
"We're by far the greatest team, the world has ever seen…"
We love it. And I suspect most sets of fans are the same. Think of the staple decor for so many football grounds now, including Anfield. Statues of legends, stands named after superstars, claims of greatness, reminders of the good times.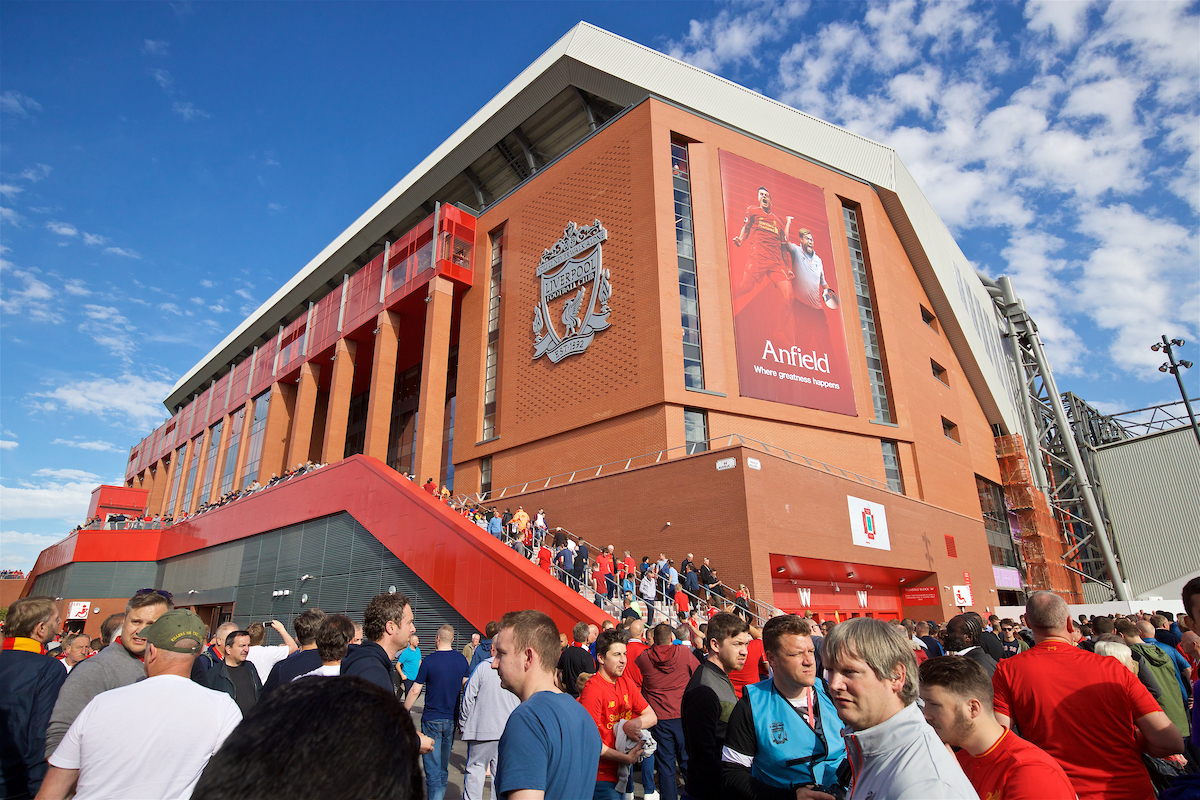 All about status and standing. History. Image. Reputation. Something to take pride in and fuel a little a fist clench.
It's why we place so much stock in the ground of the club we love. The home of Liverpool. The place we've made a pilgrimage to so many times.
After so many failures and fairytales, plans that never got beyond a picture, dreams that were denied, Liverpool under the ownership of FSG decided to stay put at Anfield and get the builders in.
And, after some well-attended first look events for fans, the curtain was truly pulled back on the work on a new £115million Main Stand against Leicester City on September 10, 2016.
The Reds had played their first three league matches of the season on the road due to a delay in development. So everyone was itching to get in there – to see the new stand for real, to see Jürgen Klopp's Reds and just to soak up everything we love about it all once more. (Sounds familiar, doesn't it?)
For The Foxes, there must have been talk of ruining the party. As they liked to remind us back then (and still do now – you would, wouldn't you?) they'd won the title more recently than us. They arrived at new-look Anfield as champions.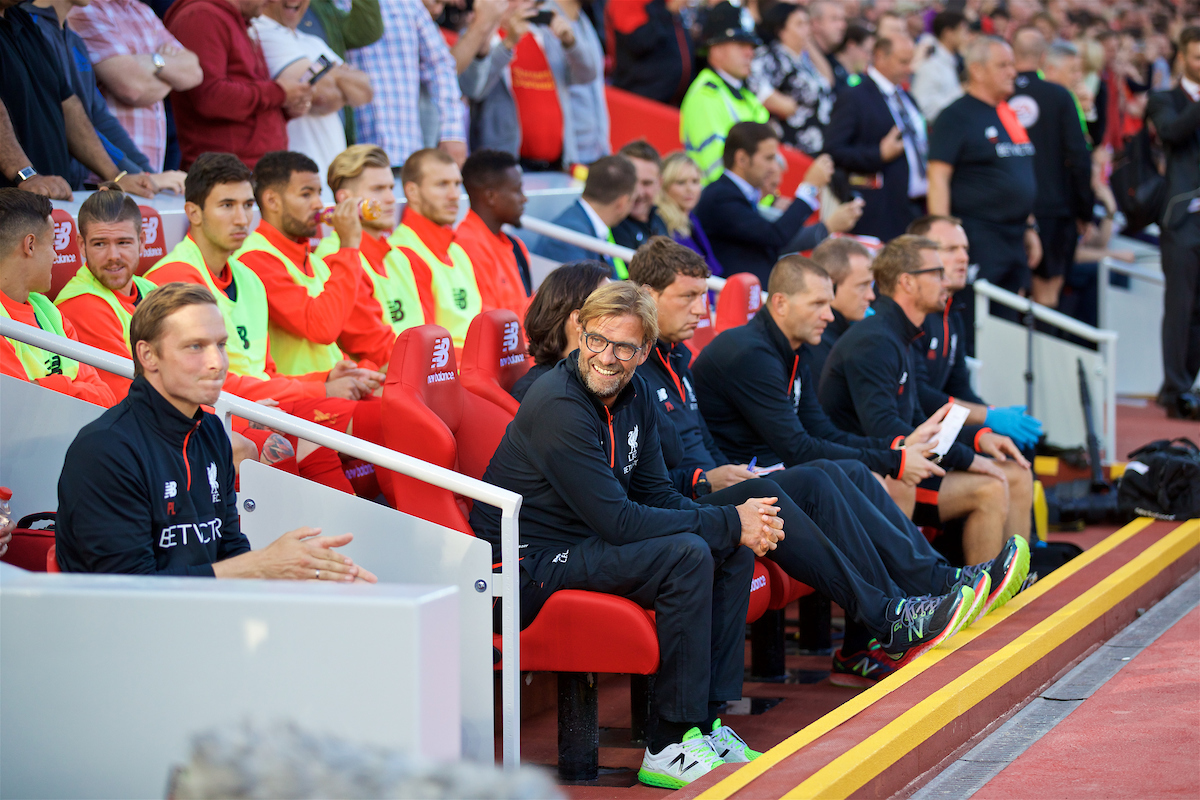 It was annoying then and it's annoying now. It felt somehow wrong. All those seasons when we had won more points than they had that campaign. Why them and why not us? Yet there they were, lifting the trophy. And there we were, still waiting.
It helped, I think, to give games with Leicester an extra edge. They've caused us plenty of problems too. So there was that as well.
Ten of their regular starters in their title-winning season lined up. So on a day that was a celebration of standing and status for Big Stand FC, as some Evertonians so brilliantly dubbed us, these pretenders needed putting in their place.
And they were.
Released by James Milner and turning smartly, Bobby Firmino – sporting a top knot back then – put The Reds ahead on 13 minutes and suddenly the sound of 54,000 people, the biggest crowd at Anfield since 1977, was truly heard.
Back then still wearing number 11, the boy from Brazil with the smile from the gods almost got caught up in it all, stopping mid strip of his shirt as Anfield's shiny new structure bounced with the arms and legs of a Liverpool goal for the first time.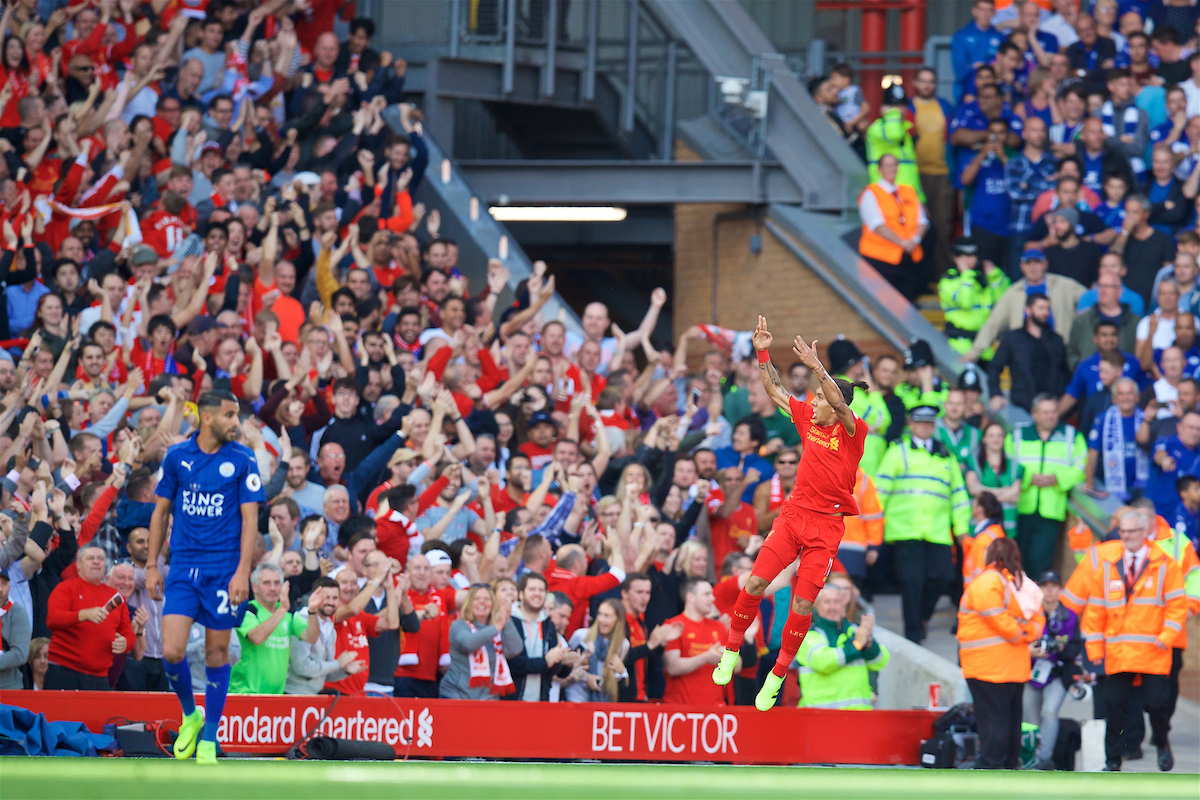 A lovely team goal was then rounded off by a cheeky chip from Sadio Mane to make it 2-0 just after the half hour before Lucas – lining up at centre half – needlessly plated up a lifeline for Leicester, Jamie Vardy gleefully snapping up a watch-through-your-fingers pass across the face of the Liverpool goal.
Adam Lallana lashed one high into the top corner of the net second half to make it 3-1 and Firmino wrapped a bow around it all a minute from time, tapping in after Mane had skinned Kasper Schmeichel amid a dodgy Bruce Grobelaar impression as he ran way out of his goal.
It was the perfect day. The champs were made to look like chumps, The Reds turning it on, the sun shining, goals flying in, and some glorious full-blooded sounds from our pimped-up new home. We got to have our party and we got to have that pint.
Oh to be back there soon…
More, it was an underlining of that status, a show of red strength, an exclamation of Liverpool's standing. Leicester had been comfortably defeated at "new" Anfield. Same as it ever was.
Here comes the twister. And it should be spinning every game at home against any club that has any "I am" about it. For a long time now it has been just that. It's easy to forget the journey that got us here.
Then, The Reds were coming up the hill, boys. Now, they're on the top of it.
---