DO people believe that a computer arranges the fixture list?
I've always wanted to think that it really is a random collection of games thrown together, but I don't know. It just doesn't seem random enough.
I mean, how come we don't play, say, Burnley at home on the Saturday and then again on the Wednesday at their place? Can't we play City twice in the last week of the season rather than months apart?
Also, how come the Merseyside or Manchester or North London derbies are usually on the same weekend along with the Old Firm game? You don't have to be David Icke to spot a human hand in all this.
Season openers are the same too. No one wants a big dramatic opener at our end of the table. A nice home banker against a bottom six side, please. The last thing you want is the risk of losing one before you've won.
Overall, we've been quite lucky. Norwich was a nice starter for the newly crowned European champions this/last/whatever season. West Ham at home the year before, too.
I can only think of three tricky openers in recent memory. Roman Abramovich's reign at Chelsea began with a 2-1 win at Anfield in 2003-4 with goals by Veron and Hasselbaink. We took that dodgy start into two goalless games before Everton charitably gave us a 0-3 win at Goodison.
Seven years later, Arsenal made the same trip north to claim a point against Roy Hodgson's new waves of light. There was so much bad feeling around the club at that time that the match almost seemed an unnecessary addition to the day.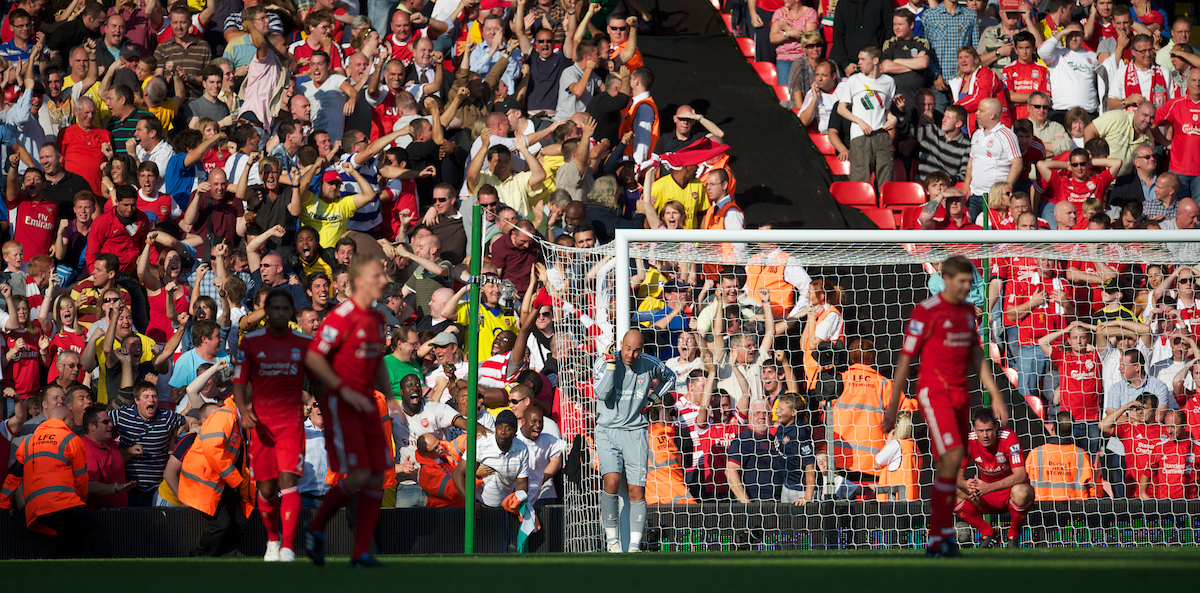 Anyway, we drew 1-1 thanks to a last-minute Pepe Reina own goal and then lost away at City. That was the game where Javier Mascherano couldn't or wouldn't play, depending on your view of history.
The last time the computer/lads in Uxbridge threw up a challenge with a top six side was in August 2016 when the new Europa League runners up (I'm claiming it) lined up against Arsenal.
Talk about a tricky game.
Arsenal had finished as runners up the year before and wanted Champions League football as we did so whoever took the spoils would have an immediate lead. Sadio Mane, Gini Wijnaldum and Ragnar Klavan all made their debuts as the Emirates Stadium was bathed in sunlight.
A word here about the stadium.
The Emirates is a beautiful ground but not yet a great one. It's impressive and you feel like you're up against the big lads when you take up your padded seat, but it'll never be Highbury. That was a proper football ground.
Oh, I know it's all about revenue and the 'matchday experience' but Highbury felt like you were on the back foot before the game started. It made the winning all the sweeter. The Emirates isn't like that. It's nice but it's, y'know, just nice.
Anyway, despite losing two finals the previous season, this was still a time of optimism as Jürgen Klopp began his first full season in charge. The side wasn't quite his yet and there was still some static in the odd performance.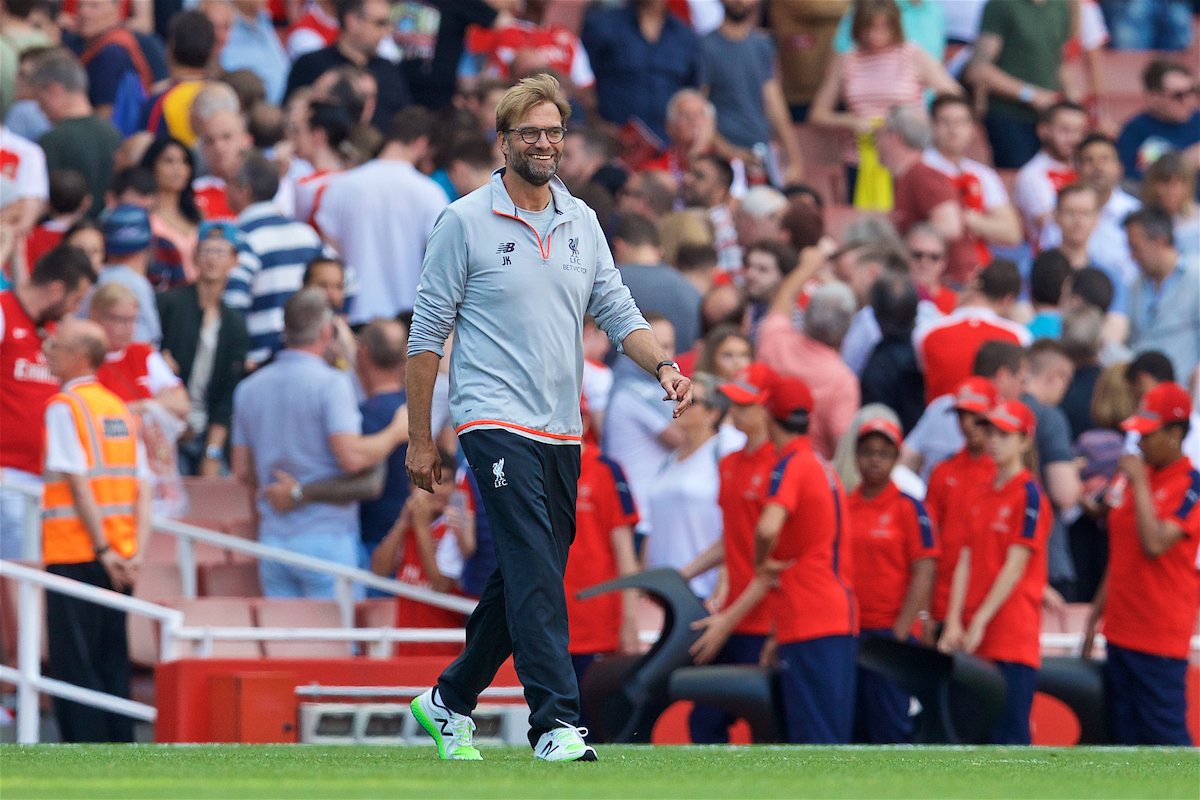 The surrender against Sevilla still burned in the memory and to see the manager berating the fans that night rather than the left-hand side of his team was disappointing.
That said, we were back in the European Cup now thanks to a late run of pragmatic wins and an explosive performance against West Ham when Sturridge and Coutinho had a field day.
It didn't start well. It took Alberto Moreno a full half hour for him to give away a penalty. For all his faults though, Mignolet was OK in one v ones and saved from Walcott. Strange how you fancied him a lot more from the penalty spot than corners.
In any case, Albie always learned from his mistakes and was able to repeat them perfectly. A minute later he found himself woefully out of position and allowed the previously disappointed Walcott a good half hour to open the scoring.
Enter a genius.
He gets bad press nowadays and I'm all for that given the way he left, but it shouldn't tarnish just how incredible Phillipe Coutinho was in a Liverpool shirt. This was his game to such an extent that it looked like this was a kids' game in a park and he just happened to have his boots with him as he wandered by.
His freekick may not have been the most important of his career, but it's still astonishing. With the half-time interval approaching his placement from long range against one of the best keepers in the division and arguably the best of the decade was incredible. We needed something like that, and he stood up and delivered.
And it was the catalyst to the best half hour of Klopp's league reign. Lallana made it 2-1 at the back post after the break before Coutinho made it 3-1.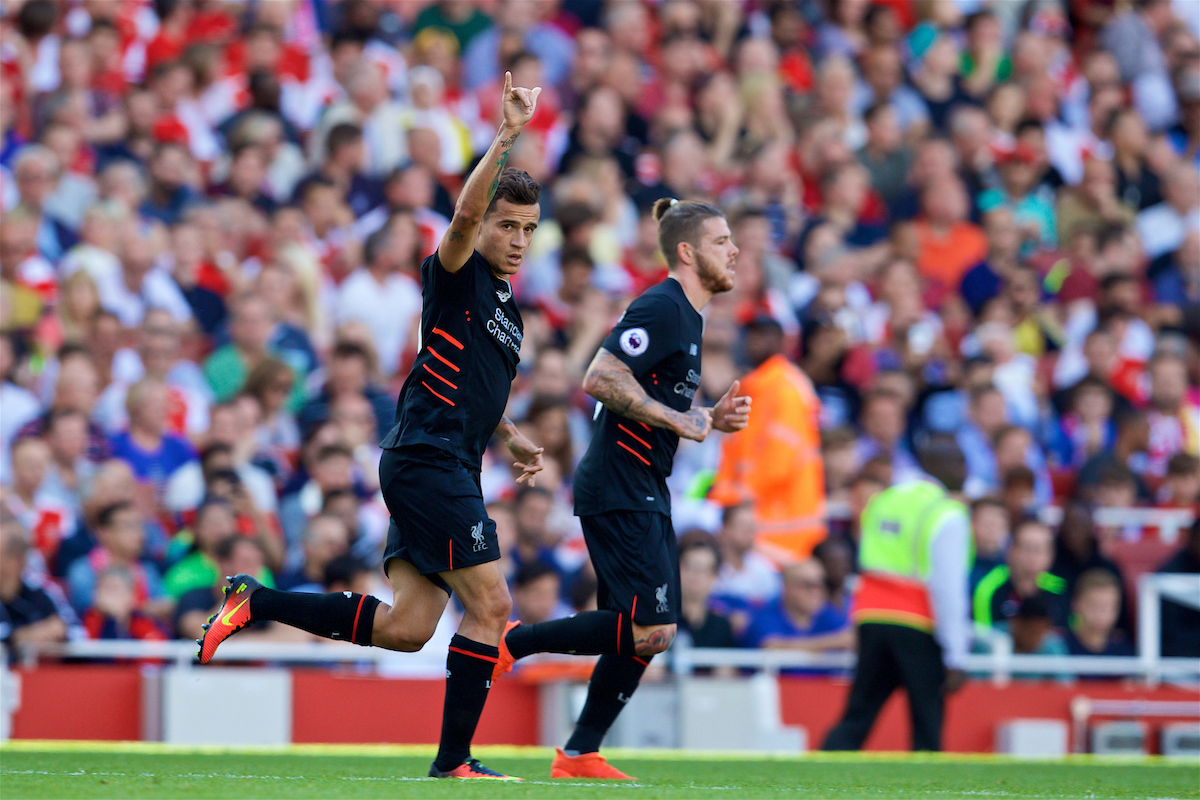 That third goal is hardly referenced but it's practically perfect. Over 20 passes move the Gunners' back six around until Nathaniel Clyne is given room to square it to the Brazilian. His finish is perfect, using the pace of the ball to practically deflect it off his boot past Cech. Watching it back in real time, it's no wonder the Arsenal defence are bewildered.
Maybe that goal isn't discussed much because of what happened next.
You know when a new player signs and you've always admired them? Admired them to such an extent that you want them to score more than anyone else – so much so that you take it personally when they do? That's what I was like with Sadio Mane. I'd seen him tear Liverpool apart in the past and just prayed that he wouldn't go all Morientes-like when we finally signed him.
Not much chance of that.
He's scored 59 goals for us now but not many better than that one. Sent free down the right-hand side, he gave Callum Chambers and Nacho Monreal a tour of the corner flag before cutting back inside the box. He finishes almost as an afterthought.
This was the best moment of Klopp's domestic career at Anfield. We had gone to a top four rival's ground with the legs still a bit rusty, survived a penalty and conceding a silly goal to being 1-4 up with half an hour still left to play. There was talks of five and six one around that time.
But Liverpool are a project which is never finished. There'll always be a squeaking door in the mightiest palace and Arsenal tore down any notion of complacency. Firstly, Oxlade-Chamberlain put one past the keeper with the aid of a deflection and then Callum Chambers nodded in a deep freekick to make it 3-4 with 15 minutes left to play.
Last week, I wrote about our 2016 game at Norwich where we allowed them to take a 3-1 lead in a game we'd been leading. Liverpool's soft underbelly was exposed again here as we clung on. It's easy to just look at the score and think that Liverpool just took control and saw it out. That really wasn't the case. Heads and legs went. We were to do the same thing at our next fixture there too.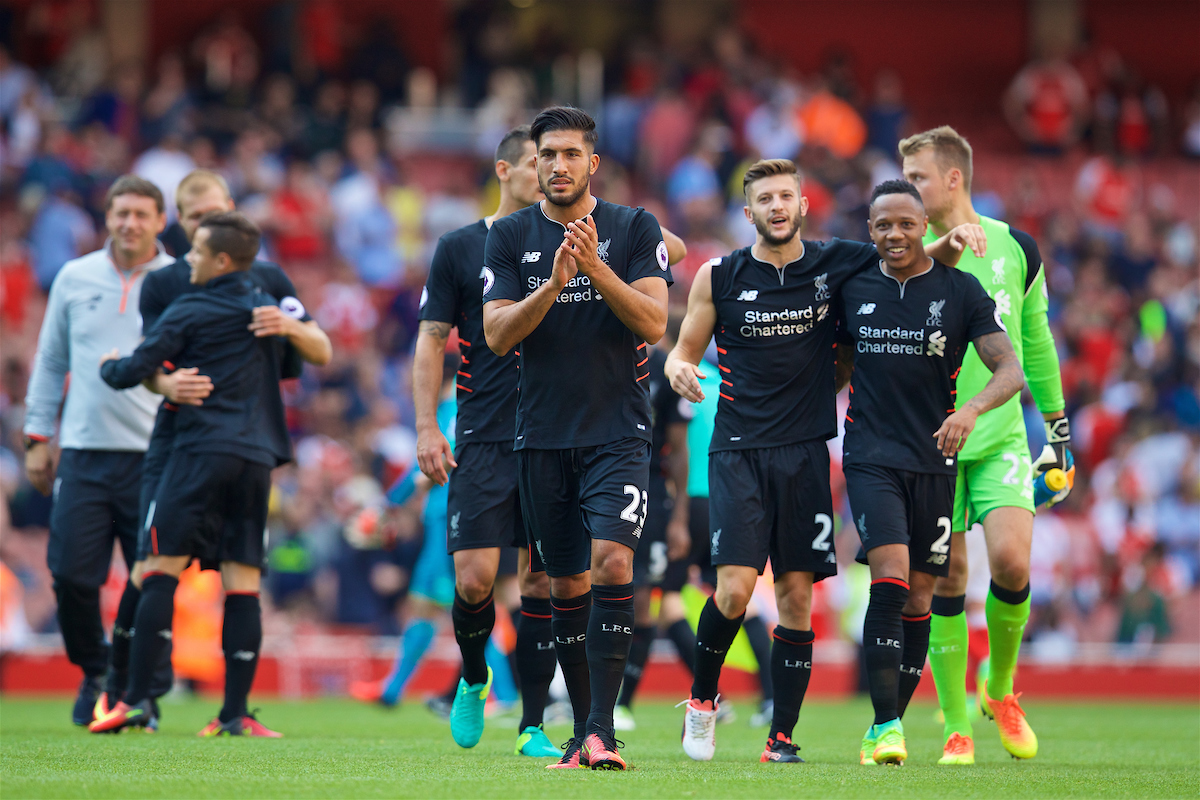 At that point, this was the biggest issue Jürgen Klopp faced at the club. The 'what do we do if' moment. Houllier and Benitez didn't always answer that question either.
Liverpool were brilliant that day. Pacey across the front three, mesmerising in invention and deadly in front of goal, all guided by a sprite-like magician. Yet at the same time we still had a left back who confused tackling with the long jump and the confidence of a downtrodden lemming when things weren't going our way.
But what a start to the season. What a way to announce your credentials to the league. This was a statement of intent. A marker set down.
We lost the next game 2-0 to Burnley.
It's safe to say, though, that this game sparked the next phase in Liverpool's upward trajectory.
That game saw Sadio Mane's first goal in a red shirt. And he has and will score many more.
---