NOTHING affects a season more than a change of manager.
As the 2014-15 season ended, everything was in a state of flux. Brendan Rodgers, a hero just 12 short months earlier, had admitted that calls for his head were justified.
The club had squandered their share of the Suarez money and the league position had gone south rather than cementing itself among the elite.
From 84 points in 2014 to just 62 a year later. Second to sixth. It felt like more.
The final surrender came at Stoke. Raheem Sterling was 'rested' ahead of his controversial move to City and Steven Gerrard's swansong became little more than a sideshow. The captain's last ever goal for the club came when the Stoke centre backs let him run through – or so it seemed to me. Brendan left the ground a broken man. Things had to change.
But the club did nothing, or at least appeared to do so.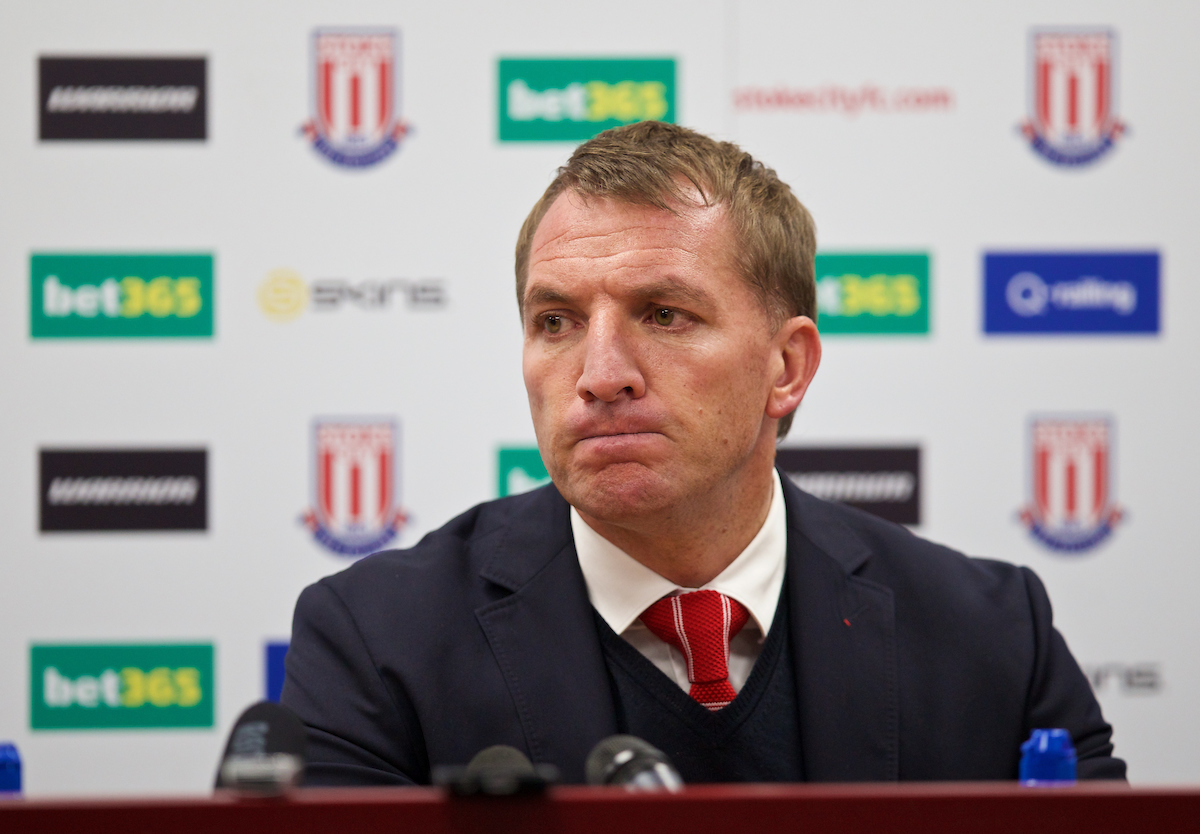 Not only was Brendan still in the dugout at the start of the next season, he was given funds to halt the slide. Benteke, Firmino, Clyne, Ings and Gomez came in as well as the cannily intelligent James Milner on a free – arguably Rodgers' most inspired signing. Around £113m left the Anfield coffers with just £81m coming back thanks largely to Sterling.
We started well with wins against Stoke and Bournemouth and a creditable draw at Arsenal, but with the 6-1 entrenched in the memory, Brendan was only a couple of defeats away from shuffled feet and stern looks from the stands.
The turn seemed inevitable. West Ham ran us to pieces and collected their first Anfield win in five decades and then, a fortnight later, we crumbled to a hideous Simon Mignolet error at Old Trafford with Anthony Martial scoring their third with a Martin Tyler assist from the commentary box. Brendan Rodgers walked an ever-thinning tightrope.
But who to bring in? You can't just snap your fingers and bring in the modern Rinus Michels. Jürgen Klopp was on a sabbatical for at least a year while Carlo Ancelotti, the perceived second choice, was untroubled by a call from an 0151 number. Do you bring in a short-term replacement until Jürgen had used up his sun cream, find an alternative or give Brendan another season and wait?
By the time The Reds took to the field at Goodison Park in October we knew the answer. There can't have been many people in the away end that day that didn't know it was Brendan's last day at work.
The game limped to a 1-1 draw with Lukaku equalising a Danny Ings opener. Rodgers was given a round of applause at the end. He had come closer than most to giving us what we wanted, but just couldn't reverse the club's fortunes when things got tough.
Jürgen Klopp came in like a whirlwind. The mop of hair, the grin and a Beatles T-shirt were just the optics, but they felt like a sign of optimism. There was talk of doubters becoming believers and him being 'the normal one,' but he could have said anything at that point. Liverpool needed a change not only in manager, but in staff and outlook. Philosophy even.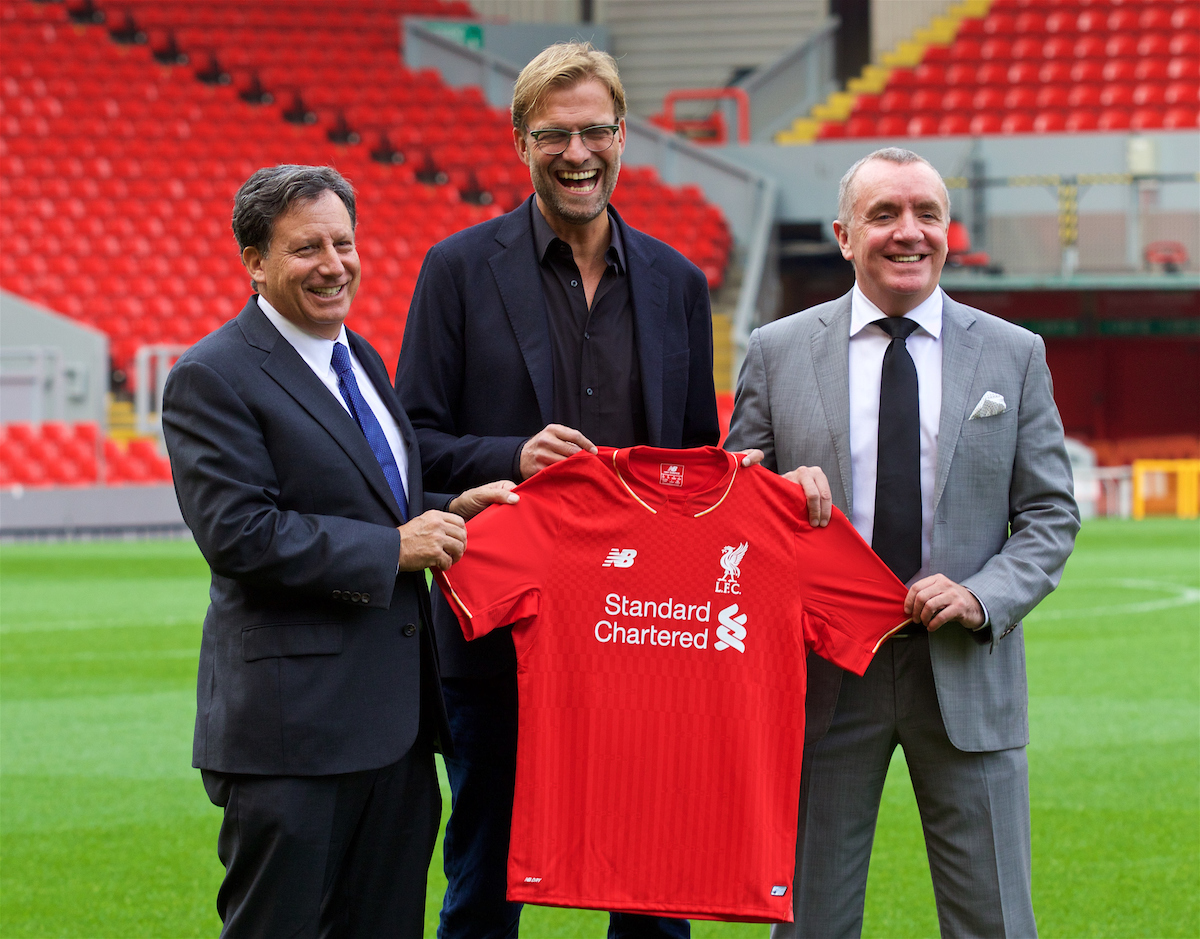 There's a football concept known as the new manager bounce. This is where results inexplicably improve when there's a new name on the door. The most desperate cloggers become committed again and there's a newfound pride in their performances.
We've been the victim of that more than once. Terry Venables, Harry Redknapp and John Gregory have beaten us with Boro, Spurs and Villa respectively in their first game despite being seemingly miles behind us in ability and application.
The key change at Jürgen's debut was one of work rate. Spurs v Liverpool was more of a 90-minute HIIT session than a competitive football match. Both sets of players collapsed onto the turf at the end but without a goal between them. That was a problem.
Some things did change immediately. Liverpool went to Chelsea and Manchester City and tore them apart with 1-3 and 1-4 wins, but the inconsistency was still there. Trips to Vicarage Road and the London Stadium ended in defeat while West Brom, hardly a Titan, took a point at Anfield.
That inconsistency had long been a feature of our performances stretching as far back as the Rafa era. In 2008-9, Liverpool comfortably beat eventual champions Manchester United home and away, but a series of draws against the division's lesser lights shot down the challenge. Once the fitness and the buy in to the Gegenpress had been sorted out, this was to be Jürgen's next challenge.
In January 2016, Liverpool travelled to Carrow Road, Norwich for Jürgen's 24th game in charge. It was to be an extraordinary and sometimes excruciating encounter.
The Canaries were in 16th place and had just bought Steven Naismith from Everton for £8.5m – the perfect new player bounce. Things started well. Roberto Firmino broke away on the left-hand side and put it away off the post after just 18 minutes. Liverpool were off to a flyer.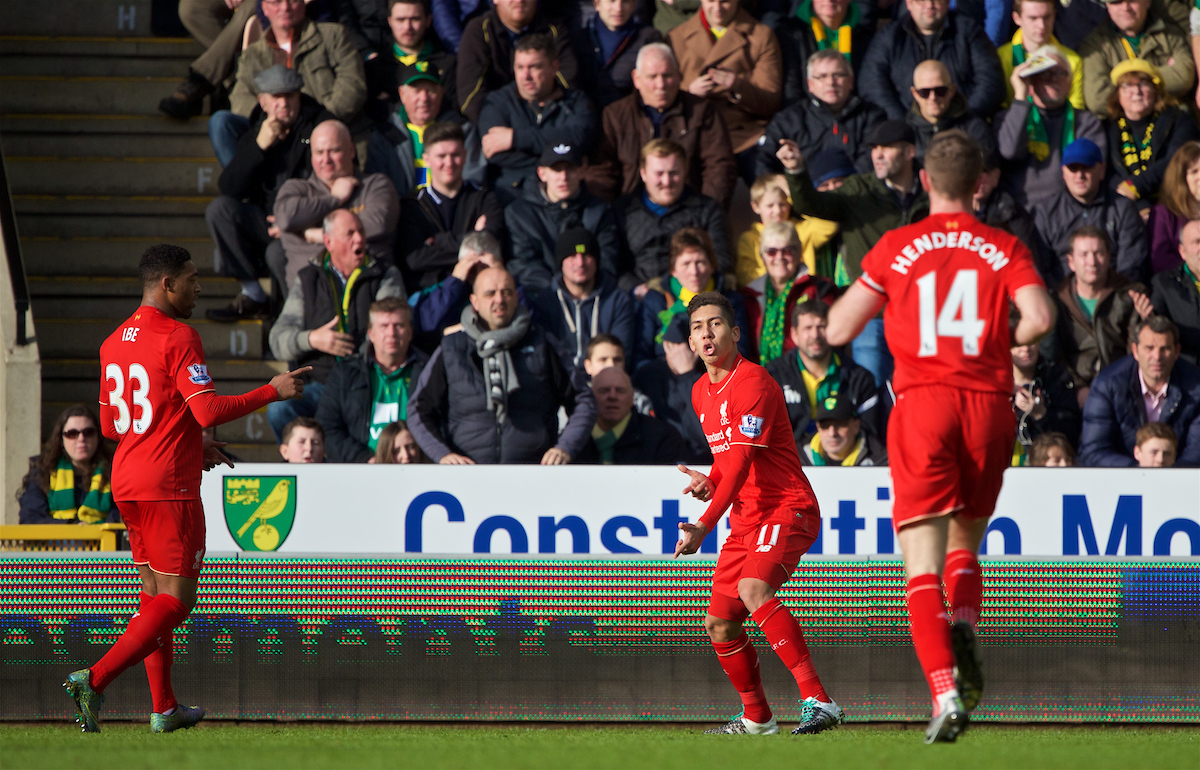 Yeah.
Bassong 1-1, Naismith (obviously) 2-1 and Hoolahan, the man with the surname most likely to be used as fictitious New York police sergeant, 3-1. Liverpool were crumbling.
That third goal was perhaps the most typical of Alberto Moreno's time at Liverpool. A ridiculous challenge while in his own penalty area went unpunished by the ref so he simply got to his feet and made another until the ref had no choice.
This wasn't necessarily a great performance by Norwich. We were just helping them out. But for all that Mr Hyde, Liverpool always had a Dr Jekyll waiting in the wings.
Jordan Henderson slotted in a second and then Roberto nabbed his second of the game when left all alone in the penalty area. 3-3. That'll do. Take the draw, lads. Just take the draw.
Nah. No runners.
Eleven minutes later and it's 4-3. Milner.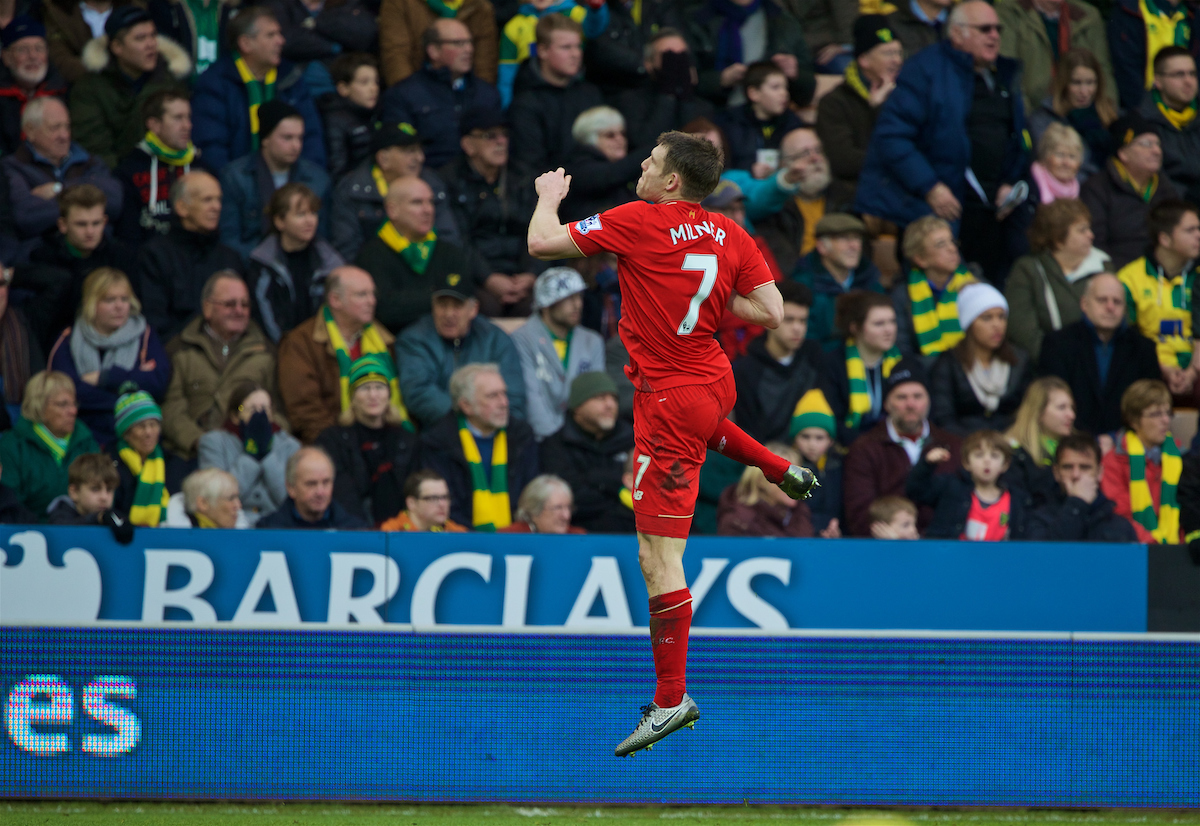 That's your lot. We got away with it, there. Keep it tight and we should be fine. We're the European team after all. It's not as if they've got a big grock of a centre back who can leather it in from 25 yards or anything.
Bassong, 92nd minute. Four-all. Mignolet flapping like a dying fish. Sake.
And that was Liverpool in a nutshell. Spirited at times, spineless at others. We'd usually need a goal early on to win a game and didn't fancy it much when the opposition got their tails up. That was the culture Jürgen Klopp had to change. You can't concede four goals at Norwich and expect to be taken seriously. For that matter you shouldn't score four and have to settle for a draw either.
Then comes the moment.
There are pivotal hinges in any manager's career. Rafa had the 'ghost goal' against the runaway league champions. Houllier had two – the Gary Mac derby and Owen's late goal in Cardiff. It's the goal that pushes their team onto believing, truly believing that they're on an upward trajectory. Liverpool needed it at Carrow Road and Adam Lallana provided it.
I'm sure you've all seen it and the aftermath more than once, but what stands strongest in the memory is just how terrible it is. Honestly, to call it a pub team goal is a disservice to even the worst player in the country. It's woeful. Every touch in the box is a bad one and the worst of all is the final strike. He hits it into the ground and it takes a good half hour to nestle in the net.
No one gave a damn.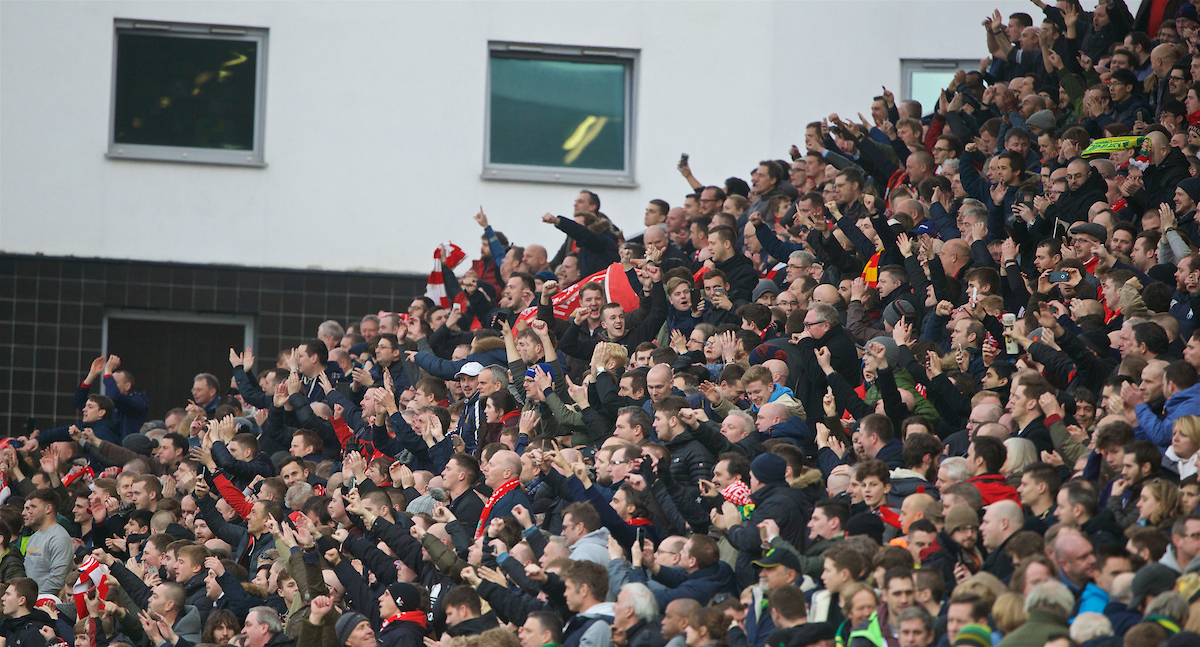 Bodies all over the place, bits of Jürgen's specs all over the dugout and Liverpool with so much more than three points. That side had won a battle against itself.
I'd love to tell you that we went on a massive unbeaten run after that, but we didn't. We only beat relegation bound Villa in the next six weeks. We also lost the League Cup Final as well as going out of the FA Cup at Upton Park, but there were signs in this game that Jürgen Klopp had something to work with. The ability was never in doubt, but the heart was often weak when it was most needed.
Liverpool approach a game like it's a puzzle. Jürgen often says 'the boys worked it out' when we win narrowly. We have a side that can do that now. Well, whenever we're allowed to play.
How did Jürgen take that win? He said the best thing he could possibly say.
'After the game it feels funny but it's really rubbish what we are doing, and we have to solve this.'
He did.
---