I WAS absolutely convinced that Jürgen Klopp would be a success at Liverpool.
OK, it wasn't exactly Nostradamus levels in terms of a prediction, but I was so sure that The Reds had a bright future under the German that I committed to writing a book about his first two seasons at Anfield. (I may have mentioned it once or twice. Kloppite. Updated version for 2020 out now, by the way.)
No one expected Klopp to create a team that was capable of breaking the 100-point barrier, which this iteration should if this pesky pandemic allows.
Despite the broad optimism among fans, the initial results upon his arrival didn't indicate that it would be swift progress. Draws with Tottenham, Rubin Kazan and Southampton were followed by a narrow League Cup win over Bournemouth.
A promising 3-1 win at Chelsea was softened by the realisation that Jose Mourinho's side were in the middle of falling apart, especially when Liverpool struggled to a win in Kazan and then lost 2-1 at home to Crystal Palace on an afternoon when Klopp was left to feel "alone".
A trip to Manchester City was on the horizon. Not ideal for a team that was going through a hard process to find its new identity.
In the games with Spurs and Chelsea, you could see shoots of what the team could eventually become, but it seemed that significant progress would take a while. This was going to be a very long haul, and possibly painful along the way.
City were not the mega power they are now, though they were still spending big and one of the favourites for the title. They were in the early running of the title race under Manuel Pellegrini, and a win here would have sent them top.
Liverpool were very much mid table, but everyone was keen to see how they were doing under Klopp. This was going to be a big test.
Pellegrini was without Vincent Kompany, and so went with Martin Demichelis and Eliaquim Mangala at centre back, which made the eventual outcome a tad less surprising in hindsight.
Klopp sprung a bit of a surprise, repeating what he had done at Stamford Bridge a few weeks earlier in naming a side without an orthodox striker. It appeared that he would be playing Roberto Firmino as a kind of 'false nine'. These managers and their impulsive ways. As if that was ever going to be more than a short-term solution.
City had Yaya Toure and Kevin De Bruyne in midfield, as well as Raheem Sterling (booo) and Sergio Aguero in attack.
It was a hard game to predict, but what followed surprised even the most optimistic Red.
Liverpool mauled City. It was like watching the 13-14 team, but almost more cerebral. The front three of Adam Lallana, Firmino and Philippe Coutinho were manipulating the ball expertly, passing around City like they were training cones.
Klopp selected a 'workmanlike' midfield of James Milner, Lucas Leiva and Emre Can, and they were providing the bullets for the 'L-F-C' strikeforce, who were causing all sorts of problems to the hosts.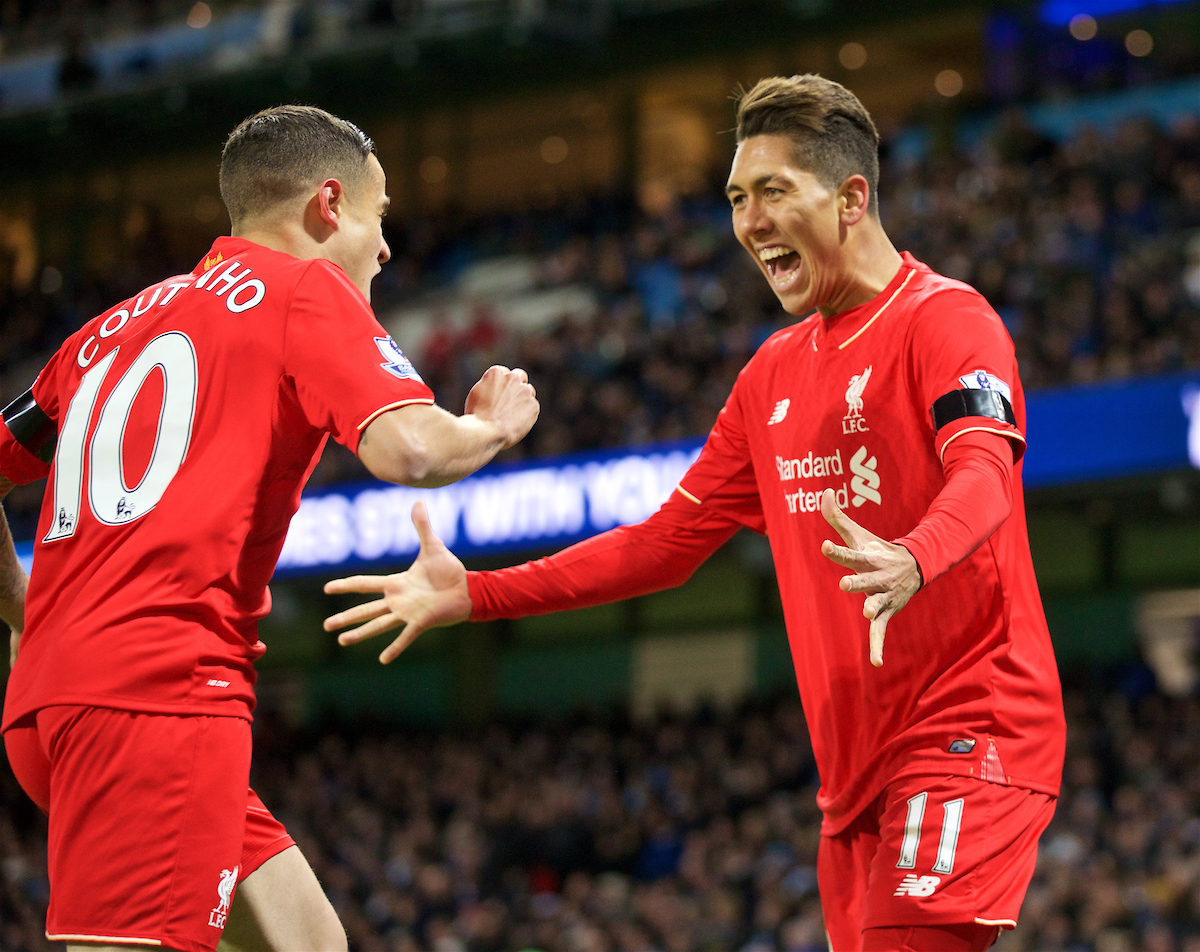 Liverpool were buzzing around, but not in the slightly disorganised way they had done at Spurs when the players just thought "run a lot" was the start and end of Klopp's gameplan. This was intelligent, and more to the point, effective. Very effective.
It had been a long time since Liverpool had played like this, especially against an opponent of City's calibre, and in a ground where they had rarely enjoyed any success.
Firmino had made a slow start to his Reds career, signed from Hoffenheim in the mess that was the 2015 summer transfer window, but was starting to find his feet under Klopp.
He had put in a very strong performance against Bournemouth, but this was the first time he was flowing in a big game, and boy was he flowing. He already had two assists, and was now juggling the ball over defenders by the corner flag. He was yet to net his first goal in England, but on 32 minutes, he ticked that box too.
This was a schooling, from a team that had spluttered and struggled so badly at home to Palace just a couple of weeks earlier. Fans thought that there would be progress, but it seemed a mile away when people were filtering out of Anfield in the 82nd minute against the Eagles.
Now, Liverpool looked like world beaters. Obviously, they weren't the finished article yet, but this performance was a tease of what could be. The level that could be reached, with the next aim to produce it on a more regular basis.
A typically wonderful Aguero strike from outside the box into the corner gave the Argentine his obligatory goal against Liverpool at the Etihad, but it also gave his team an undeserved opening into the game. City should have been 5-0 down by that point, but the gap was just two at half time.
With Simon Mignolet in goal, and a back four of Nathaniel Clyne, Martin Skrtel, Dejan Lovren and Alberto Moreno, this game was far from over. The trust in The Reds backline that exists today very much didn't back then, and with good cause.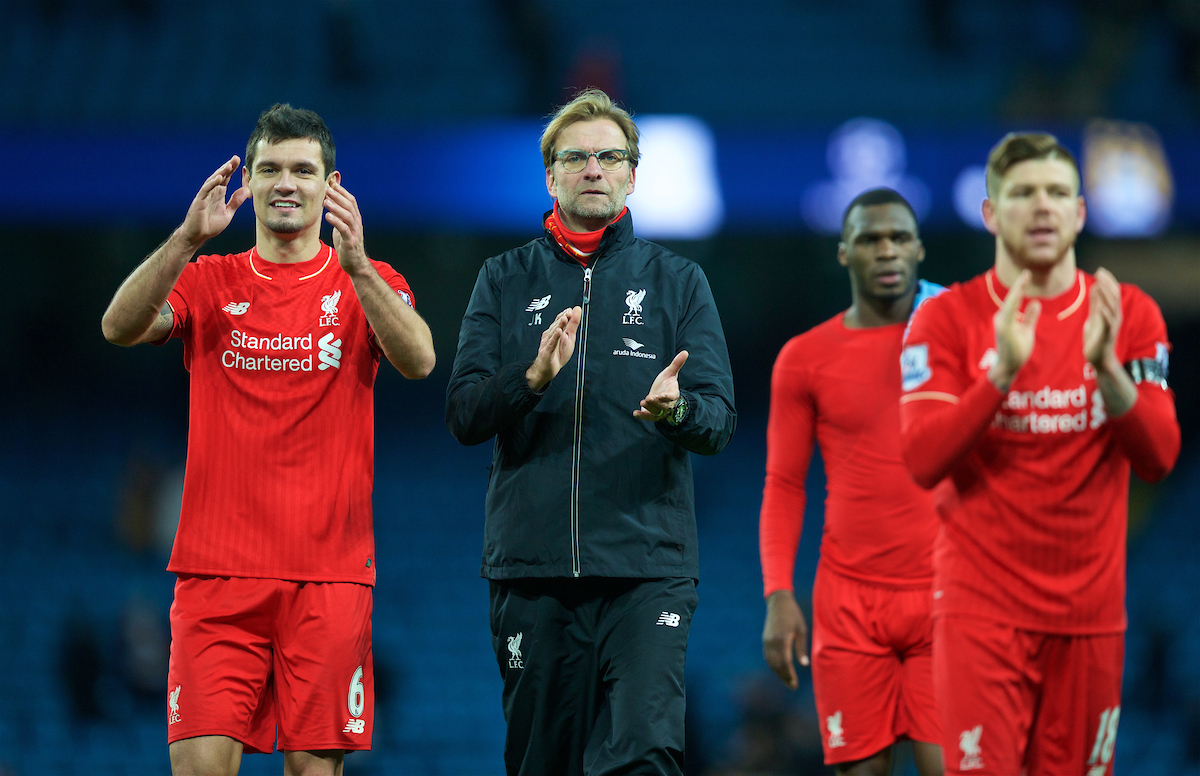 However, if fans were nervous about a potential City comeback, the players didn't seem to be. Pellegrini attempted to gain more control of the game at the break by bringing Jesus Navas and Toure off for Fabian Delph and Fernandinho, but it didn't stop Liverpool threatening.
Liverpool had been playing exquisite pass-and-move football, slicing through City time and again, but weren't above other tactics.
Benteke was brought on and, after making a bit of a mess out of a one v one situation, was on hand to head the ball down from the resulting corner to Skrtel, who struck the ball so hard that it's a wonder it didn't split into two smaller footballs.
The players celebrated in front of the adoring travelling Kop, and looked 10ft tall as they did. Belief was growing, on the pitch and in the stands.
This was far from the finished product, but it was notable that the same team that had looked so forlorn and morose under the latter days of Rodgers could actually play like this. Not just with so much skill, but so much swagger. Like a team that could frighten the life out of any opposition on its day.
The overall mission was to make 'its day' happen more often than not over the next few years.
Safe to say, mission accomplished.
---