I RECKON my early experiences of the match aren't that typical of a footie-loving lad growing up on Merseyside.
Those romantic ideals of dad and lad going to the Liverpool match together, passing down the traditions, sharing the routines, becoming versed in 'the way'?
It didn't happen for me then. And it can't happen for me now.
Never mind somehow persuading my father to travel five miles to Anfield, I couldn't even talk my old fella into crossing Liverpool Road to watch the now defunct non-league side Knowsley United at Alt Park – a ground I could see from my bedroom window.
Football never bit for my parents like it bit for me. And that was a constant source of frustration in my formative years.
I got the kits, the stickers, the magazines, the annuals – my bedroom walls were plastered with posters of players. Ian Rush. Kenny Dalglish. John Barnes.
I loved the league ladders, too, for those old enough to remember what they are, and spent most of my spare time playing footie in the street, on the field, or in the backyard.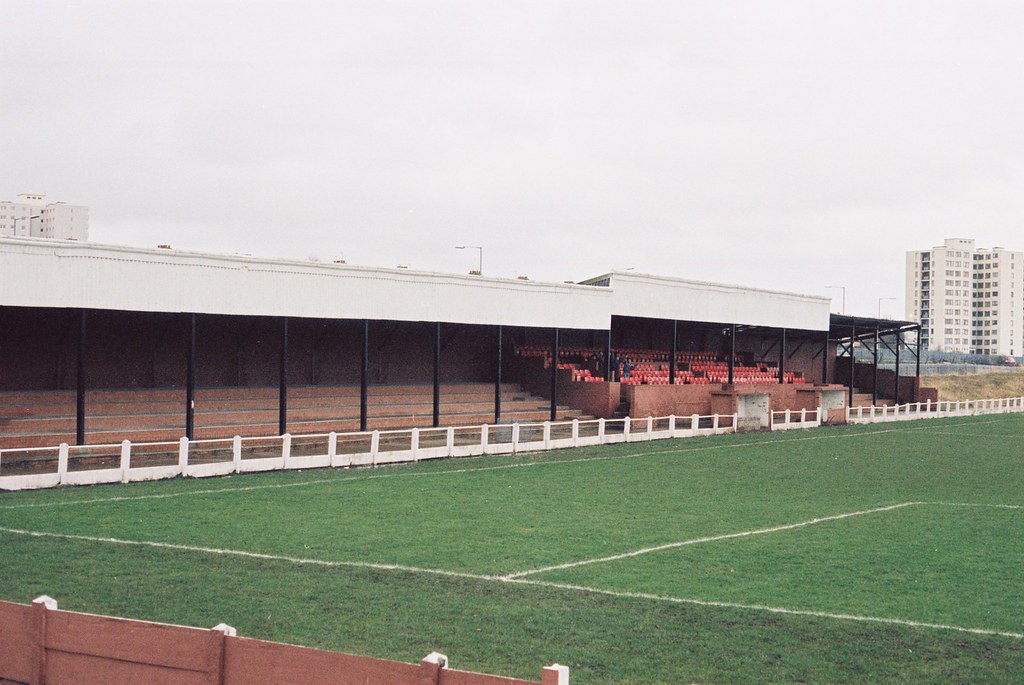 I read everything. Listened to everything. Among my peers, it was all I talked about. But back home, on the rare occasions a Liverpool match was on the telly, I was banished to the back room to watch it; a black and white portable my only friend. For the big telly in the living room, soaps were sacrosanct. Football didn't get a look in.
Despite the obvious barriers, I still asked and asked. Pestered. Pleaded. And not just my dad. I asked mate's dads, too. I knew a cousin was going. I wondered if that was a way in. It wasn't.
Dead ends. No deal. A dream denied. Anfield remained a mythical place. Lights I could see in the distance. Something I read about. Something I listened to. Something my mates excitedly talked about in the playground while clutching The Anfield Review, aka the programme – yellow background, red writing, the Liverbird inside a crest.
Listening to match commentaries on the radio was a joy – I still enjoy it now – and I loved to pore over the Pink Echo every Saturday. But inside the ground was where I really, really wanted to be.
Lads in my class were regulars, and by my teenage years, in my worldly opinion, I was plenty old enough to join them.
The media, rather than experience, likely shaped my parents' opinions. They still worried about their first born mixing with "hooligans". And it's worth remembering the club was still banned from Europe then. Football's reputation wasn't great. And going the match was nowhere near as popular as it is now.
So, still, permission was not granted. Still, I was on the outside looking in.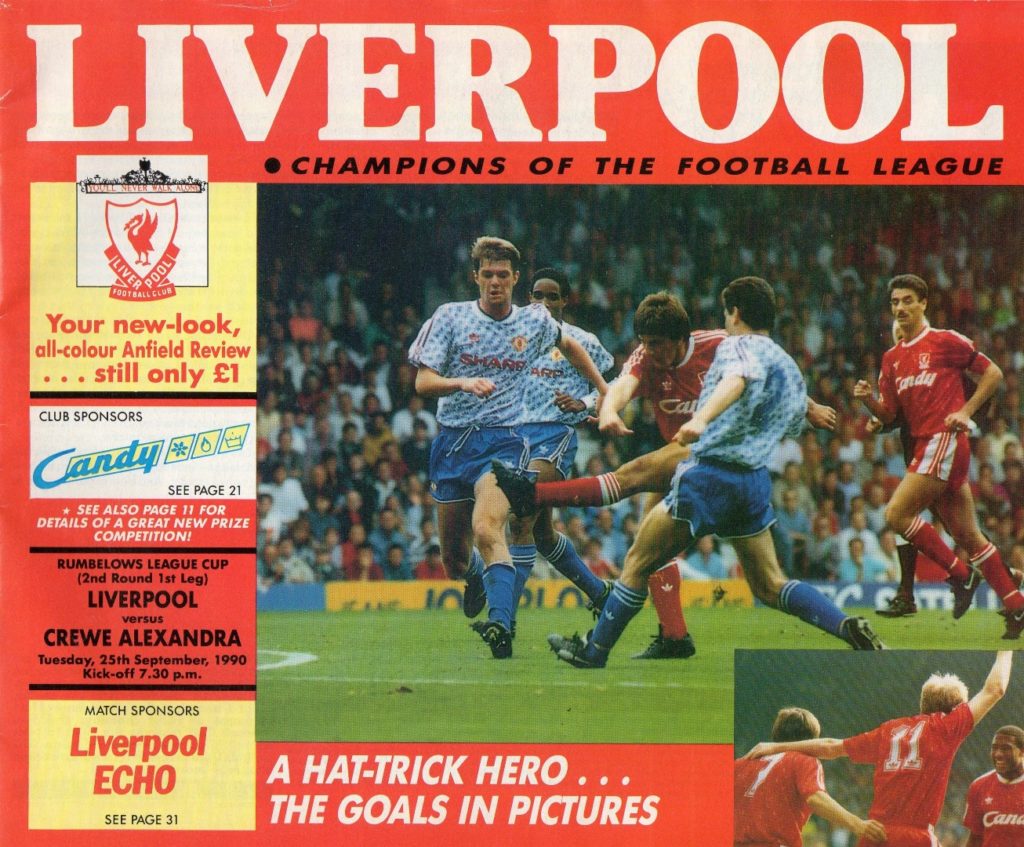 The only trip to Anfield on a matchday I ever had with my dad was to Taskers. I could see the floodlights. Hear the sounds. But I was on the streets looking at the skies as people inside packed around the pitch and watched the game.
In the end, the pull became too strong. The torture could go on no longer. And I wasn't exactly someone who always listened to instruction from elders. A long-forgotten lie covered my tracks and I headed for Anfield on a September Tuesday night in 1990.
Kenny Dalglish's top of the league Reds, reigning Champions of England, were facing Crewe Alexandra in the first leg of a second round Rumblelows (League) Cup tie.
You might imagine it to be packed out to watch a side of such pedigree, yet only 17,228 cheered out a side containing Peter Beardsley, Barnes and Rush among others.
No matter to me. I was a kid at Christmas. Amazed by the sights, bowled over by the sounds. That first glimpse of the Anfield turf after climbing the steps of the standing Kop, the greenest of grass lit by the brightest of lights, will always live with me.
Seeing the players, too. They were real. They were there; just there, almost within reach. Not just stars on a portable telly or a face on a poster.
As soon as I experienced it, I knew I wanted more. All the things I'd seen and heard and read about. And now I was a part of it. Singing the songs. Appealing for decisions. Celebrating the goals.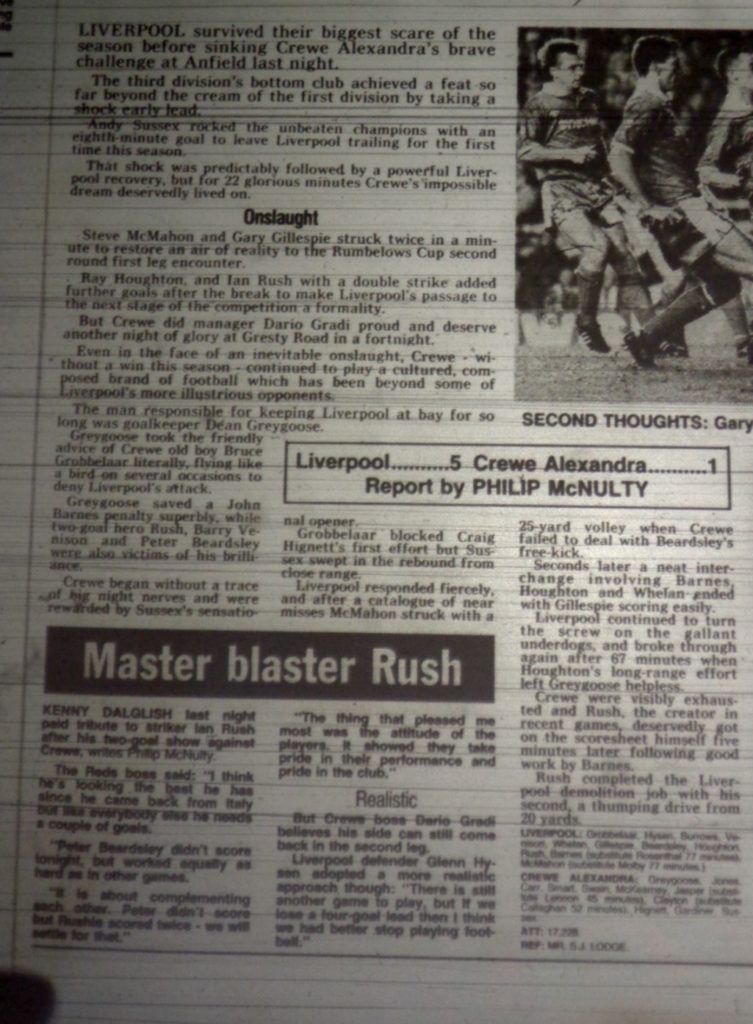 Bottom of the third division Crewe, in fairness, did their best to rip up the script and spoil my fairytale. A side that included future Liverpool right back Rob Jones, former Reds trainee Craig Hignett and had Celtic manager Neil Lennon coming off the bench, took the lead to the shock of everyone in the ground.
And their goalie, Dean Greygoose, was keeping all kinds out on the night, including a Barnes penalty.
But in the end I got what I wanted – a Liverpool victory. A brilliant Steve McMahon volley from 25 yards was one of three goals The Reds scored from outside the box that night, with Rush (2), Gary Gillespie and Ray Houghton joining Macca on the scoresheet.
I talked about it for days after. McMahon's goal. Rushie's finishing. Barnes's touch. And to the wider football world, this was a relatively insignificant game. Imagine what a big match would be like.
In hindsight, that side was beginning to wane, powers were fading. Yet there was still skill, strut, confidence and nous that brought us some good times before Kenny's shock resignation later in the season.
I've had much bigger nights and better times on The Kop since that game 30 years ago. Yet that match will always live with me. The day I joined the club. The day I became a Kopite. The day football became real.
We wait for that day once more now. But while we wait, we have our memories. Of when football made us happy. And we can dream of when it will once more.
"Yes, there are much bigger problems in the world right now than football, but for a lot people football is their only escape, it's so important to so many of us."

📱 Download our app here and watch today's Talking Reds in full 👉 https://t.co/v3xcfwjq7C pic.twitter.com/D5RLuw2Hb2

— The Anfield Wrap (@TheAnfieldWrap) March 20, 2020