I'M not sure this was my first game. In fact, I'm pretty certain it wasn't.
But rather than subjecting you to a fleeting, millisecond memory of a Graeme Souness side toiling against some claret and blue blur around 1992, I thought I'd recall the first game which clearly stands out in my mind which I attended.
Liverpool versus Manchester United was played on Sunday December 17, 1995, I was nine years old. You can say I was late to the party in some respects. I had been around the club since birth. A family of Reds and a Gran who still lives a stone's throw from the stadium allowed me to be around the matchday experience a fair bit.
Yet, there is an important point of order here.
I was born around the time the game changed quite significantly. It was the time that people decided that the prism of television was a more convenient and entertaining way of consuming the game as opposed to trying to get into Anfield, something which was becoming notoriously more difficult as the club moved through the 1990's.
I'm not saying that it was easier to plonk me in front of a Sky television for my parents, but then maybe I am. Getting tickets then was, for many, too expensive and hard to come across, and this new age of watching live football was vibrant and entertaining. So, in a way, who needed to be in the ground?
The answer was me, and the answer remains with young people still suffering the same fate of being unable to experience what watching Liverpool in the flesh does to your young soul. The club has become markedly better when it comes to availability, and the hope is that it will continue when the Anfield Road is expanded in the coming years.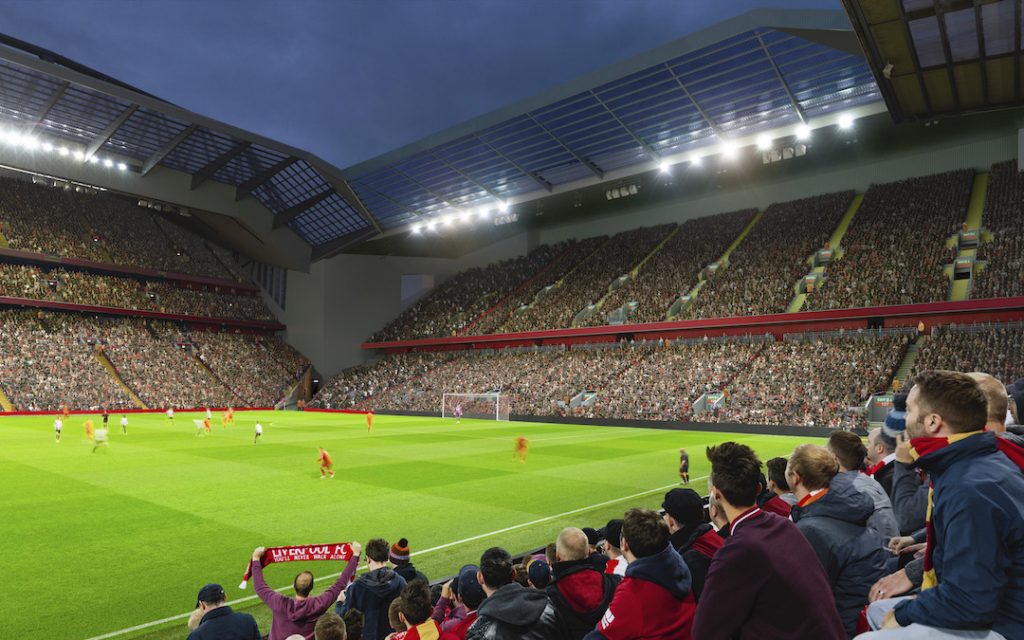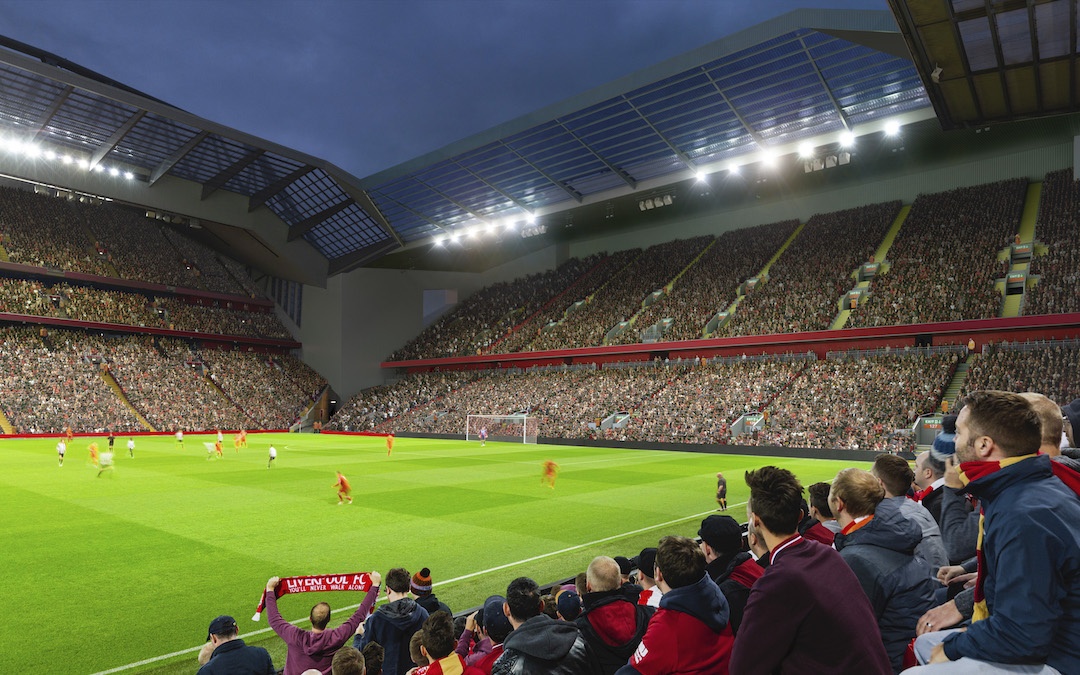 My time came in one of the biggest games in the football calendar. Liverpool versus Manchester United needed no introduction even to me at nine years old. They were the admirable enemy, a force of red and black led by an arch nemesis with a turned up collar.
My uncle managed two tickets from someone he worked with and I'd pestered him for some time about taking me to a game, so there was only ever one outcome. A week before Christmas, in the dark and edgy Anfield air with my breath visible over my red and white scarf, life as I knew it was about to change forever.
Anfield has become a much smaller place to me down the years. In fact, Liverpool in general has. These pictures in your head, they become smaller the more you familiarise yourself with them. But that particular day Anfield was a colosseum, a towering cacophony of noise from where I was at the back of The Kop.
The other thing which stands out is seeing footballers in the flesh for the very first time, with a naked eye opposed to a lens. It is only then your tender brain starts to process them as people. Superhuman, but people all the same.
I'm not ashamed to admit they were all heroes, all 22 a marvel of what I previously thought was a weekend fiction played out in some kind of advanced yet alternate reality. And there they were. In the flesh on a patch of grass trying to put the round thing into the square thing. Heroes, every last one of them.
My tender eyes could only look in one direction beyond United's grey matter – it was the number 23 in red. Diminutive from a distance, but his presence and essence as hypnotic as anything I'd ever known. There was Robbie Fowler, that was Robbie Fowler.
The game played out in front of me and the abiding memory is how much the people around me wanted it. I'd fleet between the pitch and the faces to see the sheer anguish, excitement and desperation of those close.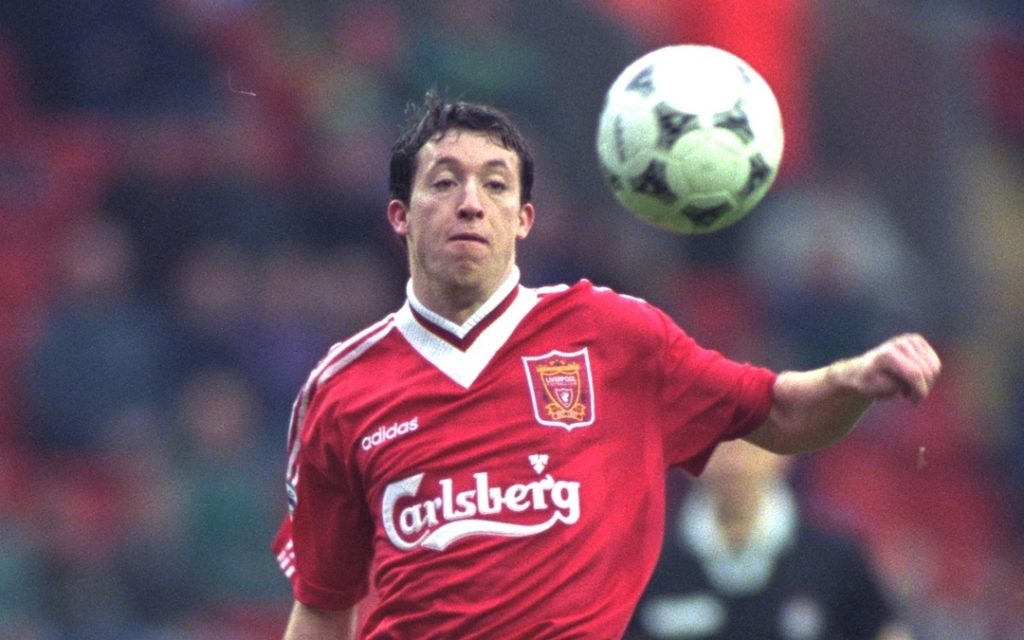 As the game played into the dying stages of the first half, the focus turned to Peter Schmeichel. 'He's big, isn't he?', I think. Is right, Dan. Start with the basics and work from there. He was a colossal, all blonde bowl-head with sharp colour tones and unnecessary fabric in his attire.
He looks more impenetrable until the stroke of half time, when Fowler steps up to a freekick on the edge of the penalty box and caresses the ball over him and into the net in tantalising slow motion. I feel that rapture and pull downwards from the madness around me. Nothing the same, ever again.
Fowler had a knack of doing something I don't think I've ever seen before; he could direct force and direction on a ball with the inside of his foot as good as any other part of his body. Some of his finishes had so much distance, swerve and pace you'd be convinced he'd used laces when he'd casually opened his hip and swiped with the inside of his left peg.
He was also able to treat every type of goal like it was a tap in.
That's what he did against Schmeichel. It was a wonderful moment of outwitting your opponent by stripping them of their own sense of invincibility. Schmeichel was reaching an unbeaten state of mind, and Fowler had the conviction to put the ball past him from 20 yards as if he was tapping into an open goal.
The game ebbs and flows and United play the customary villain by creating moments of tension and anxiety.
Stan Collymore reaffirms to me that something just doesn't quite fit with him in a Liverpool shirt, while Steve Mcmanaman corroborates what I already knew – being that he was playing a game which at times looked like he had his own cheat code enabled compared to anybody else.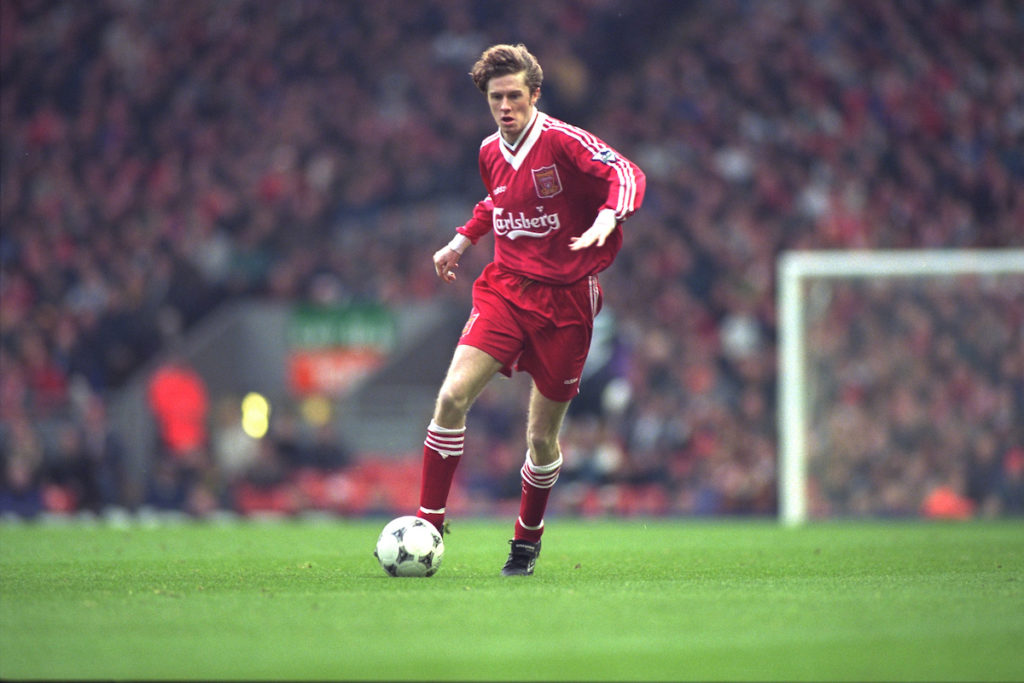 But the day belonged indefinitely to me, Liverpool and Fowler. As United pushed for a leveller Liverpool broke late on. The moment he takes the ball into his stride with his back to me as he bared down on Schmeichel was all I needed to see, it was one of life's early educational epiphanies to me, that Robbie Fowler equalled goals.
That 90 minutes prompted me to hound my mum until she wrote a handwritten letter to the club asking for my name to be put on the season ticket waiting list. Some 17 years later, I would get my own seat in my own name to watch Liverpool every other week.
I was reminded of the game this season after Liverpool beat United in similar circumstances. A first-half goal followed by nervy moments and a counter attack late on to seal it. A lot has passed since then and now. At 33 years old, the world is a different place. Anfield hasn't changed as much as me.
After the win against Bournemouth I sat for a while and pondered that change. Anfield now represents my work, my routine and in a sense my comfort blanket. But still gives me that stirr of mystique and anticipation every single time. In an ever-complicated world, that is an undoubtedly wonderful thing.
I know how lucky I am to have Anfield and Liverpool since that day in 1995. It has never been taken away from me in the manner it is now, and it reminds all of us that this whole journey is a temporary one, no matter what our age, status or responsibility in life.
I hope that when I return I get to see it once again through the eyes of my nine-year-old self. Even if only for a little while. I want to marvel at its frame, cocoon in its sound and be humbled by its humanity. After all, life as we now know it will never be the same again.
For this reason, we can all be grateful for Liverpool Football Club and all that it's given us.