"WHO is your favourite Liverpool player of all time?"
It's that 'all time' bit that gets you. Immediately your mind is cast back, like your life flashing before your eyes, but just the football bits.
When I was a nipper, my grandad sat me on his knee and regaled me with stories of legends such as Billy Liddell, Ian St John and Roger Hunt.
Thanks to the tales I was told on that mighty knee, I felt I knew Ron Yeats personally, yet I don't think I actually saw footage of him play until years later.
My dad made me aware of the subsequent greatness of the likes of Kevin Keegan, Graeme Souness and Kenny Dalglish, as well as Ian Rush and John Barnes. I saw the latter two properly just as I was starting to get into footy, but they were very much at the back end of their careers.
Due to very unfortunate timing, I started getting into football in the early '90s, just as the Premier League era was beginning and Liverpool's dominance was ending.
Still, some of the finest players the game has ever seen have pulled on the red shirt since then, but none of them have been able to lift a league title at Anfield. A few of them have won a European Cup, of course, but the summit domestically has eluded them all.
That is why, when it came to deciding my favourite of all time, I reminded myself that current time is included in that. Given that this Liverpool side is my favourite ever team, it should surely follow that my favourite ever player is among them.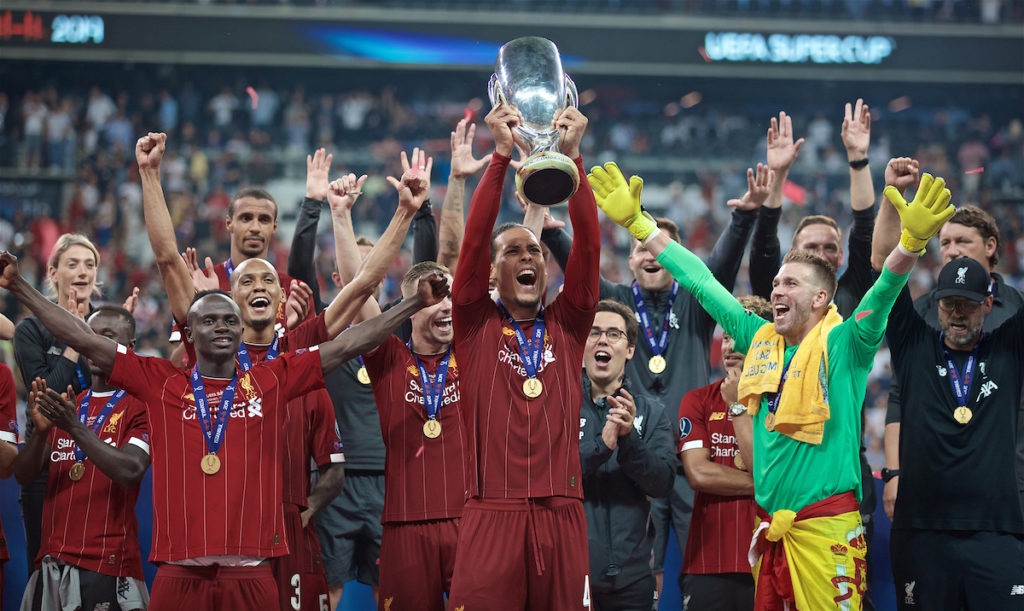 But who to choose? Well, it wasn't that difficult in all honesty. He is, after all, the man who I believe has been the biggest difference maker. The one whose arrival almost immediately turned Liverpool from fighting for the top four to fighting for the title.
Big Daddy V. The Jolly Red Giant. Virgil van Dijk.
Jürgen Klopp was nearly two years into his Liverpool project, and there had been a clear upward curve. This was especially evident in attack, where he had started to get the best out of Roberto Firmino, added Sadio Mane and elevated him to world-class level, and brought in Mo Salah to complete the deadliest triumvirate in the game.
At the back though, The Reds were still leaking too many goals. It was starting to become a reputation that Liverpool were having tagged to them, that it was a good job they had so many goals in the team because they were always capable of conceding two or three at the other end.
Joel Matip, Dejan Lovren and Ragnar Klavan were not terrible, but there wasn't enough consistency or, crucially, leadership at the back.
When Van Dijk eventually signed for Liverpool halfway through the 2017-18 campaign – delayed by a few months due to an overzealous pursuit of him in the summer – it was greeted with universal glee from Reds fans.
Being pictured with the shirt next to his Christmas tree was the present Kopites wanted, especially as it came shortly after a collapse at Arsenal that saw Klopp's side concede three times in five minutes to draw a chaotic game at the Emirates Stadium 3-3.
He had an immediate impact, scoring a late winner at the Kop end in a Merseyside derby to knock Everton out of the FA Cup.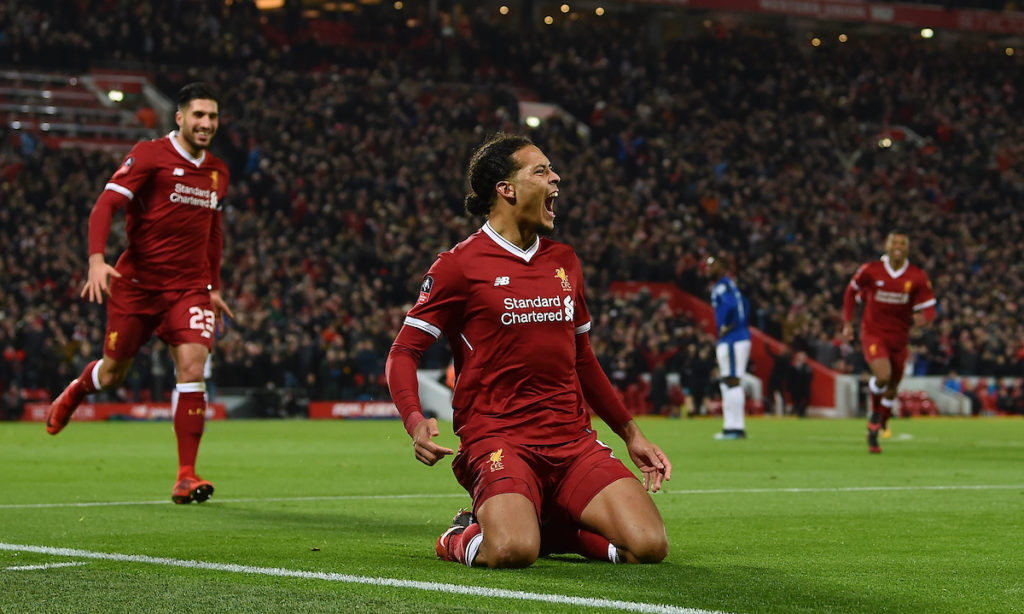 It was, though, his defensive performances that were a breath of fresh air. All of a sudden attacks that previously would have sent Liverpool fans into panic mode were being dealt with like a fly being swatted.
Crosses were being headed away, through balls cut out, and strikers were visibly flustered when confronted by the 6ft3in centre back.
Van Dijk was seemingly unflappable. Whether he was next to Lovren, Matip or Joe Gomez, his levels never appeared to drop, while the levels of his partner almost always rose significantly.
He provided leadership where it was desperately needed. Seeing him in Liverpool's backline was like seeing a bottle of water when crawling through the desert. I had loved Sami Hyypia, Stephane Henchoz and Jamie Carragher, but this was new. I had never been so comfortable watching Liverpool defend before.
It's an underrated attribute, but there's also the fact that Van Dijk seems to be an incredibly sound fella. For someone that good, with a Champions League medal and on the verge of becoming a Premier League title winner, as well as being nominated left and right for awards, you would think an exceptional ego would surely follow.
His laidback attitude that supposedly put elite clubs off signing him in his early career just shines through though, and may in fact be the secret ingredient that has taken him to the levels that we have seldom seen in a defender ever in the game.
You've all seen the highlights packages, the clips that will ultimately make his montage videos when he retires, such as the Moussa Sissoko shepherding at Anfield last season, but for me, the reason I love watching him play are the basics.
How often he just beats his man in the air, or nicks the ball away whenever the chance presents itself, or just shoves an attacker off the ball within legality to snuff out attack after attack before it becomes anything. It is defending 101, but it stands out because he's so consistently good at it in an era where so few others are.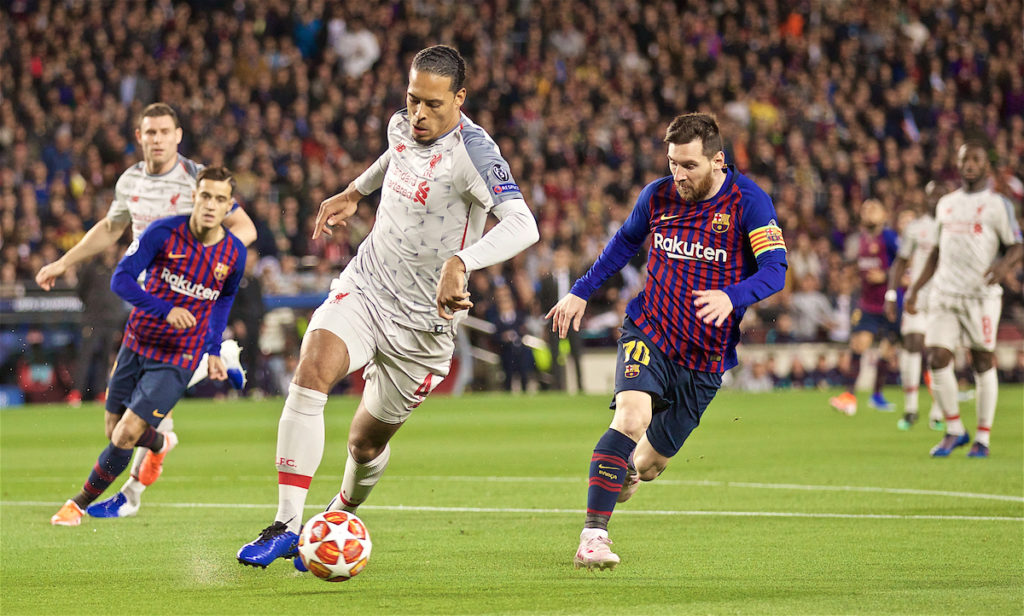 In recent years, it has felt like the emergence of phenomenal attacking talents like Cristiano Ronaldo and Lionel Messi have been making it harder and harder for defenders to keep up, in every sense. The seemingly effortless way Van Dijk deals with threats makes him stand out, and that ability has not gone unnoticed elsewhere.
Legends such as Alan Hansen and Phil Thompson have sung his praises at home, but on the world stage, arguably the greatest ever, Franco Baresi, was one of the first to claim that Van Dijk should have won the 2019 Ballon d'Or ahead of Messi.
One slight frustration I was starting to have with Van Dijk though was that, while he was fully utilising his strengths at one end of the pitch, he wasn't doing so enough at the other end. After scoring on his debut, he went nearly a full year before getting his second goal for the club in a 2-0 win at Wolves.
However, since then he has become a regular menace from set pieces, scoring 10 times in the last 15 months, including braces against Watford and Brighton, and the opener in the 2-0 win against Manchester United in January.
Baresi is right. Van Dijk should have won the Ballon d'Or. To be able to say that sincerely about a Liverpool player when he was up against the greatest of all time coming off a season in which he bagged 50 goals is quite something, and is why he is my pick as the best Red I have ever seen.
When I was listening to my Grandad tell me about the man mountain Yeats, I remember thinking he sounded like a real life superhero, while still being a tad skeptical that he could actually be that good.
One day, my own grandchildren will do the same as I tell them the tales of Virgil van Dijk.
"Put down those hoverboards, stop playing FIFA 65 and gather round. It's time for the story of when Troy Deeney said how lovely Virgil smelled."
Two years ago today, Liverpool announced that they had reached an agreement with Southampton for the transfer of Virgil van Dijk

Here's the man himself on how his time at Anfield has gone so far…

📱 Subscribe here and watch/listen to in full 👉 https://t.co/XZAK9veWt7 pic.twitter.com/Z0OOUW8PJy

— The Anfield Wrap (@TheAnfieldWrap) December 27, 2019