GETTING beat. That's no longer novel.
This season of 30-year wonder suddenly finds itself on the brink. How spoiled, how stupid, how strange. It shouldn't be that way. In the cold light of day it won't. The moment the league title is confirmed will be the moment of moments. But right now it's three defeats in four games for The Reds.
What's concerning is how little the door has been kicked down in all three games from when Liverpool have gone behind. What's concerning is the lack of quality moves; it hasn't even been the final ball has been lacking, it's the ball before the final ball.
We have often remarked that most goals come from either one player doing something exceptional, two players doing things that are very good or a mistake.
Chelsea's opener arguably stems from four mistakes not just one. Adrian bowls out too quickly. Williams shifts a bit sloppily to Fabinho. Fabinho could do a bit better. Then Adrian absolutely super mistakes it – the mistake equivalent of one player doing something exceptional.
You can break that down further, break it into where the lack of rhythm, the lack of being in the first team does damage to a side. Virgil van Dijk does what we have been pointing out Liverpool's centre halves do really well – he blocks off half the goal. Adrian, though, is disrupted by moving to that half, gesturing afterwards he is unsighted.
Alisson would never have ended up there, would have anticipated that van Dijk blocks off half the goal and fielded the other half. Even allowing for all this Adrian should obviously do better but this is instructive – it shows what being half a yard out, what having your weight incorrectly distributed does to this Liverpool side.
All over the pitch Liverpool are half a yard out. When he gets on it Takumi Minamino shows his quality, however he just doesn't quite fit yet. Divock Origi remains the most mundanely enigmatic footballer in the country.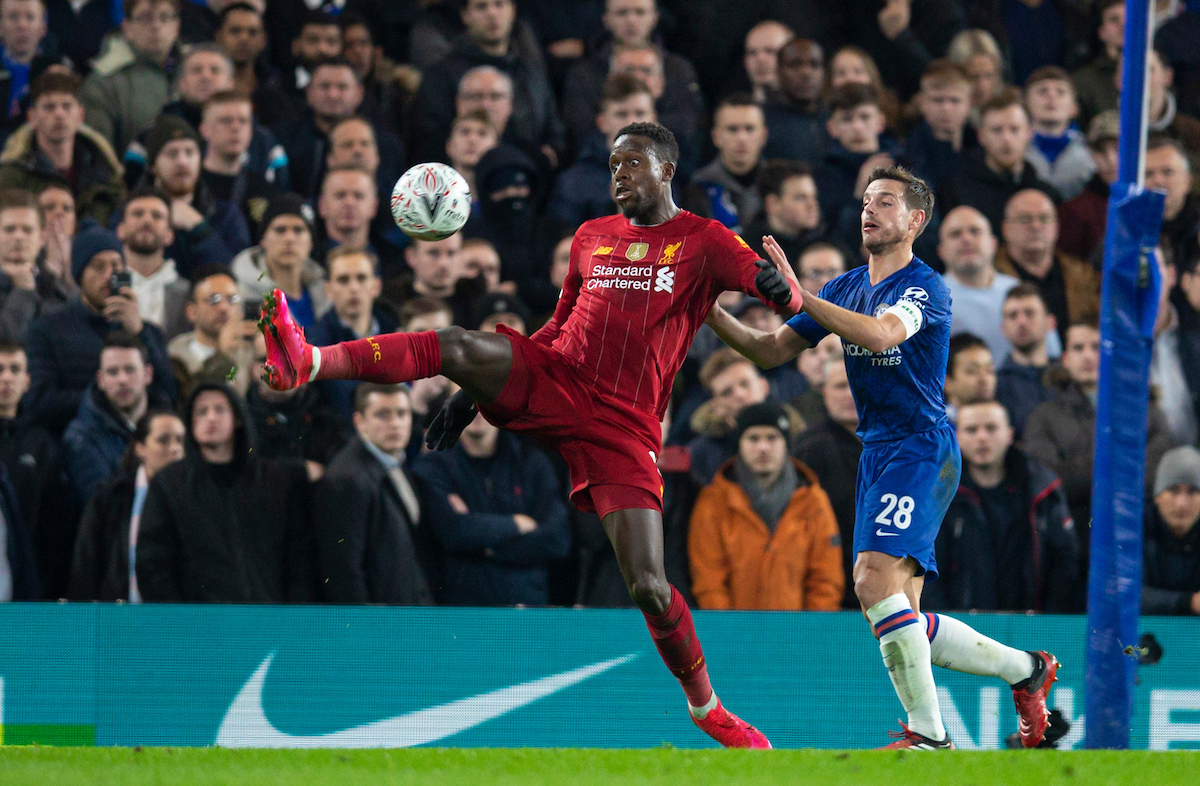 Most players who can be described as enigmas are capable of moments of pure genius. Divock is all results based, that is his genius. But when the results aren't there it hurts. And he plays table football, plays straight lines when Liverpool are all spirographs.
You can go on. Fabinho has his typically massive square to cover expanded by Curtis Jones struggling first half and Adam Lallana's legs going the second. And he isn't quite on it either. Half a yard short himself, half a yard that hurts a side, half a yard that does exponential damage.
It isn't fair; your correspondent has spent what feels like a lifetime sticking up for whoever playing in this midfield three in this system when it isn't quite right. Everything becomes stretched around them and they end up at the scene of every crime.
Klopp asks three to do the work of four. If one has a poor half, a poor half an hour, the knock-on effects are significant. Liverpool need players delivering sevens out of 10. The second goal has a couple of players do things half a second, half a yard wrong, Fabinho on a soft yellow and Ross Barkley punishes us.
And at the moment there just aren't enough sevens. Not against Atletico, not against Watford, not tonight.
A problem has been not starting well but getting worse. Performances deteriorated all over the pitch this evening. Legs went, standards dropped, desperation increased. Any sevens there were became sixes. Sixes became fives. Liverpool not landing a glove. James Milner did OK when he came on, but his best work was at the wrong end.
There's a parallel universe where Liverpool score early from the chaos, look after it well, get a second and we find this match review looking very different. Goals change games. We do need to be fair about that. When Chelsea go 1-0 they should be going 1-1. When the whistle goes on the half that remains fair. In the end 2-0 flatters Liverpool, not the other way around.
Liverpool have broken one of the rules of football. One of the strangeness of cup runs is that the closer you get the more it feels like you missed out. The lack of a final or a semi final, one more game.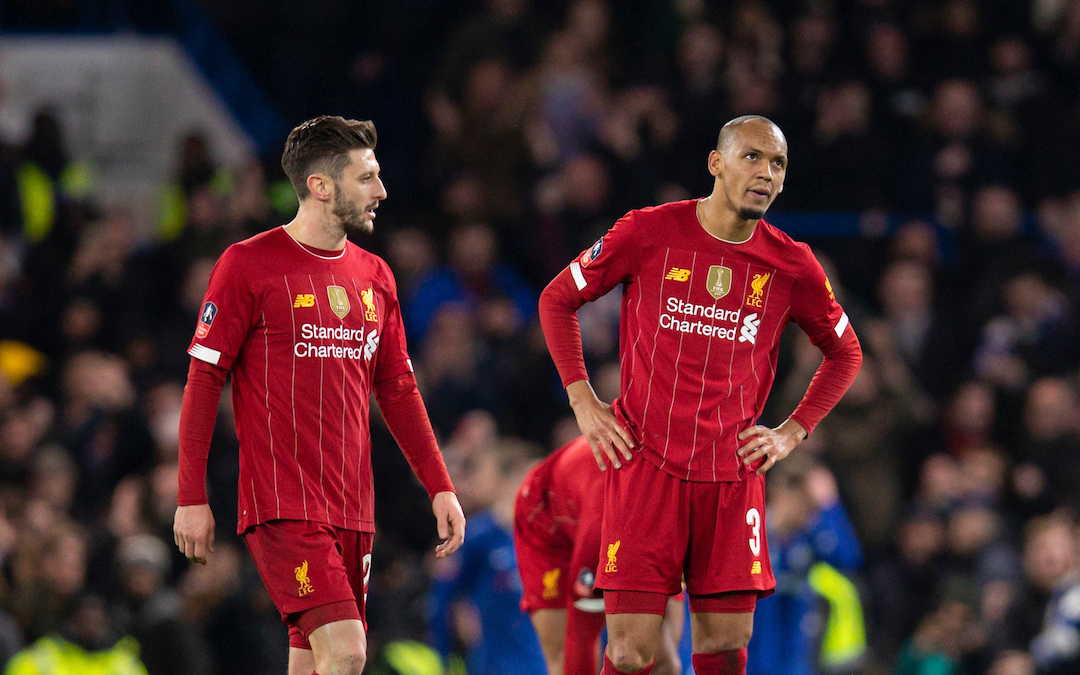 In this instance, I would sort of disagree with that. The win against Everton was one of the most enjoyable of the season, and in Adam Lallana's performance had one of the defining Merseyside derby performances.
The win against Shrewsbury Town was something that stands out to be proud of in this run of three years of pride. It was a special night for the football club, something we should always remember. The FA Cup has been good for us this season, possibly the most fun any side will have, bar whoever wins it.
There is a second related rule of football: seasons that are still alive at the end of April/start of May are the good seasons. The ones that matter the most. That won't be the case here if the worst happens next Wednesday. This will end as the one. And yet it would still feel a bit of a shame if it happened.
Weeks back I would write about Liverpool's brilliance being that they start again. Every game, start again. Now they need to start again in a different sense, get themselves back bouncing. Need to get that last half a yard right.
Liverpool have been monumental since the second leg of the last 16 of the Champions League in 2019. Have been little short of magnificent since Spurs away in the October of 2017. That's a long stint. It's hard to stay at that pitch, hard to live there, hard to stay on the rollercoaster. But they must.
Get back on the ride, Liverpool. Start again against Bournemouth, take it to Atletico, rock up to Goodison. See us all home in style.
It is the least these magnificent players themselves deserve – an adventure in May.
"There's a pattern to the game that's a worrying pattern that has been there for the last four games."

Download our app to listen to our 'Post Match Show' 👉 https://t.co/v3xcfw1OJ2 pic.twitter.com/2eIKagM6bI

— The Anfield Wrap (@TheAnfieldWrap) March 3, 2020