"ANFIELD is a great stadium that is filled with great fans, but it is also very old.
"If Anfield had to pass a technical inspection from UEFA, it would not be able to do so to save it's life." – Enrique Cerezo, President of Atletico Madrid.
Cheers mate. Good to know.
That's a pretty odd statement to make, or at least it is if taken out of context.
Anfield passes technical inspections all the time, you big weirdo. Old? What are you on about? The Kop is just 26 years old, the Kemlyn 28, the new Main Stand is still in nappies and the Annie Road… Well, alright. Fair enough. It's hardly built from matchsticks and hope, though. Old indeed!
Yes, those comments were made as an offhand joke rather than a bitter attack. Cerezo was simply comparing Anfield unfavourably to his own ground, stating that the Metropolitano helped his own set of raucous supporters last week. He's right too. They made a noise and it contributed to the result. Thing is, Anfield can do the same thing.
I'm lucky enough to have at least visited most of the 92 league grounds and Anfield is one of the most unusual. I sometimes wonder how away fans take it when they climb the steps in the Annie Road and see what's in front of them. Is it with joy? Fear? Maybe even with a sense of anti climax.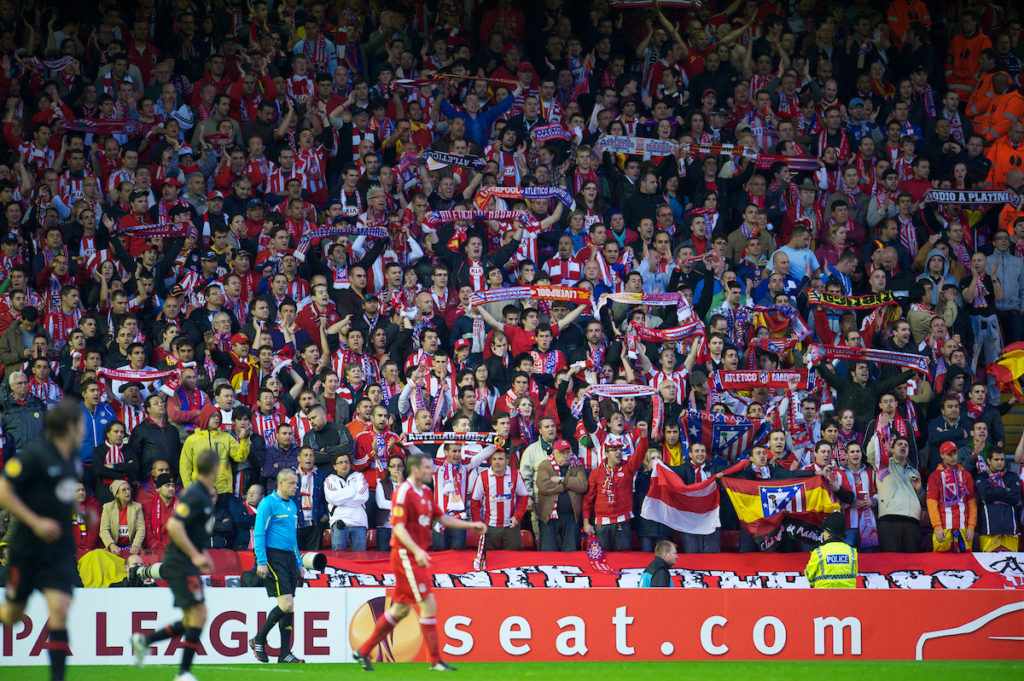 They may be surprised by its location. It doesn't sit atop a hill, master of all it surveys, nor is it surrounded by acres of expansive car parks and fields. Instead, it's crammed into streets much in the same way Highbury used to be.
The new Main Stand might be visible from the other side of the Mersey now, but up until recently you only really noticed the ground once you were a few roads away.
This differs from the new grounds which have been built specifically with transport links in mind. The Riverside, The Stadium of Light and the Bet365 stadium are all centrepieces of their areas – set out like Mount Olympus rising through the clouds or the spaceship in Close Encounters of the Third Kind.
Instead, Anfield looks like it's been jemmied into a housing estate because it had nowhere else to go. It's one of the things I love about it.
Much is made of the atmosphere, but I wonder if that's due to the size of the ground. Gary Neville has said that one of the reasons he hated playing there was that he could hear every word (and we had a few for him) from the crowd. That's not the sole purview of the opposition player either. David Thompson once spoke of 'this fella in that Kemlyn Road' who would be on his back with every kick.
You don't get that at the London Stadium. Then again, you don't get to see the players faces there either.
Mind you, if you want the players to hear your views at St James' Park, you'd might have to send a carrier pigeon. For years I thought our second goal in our 2-0 win in 2001 was scored by Igor Biscan rather than Danny Murphy. I swore blind that Igor had knocked in a rare late goal to seal the win.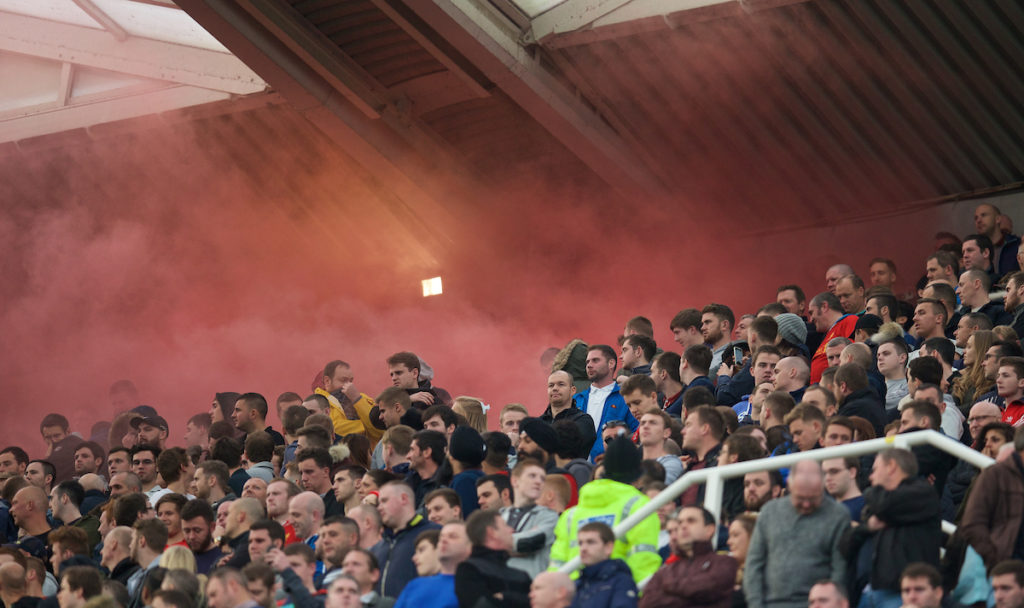 You can't blame me. Being about two miles above the pitch all I could see was red dots and a variety of hairdos. It's like watching a Subbuteo game up there.
In fact, Anfield is one of the smallest grounds in the league – dwarfed by all except for the King Power, Goodison, Selhurst, Bramall Lane and the strange edifice that is Molineux.
So, if a first-time visitor is expecting the Maracanã, they're going to be disappointed. Equally, if they're looking for two hours of screaming to rival an Istanbul derby, it might be time to lower expectations.
Anfield's glory lies not just in the sight of a swaying Kop on a European night, but in it's understatedness. The walk to the ground – with all the chippies, the pubs etc – aren't exactly high-octane cheerleader material.
We don't get the flames and flashing lights of Molineux or Stamford Bridge, nor do we get eardrum-shattering techno that opens up games at Wembley. We get George Sephton playing a few songs he likes, all delivered in his glorious brown tones. Your favourite uncle with a mixtape at a party.
Understated then, but no less important. We tell ourselves that we are different, but we do the same stupid stuff other fans do.
Take matchday superstitions. I've only got the two. I never sing the first verse of You'll Never Walk Alone, though that's mostly because I'm waiting till the others have worked out what key we're trying this week, and I never, ever look at the pitch till I'm at my seat. Oh, you can mock but that approach won us the European Cup last season.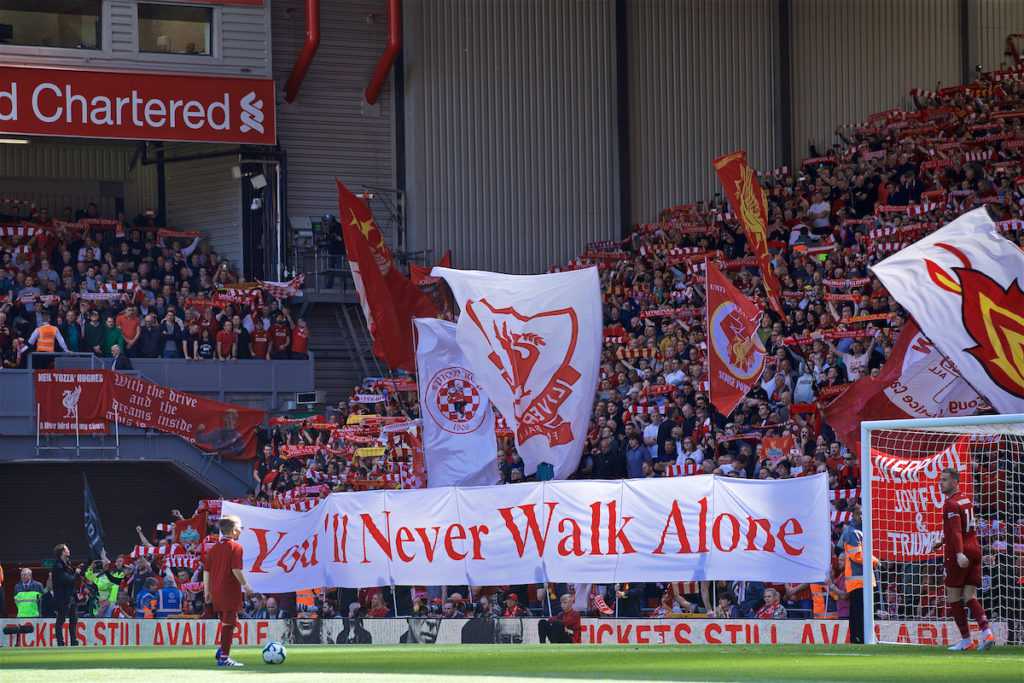 It's easy to say Anfield isn't what it was and it's true that it's changed since the days of the standing Kop. The applause given to the opposition from our end is now more of a half-hearted affair, whereas it was once a bigger deal. We'd also sing the players name individually before kick off until they acknowledged it. We don't do that now.
The atmosphere has improved despite what many argue. There are just some games where, for any number of reasons, things just don't get going. Wolves after Christmas was just a game too many for some people, and you could practically hear Virgil bollock Robertson at one point.
Then again, the Spurs game was great. The ground was bouncing for the whole game. Not bad when you remember that we were a goal down pretty much immediately. And as for the West Ham game…
Of course, winning lots of matches helps. Such is the expectation now, a home draw would feel like the equivalent of five straight defeats. Five straight derby defeats. Five straight derby defeats with Roy Hodgson in the dugout. Absolutely unconscionable. It's a strange set of circumstances that an hour after a home win you're a little bit annoyed that we were losing at one point.
If we can rub Simeone's and Cereno's face in it, Anfield will have to be on top of its game. Noise, colour and song. The Metropolitano may be the bigger ground by some 15,000 seats, but I know which I prefer.
I also know which one Liverpool will need tonight.