YEARS ago, on the old Through the Wind & Rain forum – a collection of match-going Reds with a penchant towards grumpiness and cynicism – it was popular to have a weekly predictions thread about the upcoming game.
Those things are largely ridiculous, so it wasn't long before they were soon overtaken by darker views mixed with piss-taking humour. One example from those days would be, say, Liverpool 0 Toulouse 1 (Lautrec) or Liverpool 0 Man United 1 (Webb – pen, 90+7). That sort of thing.
Newcomers, ignorant of this policy, would drop by and patriotically predict a Liverpool win before being roared at for not respecting the form.
The adage is an old school Scouse one. Expect the worst but do it with a smile. Don't get ahead of yourself regardless of our strength or situation.
After the Spurs-City game when The Reds lead held firm at 22 points, I naively tweeted that I was "starting to fancy our chances a bit". Within the hour I had replies from two former forumite mates asking if I'd lost my mind. They were right to do so.
Twenty-two points, though. Twenty-two.
Two little ducks, Joseph Heller's 'Catch', the number of players on a pitch, the number of balls on a snooker table. Madness.
We've never seen the like. No one has. Twenty-four wins from twenty-five games. The sort of lead you only have on a computer game you've been playing for years and have chosen the Novice setting. There's talk of going through the league season unbeaten. There's talk of us only dropping two points all season.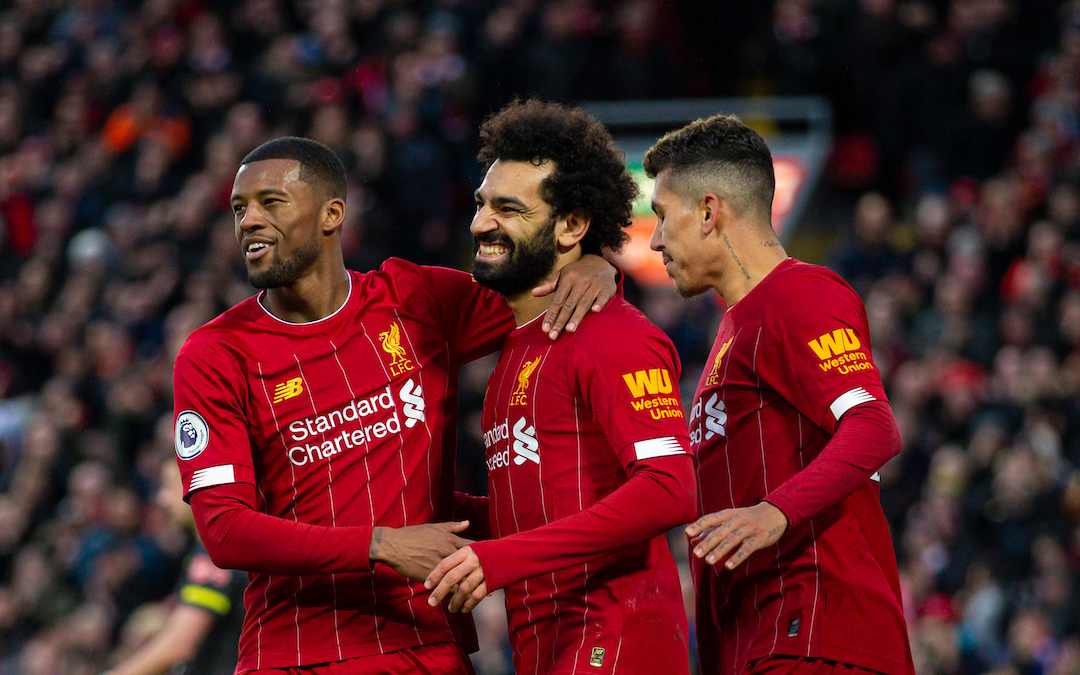 Other people aren't happy with that. Oh, it was fine when Chelsea finished 37 points clear of Liverpool in 2004-5 or when City's Centurions won the league from United by 19 points and us by a quarter of their total, but this isn't on. Firstly, the points total is too much and then more importantly, it's us.
You've read the accusations. Dave Segar has already written wonderfully about one manager's delusional fantasies, so I'll leave Josep be, but the idea that a Liverpool title win (and it's far too early to say that just yet – forever on brand) is a devalued one is already doing the rounds.
Well, we'd have to win it one day and it was never going to come with a chorus of celebrations from all quarters. If we win a seventh European Cup in Istanbul this year there'll be something wrong with that too. When we battered Real Madrid in 2009, we were told that there were Madrid sides and there was this one. The 'well, they're not what they were' one.
Equally, when Liverpool beat Inter in the San Siro a year earlier, the human werewolf on Sky told his viewers 'yes, but those fans would rather win the league than any of this.' We'd just beaten the Italian champions home and away, but there was always a way to bring us down and cheapen our achievement.
That reads like I'm offended by all that and seek their affirmation. I'm not and don't. If anything, it's funny. I couldn't give a damn and, in any case, I've done the same. I probably (definitely) found a way to bring United's great '90s sides down to earth when they were hammering the world. I've even done it in this piece and that was over something that happened a decade ago.
There was a reason for that. United were streets ahead of us and the gap between our past successes was getting ever closer, so we had to resort to doing something. All respect to them of all clubs must only be doled out through gritted teeth or over a veil of time.
But us and City? That's just weird.
Is the league devalued? Well, no.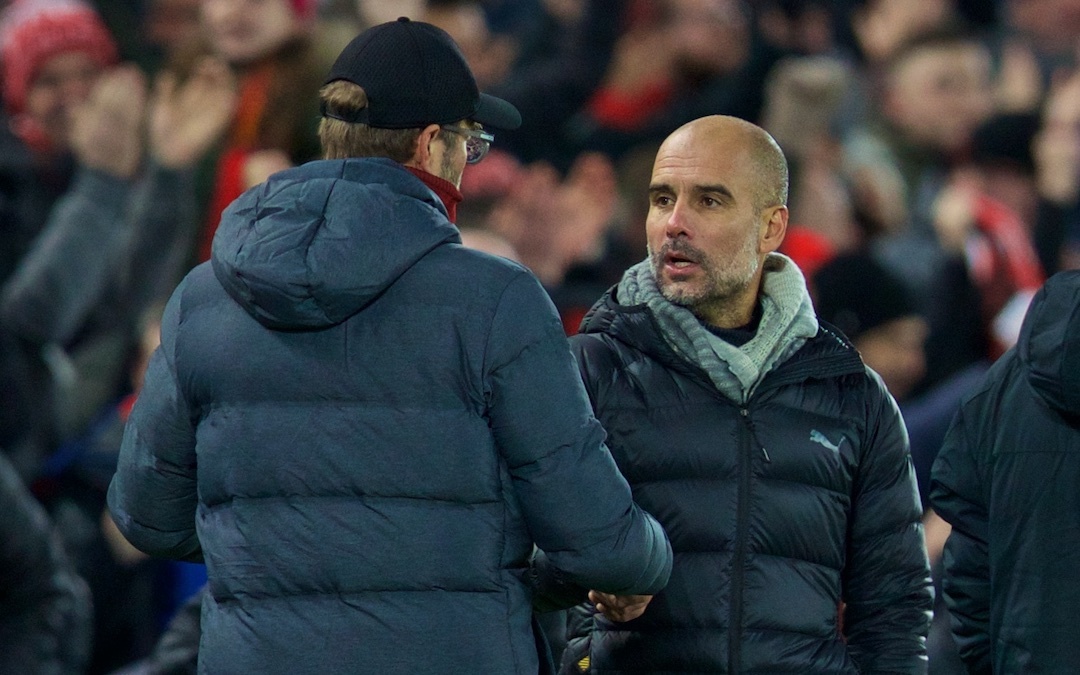 The table would suggest that we're thrashing everyone in sight. We're not. We're just beating them.
United led against us with 10 minutes to go. Southampton gave us two hard games. Sheffield United should have beaten us at Bramall Lane. Tottenham led at Anfield and Leicester nearly took a point. Wolves ran us into the ground before Roberto got involved. There are seven games where Liverpool had to go toe to toe and slug it out till only we were left standing.
What did we do that was the difference in those games? VAR? Dodgy penalties? Powdered rhino horn and horse placenta injections? Nah.
I'd say; Adam Lallana gambled at the back post, Liverpool dug in when up against it at St Mary's while we had to change our system in the home game to go ahead, we got a bit lucky with a dodgy keeping error in Yorkshire, we stood up to Spurs and outfought them, a Leicester player panicked and kicked Sadio in the box and Roberto Firmino's mad genius saw off Wolves.
In other words, when things didn't go our way we stood up and fought, because when skill is matched you must go to exhausting mental energy and desire.
Souness makes this point a lot about his playing days. If the opposition wanted to play football, we could outplay them. If they wanted to kick us, we'd kick them back and still be the better team. It was the desperate fixation to win the game that spawned that.
We won that Spurs game at Anfield because there wasn't a single Liverpool player who could countenance any other outcome. Spurs wilted. Not that they were bad. They just didn't have enough.
Manchester City have lost six league games. How is that our fault? They're a brilliant side, but we've only been responsible for one of their defeats. We (just about) coped with Adama Traore. They didn't. That tiny difference gave us a six-point swing. They're the margins we're talking about.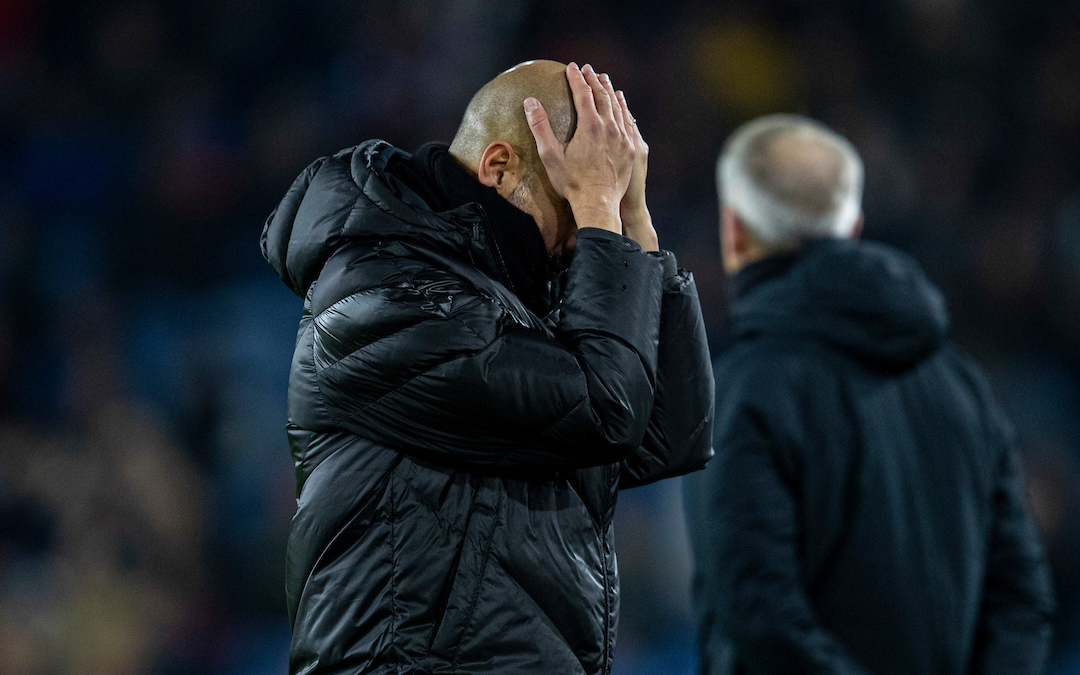 When Jordan Henderson left the pitch at the Spurs away game, he told his manager that we were shite and it 'wasn't good enough'. We won 1-0 and saw off a very strong team and manager (he still is, don't be fooled by dislike) and it still wasn't enough for the captain.
World and European champions and it wasn't enough. That's how it should be. That mentality took us up the pitch at Molineux and kept this thing alive.
Devalued? Manchester City can finish this campaign with 90 points. That's not nothing. We've only achieved that twice in our history. Arsenal's Invincibles finished with 90 too, beating Chelsea by 11 points.
How can it be devalued this year if City have knocked up 198 points in the past two seasons? Was it devalued last year when we got 97? I don't remember anyone saying so but, then again, we didn't win it so the cranks stayed indoors.
City have raised the bar and Liverpool have reacted – and reacted wonderfully.
As I say, we don't need praise, but people are starting to sound a bit stupid. Jürgen Klopp has brought out an almost perfect campaign and that should be respected rather than sniffed at.
Ah well. Maybe there'll be a day when we're no threat and they'll admit that this has been an extraordinary campaign achieving new heights. Man United were worthy league winners in their time. There, I've said it.
Not that I'm saying we've won anything yet, though. I'm not falling for that again.
"Never ever doubt any side wearing red right now.

"The mentality, the culture, it's sewn through everything that Liverpool do." 👏

📱 Download our app here and watch last night's 'Post-Match Pint' for FREE 👉 https://t.co/v3xcfw1OJ2 pic.twitter.com/nbujpQYrTt

— The Anfield Wrap (@TheAnfieldWrap) February 5, 2020
Recent Posts:
[rpfc_recent_posts_from_category meta="true"]
Pics: David Rawcliffe-Propaganda Photo
Like The Anfield Wrap on Facebook