THE European Champions. The Champions Of The World. The team who are 25 points clear.
One of the problems (if there really could be said to be any, because in reality, there are none) with Liverpool being so good, is that opponents tend to up their game. This dominance is still new to us. How opponents react to it is crazy. You still look at teams – like Norwich – and think, surely you don't do this week in, week out? This can't be your reality.
They are bottom of the league, for one thing. Like, how is this team bottom of the league? OK, so Liverpool dominate, press and hold the highest of lines, but Norwich are able to bother, frustrate and counter. Norwich's game management is impressive throughout.
When Byram pulls his hamstring, Farke makes sure he stays injured on the pitch to stop the game, rather than seeing him hobble to the side and let Liverpool have any period with Norwich down to 10. That attention to detail cannot belong to the team at the bottom of the league, can it? Really? This mad Premier League. This mad league.
Through the season it could be argued that Norwich have shown a great deal. But they show even more tonight. Saturday night, we're in the spot? Don't believe us, just watch. Been the top of Todd Cantwell's playlist all week.
Liverpool themselves are imperfect. Trent owns a few missed passes, and even Mo Salah, while characteristically creative in both halves, and active in all areas, has a couple of issues. He makes all the right passes, but it is though he is expecting someone to be there, but either Keita hasn't seen the run or Firmino is incorrectly placed.
As it happens the person he was missing is brought on at the 60th minute. Klopp's call is bang on; there is not much wrong with Oxlade-Chamberlain, but Sadio Mane shows exactly why he should receive all the plaudits come May. He is quicker than any other player, including Storm Dennis, and we need his pace and complexity to unpick the density of Norwich players in their box.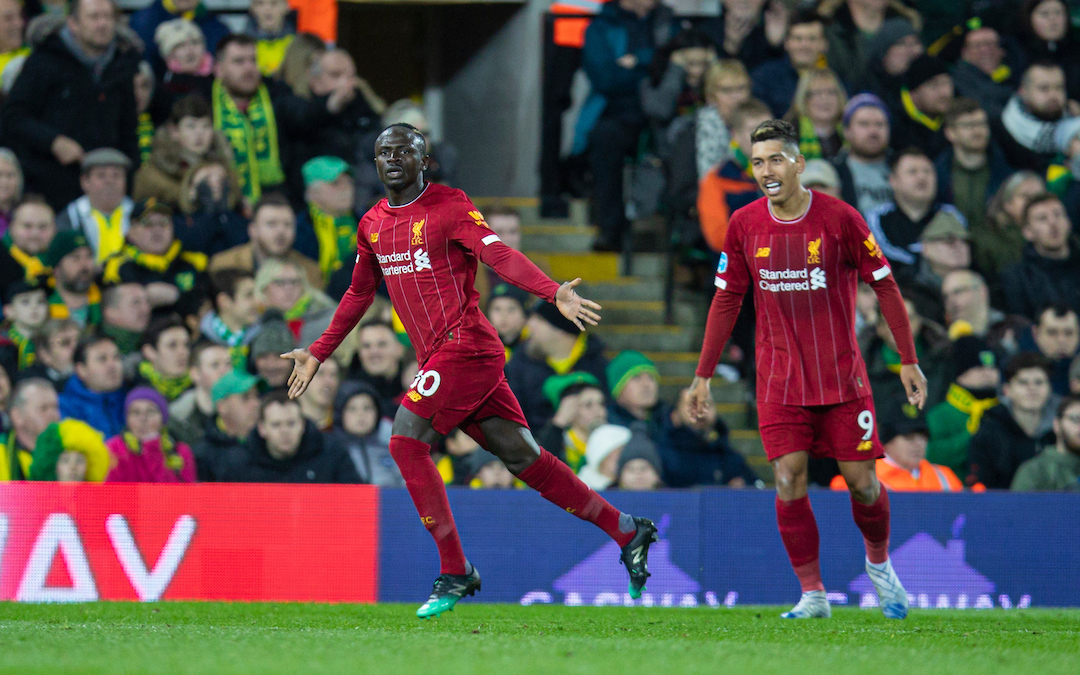 The storm. Our gaffer gets very little wrong. Been a big few weeks for people talking about the weather. The pitch. The watering. The fact is that the environmental factors are absolutely enormous and that is lived today repeatedly. Thankfully it came over on television. That will make all the difference.
Just before half time, a pestering foul from Grant Hanley on Bobby Firmino for no real reason is typical of the Norwich approach. Liverpool have chances but there is something frustrating about this game.
The blustering wind is the unseen disruptor of this game making calculations go wrong at times and make both teams more jerky and unnatural than they are. Norwich make some startling runs – Cantwell and Pukki have pace and are keen to show it – but Liverpool make no mistakes they can be punished for. Nerves, yes, fundamental errors, no.
When Norwich attack they exploit the incredibly high line Liverpool play. Liverpool decided to go two-on-one against Pukki, but Norwich, because they are good, have a plan for that. They want to make Liverpool play two-on-two. But Liverpool don't stop. They keep playing their way.
It is a risk but clearly a well-calculated one as thankfully Alisson is there with a safe hand when Rupp in the first half, and Pukki on the 89th minute make use of the miles and miles of space our defence have left behind them. The whole thing is crackers, being honest.
The keeper is a force today, and he needs to be, he does brilliantly in the first half. It is the sort of goalkeeping which rings out, the sort of goalkeeping that comes with its calling card. He claws the ball into the path of a Liverpool defender when he should be clawing it out of his own net.
The line is so high that in the second half, Virgil van Dijk is passing the ball out from the back but is on the edge of the centre circle in the Norwich half. Pukki cannot run away from van Dijk or Gomez. So let's play the game here.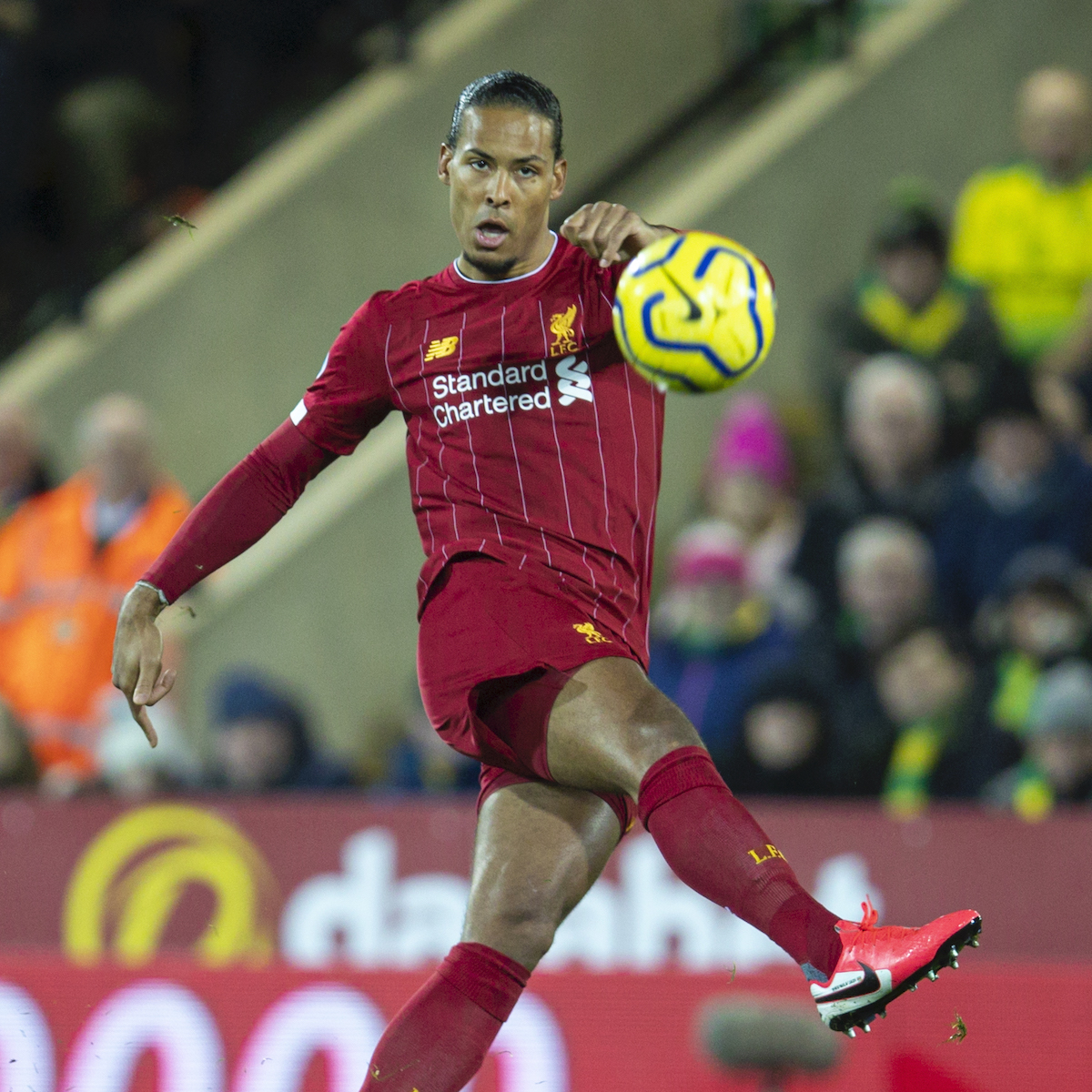 At this moment you would always back The Reds to dig one out. To find a goal. To come up trumps. And it comes. Liverpool chip the ball in from side to side trying to find a Salah head or a Robertson foot. Fabinho is like a lynchpin holding the line as Liverpool pivot left and right. It is around then that the game feels it will inevitably become Liverpool's. Some way, some how.
When it comes, the way, it is a Jordan Henderson long ball. Jordan, along with Naby Keita, held the key. They could both change the pace in ways Norwich didn't like, in ways Norwich couldn't cope with.
But the ball isn't among Jordan's very best on the night. Sadio Mane makes it. Scraps for it. Flicks it and then fires it home like a gunslinger, like the wild west. He is Quickdraw McGraw, Krul, Zimmerman and the camera left trailing.
He strikes it so speedily home into the near post corner it takes whiplash to stay with the strike. Faster than the defence, faster than the storm. Sadio Mane delivers in one moment all three points.
Noise rings out. No amount of nerves, or cold, or that bloody wind can stop us now. Here we are. This Liverpool. This crazy, winning, blustery Liverpool.
They find themselves playing every game as if it were a cup final. As if it all matters now. The mentality is staggering. It is admirable. Liverpool have entered into 38 cup finals. They are never going to stop. There has never quite been a football team like this. There may never be one like this again.
There have been 26 hurdles. Liverpool have cleared 25 of them cleanly. They clipped one other. They have to clear five others cleanly. But you know what? There is every chance they stride around all 12 remaining. Unimpeachable. Unflappable. Unstoppable.
These are the Unstoppable Reds. Madrid next.
"That finish in unbelievable.

"Sadio Mane is a remarkable footballer."

All of our immediate post-match reaction will be available FOR FREE tonight…

📱 Get involved here 👉 https://t.co/yTcwWTZN7t pic.twitter.com/bX6eLlAvR1

— The Anfield Wrap (@TheAnfieldWrap) February 15, 2020
Recent Posts:
[rpfc_recent_posts_from_category meta="true"]
Pics: David Rawcliffe-Propaganda Photo
Like The Anfield Wrap on Facebook