THERE is a variant of this piece which is just 1,000 words on everything Pedro Chirivella did after the final whistle.
A thousand words on his every move, his every word. Who he hugged, when, what he was thinking and feeling.
I was in the Upper Kemlyn. The final whistle blows as he runs towards us. His arms are outstretched. His roar to the heavens is enormous. His joy is unconfined.
He looks again back at the Kemlyn. He bites his badge right in front of my usual seat where I know my dad is tonight. My dad's three times Pedro's age, four times Harvey Elliott's, but I know he'll be as proud as I am, as overjoyed as I am of this Liverpool side who have managed this.
Pedro goes to his teammates, makes time for their manager, lifts his manager, goes to The Kop end, roars again, leads half a lap of honour. He's at the centre of the celebrations as he was at the centre of the team, at the head of the head of the celebrations as he was at the head of the team.
He spent the game organising them. Spent the game telling them. Spent the game prompting and probing, finding and sending, dropping and covering. It should, given the context, go down as a truly great Liverpool centre-midfield performance.
Chirivella, unlike Elliott, unlike Curtis Jones, is unlikely to make 100 Liverpool first-team appearances. But he should never have to buy his round in this city unless he insists upon it.
He will insist upon it. Tonight told you that. He does his share. He carries his weight. Because he is a Liverpudlian – and, like all the best Liverpudlians, he comes from outside the city – he will insist on getting his round in.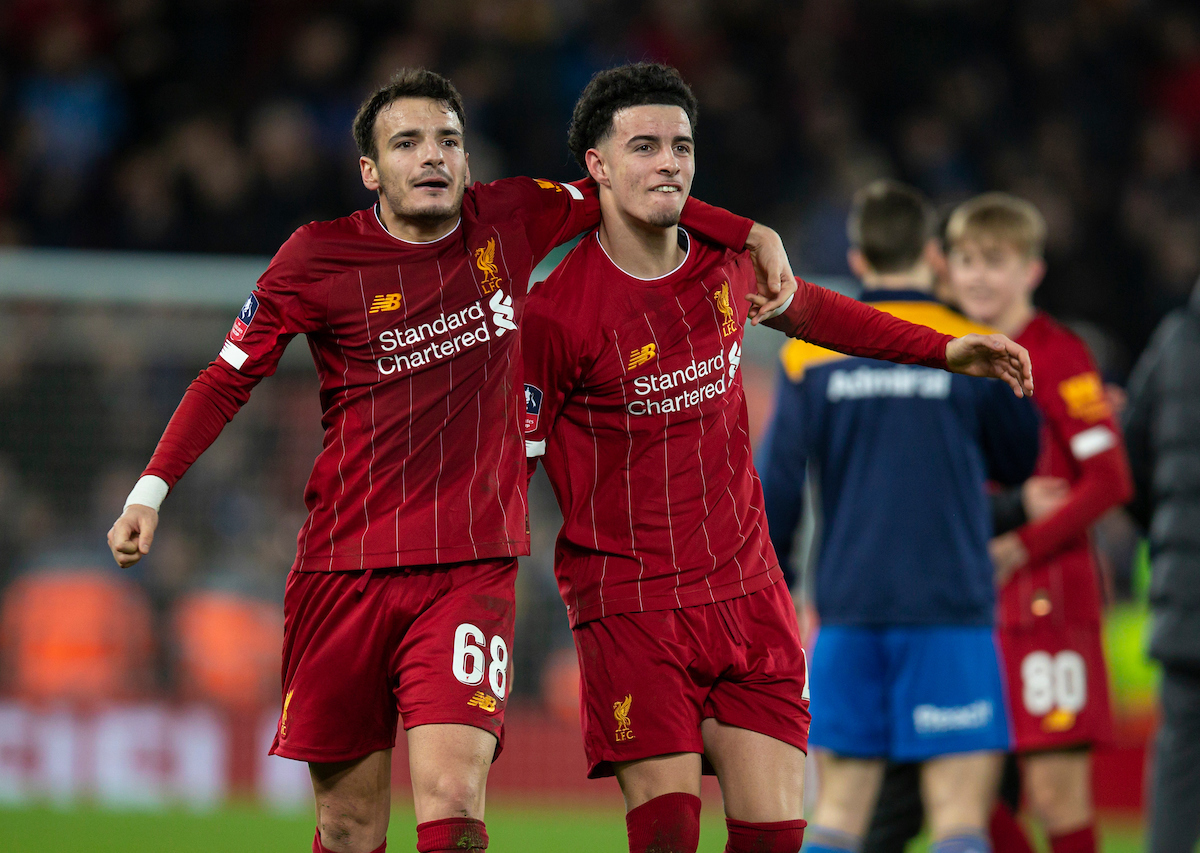 Anyway – in another universe there is 700 more words on all this. On who and what that five minutes after the game tells us. A novella on a walk. On a life. On a weird career. On what is next.
I need to leave this. Crack on.
Crack on with a side that just showed for one another. That were the most willing. That believed when those around them didn't.
I believed in Curtis Jones. He repaid my faith. I believed in Harvey Elliott. He repaid my faith. The two most gifted footballers on the pitch showed exactly that. They are making 200 appearances for Liverpool. They are present and future.
I didn't believe in Sepp van den Berg. In general over the long term, yes. But not tonight. He made a mockery of me. He was first to everything, won every battle, passed every ball. His line was tremendous. He got every bit of playing centre back right. It was a performance which came with a klaxon. That was what Liverpool invested in.
Neco Williams nearly scores first half and in the second nearly finishes a truly great Liverpool move. Williams is fascinating, he could easily become a deputy to Alexander-Arnold, but where the latter carries a constant threat of creativity Williams looks like goals. He arrives in a manner similar to the way my dad speaks of Chris Lawler. Tonight showed that.
Adam Lewis grows into it. He finds his way. He's a footballer. Lively, physically and mentally. He finds little angles, loves it round the corner.
Clarkson and Cain never stop, a pair in front of the aforementioned Chiri-fella. Give, go, show, show, show feet. Liam Miller runs himself into the ground.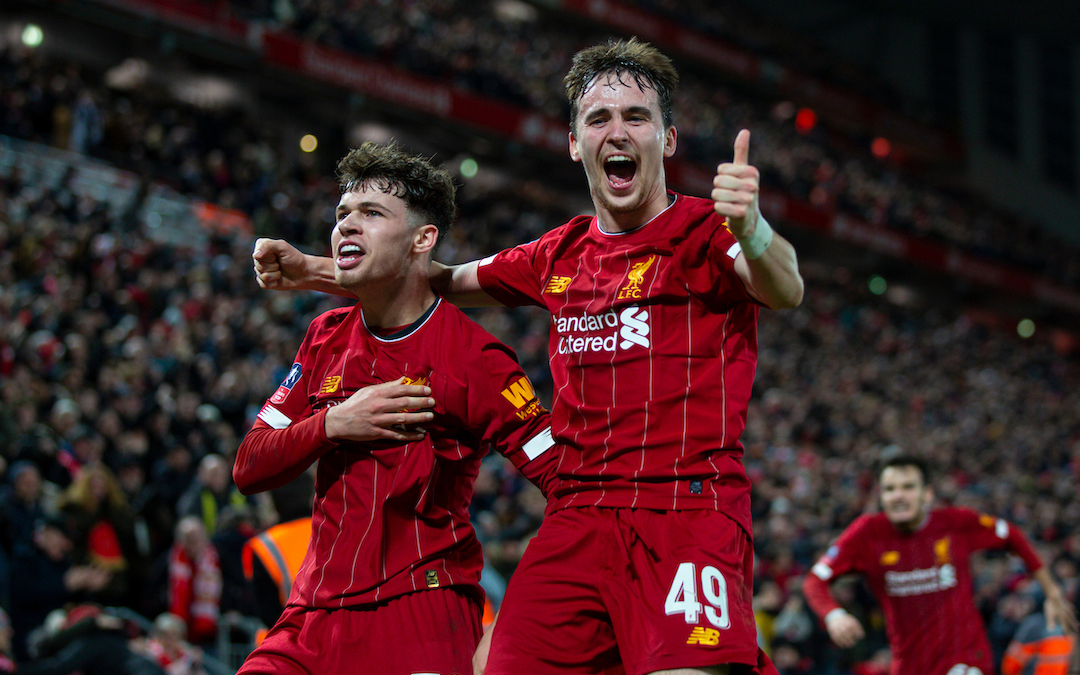 And then, as the clock runs down, the goalkeeper claims. As the clock runs down, Liverpool lock Shrewsbury in the corner. The clock runs down and their shortcomings are clearer, and clearer, and clearer. Liverpool break them. Erode them down to a nub. Liverpool are everything.
You want the magic of the cup? It is here. Here where lifetimes are redefined, where Neil Critchley gets to give it the biggest of big ones in front of The Kop, where meaning and purpose collide, where Liverpool show an essence which is the envy of the country, the envy of the world. Jürgen Klopp didn't turn up tonight in person, but his essence, his value, is everywhere.
This, here, could well be his finest victory of the season. The glory is that it isn't solely his. None of them are, though. But the size and significance of the victory makes his smaller than normal slice bigger than ever.
We're left so deeply and profoundly proud of those footballers, tonight's coaching staff, the wider coaching staff, the senior pros who set the example.
Tonight is the best of us. Liverpool Football Club have done a lot in the last 12 months. They've done nothing better than tonight.
Chelsea next. Before then, a sweetheart bonus night in town and a Pedro Chirivella tattoo.
Getting to write the words is a privilege, handsome. A delight, gorgeous.
We're up for the cup.
"I'm so proud of them all, what a night." ❤️

All of our immediate post-match reaction will be available FOR FREE tonight

📱 Get involved here 👉 https://t.co/v3xcfwjq7C pic.twitter.com/wbPuWFejES

— The Anfield Wrap (@TheAnfieldWrap) February 4, 2020
Recent Posts:
[rpfc_recent_posts_from_category meta="true"]
Pics: David Rawcliffe-Propaganda Photo
Like The Anfield Wrap on Facebook