THERE is an old Japanese proverb about luck, along the lines of: "To wait for luck is the same as waiting for death."
Be they little or big, moments of luck are all around. On the football pitch, it can range from a fortunate throw in, to having a ball ricochet off a defender's backside for a late winner.
There have been some accusations of the Premier League's runaway leaders, Liverpool, enjoying more than their fair share of luck this season.
Jürgen Klopp's men are marching towards ending a 30-year wait for a league title, with a 22-point lead at the top of the Premier League table, and like every team, The Reds have been on the right side of some fortunate moments.
The vast majority of reasonable football fans have respect for the league leaders, even if it is begrudging. However, the less reasonable areas of the game always seem to get the most airtime ('ang on).
One serial 'yeah, but' about Liverpool's mammoth lead is that they have supposedly been fortunate with injuries this season. It's not just from the statmen of this world, but has also seeped into the minds of those within the game.
Even former Brighton and Hove Albion boss Chris Hughton mentioned it while working as a pundit recently for Premier League Productions, as if it were an unquestionable fact that Klopp hasn't had to contend with injury issues, unlike his rivals. Namely, Man City.
The current English champions have had to deal with two long-term injuries to key players. They have been without their premier centre-back Aymeric Laporte, as well as the devastating Leroy Sane in attack for most of the campaign.
Laporte was a bad one for Pep Guardiola. The Frenchman picked up a knee injury in City's 4-0 win against Brighton in August, and has played just one game in the last five months as a result. However, the reason it has had such an effect on City's season is because of their decision not to replace Vincent Kompany in the summer.
If Klopp had lost Virgil van Dijk for the same amount of time, he could have turned to Joel Matip, one of the key members of last season's Champions League-winning side, or Dejan Lovren, who only two years ago played in a Champions League final and World Cup final in one summer.
Guardiola lost Laporte, and immediately started throwing midfielders at the problem. It doesn't really count as bad luck when the issue is dealt with so poorly.
Sane is a different case entirely. The explosive German winger injured himself before the season even began, in the first half of the Community Shield between City and Liverpool at Wembley Stadium.
However, Sane's absence didn't necessarily have as much of an impact, despite his undoubted ability. Indications from the media were that the former Schalke man was on his way to Bayern Munich before his injury, so it is possible he still wouldn't have been an option at the Etihad even if he had stayed fit.
You could argue that City would have been able to replace him with the money received had a transfer to Bayern gone through, but with alternative options of Raheem Sterling, Riyad Mahrez and Bernardo Silva to choose from, they're not exactly calling on the scraps like they have been at the back.
The argument essentially seems to be that unless Liverpool lose Van Dijk, Roberto Firmino and/or Mo Salah for notable periods, then they have been remarkably fortunate.
It is, though, interesting how quickly people have forgotten that The Reds were without their world-class £60m goalkeeper Alisson Becker for the first eight league games of the season.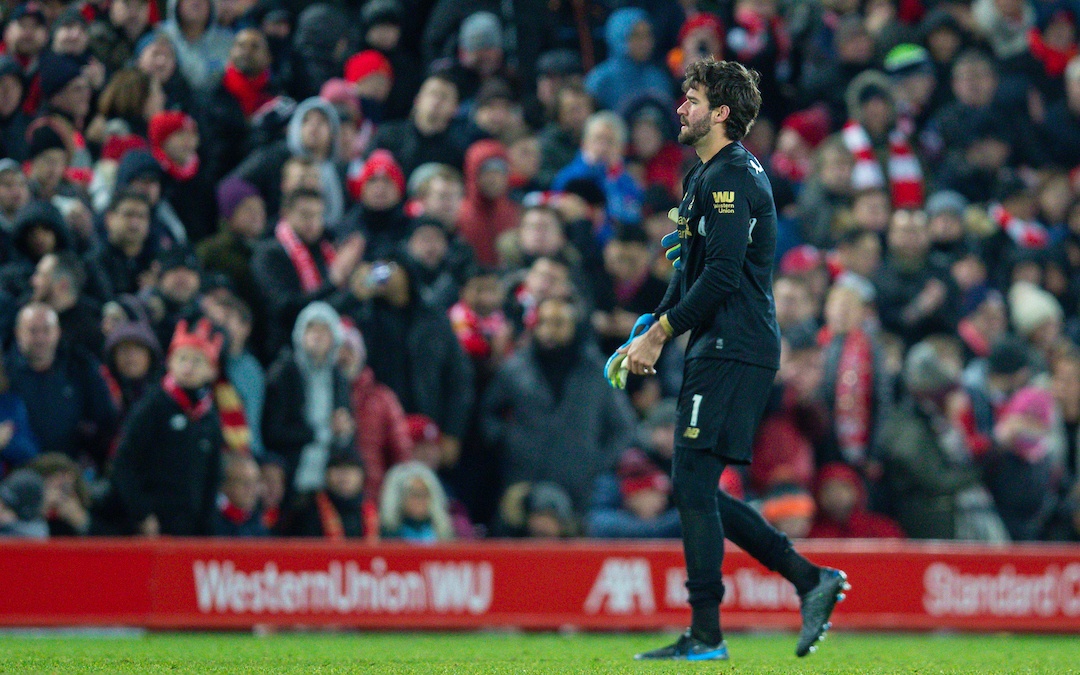 Adrian was a more than capable backup in the end, and ensured that the Brazilian stopper returned to a team that was top of the league having won all eight games (and they drew Alisson's first game back at Manchester United, the massive fraud).
During this record-breaking season, Klopp has been without Alisson, Lovren, Matip, Fabinho, James Milner, Naby Keita, Adam Lallana, Xherdan Shaqiri and Sadio Mane, and several of them for significant periods.
Alisson missed the first eight games in the league, as well as the UEFA Super Cup and first two Champions League group games, while knocks firstly for Matip and then Lovren meant that fourth-choice Joe Gomez had to come in to partner Van Dijk, and now the England international is arguably the second best defender in the league.
One occasion when the media and rival fans wondered if Liverpool had finally suffered an injury that would throw off their irrepressible form was when Fabinho picked up an ankle problem against Napoli in November.
The 'lighthouse' of the team missed the entire Christmas and New Year period, but barring defeat the League Cup defeat at Aston Villa he wouldn't have played in anyway, Liverpool won every game the Brazilian midfielder missed.
The case of Mane is perhaps the most recent thumb to the eye of the theory that The Reds are only an injury to a key player or two from crisis. Mane has possibly been their most important attacking player this season, but thanks to a hamstring issue picked up at Wolves, he missed most of that game as well as the following two.
Without the Senegalese sensation, Liverpool beat Wolves 2-1, dismissed West Ham 2-0 and thrashed his former club Southampton 4-0. Hardly the results of a team wobbling due to missing a vital player.
Despite all of that, what is perhaps most grating about the idea that players not getting injured is somehow "lucky" is that it ignores the fact that injuries are not always random events.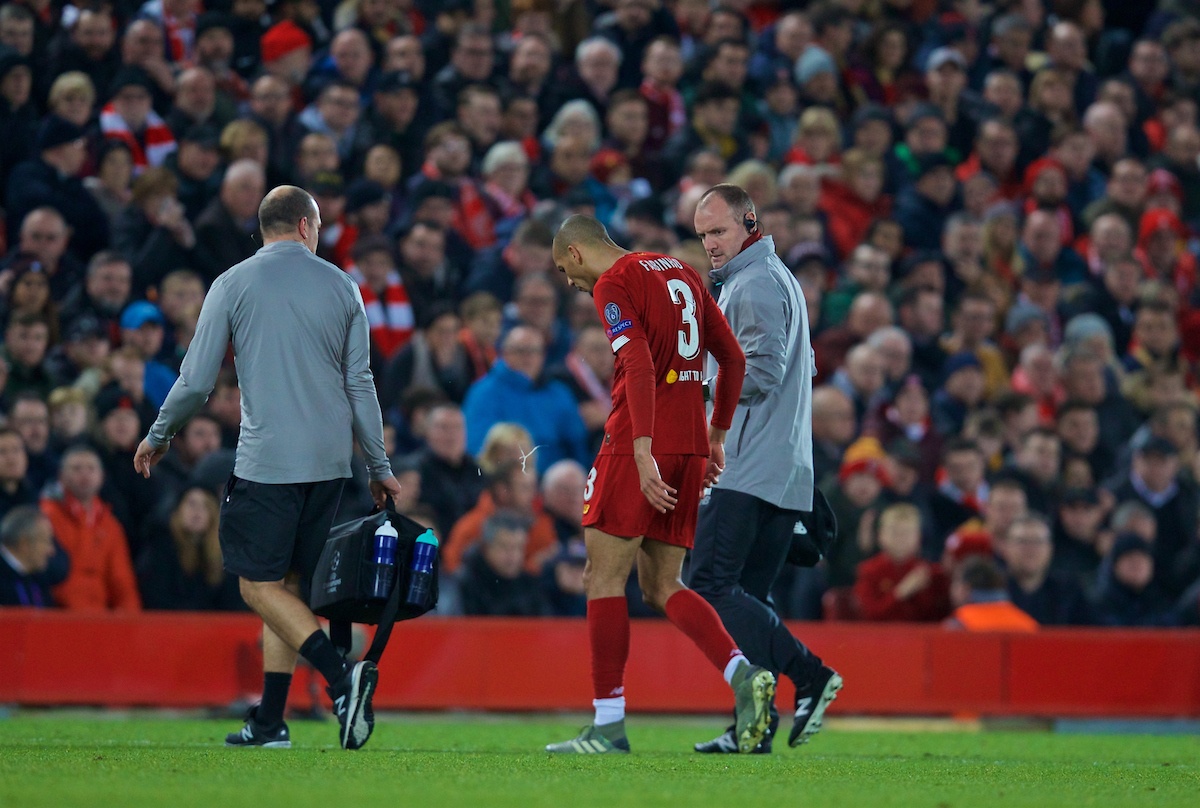 They can be, if a player has a bad fall, or is on the end of a reckless challenge, or drops his wallet on his foot, but the reason teams spend so much on sports science departments these days is to have the best chance possible at injury prevention.
If your star players aren't picking up injuries, it is down to a lot more than just praying to the injury fairy (not the most popular Disney character, but an important one). The sports science department at Liverpool is supposedly among the best in the business, and Klopp being able to select consistent teams with his best players across the campaign is the result.
Careful management of the players by the club and the manager has also played a big part, taking measures such as, for instance, making sure they still get their winter break.
It is a huge improvement on Klopp's first couple of seasons, when he went through significant injury crises around January/February time in both years. Readjustments have been made, and it has borne fruit in the last few seasons.
There might be a time when Alisson, Van Dijk, Mane, Firmino and Salah are all injured, and The Reds might lose a game, and people will say, "told you so", as if that scenario wouldn't be incomprehensibly unlucky, rather than it being somehow fortunate that it hasn't happened.
Until that unlikely scenario (absolutely touch wood), it is yet another myth that has been busted by this team.
Waiting for luck is like waiting for death. That's why Liverpool did not wait.
"Elite footballers are under so much pressure.

"Imagine making a typo while you're typing an email at work and someone behind you going 'SHITE!'"

📱 Subscribe here and watch our latest 'Bedding In' show in full 👉 https://t.co/TEMh9rqIOf pic.twitter.com/NrOKNZQ81m

— The Anfield Wrap (@TheAnfieldWrap) February 11, 2020
Recent Posts:
[rpfc_recent_posts_from_category meta="true"]
Pics: David Rawcliffe-Propaganda Photo
Like The Anfield Wrap on Facebook