TONY Britten's composed anthem has become the evocative tune of elite European football hits, and you're immediately thrown into that place again.
For Liverpool, they are back in that place. Tonight, they return to the Wanda Metropolitano just 10 months after having enjoyed one of the best nights in the club's history in the same venue.
In May 2019, they took on Mauricio Pochettino's Tottenham Hotspur in the final, where they won 2-0 to be crowned kings of Europe. This time, they are visitors to Atletico de Madrid in the first knockout stage of the competition.
Diego Simeone's side are still to be respected, but perhaps aren't what they once were. Last summer they lost Diego Godin and Antoine Griezmann. Both have been replaced but not particularly adequately.
I am in Madrid this week and decided to do the Metropolitano stadium tour. It was a fantastic experience, especially to see up close the very spot where Divock Origi made all our lives better.
However, it was also notable for something else. Among the English-speaking group, we were asked to go through a photo experience where you would have your picture taken with your choice of current Atletico player.
It seemed a bit daft considering the point of having a picture with a player is to prove you have met them, but they wanted to make some extra cash.
I struggled to think of many, as did most others. Some said Joao Felix, as their most expensive acquisition. Others said Kieron Trippier, as the urge to have a fake photo taken with a former Burnley right back proved too much.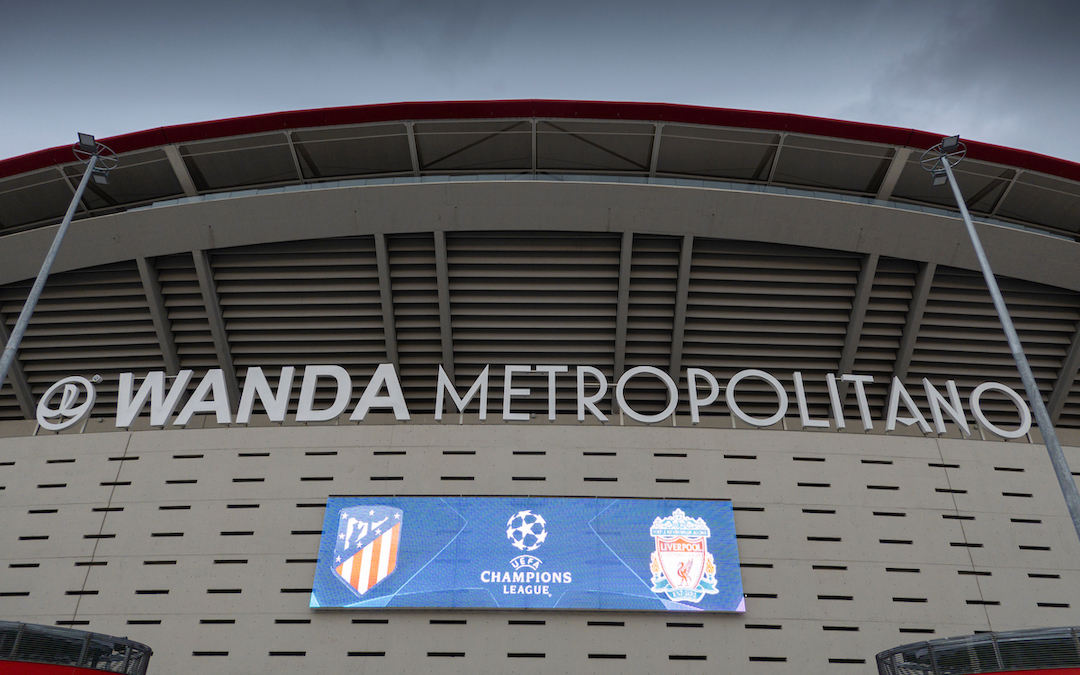 I asked for Jan Oblak, partly to compare height, but also as he's the only player I could think of who would be anywhere near a world 11.
I had considered Diego Costa, but having both of our mugs in one shot might have broken the camera.
One other notable thing from the tour was that apparently the reason Atletico play in red and white is because one of their players once played for Southampton and reported back how nice their kit was. Their previous colours of blue and white were subsequently changed, with the blue still represented on the shorts.
The first leg in Madrid between Atletico and Liverpool will be interesting though, particularly for the away team.
The Champions League has been a strange but fruitful competition for The Reds. It was gone for a few years but since it came back to Anfield under Jürgen Klopp, it has been a source of great nights and supreme joy.
Two finals in the last two years, including one lifting of the trophy, mean that it is starting to feel like par for the course that Liverpool reach the very end of Europe's premier competition.
It is interesting, though, to see how this season compares to previous ones. In 2017-18, The Reds were already out of the league title race thanks to Manchester City's dominance, and so Europe was all they had.
Then last season, they did even better, winning the whole thing. That despite being in an intense league title scrap with City.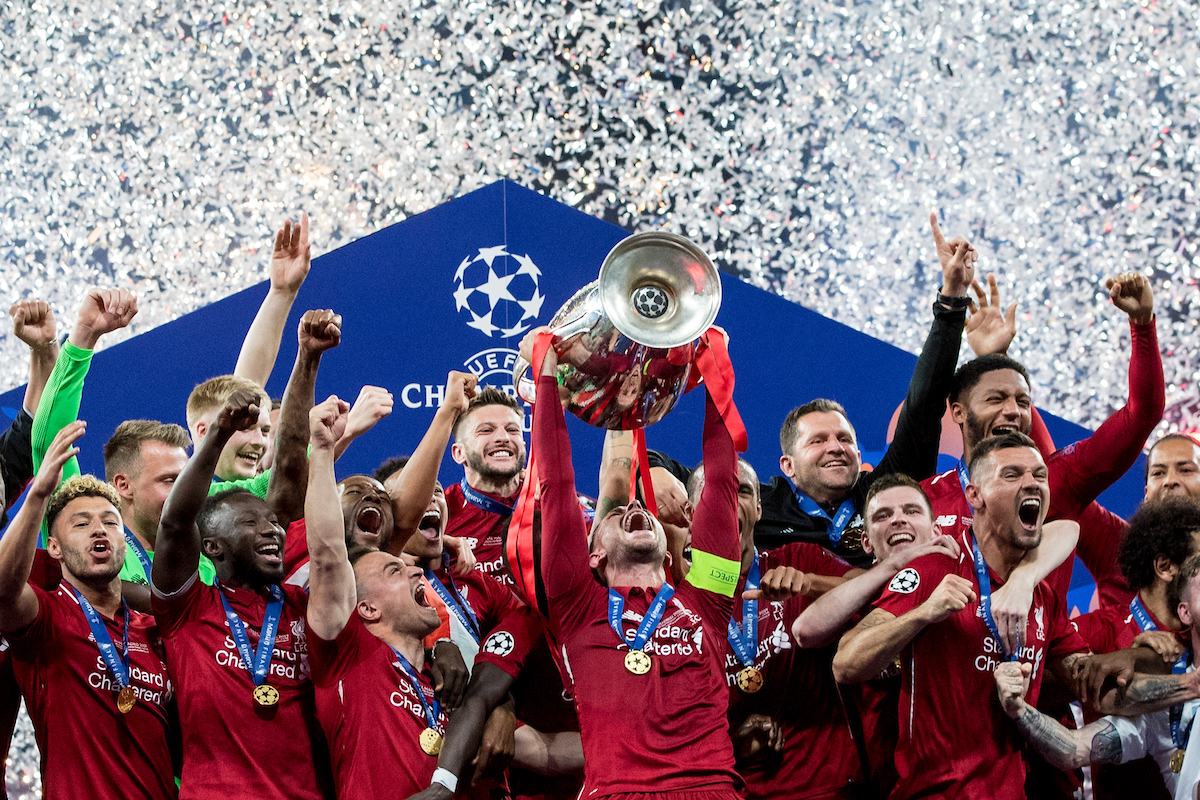 This year, though, it feels different. Liverpool approach the Champions League knockout stage having more or less sewn up the league title. It's almost an afterthought, but Klopp's men can possibly treat the competition with even more respect than before, knowing that they don't need domestic points as much as they need big results in Europe.
There is also the FA Cup to consider, and how strong the manager goes in that. If Liverpool want to try and emulate Manchester United's treble in 1999, they'll have to consider both but the distractions from the league aren't over.
The title is very close to sealed, but there are records still to be broken. Going undefeated, getting the record points total, allowing Joe Gomez to score a penalty. They still probably feel that the foot cannot be taken off the pedal domestically.
Regardless of that, the players and manager will remember the celebrations in Madrid last June, and the idea of getting to do it again in Istanbul will surely be motivation enough.
While here in Madrid, I also took in Real against Celta Vigo. If Zinedine Zidane's side are considered to be a major threat to Liverpool retaining, then let's just say that those worries won't have been exacerbated at the Santiago Bernabeu.
Man City will fancy their chances after Real's 2-2 with Celta (Iago Aspas was amazing by the way, but didn't take any corners), though their relationship with the competition is also somewhat complicated, to say the least.
For now though, The Reds must concentrate on navigating past Atletico. It is far from a guarantee, but it is perhaps telling that when you ask people about a possible treble, they usually point to the FA Cup as the likeliest downfall.
The European Cup is just too closely linked to Liverpool success.
---
Neil here.
For too long we've been having ongoing IT issues that have been affecting your ability to listen and watch our content. In all honesty, these issues have been dragged out by us trying to build the plane and fly the plane at the same time.
With the run in approaching we need them to just stop and the best way to do that is to take everything down for maintenance and get it sorted once and for all. So we will do just that. We will pull the website down until next Monday. This will mean the subscriber feeds and app will stop updating for the next six days.
Let me be clear; for the next six days the new shows will not be available in your usual places. Instead all the usual audio shows will be available on our free channels on AUDIOBOOM website and on SPOTIFY.
All the usual videos will be available on YOUTUBE.
This will be in effect from 2pm today. The shows will still be available and will still be being produced.
We can't apologise enough for any inconvenience but this is something that needs sorting out. We need to be able to deliver the content to you. We're stopping being able to get new subscribers for a few days in order to be able to get the content to you.
We can't thank you enough for your patience and your support.
Thanks and take it easy.
Neil