WE were spent. I was spent. They were spent.
And then it goes off when Firmino, a million miles away, drops his shoulder and fires it home. Roberto Firmino who hasn't scored at Anfield this season, who doesn't believe in small goals, who only scores when there is blue touch paper to light, a smile like a sparkler.
Hard to describe how it explodes. It explodes like a rocket. OK, like a bank heist. Better? Like an atom bomb. Like an idea, babe. All rhyme and reason gone.
Mental barriers and reasonable behaviour just fall away. Stripped bare into the idea of this title, into this chase. There is just this crushing, liberating, overwhelmingly lived, physically lived realisation that this side is going to win the football league. Is going to claim Liverpool's 19th title. Is going to claim the first for me.
You can rationalise this but when Mo Salah goes through against United, when Roberto Firmino fires home, it hits you physically. You can't think it through, you can only feel the atom bomb. Can only feel the idea.
The game. You need to know. The first half was mad, a strange game, Liverpool ahead and dangerous on the counter, Wolves eager but can't quite get the shapes to work. I was left watching it mildly confused, wondering even at 0-1 when the contest proper would begin.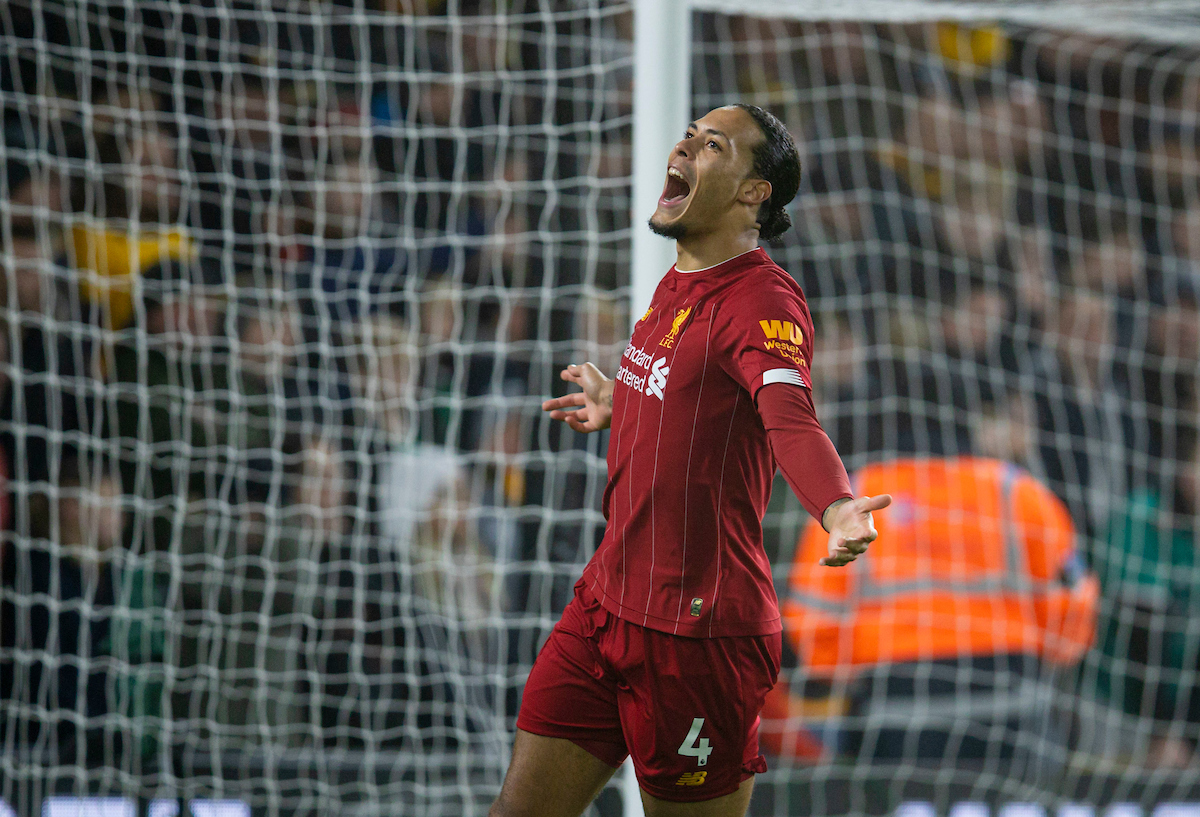 So many players working so hard but for so little. It was more tug of war than football. The pitch being made enormous by both sides, but to little end.
Wolves distort the game. It is their biggest achievement. They can make you play on their terms and they can make it utterly without pattern. They are enormous, block passing lanes, have outballs.
They can hit Matt Doherty in the air who can find Adama Traore. Traore is a wrecking machine. He further distorts conventional shape because he is so dangerous even if you can't be sure what comes once he has the ball.
The notion of them distorting the game makes it sounds like what they do isn't football, as though they are only spoilers. That's nonsense. They are an excellent football side who have their way of doing things especially on their own turf. They look a better side than Chelsea, than Tottenham.
Raul Jimenez was tremendous. He works every player so hard. He shows till the end of time. Joao Moutinho loves to get on the ball. Conor Coady knows exactly where he should be. And where everyone else should be.
We were low down. The end is mad. In that it is a length, a side of the pitch which holds about 20 rows. You get a healthy allocation but struggle to keep an atmosphere and are all relatively low down.
We were in Row F, in line with the six yard box at the end Henderson and Jimenez scored. I illustrate this in case you are unsure of my facts. My facts aren't necessarily under control.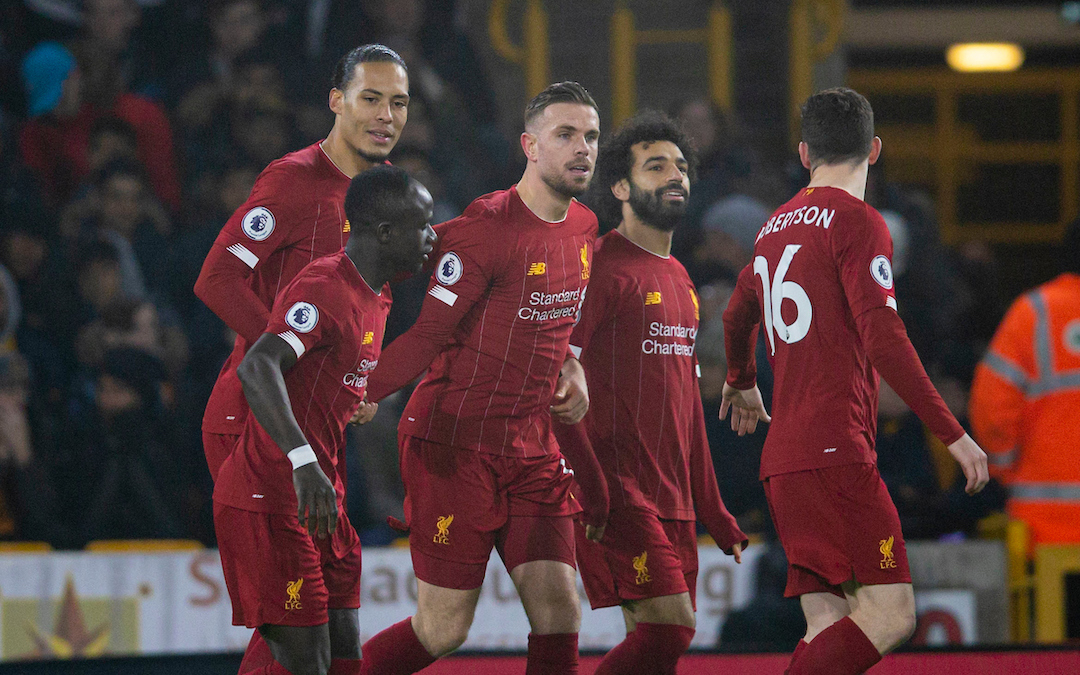 But there's this:
– Alisson is magnificent throughout. So involved in the game, so eager to be involved too. He makes a marvellous save at 1-1.
– Joe Gomez is excellent on the cover and very good at finding angles to play when the passing lanes are closed. He comes off knowing he has been in a game but knowing he did the business.
– Liverpool change the shape and do so smartly with Oxlade-Chamberlain moving left. But the blanket wasn't quite big enough.
– Takumi Minamino toiled. I mean that in all senses. He couldn't get into Liverpool's attacking shapes adequately and found himself missed out. But he worked. He couldn't quite get the pace at times but he worked. He shirked nothing but got little.
– Liverpool were great from 60 to 70. Just took the sting out of it.
– Another highlights reel game from Jordan Henderson, shifting from eight weeks of being the best footballer in the country to nine. He's become as essential as Virgil van Dijk and Alisson. He makes the front six tick, works everything out. Fabinho coming on allowed him to help Minamino through.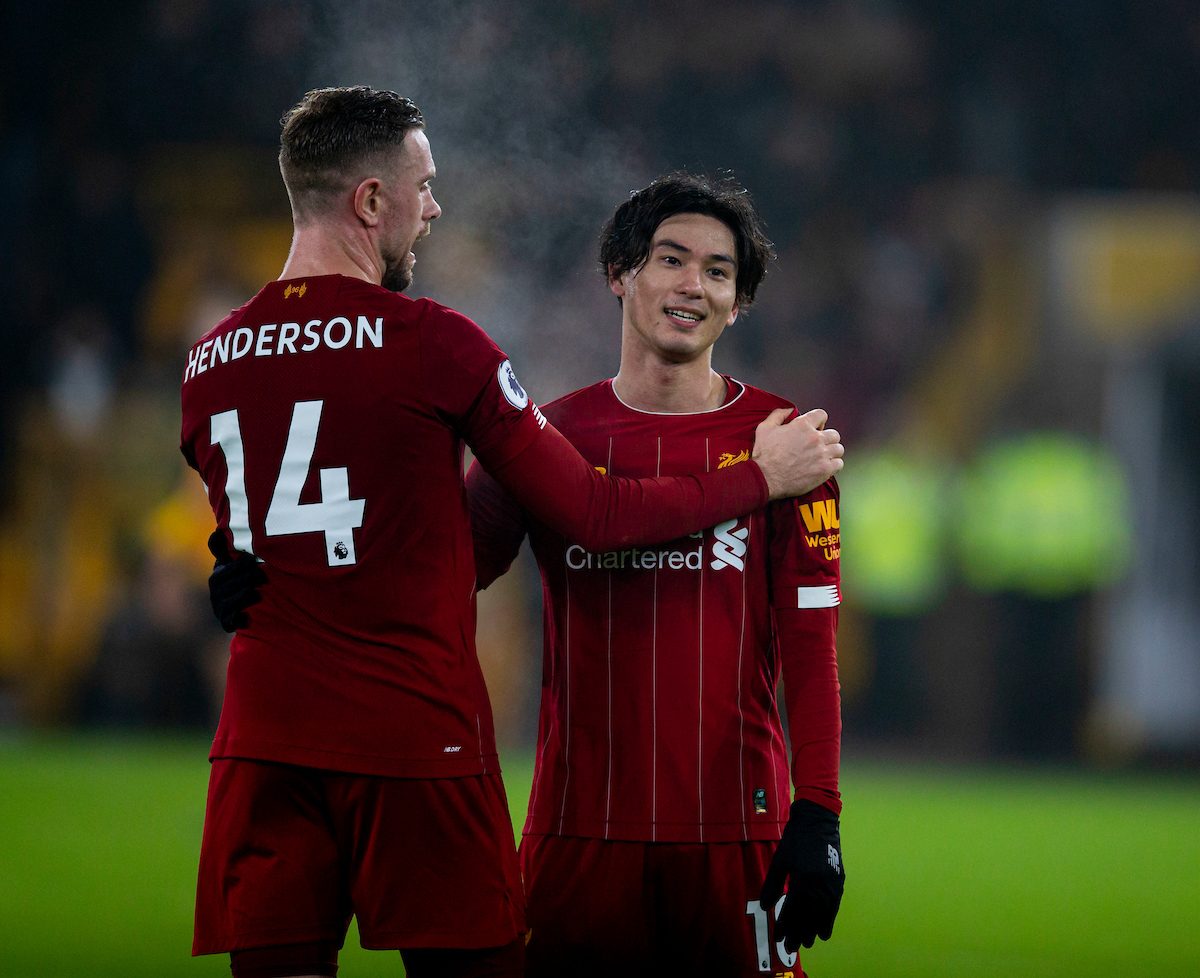 But we did look leggy. I do wonder about how this Liverpool side is conditioned. That sentence sounds moody, it isn't meant to be.
Are they currently building for the rest of the campaign? Are they working knowing they have the week off? I don't argue anyone is slacking, just more that Liverpool can ensure they have their best version of themselves come March and April currently. The gap is there.
They hang in games better than Wolves. And few sides in the country do better. Indeed they beat Wolves on Wolves' own terms. You want to fight? We'll outfight you. You want to play? We'll outplay you. The old Souness mantra. Wolves want to outlast you. Outwork you. Pull you here and there. You want to outlast and outwork us? Well, to quote a great man, "all the best".
Firmino makes the difference, Wolves shank over in injury time and the best team in the country take one more step.
We are coconspirators, you and I. We have been working on this among other things for such a long time. We are bought into our atom bomb. Into our idea.
Sixteen clear. A game in hand – 23 down, 15 to go.
"That was Liverpool's toughest game of the season by a distance, but we came through it with quality, confidence and belief." ✊

📱 Subscribe here and listen to our immediate post-match reaction show, live from Wolverhampton 👉 https://t.co/XZAK9veWt7 pic.twitter.com/gozzqAc1mV

— The Anfield Wrap (@TheAnfieldWrap) January 23, 2020
Recent Posts:
[rpfc_recent_posts_from_category meta="true"]
Pics: David Rawcliffe-Propaganda Photo
Like The Anfield Wrap on Facebook